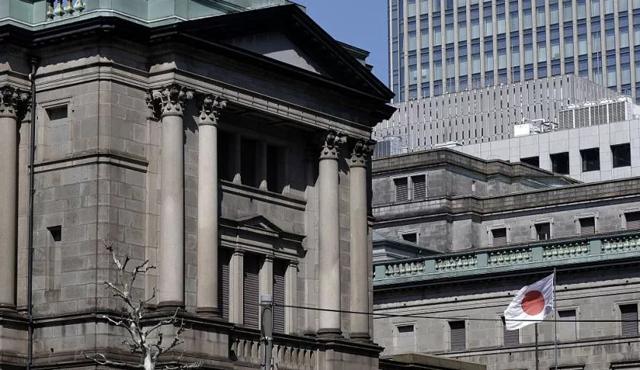 One thing we believe is vitally important when trading currencies is to be open minded and fully aware of the possibilities. In essence, knowing the risks that may or may not lie ahead. As some readers will be aware we are openly bearish on the Japanese yen (NYSEARCA:FXY) and bullish on the U.S. dollar (NYSEARCA:UUP). Whilst it has taken a lot longer than anticipated, we are pleased with recent gains and expect real interest rate differentials will soon send the yen to some of its weakest levels in recent times. Although many agree with our view, not everyone does. An analyst at UBS recently forecast for the yen to strengthen. Not just a little, but all the way back beyond parity and to ¥98 to the dollar.
Why would the yen weaken?
Whilst we think in the short term it could give back some of its recent gains, we're not at all convinced it will fall to ¥98. For the USD/JPY to drop to ¥98 it would mean a drop to its lowest level in over three years and would be a 12.7 percent drop from the current exchange. But Tokyo-based UBS analyst Toru Ibayashi sees it as a real possibility. He sees the U.S. dollar's Trump rally as being completely overblown. According to the report in Bloomberg, Ibayashi thinks the market cherry-picked the best and most U.S. dollar bullish policies without looking at the wider picture. In light of this he warned that "a market that's been overbought on hope will quickly fall apart."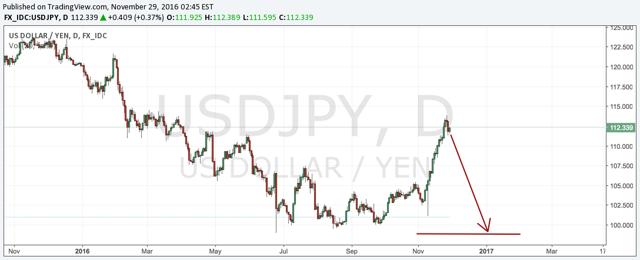 Sourced from DailyFX
He isn't alone in this view either. Former Japanese currency official Eisuke Sakakibara recently stated that he expects the USD/JPY to fall as low as ¥90 to the dollar within six months of Trump's election victory. That's almost 20 percent lower than the current exchange rate and would be an utter disaster for the Bank of Japan and its inflation targets. Much like Ibayashi, Sakakibara believes Trump's policies will create a weak dollar and not a strong dollar as the market expects. He does have a good record of making predictions it has to be said. He accurately predicted the USD/JPY would fall to below ¥100 this year for the first time since 2013.
But will it?
Ultimately a lot will depend on what President-elect Donald Trump does once he is in office. If he follows through on his tax cut plans and embarks on huge infrastructure spending then we see little chance of the USD/JPY falling to the levels mentioned above. If Trump goes ahead with these policies they should almost certainly lead to higher inflation, which in turn should lead to higher interest rates.
This will not only support a stronger dollar, but as interest rate differentials widen between the United States and Japan, it should also make the Japanese yen far less attractive. As a result we see very little weakening ahead for the U.S. dollar and next to no strength in the yen.
What about the Italian banks?
There is of course one caveat. That is that the Italian banking system doesn't collapse. There are fears that a no vote in Sunday's referendum in Italy could lead to its bank-friendly Prime Minister resigning. The ensuing political and economic uncertainty could be more than the country's precariously positioned banks can cope with, leading to the collapse of up to eight of them.
This could cause an enormous amount of volatility in the European markets, which has the potential to spread across the world. If this is the case then a flight to safety could happen, making gold (NYSEARCA:GLD) and the yen popular destinations. Theoretically, should the worst-case scenario eventuate and financial markets across the world end up in turmoil, interest rate rises in the United States could be pushed back and the U.S. dollar could weaken.
But don't worry…
Thankfully we don't expect this to happen. Although we do expect a no vote in Italy, we expect Renzi to backtrack on his earlier comment and stay in office. For this reason we believe the yen is still a good long-term short through the CurrencyShares Japanese Yen Trust ETF. Things may be volatile in the short-term, so traders may want to hold off opening a position right now especially if they don't have a long time horizon. But in the long-term we feel it has much further to fall. Our target remains ¥125 in 2017, approximately 11.5 percent higher than the current exchange rate.
As always we'll keep you posted with any changes to our views as and when they happen. Until then, best of luck with your trades!
Disclosure: I am/we are long UUP.
I wrote this article myself, and it expresses my own opinions. I am not receiving compensation for it (other than from Seeking Alpha). I have no business relationship with any company whose stock is mentioned in this article.
Additional disclosure: Short FXY