In early November Shopify (NYSE:SHOP) reported yet another stellar quarter of results with total y/y revenue growth of 89%, primarily driven by a 114% jump in revenue from the company's merchant solutions segment. Of note, the continued adoption of Shopify Capital for merchants looking for seed capital and the new integration of Canada Post with Shopify Shipping continues to drive the merchant solutions segment as merchants gradually look to condense their resources into one e-commerce platform. Further, a beat and raise for the third consecutive quarter this year adds to the already solid credibility that management has built for itself. That said, I am raising my 12-month price target to $55, representing further upside of ~28%.
Highlights from the Quarter
Model Update
The company is now guiding for fourth quarter revenue to come in between $120 - $122 million and also updated full year 2016 guidance to $379 - $381 million. For Q4, I am now modeling for ~$121 million in total revenue, representing y/y and sequential q/q growth of 72% and ~22%, respectively. That said, my FY 2016 total revenue projection is at the midpoint of company's guidance, which would represent ~85% growth from FY 2015.
Moving on to 2017, I expect Q1 to be seasonally softer compared to the rest of the year, yet still am projecting above consensus for Q1 - Q3. Management will provide an outlook for 2017 on the Q4 2016 call. I am projecting FY 2017 revenue to come in around $565 million, representing growth of around 49% from FY 2016. Below, I have charted a comparison between my personal estimates against consensus for the next five quarters.
Figure 1: Personal vs. Consensus Revenue Estimates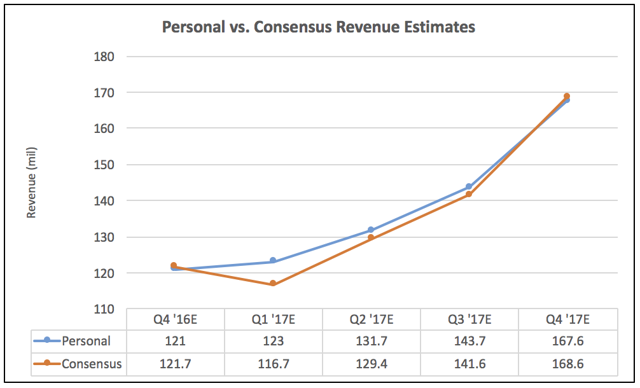 (Source: Bloomberg, personal estimates)
Figure 2: Shopify Updated Income Statement Projections

(Source: Company filings, personal estimates)
Valuation Summary
I am switching over from utilizing the NTM EV/Revenue multiple to a 2017 EV/Revenue multiple for my valuation. That said, by applying the 7.5x multiple I've used in the past, I arrive at an updated target of ~$55/share.
Figure 3: Shopify Updated Valuation Summary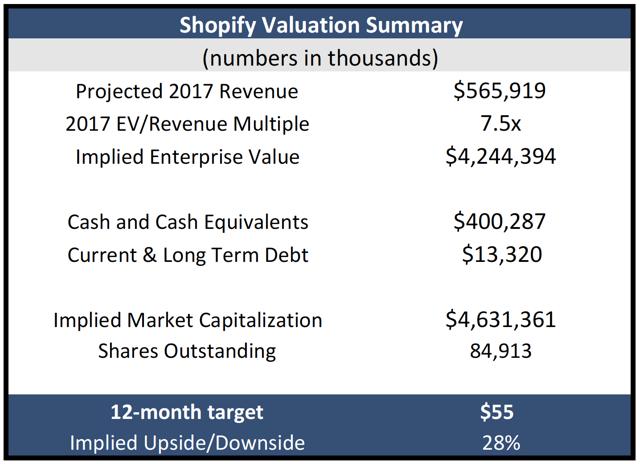 (Source: Company filings, personal estimates)
Note: Data as of market close, November 28th, 2016.
Disclosure: I am/we are long SHOP.
I wrote this article myself, and it expresses my own opinions. I am not receiving compensation for it (other than from Seeking Alpha). I have no business relationship with any company whose stock is mentioned in this article.