SunPower (NASDAQ:SPWR) has been the worst-performing stock in the solar industry and one of the worst performers this year. Whether SunPower is actually the worst solar company remains to be seen. Two weeks after surprisingly positive Q3 earnings, investors are still scratching their heads over what to do with this stock.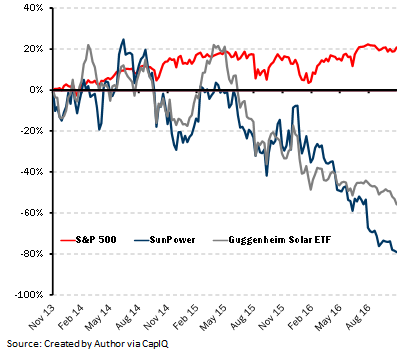 Q3 - A Band-Aid Over a Bullet Hole
SunPower reported better-than-expected earnings during its Q3 call last week, aided largely by a surge in the power plant segment. This stopped the massive sell-off leading up to the call and has actually given them a healthy 13% boost since the announcement (as of the time this article was written), but it might still spell trouble.
We already know the Q3 power plant revenues, which provided 58% of the quarter's sales, are not here to stay. We know this from the looming secular trend headwinds as well as SunPower's own guidance, which they made very clear on this, as well as past, earnings calls. SunPower tried to brace investors again for the possibility of sharp downturns in its power plant segment as early as Q4 and throughout 2017, as a result of timing issues reverberating from the solar Investment Tax Credit (ITC) extension crisis in late 2015.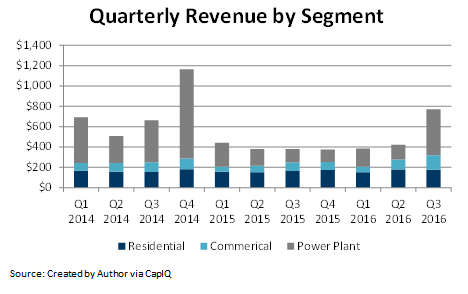 SunPower stated on their Q2 call a need to quickly pivot toward residential, but failed to demonstrate an ability to do so during Q3. This type of pivot is not an easy thing to do, but it's a necessary transition in order to make up for some of the lost -- and declining -- revenues in the historically dominant power plant segment. Total (NYSE:TOT) is trying its best to ease the transition period. If this company were independent of Total, it would have a substantially shortened timeline to make the transition to residential.
It's unlikely that power plant revenues will be as strong during Q4. SunPower will need its residential segment to start picking up some of the slack. All eyes will be on that Q4 call to find out whether Q3 was avoiding the free fall off the cliff, or just pulling out a parachute during the fall.
It's Total's World, We're Just Living in It
Investors have invited SunPower over to play, and now we wait patiently as it asks for permission. Total owns $250M of SunPower's 0.875% notes ($400m offering) and $100M of its 4.0% notes ($425M offering), representing about 30% of SunPower's total debt. On top of that, it owns 56% of the equity -- meaning Total has nearly $1B of ownership in SPWR and over a third of the TEV. Total's implicit and explicit guarantees of SunPower debt is the reason its cost of debt is so low at a TTM average of just 2.2%. Even as one of the weak performers in the industry, SunPower was able to enter a revolving credit facility in March at L+1.5% on the same day SolarCity (SCTY) entered one at more than double the rate of L+3.25%.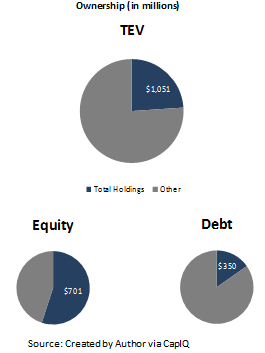 In the last week, Total has demonstrated renewed interest in helping out SPWR by investing $300M in new SunPower solar panels at Total service stations and expressing interest in other SunPower-held assets. Total doesn't seem keen to let anything bad happen to its solar child. However, how Total acts during the coming 2017 downturn remains to be seen. We saw just a couple of weeks ago Total's CEO brashly declaring "we don't generate cash in the solar industry. This is the reality," while surrounded by renewable investors at the Energy for Tomorrow conference in Paris. If that statement from Total at the EFT conference was any indicator, they might be close to the end of their rope bailing out an increasingly cash-strapped company.
If SunPower's struggles worsen during 2017, even as Total does everything short of taking it over, we might see a changing attitude from Total. Again, these are questions investors will be able to answer more clearly following Q4.
No Excuses in Washington
A brief note on what many expect to have a macro impact on the renewable space: SunPower's CEO expressed no concern over political turmoil or President-elect Trump, and instead cited statistics on how many people want solar. It's true that the country disagrees on just about everything except for the fact that we need more solar/wind installed. While the solar ITC seems as if it could get put on the chopping block, its overwhelming bipartisan support means there is not much logic behind letting it go. SunPower could actually see a benefit if the tariff on Chinese imports, which is already steep for solar exporters, rises to Trump's proposed 45%. If SunPower goes down, it won't be Trump's doing.
Conclusion
There is too much up in the air to make a definitive buy or sell statement on SunPower. A pessimistic secular outlook coupled with recent negative comments made by Total imply the company has many challenges ahead. However, SunPower's surprisingly strong performance in Q3 combined with the recent relatively low cost of debt (thanks to Total) give it time to build up its residential segment. Additionally, SunPower's market-leading position completes the foundation it needs to build a robust residential segment over the next year. All that's left now is execution.
Disclosure: I/we have no positions in any stocks mentioned, and no plans to initiate any positions within the next 72 hours.
I wrote this article myself, and it expresses my own opinions. I am not receiving compensation for it (other than from Seeking Alpha). I have no business relationship with any company whose stock is mentioned in this article.