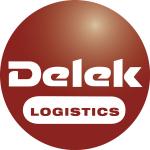 I occasionally browse the "related companies" box on Google Finance, and Delek Logistics Partners LP (NYSE:DKL) has caught my eye for several months now, as a screaming obvious "BUY!"
According to Google Finance, DKL has been aggressively growing its per share distributions, possesses an immaculate balance sheet, and has consistently growing operating cash flows.
What's not to love about it? I'll show you the pictures.
Stock Price and Dividend History: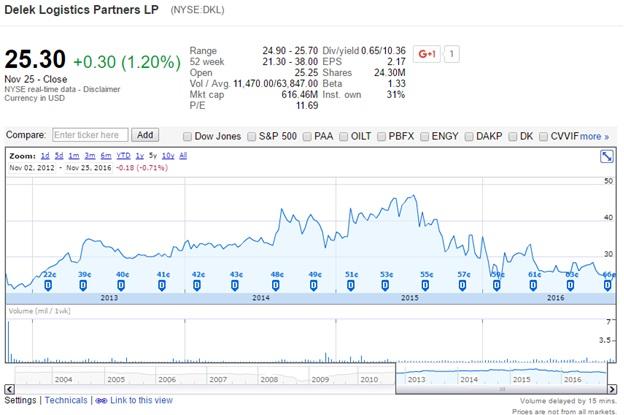 At first glance, the numbers look very attractive. A P/E ratio of 12, combined with an oh-so-enticing 10% distribution yield. The distribution has tripled in just under four years. It's sold off by 50% over the past year - it looks like the biggest bargain in the market. Digging deeper in Google Finance reveals…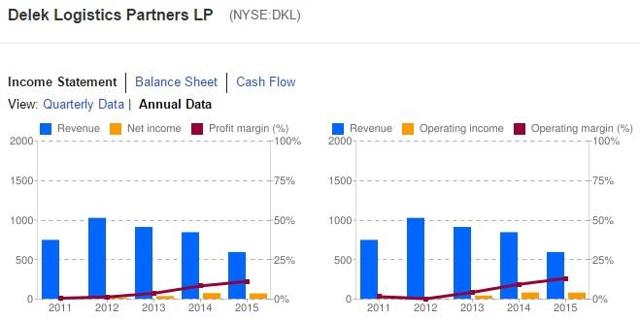 The income statement tells a tale of falling revenues - not surprising given the recent collapse in oil prices. However, operating income and net income rose: margins growing from near zero in 2011 to 10% in 2015. Fantastic! DKL's profitability has skyrocketed. The economic moat has widened.

The balance sheet according to Google Finance is absolutely immaculate. Absolutely no debt at all in the capital structure. This is great. The shareholders own everything!
The cash flows look good. Operating cash flow is growing. The company is consistently investing capital - no doubt to power the explosive dividend growth. Let's look at the September 2016 investor presentation, on their Investor Relations website. This slide caught my eye: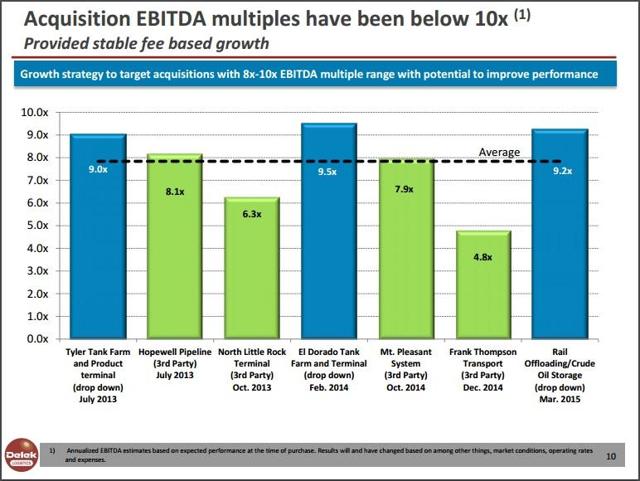 Aside from the usual presentation buzzwords: "strong sponsor," "stable asset base," "growth oriented," this one makes DKL look like a screaming "buy."
What was wrong with this "analysis"?
We didn't understand how the business works and grows. Google Finance tracks about 30,000 stocks, and algorithmically extracts and uploads the information.
Therein lies the problem: algorithms are a sequence of blind calculations. They scrape text from PDF files. Algorithms fundamentally cannot understand how businesses work.
As I'll show you in DKL's case, Google's error is that some types of debt - revolving credit balances and deferred tax liabilities - aren't included in the graphs.
DKL: Growth By Acquisitions & Cheap Debt
Some quick digging in 10-K filings show that growth was financed by using the revolving credit facility, which charges a relatively low interest rate. On the surface, this is not necessarily a bad thing - the investor presentation showed an 8x to 10x EBITDA purchase price. I've put together the revolving credit balances and the interest on the account.
Year ended Dec 31

Rev. Credit Balance

Weighted Average Interest Rate

Q3 2016 (Sep 30)

$375M

2.9%

Projects / Acquisitions & Costs

Caddo Pipeline (50% interest) between Longview, TX, and Shreveport, LA, with 80,000bpd capacity.

RIO Pipeline (33% interest) between Loving County, TX, and Midland, TX, with 55,000bpd capacity.

Total cost of $96M.

2015

$352M

2.8%

Projects / Acquisitions & Costs

Frank Thompson Transport Inc. 120 trucks and 200 trailers for crude transport. $11.5M cost.

Midstream Magellan Partners assets: Light product storage terminals at Mount Pleasant, TX and Greenville, TX, as well as the connecting pipeline. $11.1M cost.

Lion Oil assets: Refined products terminal at the El Dorado refinery & 158 associated storage racks with 2.5M barrels of capacity. $96M cost.

2014

$252M

2.3%

Projects / Acquisitions & Costs

Enterprise Refined Products Company: refined products terminal in Little Rock, AR. $5M cost.

Delek Holdings Inc.: Tyler Terminal and Tank Assets. Terminal capacity of 72,000bpd, tank capacity of 2M barrels. $94.8M cost.

HopeWell Pipeline: $5.7M cost.

2013

$165M

2.5%

Projects / Acquisitions & Costs

Plains Marketing LP: Nettleton pipeline. $12.3M cost.

Sunoco Partners Marketing: light products terminal at Big Sandy, TX. $11M cost.

2012

$90M

2.3%
So far so good. Paying 3% on debt to buy assets at 9x EBITDA sounds like a great deal. Let's look at their financial statements.
Excessively Leveraged Balance Sheet
Let's compare the current balance sheet, with its state at DKL's IPO. I've lumped together some of the smaller entries for the sake of brevity.
| | | |
| --- | --- | --- |
| All numbers in millions | Sept 30, 2016 | Dec 31, 2012 |
| Assets | | |
| Current Assets | 22 | 66 |
| Property, Plant, Equipment, Net of Depreciation | 245 | 154 |
| Equity Investments | 95 | - |
| Goodwill, Intangibles & Other Assets | 32 | 27 |
| Liabilities | | |
| Current Liabilities | 17 | 40 |
| Revolving Credit Facility | 375 | 90 |
| Asset Retirement & Other Liabilities | 15 | 11 |
| Total Equity/Deficit | -13 | 106 |
The total shareholder equity account leaves much to be desired. This table begs one big question:
The revolving credit balance increased from $90M in 2016 to the current $375M, an increase of $285M. During the same interval, the Property/Plant/Equipment net value increased by $91M, and "Equity investments" increased by $95M, a total increase of $186 million. There is a ~$100M discrepancy between the change in revolving credit balance and the change in plant & property accounts that we should account for.
Is it depreciation? Most are assets with 15+ year lives. As reported on the 10-K financials, between 2011 and 2016 Q3, the Property, Plant & Equipment depreciation account increased from $11M to $86M. This accounts for $75M of the reduction.
Where did the other $25M go? Were the acquired assets secretly written down? I searched for the strings "writ," "impairment," and "charge" in the annual filings and Q3 2016, which would indicate write-offs. Between 2012 and 2016 Q3, none of the filings mentioned any asset write-offs.
It might appear that the $25M could be accounted for by the increase in current assets - but this does not sound logical, as it would mean that management "took a cash advance" from the company credit card, but did nothing with it except accumulate interest expenses. At this point, it is unlikely that we can find the last $25M since it's a relatively small fraction of the amounts on the balance sheet.
Questionable Cash Flow Patterns
The cash flows in and out of the revolving credit facility (RCF) are perplexing. A couple of 2010-2016 key cash flow items are presented below. All figures taken from the SEC filing from the respective year, unadjusted for past acquisitions:
All figures in millions

2016 Q3 end

2015

2014

2013

2012

2011

(Prede-cessor)

2010

(Prede-cessor)

Operating Cash Flows

87

68

86

44

34

(3)

13

Total Distributions (GP & unitholder)

(52)

(57)

(45)

(35)

(50)

-

-

Acquisitions from Delek

-

(62)

(96)

(95)

(117)

-

-

Proceeds From RCF

229

396

500

206

353

197

164

Payments To RCF

(206)

(297)

(413)

(132)

(292)

(196)

(178)

Net Proceeds From RCF

23

99

87

74

61

1

24
The enormous proportions of the cash flows into and out of the RCF beg three questions.
1) Is the revolving credit facility being used as a sort of general credit card, on which all purchases are charged, before the card is paid off? What does it say about management's discipline in managing cash flows?
To quantify "cash flow discipline," I've calculated the RCF Payments to COGS Ratio, which indicates how much DKL management has relied on the company credit card to pay for day-to-day operations. The higher the ratio, the more the credit card is used. The lower the ratio, the less the credit card is used. Investors should prefer a lower number. Figures are presented below.
| | | | | | | | |
| --- | --- | --- | --- | --- | --- | --- | --- |
| All numbers in millions | 2010 | 2011 | 2012 | 2013 | 2014 | 2015 | 2016 Q3 end |
| Net Sales | 504 | 744 | 1,023 | 907 | 841 | 590 | 323 |
| COGS | 477 | 700 | 959 | 811 | 697 | 436 | 213 |
| Payments to RCF | (178) | (196) | (292) | (132) | (413) | (297) | (206) |
| Proceeds from RCF | 164 | 197 | 353 | 206 | 500 | 396 | 229 |
| RCF Payments to COGS Ratio | 0.37 | 0.28 | 0.30 | 0.16 | 0.59 | 0.68 | 0.97 |
There is a clear pattern. Up to and including 2013, the ratio was below 37%. It rose dramatically starting in 2014. It is currently almost 1! This means that management is charging almost every purchase of raw material to the company credit card, instead of using cash at hand.
This is not necessarily a major problem, though the balances accrued do accumulate interest charges at ~2.8%. However, if we combine this with our knowledge of what happened on the balance sheet, then it is clear that:
Routine COGS and operating expenses charged on the revolving credit are paid in a timely manner.
Acquisition expenditures charged on revolving credit are NOT being paid in a timely manner.
This is a clear indication that DKL has become more and more reckless in using its credit card. It brings to mind the universal tale of millions of people who fall into credit card debt: Someone whose income exactly matches their expenses, but uses their credit card to buy widescreen TVs, furniture, and home renovations and never pays down those one-time lump expenses!
To see an example of a commodity company with an exemplary record of cash flow management, please read my previous article Sanderson Farms: 12% Annual Returns For 20+ Years.
2) Even a 2.8% annual interest rate on RCF balances is an enormous drag on a business whose net margins are ~11-12%. If the acquisitions were put off by 1 or 2 years each, more of them could have been paid for with operating cash flows instead of debt. Why couldn't management display more patience? This is not something I can answer - I can't read management's mind.
3) What fraction of DKL's distributions were business earnings, and what fraction were return of shareholder capital by the depreciation account? Based on the shortened cash flow table above, since 2012, DKL has made total distributions of $239M. As we calculated earlier, $75M of fixed asset depreciation occurred. This would make it appear that almost 1/3 of distributions were for returning shareholder capital. The distribution growth doesn't look so good anymore!
Distribution Safety
The balance on the credit facility is secured by a first lien on all assets, so the balance is limited by shareholder equity. DKL can use equity offerings or bonds to repay the credit facility. If all of the balance is repaid by secondary equity offering, the share count will double, and the distribution will suffer a 50% cut.
If the balance is repaid by a bond offering, then DKL must refinance its debt at a much higher coupon rate - probably at least 6%. The extra interest will eat into distributable cash flow. If $400M is issued in bonds, then the bond interest would be $24M/year, enough to immediately reduce distributions by about 30%.
This looks almost exactly like what happened to the MLP share prices across the market - except in DKL's case the behavior was not as clearly visible. While most other MLPs abused the capital markets for financing, DKL abused its revolving credit facility instead.
I believe that this is the main reason why DKL share prices have plummeted 50% in a single year. The smart money refuses to own it - you should also refuse.
Moral Of The Story:
Algorithms and software don't understand businesses. Only people can understand businesses. Your money on the line.
Disclosure: I/we have no positions in any stocks mentioned, and no plans to initiate any positions within the next 72 hours.
I wrote this article myself, and it expresses my own opinions. I am not receiving compensation for it (other than from Seeking Alpha). I have no business relationship with any company whose stock is mentioned in this article.