The Cyber Shopping season may have gotten off to a slow start as consumers were transfixed by election-related drama, but it has come back with a vengeance. According to data from Adobe Digital Insights, Cyber Monday sales hit a new historical record of $3.39 billion in sales, up 10.2% over last year. It was the largest single online sales day in history, crushing Adobe's original forecasts by almost $27 million.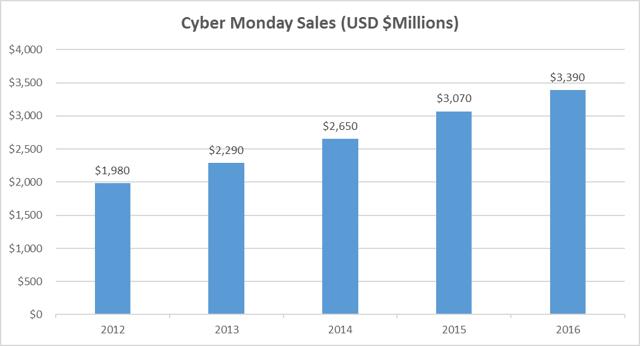 Source: Adobe Digital Insights
eBay (EBAY) actually beat out Amazon (AMZN) this year as the most mentioned online retailer of Cyber Monday, followed by many previously languishing "traditional" retailers such as Macy's (M) and Wal-Mart (WMT). The brick and mortars have ramped up their online presence over the last year, which is paying off this holiday season.
The other impressive stat, sales on Mobile Devices were $1.19 billion, representing a 48% YOY increase. Mobile shopping has become an increasingly popular way to browse and buy. Smartphones and tablets accounted for 53% of online traffic on Cyber Monday resulting in 25% of all online sales.
Online shopping on Black Friday fell just shy of Cyber Monday's, still coming in at a record $3.34 billion in sales. Online holiday shopping has become a multi-day event, with Thanksgiving Day and Black Friday gaining more online importance.
And online shoppers are getting both value and convenience. According to the National Retail Federation, over one-third of shoppers said their 100% of their purchases were "on sale". And comScore reported that more than 70% of desktop purchases season-to-date have included "free shipping".
Investment Plays?
So how do investors play this growing trend? Certainly, you can buy the individual retailers with a strong online presence such as Amazon and eBay. But even traditional retailers such as Macy's, Nordstrom (JWN), and Target (TGT) are benefiting from this retail transformation.
Another option is to hold a retail and/or consumer discretionary ETF, such as NYSEARCA:XRT, NASDAQ:RTH, or NYSEARCA:XLY. Looking for a pure-play online retail option? The EQM Online Retail Index (IBUYXT) is tracked as an ETF licensed by Amplify ETFs, trading on the NASDAQ under the ticker (NYSEARCA:IBUY).
One thing is for certain! Cyber shopping, both on the desktop and particularly on mobile devices, is taking a bigger and bigger piece of the retail holiday pie, over Thanksgiving and into the holiday season. And this transformation is here to stay!
Disclosure
EQM Indexes is the creator of the EQM Online Retail Index which has been licensed to Amplify Investments as an ETF. It is not possible to invest directly in an index. Exposure to an asset class represented by an index is available through investable instruments based on that index. EQM Indexes does not sponsor, endorse, sell, promote or manage any investment fund or other investment vehicle that is offered by third parties and that seeks to provide an investment return based on the performance of any index. EQM Indexes makes no assurance that investment products based on the Index will accurately track index performance or provide positive investment returns. EQM Indexes is not an investment advisor, and makes no representation regarding the advisability of investing in any such investment fund or other investment vehicle. A decision to invest in any such investment fund or other investment vehicle should not be made in reliance on any of the statements set forth on this website. Prospective investors are advised to make an investment in any such fund or other vehicle only after carefully considering the risks associated with investing in such funds, as detailed in an offering memorandum or similar document that is prepared by or on behalf of the issuer of the investment fund or other vehicle. Inclusion of a security within an index is not a recommendation by EQM Indexes to buy, sell, or hold such security, nor is it considered to be investment advice.