For a number of quarters, the system unit revenue (RASM) performance of the US global 3 airlines American (NASDAQ:AAL), Delta (NYSE:DAL) and United (NYSE:UAL) has trailed their predominantly low cost carrier counterparts. Revenue performance has been challenging for the US global 3 in each of their international regions. I discussed transpacific performance in my SA article, noting that changing market access at Tokyo and the growth of capacity to/from China are impacting billions in US carrier revenues in that region. Latin America revenues have been pressured by weak revenues in several countries in that region. In this article, I will focus on the transatlantic market.
AAL DAL and UAL have been reporting depressed yields and have noted an excess amount of capacity in the transatlantic market for several quarters; and some have indicated that the transatlantic region will be the most challenging global region for them in the coming quarters. While Brexit and the weaker pound and Euro will depress yields from the UK and continental Europe to the US the deeper concern is growing low fare carrier capacity over the Atlantic. At the same time that low cost carriers have been adding capacity, nearly all large transatlantic carriers have also been adding transatlantic capacity for several years.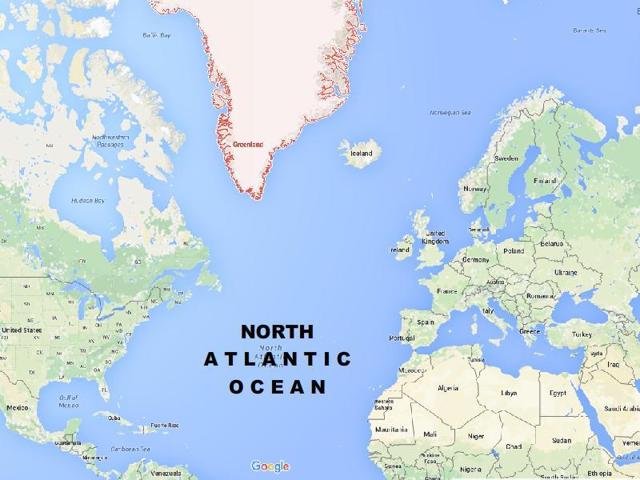 Scope of current transatlantic service
The long-haul international airline marketplace around the world has long been dominated by legacy airlines, or those that existed before Open Skies agreements which allow market forces rather than governmental regulation to shape airline service. Specific to the transatlantic market, Open Skies agreements exist between the US, Canada, and the European Union and there is freedom within the regulatory framework for airlines to enter and exit nearly all transatlantic markets.
Transatlantic airline service is currently offered predominantly by legacy carriers on both sides of the Atlantic with the big 3 US global carriers (AAL DAL and UAL) operating their transatlantic networks in revenue sharing joint ventures with their respective European partners, of which British Airways/Iberia is the largest partner for AAL, Air France/KLM (OTCPK:AFLYY) and Virgin Atlantic are DAL's largest partners, and Lufthansa Group (OTCQX:DLAKY) airlines are the largest for UAL. The big 3 US carriers and their European partners including Air Canada (OTCQX:ACDVF) which is allied with United-Lufthansa Group offer nearly 75% of the capacity between N. America and Europe.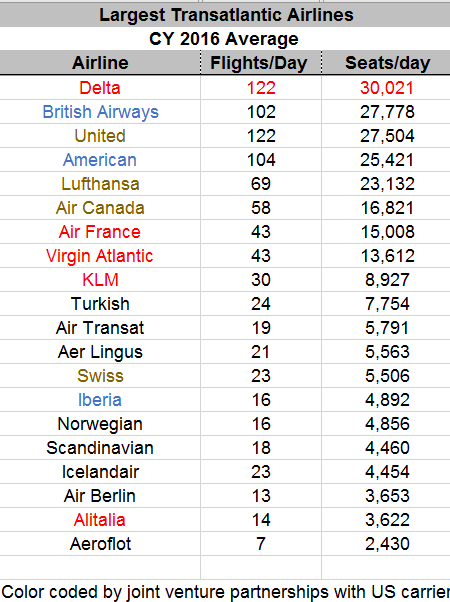 Transatlantic air service is highly seasonal; capacity is reduced by one-third in the winter from peak summer levels. US carriers typically reduce their schedules more aggressively in the winter than their European partners. US originating transatlantic travel is strongest in the summer when yields are high while business travel and lower yielding European originating leisure traffic continues in the winter as European tourists choose warmer destinations, some of which are in the Americas. Legacy carriers are able to accommodate large amounts of lower yield demand in the winter on routes where there is sufficient business or higher yield traffic. A stronger dollar shifts a higher proportion of revenue to the summer for US carriers.
The larger impact to transatlantic air fares and the yields of legacy carriers on both sides of the Atlantic has come from a new breed of predominantly European low cost carriers who have tapped into demand for low fare air travel.
According to US DOT data for all of 2015, US carriers reported a $2.9 billion profit on $23 billion in transatlantic operating revenues. Second quarter 2016 data is shown here.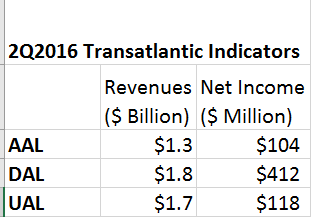 The 6-7% reduction in yields (revenue per occupied seat flown one mile) compounded by load factor decreases have combined to result in 10-11% reductions in transatlantic revenue per available seat mile, a key measurement of airline revenue production efficiency. Lower fuel prices have made it possible to maintain profitability at lower yields. However, increased transatlantic low fare competition on top of revenue challenges such as terrorism which has depressed travel demand and the UK's Brexit vote which are pressuring yields are combining to form a key threat to airline profitability. In addition, airline labor is making cost cutting more difficult; US airline unions are winning large raises while European airline unions have been resistant to changes that would improve the airlines' financial performance. While some of those threats are unique to legacy airlines, others are systematic to the industry and will affect all carriers.
Low Cost Transatlantic Travel is not a New Idea
Low fare competition across the Atlantic is not new. The US' People Express and the UK's Laker Airways were early pioneers in transatlantic low cost travel in the late 1970s and early 80s. Both carriers sought to challenge the dominance of legacy carriers by offering low fares, unbundled/a la carte pricing, and reduced amenities and an increased number of seats to attract new passengers. Both carriers operated for several years and stimulated the transatlantic market primarily from the UK and western continental Europe to the US Northeast. Both ultimately succumbed within a few years to high fuel prices and weak general economic conditions. In addition, aggressive competition came from legacy carriers which developed sophisticated revenue management strategies that enabled them to match the fares of low cost carriers on domestic and international routes while maintaining enough seats for higher yielding passengers. Even though Europe and the United States have had large low cost carrier segments in the domestic/shorthaul marketplace, there have been few attempts to launch new low cost transatlantic service - until the past few years.
Both the US and European domestic markets are fairly mature, as is transatlantic travel. Low cost airlines on both sides of the Atlantic see the addition of longer haul low cost air service as a means to grow their revenues. The US domestic marketplace is stabilizing as a result of consolidation and low fuel prices so that low cost carriers feel confident in seeking to grow new markets outside of the US while legacy carriers are well-suited to be able to defend markets where low cost carriers want to grow.
In addition, many of the legacy European carriers are struggling from competition across their networks, including low cost service within Europe and the growth of the Middle East 3 (ME3) which has pulled passengers off of their international networks. In general, US legacy and low cost carriers are more profitable and generating better financial metrics than their European counterparts including those carriers that are currently adding low cost transatlantic service.
New Aircraft Technology Presents New Opportunities
Changing aircraft technology is playing a major role in the expansion of low cost transatlantic travel. Although nonstop transoceanic air travel initially flourished with narrowbody (single aisle) aircraft like the Boeing (NYSE:BA) 707 and Douglas DC-8, several generations of successively more efficient widebody (double aisle) aircraft increased the amount of capacity while supporting lower fares and an increased number of flights.
Boeing's 757 became one of the few modern narrowbody aircraft that crossed the Atlantic in standard commercial service and continues to do so, allowing even smaller and more seasonal routes to be served. Because newer versions of the Boeing 737 and Airbus 320 family aircraft are replacing the 757 on many domestic missions including overwater flights from the US west coast to Hawaii and offer nearly as many seats, Boeing ended production of the 757 in 2004. Transatlantic versions of the 757 still operate a peak season average of 120 scheduled transatlantic flights/day as well as additional non-scheduled flights. Based on summer 2016 schedules, United operated nearly one-third of transatlantic commercial scheduled 757 flights while IcelandAir operated one-fourth.
One of the greatest limitations to narrowbody transatlantic commercial flights is that these aircraft operate close to their range limits which can be degraded significantly by strong winds over the N. Atlantic. Further, narrowbody aircraft carry very little cargo which can provide significant amounts of revenue on transoceanic flights.
While new generation narrowbody aircraft are desirable to many low cost carriers because of commonality with the Boeing 737 and Airbus (OTCPK:EADSY) 320 family aircraft that are used in their domestic/short haul networks, some newer low cost carriers such as Norwegian (OTCPK:NWARF) and Wow Air of Iceland have acquired larger widebody aircraft in order to connect the US west coast to Europe and to gain a greater unit cost advantage by using larger aircraft. Since part of the formula for low cost carriers is to reduce the amount of cabin space per passenger in order to fit in more passengers and reduce costs, widebody aircraft offer greater flexibility in cabin configurations than smaller narrowbody aircraft. While the width of seats for each narrowbody aircraft model is generally fixed between all operators in standard economy class, many widebody aircraft offer the ability to add an additional seat per row in order to increase cabin density.
Geography plays a key role in determining where current transatlantic low cost narrowbody flights can operate and will continue to be important as low cost transatlantic competition increases. Since narrowbody aircraft can generally operate only from the Northeast US or Canada to western Europe nonstop, there are a fairly limited number of cities on both sides of the Atlantic that will see large amounts of narrowbody low cost transatlantic travel. Boston and other US Northeast cities are seen as likely beneficiaries of low cost transatlantic travel but the international arrivals facilities at many of those airports are already heavily used.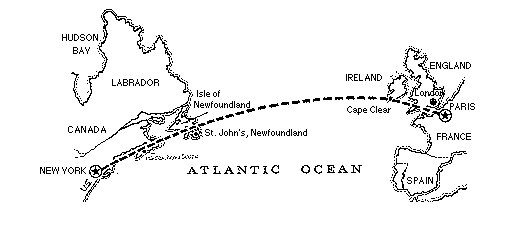 Canada, Iceland, and Ireland benefit from their location along the same routes where transatlantic flights used to routinely stop before nonstop flights on more advanced aircraft were possible. The growth of new low cost flights will initially follow the capabilities of existing and new technology narrowbody aircraft while widebody aircraft will provide greater flexibility to operate longer flights further from the Atlantic but involve greater market risk as fleet complexity and aircraft size increases for new transatlantic carriers.
Identifying the Companies that are Driving Competitive Change
Discussion about low cost carrier growth over the Atlantic has been taking place for several years. It is most notable that Europe's two largest discount airlines, Ireland based Ryanair and UK based EasyJet have not so far committed to venturing into the low cost transatlantic market. Norwegian Air Shuttle, the third largest European low cost carrier and the ninth largest in Europe is engaged in one of the most aggressive transatlantic expansions, focusing its growth on European cities including London, Paris, and in Scandinavia. Germany's Air Berlin continues to focus on growth between the US and Germany despite heavy losses and a dramatic restructuring of its European business. Wow Air of Iceland is aggressively growing its network alongside IcelandAir. The majority of low cost carrier growth is in a few cities and by a few carriers who do not represent the largest or strongest airlines in Europe.
At present, no US low cost carrier has committed to entering the transatlantic low cost market. LUV has indicated that transatlantic service is a possibility in future years but its focus for likely five years or more will be on international growth in Latin America and the Caribbean. JetBlue (NASDAQ:JBLU) is the US carrier that is most likely to enter the transatlantic low cost market.
JetBlue's evolution as a company over the past decade and a half in many ways has prepared it well for transatlantic service. JetBlue operates service to dozens of cities in the Caribbean and Latin and northern South America. JBLU gained a major foothold in key Caribbean markets prior to American's bankruptcy filing where American was the dominant carrier; JBLU stimulated travel in markets with historically high fares which were made possible by JBLU's lower cost structure. More recently, JBLU's Mint premium cabin has very successfully increased its revenues in major markets and provides a product that is similar to the global carriers' international business class product. JBLU's seating density is lower than other low cost carriers as part of its non-traditional low cost product; lower seating density should serve to minimize operational issues on narrowbody transatlantic flights while offering seating similar to or better than legacy carriers. JBLU has the A321NEO on order but says it is also considering widebody aircraft.
However, JBLU does have strategic challenges to overcome in order to succeed as a viable transatlantic carrier including that the legacy/global carriers at both sides of the Atlantic are already making strategic decisions that appear to be in preparation for new low cost carrier competition. Boston is the largest carrier at Boston although Delta has announced several new domestic and international flights that indicate it is willing to grow at Boston, where it has the greatest amount of terminal space to do so. JBLU also has developed codeshare partnerships that involve delivering connecting passengers to a number of foreign carriers; those partnerships could compete or conflict with some of JBLU's own plans to offer its own transatlantic service. Among US low cost carriers, JetBlue is the most likely to begin and succeed at new transatlantic service although it will likely have to overcome some of the greatest competitive challenges in order to succeed.
Although there are certainly carrier specific risks and vulnerabilities within the US global 3, there are a number of commonalities that I believe make them better prepared to face low cost transatlantic competition than perhaps ever has been the case with low cost carriers.
- The US global 3 and Air Canada are currently more profitable than the legacy segment has ever been and are well-positioned financially to defend and grow their networks where necessary to ensure their investment in their transatlantic networks are maintained.
- Second, the US global airlines are not willing to allow the rapid growth of low cost carriers in the domestic marketplace which occurred most recently after 9/11 to be repeated in their international markets. They developed successful strategies for competing with low cost and ultra low cost carriers in the US domestic marketplace; many of the same principles that could fuel the growth of low cost carriers in transatlantic service are the same principles that allowed lower cost carriers to grow in the US. The track record over the past several years is that the US global 3 are reclaiming their market position in major markets from low cost carriers even if yields have been depressed in the process.
- Third, legacy airlines in N. America and Europe have a long track record of longhaul international service and have the resources necessary to adapt to changing market conditions including multiple types of aircraft, revenue management systems, joint ventures, network strategies and well-developed hubs which feed nearly all current legacy transatlantic flights on either one or both sides of the Atlantic. There is no aircraft, seat, cabin configuration or type of service that low cost carriers can acquire that legacy carriers could not also acquire or offer.
- Finally, legacy transatlantic carriers have a fairly significant lead time (at least a couple years) before new aircraft technology creates the potential for widespread increases in competition.
Assessment of Risk and Opportunity by Carrier
There are specific actions which the US global 3 and their European partners are taking to compete with transatlantic low fare carriers.
London Gatwick, which no US carrier serves any longer, is the center of current low cost carrier growth in the UK but that airport is nearing capacity. American joint venture partner British Airways has recently announced several new routes from Gatwick to the US on routes directly competitive with Norwegian. British Airways is increasing seating density on several of its longhaul aircraft types in order to be able to compete more effectively with low cost carriers; AAL has already done this or is in the process of doing so on most of their worldwide international fleet.
Delta has said that it has no intention of operating an airline within an airline model although it did so in the US domestic market in the past. In recent earnings calls, Delta says it is evaluating a number of strategies including pricing, cabin configurations, and service offerings. DAL has offered an economy basic fare in the US for several years which offers fewer amenities; this type of unbundled fare could be used on the Atlantic. Delta has focused its own expansion on current and potential low cost carrier markets including at Boston where Delta is the only US airline that offers year round transatlantic service. Unlike most other global carriers, Delta is maintaining the wider "standard" economy seat width on its international fleet rather than a narrower seat width. Like AAL, DAL is also introducing a premium economy cabin positioned between economy and business class.
Delta partners Virgin Atlantic and Air France/KLM are both considering strategies including low cost airline within airline models in order to compete in the growing low fare transatlantic environment.
United's partnership with the Lufthansa Group airlines predominantly in Germany and Central Europe is being driven by increased size, reduced costs and increased competitiveness in Lufthansa's major markets. United's hub at Newark is the largest transatlantic gateway and is facing increased competition on domestic and international flights as the only one of New York City's major airports without slot controls as I discussed here.
Air Canada operates a leisure market oriented airline within an airline which has allowed the airline to grow its presence in small, seasonal markets and to increase its share of the US-Europe market. The weak Canadian dollar has allowed Air Canada to successfully compete for connecting passengers in the US to Europe markets.
Success in the increasingly competitive transatlantic environment will not be equal. Among the legacy carriers, I believe British Airways will be one of the more successful carriers in Europe, helped in part by lower costs as a result of the weaker Pound and the ability to segregate low fare and premium traffic between London airports. British Airways has been better able to navigate labor relations involving seeking lower costs than either Air France or Lufthansa. In the US, I believe that Delta will be the most successful of the US carriers. It is the most profitable transatlantic carrier and also is generating profitability comparable to or better than low cost carriers on both an absolute and margin basis in the domestic marketplace. Delta has the network size and presence in key markets on both sides of the Atlantic, is retaining a higher percentage of its transatlantic passengers than AAL and UAL and appears to be prioritizing its transatlantic network (its most profitable international region) over other global regions. JetBlue is the most likely new large carrier to add new service but growing a transatlantic network will likely come at the expense of market share in the NE US and especially at Boston.
Consumers might win on fares but will likely see service erode
While the prospect of lower fares across the Atlantic might be welcome, consumers would do well to remember that deregulation of the US domestic airline industry brought years of reduced service levels as legacy carriers tried to match low cost carrier fares. The same process could be repeated on transatlantic flights. Service levels already differ between legacy carriers and the growth of transatlantic low cost carriers will likely lead to more and more carriers adopting unbundled pricing models; consumers need to be very attentive to what they are buying and calculate their total cost based on service components which they will likely use regardless of how the initial ticket is sold. For instance, a transatlantic journey without checked luggage might not be the norm, transatlantic free baggage allowances might soon be reduced to what exists in the US and European domestic market.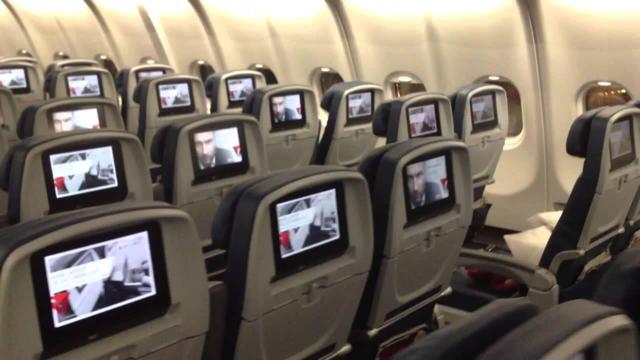 Conclusions and Investor Takeaways
A new era of low fare travel is developing across the Atlantic and will only grow in the near future being led by carriers in Europe.
Transatlantic yields will be depressed for the near future as low cost carriers add service and as legacy carriers defend their networks. Some legacy carriers will lose traffic and perhaps become unprofitable flying the N. Atlantic while others will successfully adapt.
Legacy carriers on both sides of the Atlantic have shown that they are capable of successfully competing with low cost carriers particularly when legacy carriers have not been encumbered for macroeconomic issues.
Decreased yield does not necessarily result in reduced profitability as evidenced by a strongly profitable US airline industry; however, sustained decreases in yields without an ability to reduce costs could signal a downturn in US airline profitability. Legacy airlines have demonstrated an ability to reduce costs on their domestic system but will have to extend that cost-cutting to the transatlantic marketplace or else justify to consumers the higher value for their services.
Strategic decisions among transatlantic partners will be guided by joint ventures even though it is likely that US carriers and their European partners will likely adopt different strategies based on considerations including labor and currency impact.
Click the FOLLOW button next to my name at the top of this article in order to gain valuable investor insight into trends that are shaping the global airline industry.
Disclosure: I am/we are long DAL, LUV.
I wrote this article myself, and it expresses my own opinions. I am not receiving compensation for it (other than from Seeking Alpha). I have no business relationship with any company whose stock is mentioned in this article.
Editor's Note: This article discusses one or more securities that do not trade on a major U.S. exchange. Please be aware of the risks associated with these stocks.