I have not written about a 3-D stock in a long while. For the record, I was a bear several years ago, but became bullish about a year ago. And even if I have not been a steady investor in the sector, I actually made good money in the sector on the way up. And the question today is, what should investors do now that the sector is off its recent highs?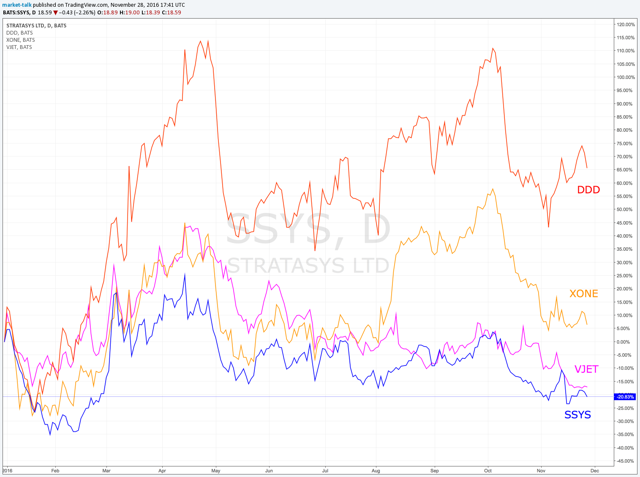 As you can see from the chart above, YTD 3D Systems (NYSE:DDD) is up by about 65%, EXONE (NASDAQ:XONE) about 5%, Voxeljet is down by about 17% and the big loser is Stratasys (NASDAQ:SSYS), down by 20%.
I would like to remind readers my rule of thumb when evaluating growth stocks that have little or no profits.
At the very basic level (and it's not my only parameter), I am willing to pay 1X revenue for every 10% yearly revenue growth, plus short term liquidity (current assets minus current liabilities).
So for example, I would be willing to pay 3X revenue for a company that will grow at least 30% per year for the next 3 years, and 5X revenue for a company that is growing at 50% and so on.
So let's look at revenue growth figures, to evaluate what I might be willing to pay at the current time.
| | | | |
| --- | --- | --- | --- |
| | 2015 Revenue | 2016 Revenue | EST 2017 |
| DDD | 666 | 645 | 688 |
| SSYS | 696 | 666 | 692 |
| XONE | 40 | 52 | 63 |
| VJET | 26 | 24 | 29 |
Houston we have a problem
Folks, with the exception of XONE and less for VJET, DDD and SSYS are not growing. Folks this is a serious problem, because most people who paid pie in the sky valuations 2-3 years ago, are probably never going to recoup their money.
In addition, the sector still has a negative EBITDA (GAAP)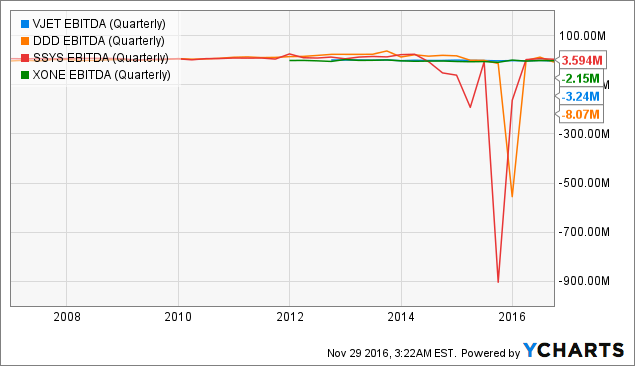 VJET EBITDA (Quarterly) data by YCharts
And do you want me to remind you what some of you were paying for the sector?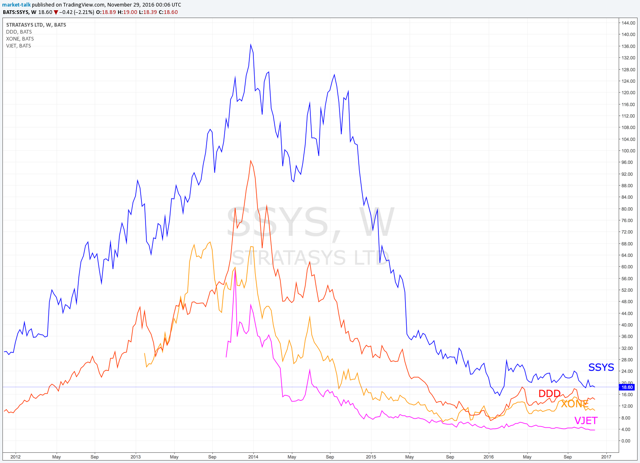 Please take a good look at the chart above folks, because that's what some of you guys have paid for the sector.
DDD has made $0.27 adjusted over the past 12 months. XONE has still to make one penny, SSYS has made $0.12, and VJET has never made a dime. Folks, what kind of a multiple do you put on a sector that has little or no growth and has barely made a dime? The answer is a 1X revenue multiple plus cash (current assets - current liabilities).
Based on my rule of thumb -- estimated 2017 revenue plus short term liquidity (current assets minus current liabilities) -- my price target for the above 4 stocks is:
(I will use a revenue multiplier of 2 for VJET and XONE, since they are the only ones growing. As for DDD and SSYS, the revenue multiplier is 1)
| | | | | | |
| --- | --- | --- | --- | --- | --- |
| | Market cap | current assets- current liabilities | Shares outstanding in millions | Revenue Multiplier | Price Target per share |
| DDD | 688 | 300 | 112,36 | 1,00 | 8,79 |
| VJET | 29 | 35 | 18,6 | 2,00 | 6,88 |
| SSYS | 692 | 350 | 51,69 | 1,00 | 20,16 |
| XONE | 63 | 39 | 16,1 | 2,00 | 12,67 |
Based on all of the above, it seems that DDD is the most overvalued stock at the moment. SSYS and XONE are trading at a slight discount, and VJET seems to be the only one that is undervalued.
Please note this is a very unconventional and ball park way of valuing stocks. Furthermore, there are many other parameters that have to be taken into consideration. Also, I only use this method for growth stock that have no EPS. So it's not a method to use for most stocks.
However, believe it or not, this method that has served me very well over the years. Not so much which stocks to buy, but what stocks to avoid.
The bottom line
Unfortunately growth in the 3-D sector is at a standstill. I am not sure if it has to do with the companies themselves, the technology, or the sector as a whole.
One thing however I can say for sure is that, investors must stop paying pie in the sky valuations based on future growth. Time and time again I see people getting burned, just because some company is growing fast. Growth is good, but not if you overpay for it. Also, good companies don't make you money if you overpay for them.
Disclosure: I/we have no positions in any stocks mentioned, and no plans to initiate any positions within the next 72 hours.
I wrote this article myself, and it expresses my own opinions. I am not receiving compensation for it (other than from Seeking Alpha). I have no business relationship with any company whose stock is mentioned in this article.