During a quarter when the Silver Miners ETF (NYSEARCA:SIL) has lost over 20% of its value, it's been hard to find any survivors. While Endeavour Silver (NYSE:EXK) and Silver Wheaton (SLW) are down 23% and 30%, respectively, to start the quarter, there is one silver miner that is holding its own. Great Panther Silver (NYSEMKT:GPL) has not traded in lock-step with the other silver miners, and topped in April, while most silver miners topped in August. Over the past two months, Great Panther Silver has been quietly building a base and is up 23% for the quarter, while the Silver Miners ETF is down 20%. This massive outperformance is worth paying attention to in my opinion, when looking for silver miners to add to a portfolio.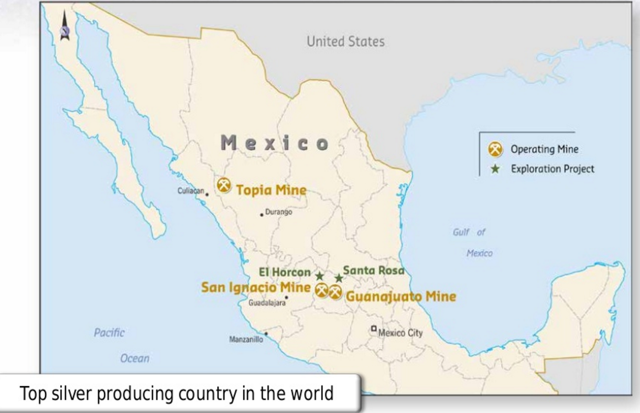 (Source: Company Presentation)
While the company is not my favorite silver miner, it does have quite impressive fundamentals. The company has no debt, and is well funded with over $53 million in cash. Great Panther Silver has 188 million shares outstanding, giving the company a market capitalization of $271 million at its current share price of $1.44. After subtracting for the company's $53 million cash position, Great Panther currently has an enterprise value of only $218 million. What are investors getting for this $218 million enterprise value?
Great Panther Silver currently has three operating mines in Mexico: San Ignacio, Guanajuato, and Topia. For the first nine months of the year, the mines have seen average all-in sustaining cash costs of $13.65 per silver (SLV) equivalent ounce. While this is not as impressive a figure as some industry leaders, it still gives the company plenty of wiggle room in its margins. Great Panther's Q3 results showed net income of $2.1 million for the quarter, based on a silver price of $19.65/oz. While there is very little hope to achieve a silver price this high for Q4, I do not expect the company to lose more than $1 million in Q4. Despite silver prices eroding 15% in Q4 thus far, zinc prices are up over 30%, and lead prices are up nearly 20%. Great Panther benefits considerably from by-products at its Topia Mine, and produced 324 tonnes of zinc, as well as 248 tonnes of lead in Q3 alone. I do not expect the zinc and lead production to completely offset the erosion in silver prices for this quarter, but I do expect they will help a little.

(Source: Company Presentation)
Despite the fact that Great Panther is not an industry leader in production or all-in sustaining cash costs, it has made a strong effort to keep costs in line. The company's original guidance for 2016 was for $13.00-15.00 in all-in sustaining cash costs, and it currently sits at $13.65 for the first nine months of 2016. This figure is in the lower end of GPL's initial guidance, and I expect it to stay under $14.00/oz for its full year consolidated results. Great Panther has stated that it expects higher costs for Q4 of this year due to capital expenditures and development at the Topia tailings dam.
Technical Outlook & Summary
Taking a look at the daily chart of Great Panther Silver, we can see the base that I mentioned earlier in the article. The stock has been trading in a tight range for the past three months between $1.15 and $1.44. Yesterday, the stock broke out of this range to the upside and made a new three-month high. This new three-month high was registered, despite the Silver Miners ETF recently making new three-month lows. I believe this is a very positive development for Great Panther, and I have gone long a starter position in the stock at $1.44 this morning.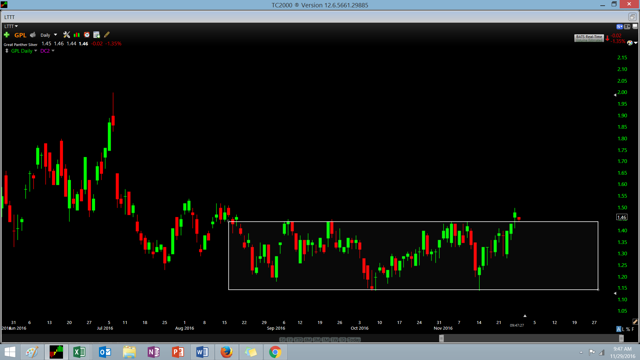 (Source: TC2000.com)
In addition to the new three-month highs for Great Panther, the stock's moving averages are very coiled at current levels. We can see below that the 20-day, 50-day and 200-day moving averages are all trending higher and within 5% of each other. This setup often gives the possibility for very explosive moves higher, if the breakout is confirmed. In addition to this, it is worth noting that Great Panther is one of the few silver stocks trading above its key moving averages. While the Silver Miners ETF and silver are below their 50-day and 200-day moving averages, Great Panther Silver remains above them. This shows that the company is potentially bottoming ahead of the index and the commodity, which is a positive sign for the stock. I would like to see Great Panther hold above the $1.44 level for a few trading days here, which would give me more confidence in this current breakout. While there is no denying the new three-month highs, technical breakouts often fail when the commodities are not confirming the move of the stock. Due to the fact that gold and silver are still trying to put in a bottom, some caution should be warranted here. This is why I have only begun a starter position as of this morning, and will decide whether to put on a full position if I get confirmation of this breakout.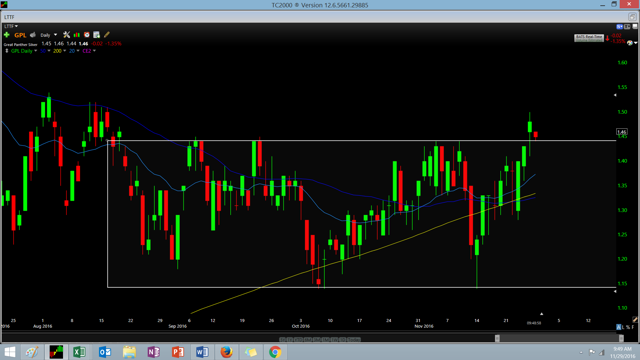 (Source: TC2000.com)
In summary, I am much more excited by this technical breakout than I am the fundamentals on Great Panther Silver. While the company does have good fundamentals and a reasonable valuation, my favorite silver miner is Fortuna Silver Mines (NYSE:FSM) which has considerably lower all-in sustaining cash costs. Silver sentiment is at the lowest level it has been in over 16 months, and most of the silver miners would benefit enormously if we see a buy signal based on sentiment. Currently, silver sits at 13% bullish, slightly up from the 6% bullish reading recorded last week. I believe Great Panther Silver will be one of the best long candidates if the price of silver can put in a bottom at these levels. The fact that the stock has put in a solid base over the past three months despite the plunge in silver gives me confidence in the stock going forward.
Disclosure: I am/we are long GPL.
I wrote this article myself, and it expresses my own opinions. I am not receiving compensation for it (other than from Seeking Alpha). I have no business relationship with any company whose stock is mentioned in this article.
Additional disclosure: If you liked this article and found it useful, please feel free to follow me by clicking on my name next to my avatar at the top of this article. I also invite you to follow me at www.twitter.com/TaylorDart01 where I routinely share my entries, exits, and stops on new positions, as well as updating followers on sentiment data on markets I am following.