Last week was a nightmare for anyone holding Eli Lilly & Co. (NYSE:LLY). Investors who went to bed holding the stock at $75.99 woke up to the dreaded gap down, with the stock opening off 15% at $64.35 on news of a failed experimental Alzheimer's drug. The company took a $150M charge on the news.
Trading action was frenzied as traders and investors tried to get a grasp on the news and its potential impact on future earnings. Investors interested in the company before the announcement got their chance to buy and bid the shares up through most of the day with the stock closing at $68.
I for one bought the open and traded out by the end of the day as I was not a convicted buyer. Timing is everything in this market; finding a good entry point is the goal of every trader, and in my book, it is ok to take a nice profit for the day.
A quick look at the chart: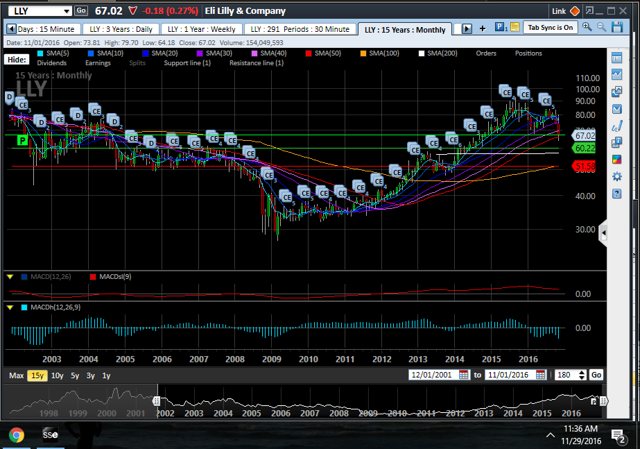 As you can see in the above monthly chart, the stock took a tremendous hit knocking it all the way back to 2014 prices and breaking the 50DMA on the monthly chart.
It may take a while for this to play out as damage has been done to the charts; however, the company has a stock buyback in place and may use this as an opportunity to buy back stock at a discount.
Shakeout underway
Investors can expect to have their conviction tested as the pharmaceutical sector is facing pressure. As you can see from the chart above, there is downside risk if the market decides to sell off.
While I like the entry point this morning at $66.50, there is a line of support at the $60 level that could be tested in the next few months marking another 10% downside potential. I am not saying it will go there, but investors need to be aware of the down cycle that has been in place for the sector since July 2015.
In a longer-term downtrend scenario, it is possible for the stock to trade at the $50 level in a capitulation trade brought on by any number of possibilities. I am not trying to scare anyone here, but it is important to know the downside possibilities before jumping in with both feet. The market has a way of wiping out people who are too optimistic, I urge caution.
Countertrend rally possible
In my opinion, this could stage a rally back to the $75 level in the next several weeks going into the earnings call scheduled for January 31st. Hedge fund managers that got caught may be looking to trim the rallies and trade around the position until things settle out.
Conclusion
Eli Lilly is a grand old company that has been around since 1876. Investors can expect it will still be here in 2056. The stock price will continue to fluctuate over the coming decades, the key is to pick your spots and have conviction when you do. At this point, I have very little conviction as the bulls and bears battle it out.
This may be the opportunity of the year or a value tap that gets cheaper over time. I am neutral on this one as I feel like it will trade in a downtrending range with some wicked countertrend rallies in between.
Under the Radar Pick for 2017
Novadaq Technologies (NASDAQ:NVDQ) is a Canadian company and leading developer and provider of clinically relevant fluorescence imaging solutions for use in surgical and diagnostic procedures. It is not making a profit and has taken a beating this year in the market.
The stock is currently making a new three-year low today, and I like it on a countertrend rally to $10. The company should be able to beat on upcoming comparables, and my belief is the business will be cash flow positive next year.
Here is a look at a 30-minute intraday chart: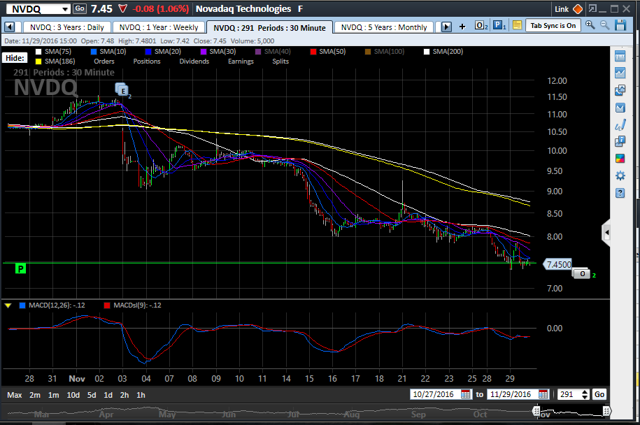 I believe that the stock is in a final capitulation sell-off that should be bought. It is presenting at the 28th Annual Piper Jaffray Health Care conference tomorrow and is due for a quick 20% to 30% gain.
As always do your own research and know your exit point before making any trade.
Disclosure: I am/we are long NVDQ.
I wrote this article myself, and it expresses my own opinions. I am not receiving compensation for it (other than from Seeking Alpha). I have no business relationship with any company whose stock is mentioned in this article.
Additional disclosure: I am trading LLy with a small position that I may increase or sell at any time.