I was rather optimistic in my previous article on gold (NYSE: GLD) and gold miners (NYSE: GDX) - I believed that support will hold, and both gold and gold miners will bounce. This turned out to be an excessively optimistic statement for gold, which fell below $1200 per ounce on the double hit from the rising U.S. dollar (NYSE: UUP) and the rallying U.S. stock market (NYSE: SPY).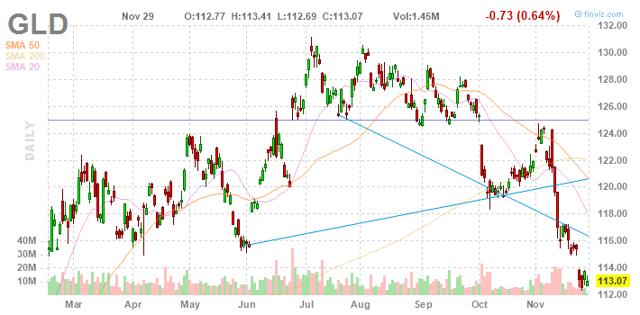 However, the situation for gold miners was better. Judging by the VanEck Vectors Gold Miners ETF (the abovementioned GDX), gold miners found support right after the first selling wave after the election was gone, and have held there firmly ever since. What is the possible explanation for this phenomenon?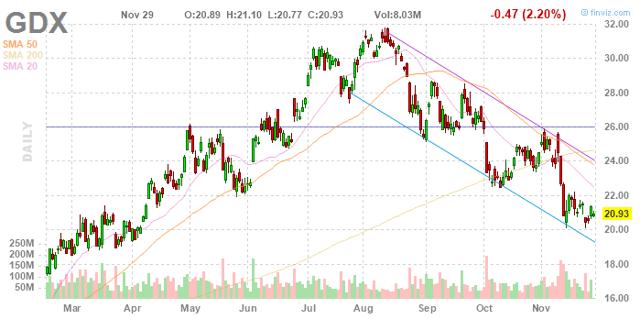 I believe this phenomenon highlights investors' hidden desire to have exposure to gold. A common argument is that if you want exposure to gold, you should buy a gold ETF. You can never make a mistake with this move - if gold rises, your ETF will go up, and if gold falls, ETF will go down.
However, by picking a gold miner, you expose yourself to company-specific risks: the balance sheet may be weak, production may come in lower than expected, while costs turn out to be higher, and so on so forth.
I believe there is a reason why many investors and traders prefer investing and trading gold miners' stocks rather than gold. The obvious one is that investing in miners provides a leverage to the price of gold, which is very useful when the trade goes according to your plan (less so if doesn't!). The less obvious reason is that you are more in control of your investment because you have more data points to deal with.
Gold price swings depend mostly on investors' mood towards gold. The technological use of gold stagnates, and jewelry sales are not so volatile unless there is a major shock - like a massive increase or decrease in the price of gold.
This means you have to keep track of various asset classes and multiple important events to guesstimate the potential impact on the price of gold. Sometimes, "obvious" conclusions turn out to be horribly wrong as highlighted by the trading action following the U.S. election results, when gold was up sharply, only to nosedive later.
With gold miners, investors are more in control with what's happening, as they can evaluate miners' assets, balance sheets and production trends. Make no mistake - every serious trend in gold will be picked up by the absolute majority of gold mining stocks. However, minor negative moves could be mitigated by the companies' inner strength (or amplified by the weakness).
In my view, the recent price action in gold miners' shares highlights investors' trust in the sector. As a group, gold miners did a good job this year of managing their production and cutting costs. Also, gold miners did not engage in a dangerous buying spree or take excessive debt. In return, the stock market gives them a pass on the latest leg down in gold. Fair, in my view.
Now let's turn to individual names. All of them show similar patterns, but I remain mostly interested in Randgold (NYSE: GOLD).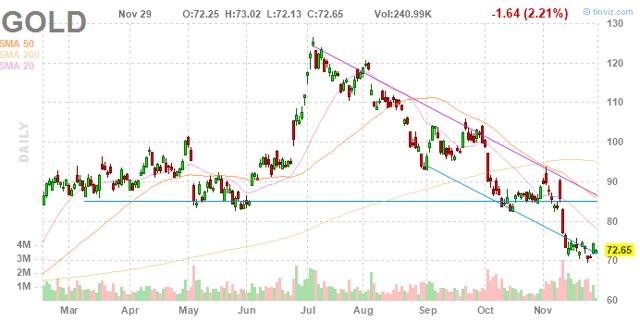 Rangold's correction was the most severe among big names, and the stock got seriously punished after the release of the third-quarter report, which was not that bad.
Meanwhile, Barrick Gold (NYSE: ABX), Goldcorp (NYSE: GG) and Newmont Mining (NYSE: NEM) are showing very similar patterns which highlight investors' interest in major miners' stocks at the current levels. Agnico-Eagle Mines (NYSE: AEM) is slightly behind in the recent days, with the rich valuation being the most likely factor.
In the mid-tier group, Yamana Gold (NYSE: AUY) was the only one that ultimately reached the support level of $3, while Kinross Gold (NYSE: KGC) and IAMGOLD (NYSE: IAG) did not hit their respective $3 support levels.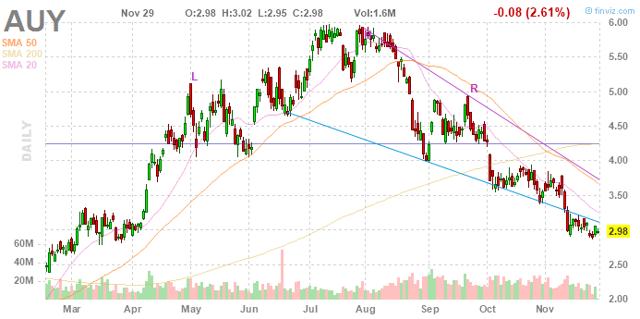 Interesting news came from South Africa, where Sibanye Gold (NYSE: SBGL) CEO stated that the industry was at risk of collapse due to political unrest and labor instability.
South Africa-based miners have seen a tough correction in their shares since the summer highs. Shares of Harmony Gold Mining (NYSE: HMY), AngloGold Ashanti (NYSE: AU), Gold Fields (NYSE: GFI) and the above mentioned Sibanye Gold were all roughly cut in half.
In my view, this segment is one of the most interesting to watch, as various problems make the stocks highly sensitive to gold price changes.
I expect that gold will be sensitive to the upcoming OPEC meeting, and gold miners should be watched closely, as they might provide entry points to play the rebound.
It is not obvious whether gold may return above $1200 and stay there in the short term, but positive action in gold miners' shares points to continued investor interest in the sector.
Disclosure: I/we have no positions in any stocks mentioned, but may initiate a long position in GOLD over the next 72 hours.
I wrote this article myself, and it expresses my own opinions. I am not receiving compensation for it (other than from Seeking Alpha). I have no business relationship with any company whose stock is mentioned in this article.