Johnson & Johnson (NYSE:JNJ) is approaching value territory, but I am not waiting. Given my investment horizon, I don't try to catch the last 5% downside or time things within a quarter. I am just not that good - at least I know it. If I had a dime for each time someone said I will buy when the stock is down another $2, $5 or <pick a number> (the goal post always moves down with the stock anyway) and lost out, I could have probably owned JNJ outright.
I prefer to get things directionally correct rather than quibble over the last few percentage points. I can afford to do this, because I tend to stick to buying quality businesses that I don't mind adding to as they go down. Over the years, J&J has become one of my largest core holdings (I have ~30 companies that make up ~50-60% of my portfolio that I seldom sell and mostly add to over time). What I lose in timing, I make up over time in dividends and stock appreciation (not to mention taxes and transaction costs). Few other companies are as forgiving of my inability to time purchases as JNJ.
I view J&J like a CD or a bond that one can buy and put aside, but one that yields close to 3% and grows every year. Of course, it is not nearly as stable as a CD, and the principal is not guaranteed, but as far as investing in stocks go, it is as close as it gets if you have a long-term horizon as I do.
My point of not splitting hairs when buying a company such as J&J is best illustrated by an investor tool given in the company's web site that shows how the stock performed since 1972. Figure 1a shows the value of 100 shares of stock purchased in 1972 for ~$10K growing into 4800 shares (after splits) today with a value over half a million dollars! Figure 1b is the same investment with dividends reinvested in the stock, turning into ~8000 shares worth $900K! Few other investments of $10K can turn someone into a millionaire in one's lifetime of investing.
Figure 1a: An Investment in J&J Since 1972, Without Dividends Reinvestment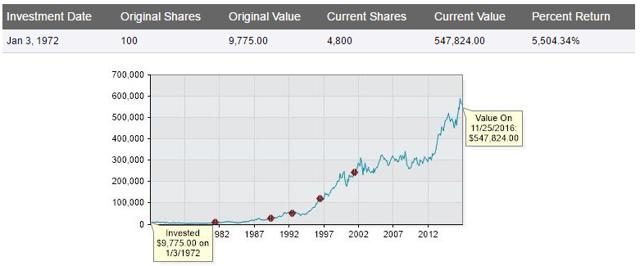 (Source: J&J Investor Web Site)
Figure 1b: An Investment in J&J Since 1972, With Dividends Reinvested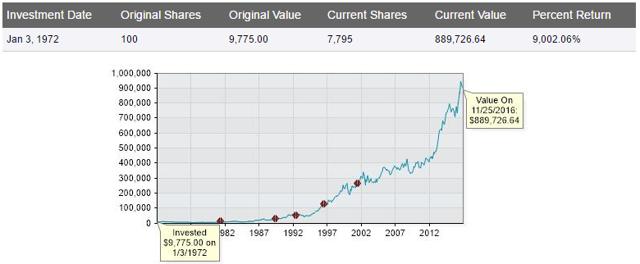 (Source: J&J Investor Web Site)
What is remarkable is that if you had purchased the stock in 1972 and held for 10 years, you pretty much made no money! The stock went sideways, and no one could have blamed an investor for dumping it in disgust. Yet, this would have been like closing the barn door after the horse is out.
For the next 30+ years, the stock went on a monster run - pausing for long stretches to grow into its valuation as investors got ahead of themselves when their pessimism of the '70s turned into unrealistic expectations of fast growth forever.
Even so, as Figure 2 illustrates, had you purchased the stock in the begging of 1987 (a date I picked because it includes the infamous Black Monday, October 19, 1987, where the DJIA fell over 20% in a single day), you still would have been ahead by ~2600% (not including dividends), compared to the S&P 500 index's return of ~800%.
Figure 2: J&J vs. S&P 500 Through the Crash of October 1987

(Source: Google Finance)
Of course, hindsight is 20/20, and no one rings a bell at the top. Yet, J&J, with its consistent performance and its positioning in the growing healthcare sector, has earned the benefit of doubt. As figures 3 and 4 from J&J's Investor Day illustrate:
The company has grown sales at an 8% CAGR.
It has grown EPS at a 10% CAGR.
JNJ has seen 32 years of earning growth.
The company has seen 54 years of dividends growth.
70% of sales come from the #1 or #2 position globally.
It is shareholder-friendly, returning 70% of the free cash flow over the last 10 years through dividends and share buybacks. The remaining 30% is deployed to value-creating acquisitions.
25% of the company's sales come from products it launched in the last 5 years.
To me, the last bullet is key: J&J lives in a world of expiring patents and product obsolescence; having innovation ingrained in the corporate DNA, much like 3M (NYSE:MMM), is a prerequisite for ongoing success.
Figure 3: 20-year History of Earnings and Sales Growth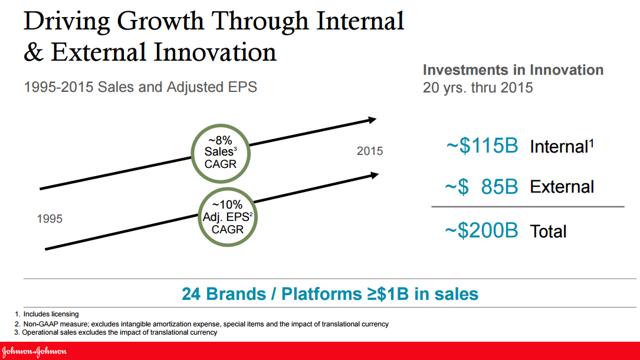 (Source: J&J Investor Presentation)
Figure 4: Consistency in Past Operations, While Building for the Future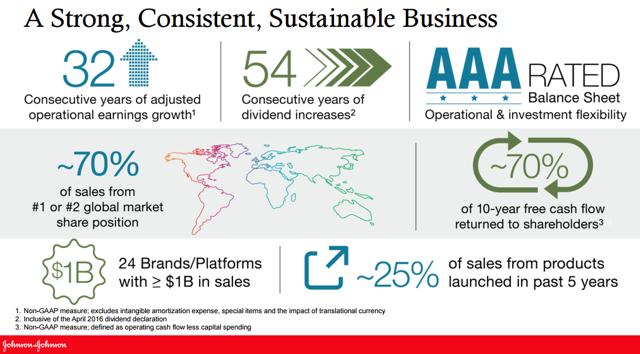 (Source: J&J Investor Presentation)
As for valuation, J&J is expected to make ~$6.7 in EPS this year and ~$7.15 in EPS in 2017. That is a forward multiple of 16, or an earnings yield of 6%. How's that for a long-term bond?
How about the next 10 or 20 years? If we extrapolate the 10% EPS growth, we are looking at $17 in earnings in 2026 and $44 in 2036. At a P/E of 16, the stock will trade at $270 in 2026 and $700 in 2036 - welcome to the wonderful world of compounding. As for dividends, one stands to collect ~$50 in dividends in the next decade (close to half the investment in the stock price) and over $130 in the following decade, for a combined return of over $180 in dividends for the next two decades: recovering more than one's cash outlay for the stock today. Try doing that in any other fixed income investment currently.
If, however, there is even a slight slowdown in the EPS CAGR, the compounding effect will certainly show itself: a mere 2% reduction in CAGR will reduce the above numbers to $14 EPS in 2026 and $31 EPS in 3036, resulting in stock prices of $230 and $500 respectively. Dividends too will be reduced, with $47 paid out in the next decade and $101 in the following decade, for a total of ~$150. Not too shabby - I have done worse - but not as good as a 10% CAGR.
As for J&J's balance sheet, it had over $40 billion in cash and $23.5 billion in long-term debt as of the end of Q3 2016. Its operations generate close to $20 billion in cash a year, and after capital expenditures of $3-4 billion/year, it has more than $15 billion in free cash flow to distribute to shareholders and for acquisitions.
So, given the strength of the company's operations, balance sheet and product pipelines and dominant market global market position, I believe it is reasonable to expect for the company to continue to deliver consistent EPS growth in the range of 8-10% well into the coming decade or two.
Speaking of Acquisitions...
So why is the stock down 10% from its all-time high over the summer, while the S&P 500 is higher? While the correction is not a big one (I certainly would like to buy the stock at lower levels), the recent chatter around J&J buying Swiss biotech company Actelion (OTCPK:ALIOF) for a large premium has played a factor. While the companies have confirmed they are in talks, no agreement has been reached, and there is only speculation on what J&J has offered in terms of price. The most recent reported number by Bloomberg is that is Actelion rejected a $26 billion (at $246 Swiss francs per share) number as being too low. As Figure 5 shows, this is a significant premium to where the stock had been trading over the past year and a significant P/E multiple.
Figure 5: Actelion Stock Price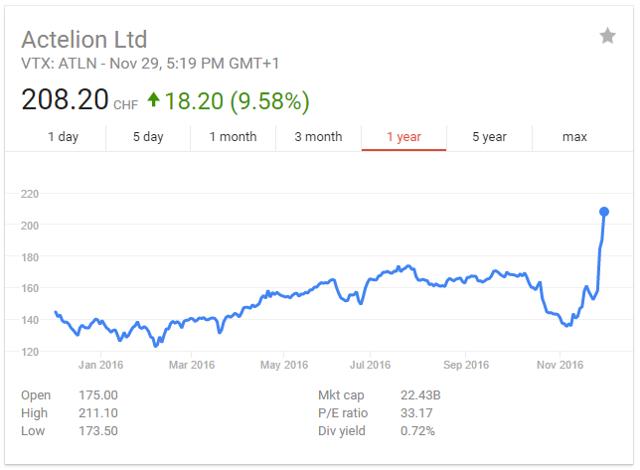 (Source: Google)
Bottomline
Even with the risk of overpaying for a potential investment, J&J's balance sheet strength and operational cash flow give it the ability to handle such premiums and still deliver a great return to shareholders over the long term.
In conclusion, the stock is selling at a price I am willing to buy more at. The acquisition speculation has also served to lower the stock price further. Much like J&J, I am willing to pay a premium for one-of-a-kind assets. Can it fall further? Sure. But I am not willing to play that timing game.
Disclosure: I am/we are long JNJ.
I wrote this article myself, and it expresses my own opinions. I am not receiving compensation for it (other than from Seeking Alpha). I have no business relationship with any company whose stock is mentioned in this article.