In my new book, The Intelligent REIT Investor, my co-author and I provide information to assist investors with wisely manage real estate risk effectively. By maintaining a tactical exposure in the brick and mortar asset class, investors should benefit from the information contained in our new book.
In addition to granular analysis, we believe that it's critical for investors to consistently view the REIT sector from a high level. By taking a few steps back and looking at the business model from a high altitude, we believe that data can used to gain a competitive advantage.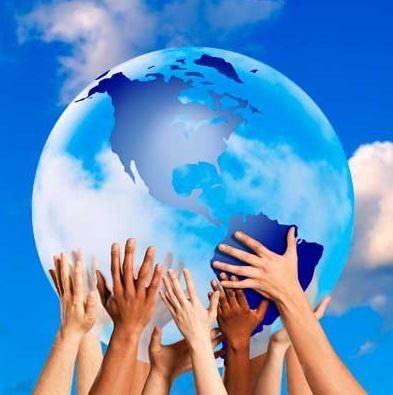 Given recent changes taking place within both equity and bond markets, we thought it might be helpful to go through some of the data we look at when formulating our outlook for the sector. This will, perhaps, help investors better understand our process and the resultant investment theses.
Be advised that it is often easier to show this data (or the directionality of the data) in chart format and, as a result, we have used charts liberally. We have also attempted to show where the data can be sourced from as much of it is publicly available (unless noted, the data/charts are drawn from the authors' spreadsheets).
What follows is also used in creating our outlook expressed in our radio show, iREIT premium service, Forbes newsletter and, of course, our Seeking Alpha Marketplace service - REIT Beat by Brad Thomas.
We often look at the ten-year term premia (actually look at it very often) for signs of market sentiment towards the direction of rates. The term premia we use was developed by NY Fed economists Tobias Adrian, Richard Crump, Benjamin Mills, and Emanuel Moench and is described (in their words) as:
Treasury yields can be decomposed into two components: expectations of the future path of short-term Treasury yields and the Treasury term premium. The term premium is the compensation that investors require for bearing the risk that short-term Treasury yields do not evolve as they expected.
(A more robust discussion on the model can be found here, the data here).
Currently, the ten-year term premia is 0.08, positive after a streak at negative values.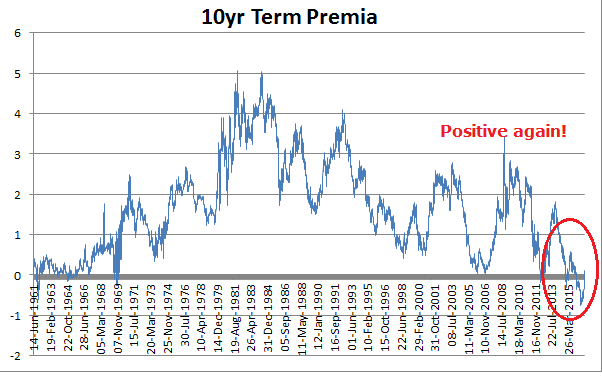 Source: FRBNY
We currently view the term premia as signaling the market requires more compensation for the potential that rate estimates could be wrong - essentially saying there is a greater range of possible paths and therefore, more uncertainty.
Why the increase in the term premia and the sudden uncertainty? Have a look at inflation expectations:

We look at five-year inflation expectations five years forward as an indicator of the markets views on future inflation. The chart above tells us that the market has increased its expectations for inflation, driving it over two percent (the Fed's "magic" number).
Similarly, we look at the Fed Five-year breakeven inflation rate, which represents a measure of expected inflation derived from 5-Year Treasury Constant Maturity Securities and 5-Year Treasury Inflation-Indexed Constant Maturity Securities. The latest value implies what market participants expect inflation to be in the next 5 years, on average. Currently, we see the following:

Recall in the past, we have looked at this versus the REIT index. Currently, we see the relationship as: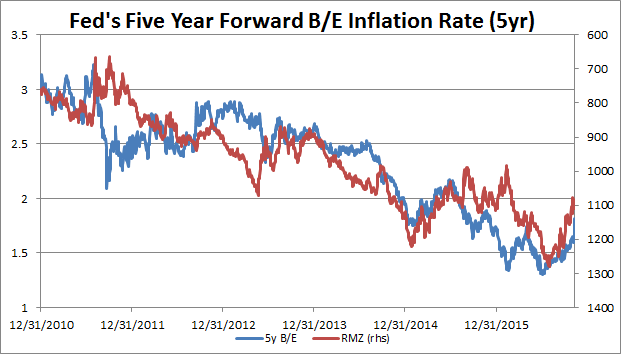 Looking a little closer, on a year-to-date basis, we see the following: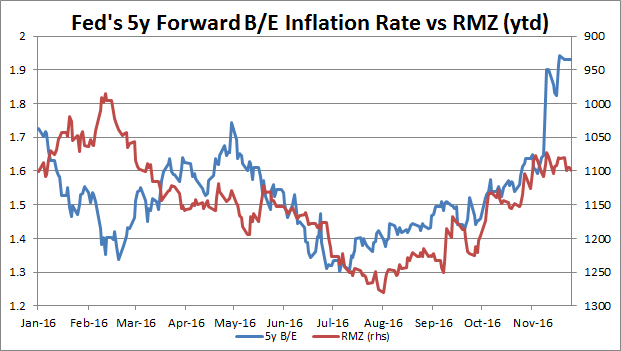 This chart has us somewhat concerned that there continues to be pressure, and downside, on REITs. The pressure is hard on existing holdings, but potentially opportunities to pick up some strong REITs a little cheaper.
Turning our attention to growth, we often look at two series (in addition to the actual GDP release) of data to get a feel for the direction of growth as new economic indicators are released. These two series are the FRB New York's "Nowcast" and the FRB Atlanta's "GDPNow". Most recently, these show the following: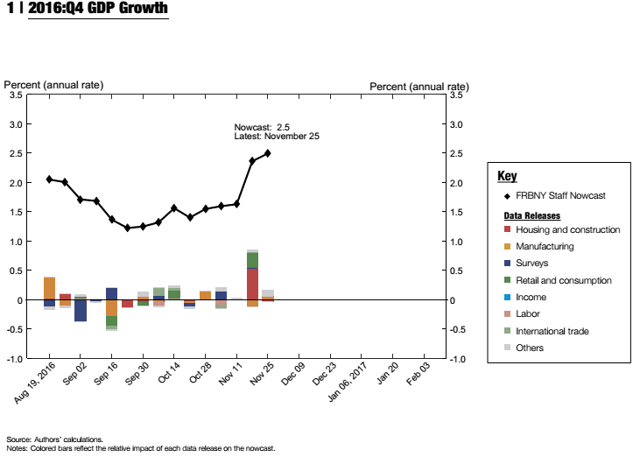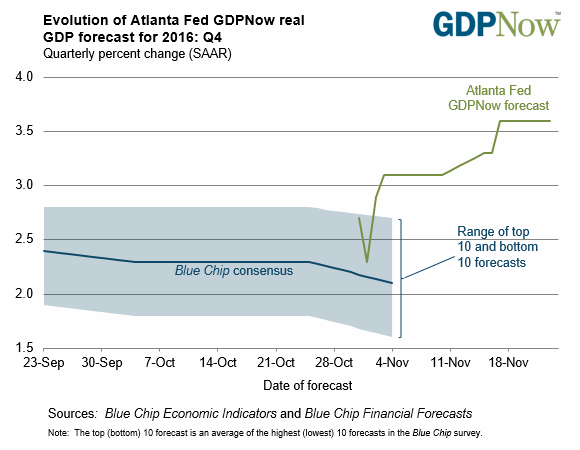 Both growth tools show an increase in GDP growth during the fourth quarter, which is expected to continue near-term. This bodes well for REITs from an occupancy/lease basis, but obviously, pressures rates.
An economic variable that many watch closely is the retail sales number. Recently, we have seen an increase in this number which also bodes well for REITs involved in sales (shopping centers, malls, freestanding triple net...). Retail sales is showing us the following:

The FRBNY also releases a model (called a DSGE model, which stands for dynamic stochastic general equilibrium) which they use to help forecast the US economy.
As they state:
In DSGE models, economic agents make decisions to achieve their objectives, given the circumstances they face. In the FRBNY model, these agents include: households, which work and consume; firms, which employ capital and labor to produce goods and services; banks, which intermediate credit between savers and borrowers; and the government, which sets fiscal and monetary policy.
The model incorporates key aspects of the economy: banks face borrowers' default risk, which leads them to charge a spread over the deposit rate to protect against this risk; households can only adjust their wages infrequently; and firms cannot always set prices optimally and face costs when adjusting investment or capital utilization.
As of the November 2016 update (they update it 2x/yr), the forecast is: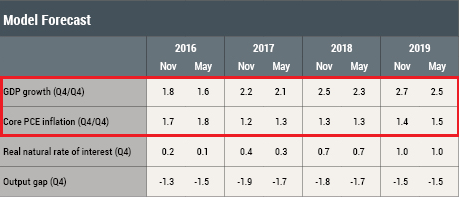 While forecasted growth isn't "out of the park", it is consistently modest (note the inflation expectations of the model versus the market's however) which supports cash flows for REITs.
The term premia, inflation and growth ultimately lead to rates (we will use Treasuries). Recall as well that we have shown the REIT index versus ten year bonds. Currently, we see the following: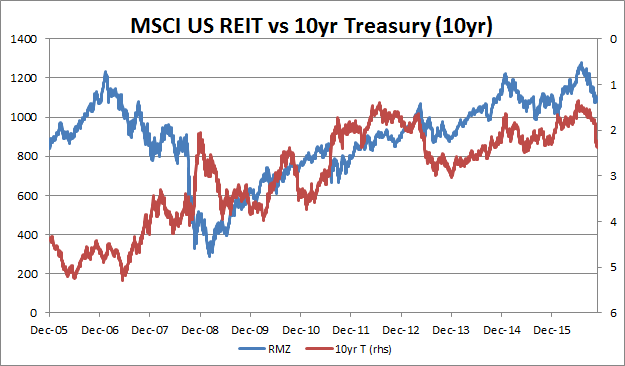 On a year-to-date basis, we see the following: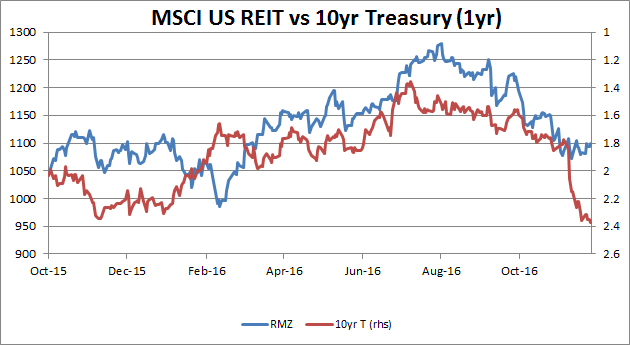 We also find this chart disconcerting as the Treasury note has increased in yield and REITs have held in, leading us to believe that if yields hold at these levels, there will be further pressure on REITs - much like the conclusion we came to with inflation break-evens.
Hopefully, the information above will help readers/investors understand some of the inputs we use to formulate our macro thesis and some of the reasons we are currently hesitant to allocate a significant amount of capital to the sector, preferring to leg into positions.
By the way, if you ever really want to "get your geek on", the Federal Reserve Bank of St. Louis' FRED database has an app, for mobile economic data (CLICK HERE). I have the android version and it's sweet.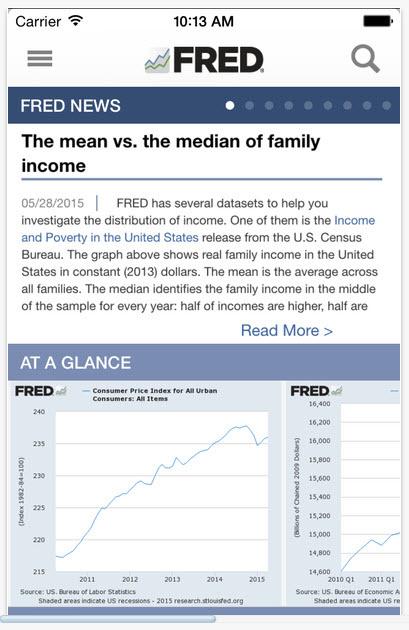 Author's Note: I'm a Wall Street writer and that means that I am not always right with my predictions or recommendations. That also applies to my grammar. Please excuse any typos, and I assure you that I will do my best to correct any errors, if they are overlooked.
Finally, this article is free and my sole purpose for writing it is to assist with my research (I am the editor of a newsletter, Forbes Real Estate Investor) while also providing a forum for second-level thinking. If you have not followed me, please take five seconds and click my name above (top of the page).
The only guarantee that I will give you is that I will uncover each and every rock I can, in an effort to find satisfactory investments that "upon thorough analysis promises safety of principal and satisfactory return. Operations not meeting these requirements are speculative." (Ben Graham).
The MSCI US REIT Index is a free float-adjusted market capitalization index that is comprised of these top REITs: (NYSE:SPG), (NYSE:PSA), (NYSE:PLD), (NASDAQ:EQIX), (HCN), (NYSE:AVB), (NYSE:VTR), (NYSE:EQR), (NYSE:BXP), and (NYSE:HCP) and others.
Disclaimer: This article is intended to provide information to interested parties. As I have no knowledge of individual investor circumstances, goals, and/or portfolio concentration or diversification, readers are expected to complete their own due diligence before purchasing any stocks mentioned or recommended.
Disclosure: I am/we are long O, DLR, VTR, HTA , STAG, GPT, ROIC, HCN, OHI, LXP, KIM, WPC, DOC, EXR, MYCC, TCO, SKT, UBA, STWD, CONE, BRX, CLDT, HST, APTS, FPI, CORR, NHI, CCP, CTRE, WPG, KRG, SNR, LADR, PEB, BXMT, IRM, CIO, LTC, DEA, NSA, HASI, VER.
I wrote this article myself, and it expresses my own opinions. I am not receiving compensation for it (other than from Seeking Alpha). I have no business relationship with any company whose stock is mentioned in this article.