This risk analysis of the Dow Jones is designed to identify key areas of resistance and risk of a retracement. I'm not a financial advisor and am not making a specific price recommendation.
In case you've been sleeping under a rock, the Dow has surged to all-time highs. And with those new highs has come an increasing risk of a retracement for investors long the Dow with the (NYSEARCA:DIA) SPDR Dow Jones Industrial Average ETF.
Monthly Chart:
The Dow Jones may have more room to run according to RSI and MACD on the weekly chart. However, divergence is emerging on the monthly chart signaling long-term fatigue in the recent rally.
Relative Strength Index (RSI):
If the Dow continues its surge in December and early 2017; pay close attention to the monthly close of RSI as it's approaching 70 (currently 67) and above 70 is overbought territory.
And since we haven't broken above 70 yet, technically the rally may not be finished. However, the new all-time highs in November for the Dow have not coincided with a new high in RSI.
This emerging divergence or lack of consistency puts the market at serious risk for a near-term pullback.
As you can see from the chart above, we're facing lower highs on the RSI by month-end while higher highs in the Dow. A.K.A. Divergence.
Monthly chart with MACD Added: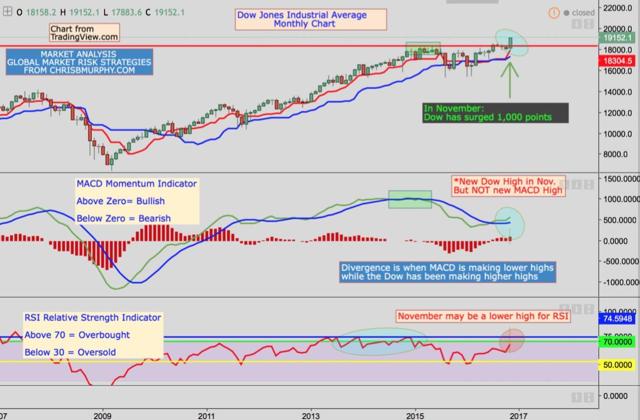 MACD Momentum Indicator:
If the Dow continues rallying and MACD fails to break the December 2014 highs (green highlighted box on MACD), we would have divergence signaling waning momentum.
In fact, we already see MACD is currently lower (highlighted blue circle) than its 2014 highs; and any down month for the Dow would likely mean we'll close with a lower high on MACD and a higher high for the Dow.
For review, divergence means market prices go one way, while MACD either stalls or goes the opposite way. Divergence can, but not always, signal a lack of momentum behind the price move. Just bear in mind, with long-term charts, MACD can signal divergence for days if not weeks before market prices reflect the momentum indicator.
For the market to avoid divergence, we want to see the Dow make new highs while the indicator makes new highs as well.
Key takeaways:
MACD is still above zero which is bullish. Even if MACD begins to approach the zero line, the Dow can still surge to new highs. Divergence can last for weeks if not, months.
RSI is not at 70 or overbought territory yet on the monthly chart which may indicate another move is possible even following a pullback.
If the Dow breaks lower past 18,400 and MACD turns and heads lower as well; we may be in for a correction.
Video article of shorter-term charts:
For a shorter term outlook and key resistance areas that could signal a possible pullback, please click on the article link (includes a video of chart analysis). Scroll to the bottom of the article for the video.
Click for Video-article of weekly and daily chart analysis.
Disclosure: I/we have no positions in any stocks mentioned, and no plans to initiate any positions within the next 72 hours. I wrote this article myself, and it expresses my own opinions. I am not receiving compensation for it (other than from Seeking Alpha). I have no business relationship with any company whose stock is mentioned in this article.