The non-ceasing political disturbance and reigning uncertainty is dominating every aspect of life in Thailand since the King Bhumibol Adulyadej's death on October 13. The Crown Prince Maha Vajiralongkorn is supposed to appear for an audition as a heir to the throne after he had been invited to become the next King by the parliament. The deeply divided society, depressed under the rule of the military junta, needs reconciliation.
The macro view from the long-term perspective for Thailand is rather worrying, notwithstanding the country's status of oil and gas producer. Its own natural resources are not proving to be large enough to count on to satisfy the growing domestic demand. The oil reserves are on the way to extinction, and the capacities of the robust gas production are not sufficient to compensate for overtaking consumption. Thailand has turned into a net gas importer and faces increasing reliance on oil imports as well.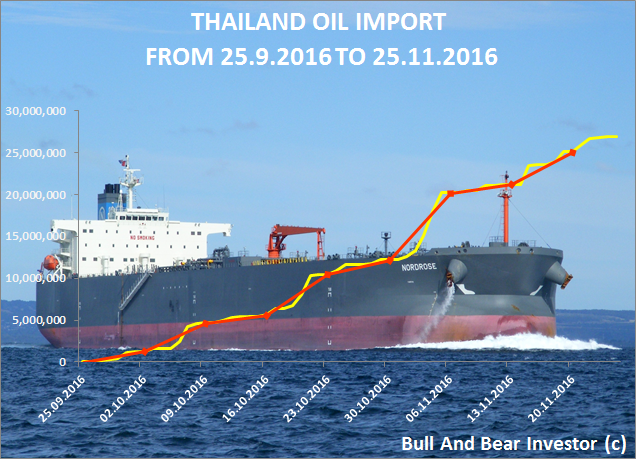 (Source: Tanker tracking data, Bull And Bear Investor's calculations).
The import curve reflects an intermittent character of oil cargo inflows, it remains unclear they are at all affected by the event of the King's passing followed by the mourning period.
More than a half the crude shipments are originated in the Middle East, with zero contribution by Iran. Although it is predictable that in not so remote a future the once rogue member of OPEC will find its way to squeeze into the Thai market anyway.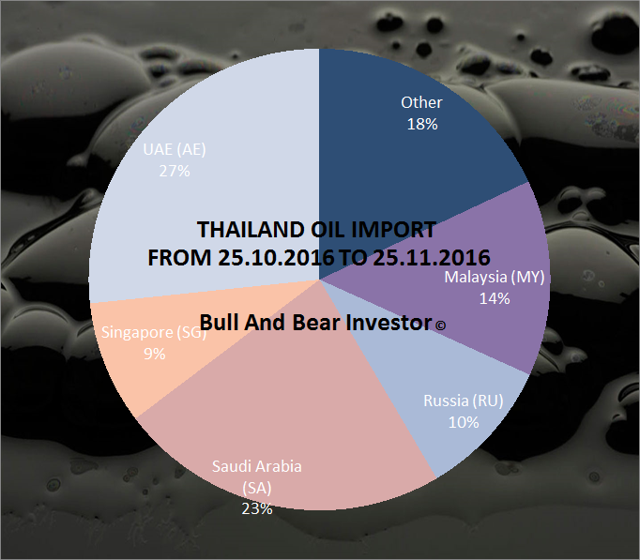 (Source: Tanker tracking data, Bull And Bear Investor's calculations).
The state-owned PTT and its refining unit Thai Oil have reported strong 3rd quarter profits, overshadowing the forecasts. Forex gains and favourable refining margins helped to reverse losses suffered in 2015.
PTT is currently undergoing some restructuring splitting off its retail business unit, which is due to be renamed as PTT Oil and Retail Business Co Ltd (PTTTOR) to be listed eventually on the Stock Exchange of Thailand. The move is aimed to react to shrinking tolerance of fluent markets to inflexibility typical for inert government-controlled institutions.
In the 1st quarter of 2017, Thai authorities were supposed to open for bids 29 onshore and offshore concessions for gas and oil production. But the first auction since 2007 was postponed again, and will be only completed in 2018. The existing contracts held by Chevron Corp and PTT Exploration and Production are due in 2022 and 2023, respectively.
Previously, PTT announced plans to sign 15-year contracts with Royal Dutch Shell and BP to secure supplies of liquefied natural gas. The 5 million tons capacity of Map Ta Put LNG import terminal in the Gulf of Thailand will be doubled by March 2017. The current long-term deal with Qatar is ensuring some 2 million tons a year.
More gas is being pumped in via the ASEAN pipeline from Thai-Malaysia joint offshore development area. This type of cooperation sets an example to follow in a region where territorial disputes have long been the cause of dormancy for many downstream projects.
However, the Thai authorities will have to lose sleep over the challenging task to pursue the investors' money. Any wrongdoing might provoke the capital outflow, then it will take a lot of effort to make the country attractive for investment again. To be updated soon.
Our articles are typically based on tanker tracking data, which is not available for free anywhere else. If you want to receive notifications on when our articles are published, please go to the top of this page next to my profile, click the "Follow" button and then click on "Real-time alerts on this author."
Disclosure: I/we have no positions in any stocks mentioned, and no plans to initiate any positions within the next 72 hours.
I wrote this article myself, and it expresses my own opinions. I am not receiving compensation for it (other than from Seeking Alpha). I have no business relationship with any company whose stock is mentioned in this article.
Additional disclosure: The material presented in this article is provided for informational purposes only and is based upon information that is considered to be reliable.