Due to the United States' Thanksgiving holiday the latest Commitment of Traders (NYSE:COT) report was issued on Monday evening as opposed to the previous Friday. For bulls, the latest report is showing that we are losing some of that speculative froth that was in the gold market as longs close out positions and shorts increase their own positions. Additionally, this report only covers traders' positions through November 22nd, which was the last day before gold plummeted through the $1200 level - which means that there are currently even less longs and more shorts than are shown in this report.
From a contrarian perspective, this is a positive as we believe in gold's strong fundamentals in the expected fiscal expansion environment, but we want to be buying it when it is not at frothy levels. We will give our view and will get a little more into some of these details but before that let us give investors a quick overview into the COT report for those who are not familiar with it.
About the COT Report
The COT report is issued by the CFTC every Friday, to provide market participants a breakdown of each Tuesday's open interest for markets in which 20 or more traders hold positions equal to or above the reporting levels established by the CFTC. In plain English, this is a report that shows what positions major traders are taking in a number of financial and commodity markets.
Though there is never one report or tool that can give you certainty about where prices are headed in the future, the COT report does allow small investors a way to see what larger traders are doing and to possibly position their positions accordingly. For example, if there is a large managed money short interest in gold, that is often an indicator that a rally may be coming because the market is overly pessimistic and saturated with shorts - so you may want to take a long position.
The big disadvantage to the COT report is that it is issued on Friday but only contains Tuesday's data - so there is a three-day lag between the report and the actual positioning of traders. This is an eternity by short-term investing standards, and by the time the new report is issued it has already missed a large amount of trading activity.
There are many different ways to read the COT report, and there are many analysts that focus specifically on this report (we are not one of them) so we won't claim to be the exports on it. What we focus on in this report is the "Managed Money" positions and total open interest as it gives us an idea of how much interest there is in the gold market and how the short-term players are positioned.
This Week's Gold COT Report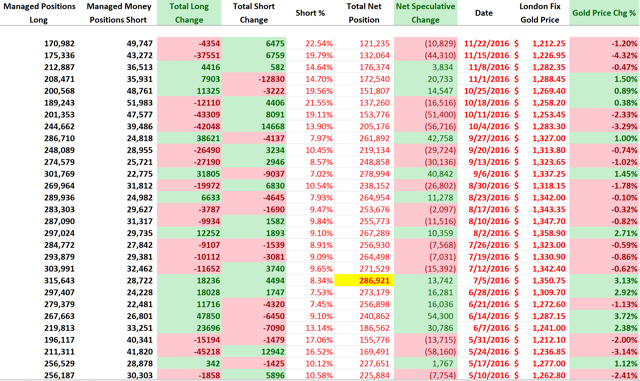 This week's report showed a drop in speculative gold positions as longs decreased their positions by 4,354 contracts on the week. On the other side, speculative shorts increased their own positions by 6,475 contracts on the week. That brought the net speculative long position to a mere 121,235 contract - the lowest it has been since early February.
Some analysts were expecting a larger drop in gold speculative positions, but we wanted to remind readers that the COT reporting period closes on Tuesday, which means for the COT week gold only dropped a little over 1%. The big move in gold came the following day (Wednesday) as gold dropped through the $1200 levels, but we will not see traders' positions until next week's COT report. But it should be pretty obvious that we are going to see a much lower net speculative level and possibly under 100,000 net long contracts - which would be bullish from a contrarian perspective.
Moving on, the net position of all gold traders can be seen below: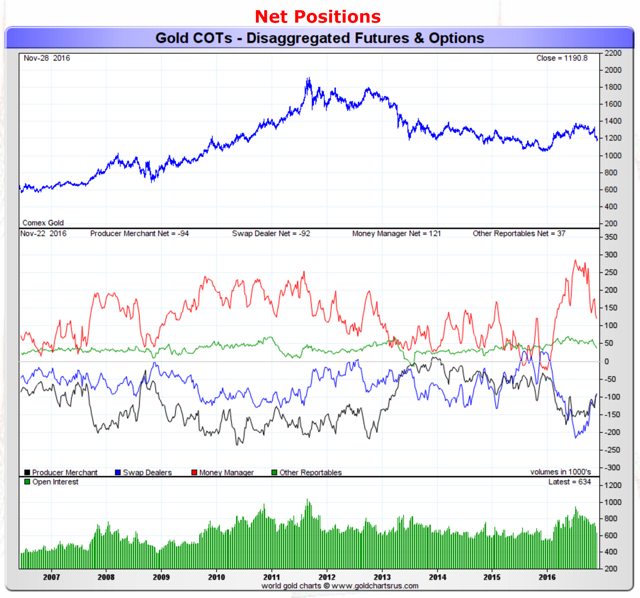 Source: Sharelynx Gold Charts
The red-line represents the net speculative gold positions of money managers (the biggest category of speculative trader), and as investors can see, the decline in speculative traders continued as the net long position fell to some of the lowest levels since early this year.
As we said last week, these are healthy speculative levels for a bull market (at least historically), but they are high for a bear market. Which one are we in? That question seems to still be outstanding especially as many investment banks reverse their calls on gold in response to its recent downturn. A good reminder for investors that investment banks tend to be trend followers…
As for silver, the action week's action looked like the following: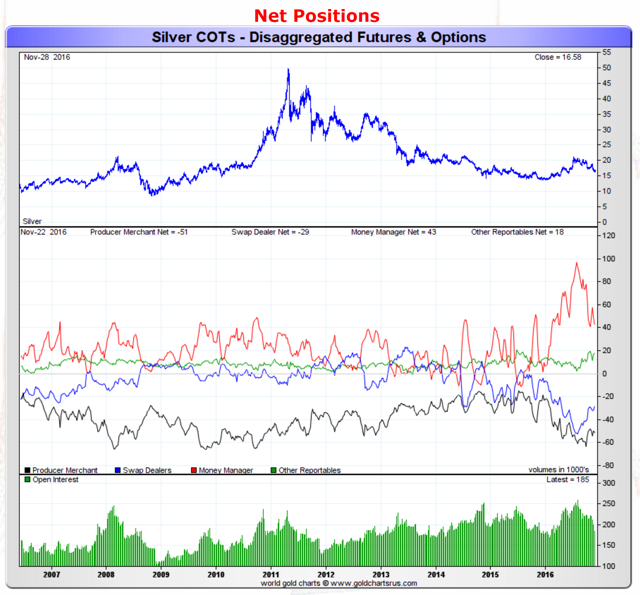 Source: Sharelynx Gold Charts
The red line which represents the net speculative positions of money managers, shows a large drop in speculative positions but we still remain relatively high in terms of historical silver net speculative positions.
Our Take and What This Means for Investors
The COT report is showing that a lot of that speculative froth we saw in gold and silver over the past two months is being eliminated as levels are now what would be healthy for a bull market (at least in gold). Additionally, since this report doesn't include any of the big drop in gold below $1200 per ounce, we are probably at even lower net long levels in gold - which means there are even less speculators than this report shows.
Unrelated to the COT report, we are starting see physical demand pick up in both India and China as premiums rise. In fact, Chinese premiums compared to world market prices, are at their highest level in nearly three years at the end of last week (roughly $25 per troy ounce). We could see this continue as Chinese gold traders and jewelry manufacturers are likely to require large quantities of gold in the run-up to the Chinese New Year festival at the end of January, Commerzbank added.
Add in the fact that there are two votes this weekend in Italy and Austria that could have significant geo-political implications, and there are a lot of reasons to be bullish on gold in the short-term. The fact that we are seeing speculative longs abandoning their positions is a very positive development and we think the right move here is to accumulate gold and ETF's such as the SPDR Gold Trust ETF (NYSEARCA:GLD), ETFS Physical Swiss Gold Trust ETF (NYSEARCA:SGOL), iShares Silver Trust (NYSEARCA:SLV). We are also starting to warm up to the miners, many of which are down 50% from highs set earlier this year - we think this makes a wonderful time to buy while speculators are selling.
Disclosure: I am/we are long SGOL, SIVR.
I wrote this article myself, and it expresses my own opinions. I am not receiving compensation for it (other than from Seeking Alpha). I have no business relationship with any company whose stock is mentioned in this article.