Companies Defending Margins
In another update to our regular series of articles on layoffs/job cuts, we have a handful of new companies to add to our list. These layoffs send mixed signals of what is to come for these companies. As the Dow Jones Industrial Average (NYSEARCA:DIA) is correcting from freshly-set lifetime highs, these layoffs beg the question: are these market highs sustainable?
These job cuts come at a time where revenue growth is seen tapering off. In order to achieve Wall Street's high earnings targets, companies are being forced to cut costs. With so much uncertainty still in the air following the election, as well as so much uncertainty still regarding a potential rate hike, we will be watching closely for clues as to where markets are heading. While we are not certain where markets are headed, we would be kidding if the phenomenon shown in the chart below did not scare us.
A Reason To Worry?
Another related dataset we are keeping a close eye on is the U.S. monthly unemployment rates charted below. We included this chart in our layoffs article last week, and readers seemed to like this historical macro perspective to backdrop seemingly micro layoff announcements.
While technical analysis phenomena like support and resistance are usually applicable to price-action charts, you will see there is historical 'support' in the current 4% - 5% unemployment range. We all know that past performance is not necessarily indicative of future results. We also know that those who forget history tend to repeat it. So, which one is this?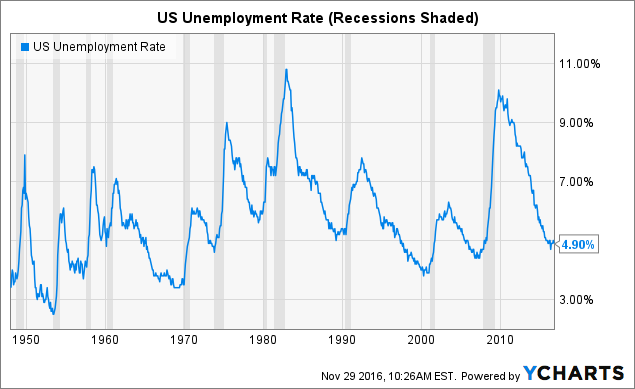 Leading into past recessions, the unemployment rate bottomed at this range before sharply rebounding as recession hit and massive net-layoffs mounted. Now that we scared you with the chart above, time to update investors and traders on this week's layoffs.
Airbus Group SE (EADSY) (EADSF)
According to the announcement, Airbus said it would be slashing as many as 1,164 positions in a company-wide savings plan that will merge their corporate headquarters with the headquarters of their commercial-jetliner unit. Airbus announced the job cuts to its labor groups on Tuesday. This follows last week's layoffs article where both Boeing (NYSE:BA) and Textron (NYSE:TXT) both cut jobs. This is part of a sweeping downtrend in the aerospace manufacturers as airlines and business jet customers have slowed plane orders.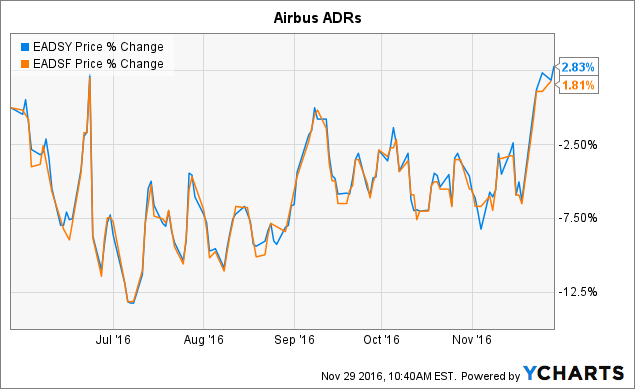 Intel Corp. (INTC)
Intel has notified the State of California Employment Development Department that they intend to cut 84 jobs from their Santa Clara, California headquarters at the end of this year. Intel said in the release that, "these reductions are in conjunction with our effort to re-balance our workforce to align to strategically important areas in the data center, Internet of Things, and memory businesses..." hinting at a decline in their core business of making microprocessors.
Gulf Island Fabrication, Inc. (GIFI)
Gulf Island's Gulf Marine Fabricators, responsible for fabricating offshore oil rigs and more, has announced that they will be cutting over 250 jobs from their Aransas Pass, Texas location over the coming six week period. As seen in the chart below, GIFI has been plagued by falling oil prices over the last year and a half. This has led to a decrease in lower margin offshore drilling and exploration, and a bolstered focus on high-production, high margin wells only. The company has yet to comment.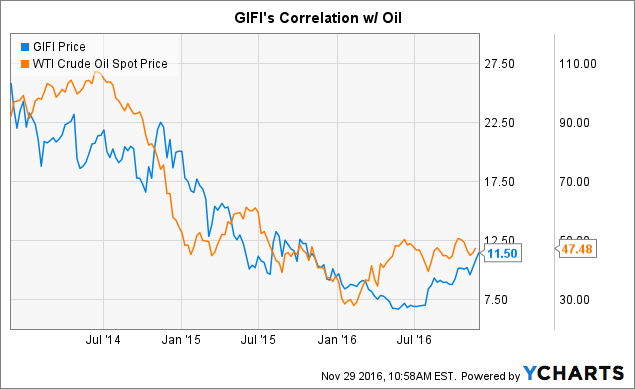 Standard Chartered Plc. (SCBFF)
Standard Chartered announced that they will be trimming 10% of their corporate and institutional divisions as they strive for a turn around. This is part of the greater 15,000 person layoff plan that Standard Chartered announced back in 2015 to bolster the company. According to Bloomberg, last year's corporate and institutional revenues dropped 7% for SCBFF. While many of these cuts are expected to hit Singapore and Hong Kong operations of the bank, we are standing by waiting for more details. The cuts are supposed to start happening this week.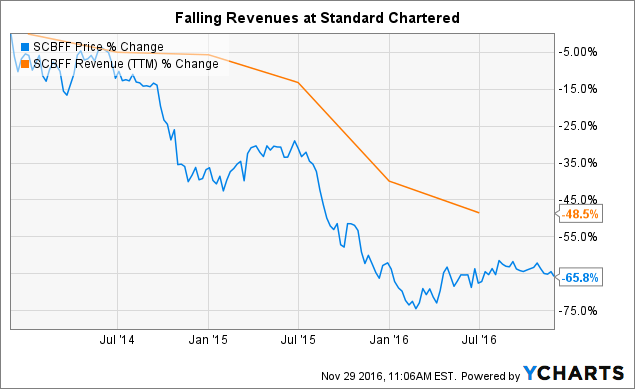 PotashCorp (POT)
PotashCorp announced that they would be cutting 140 jobs from their Cory mining operations. According to Potash, these cuts were necessary "after the mine cut its production by 600,000 tonnes. While the Cory mine used to produce red and white potash, it will now produce white potash only." As commodity prices for oil, potash and more have slid, companies like POT have been seeking out ways to defend margins.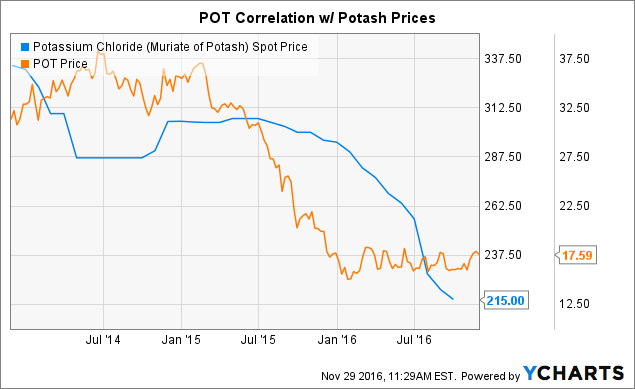 Web.com Group (WEB)
Web.com's recently acquisition of Yodle in February projected out $30 million in synergies once the companies combined. As many will tell you, synergies primarily mean cutting redundant positions in the workforce. Now those synergies are coming to fruition as 15% of Yodle's Austin, Texas staff will be cut according to the announcement. The cuts are expected to start on December 31st of this year, and will effect nearly 100 employees.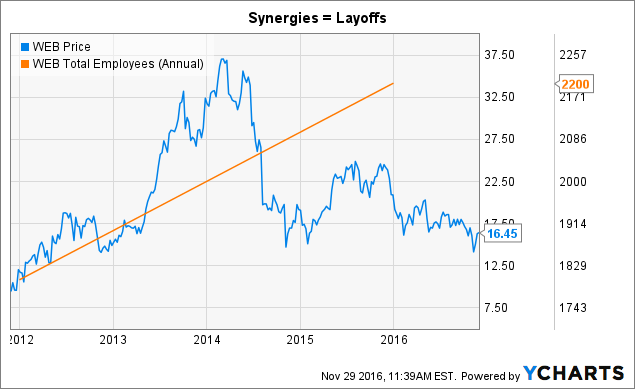 Entertainment One Ltd. (ENTMF)
Toronto, Canada based Entertainment One announced that they would be closing down their Port Washington, New York operations in June of 2017, leading to job cuts for roughly 65 employees. The layoffs will begin sooner however, starting on December 31st of this year.
Brookdale Senior Living Inc. (BKD)
As a part of a cost-cutting measure and corporate restructuring effort, Brookdale Senior Living just announced that they would be cutting approximately 100 employees. According to the announcement, "regional dining services directors, regional maintenance techs, and several regional vice presidents are among those to see their positions cut..." The layoffs follow closely after Brookdale missed the street's Q3 earnings expectations for, which sent share prices plummeting >18%.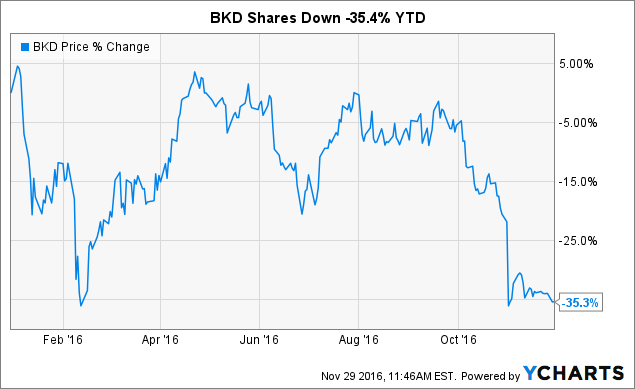 Fair Point Communications (FRP)
Fair Point Communications will be cutting nearly 150 jobs in Maine New Hampshire, and Vermont. The exact state-by-state breakdown is unclear thus far, however the underlying reasoning is. According to Fair Point spokesperson, Angelynne Amores Beaudry, "...we must take what are often difficult steps to address the reality of a decline in landline usage...We are in a highly competitive industry and have seen a decline in the past 12 months." It is still unknown when these cuts will be taking effect.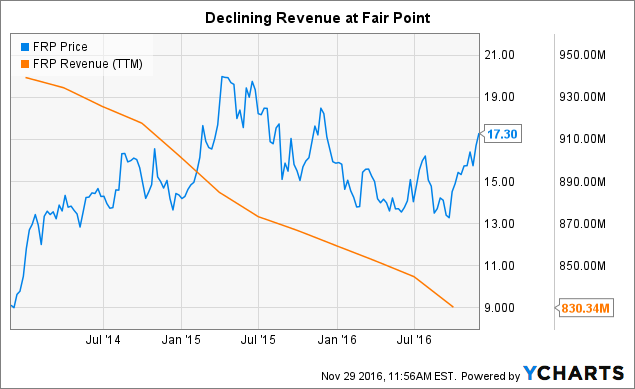 Hewlett Packard Enterprise (HPE)
Hewlett Packard Enterprise has just cut 115 employees from their Roseville, California operations in an ongoing layoffs effort that started back in July. The layoffs have come about following last fall's spin-off where Hewlett Packard Co. split into two companies. HPE makes products such as servers, software and more, while HP Inc. (NYSE:HPQ), makes printers and PC's.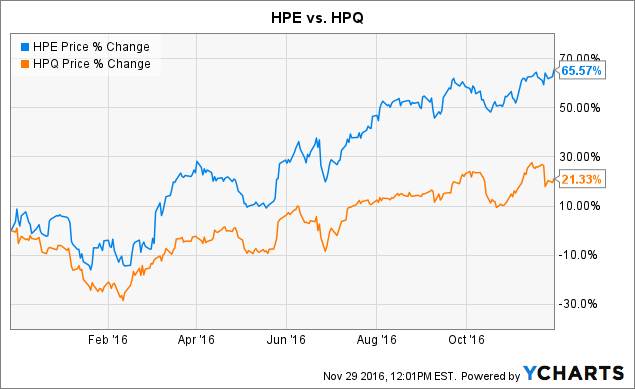 Read more here: www.sacbee.com/news/business/article1157...
Conclusion
Besides the overall economic indicator appeal of tracking layoffs at major publicly listed companies, we closely follow these layoffs because we believe that shareholders should pay attention to these cuts no matter how big or small. These cuts and layoffs are small signals to shareholders that provide a world of color as to what is going on within a division of a company you own shares in.
Also, don't forget the chart we showed in the intro. While it should only be one of many tools used when making a macroeconomic prediction, we find it interesting that unemployment rates have historically rebounded higher from this current range, while also signaling for a recession.
Be sure to follow us to stay in the loop, and check back soon as we will be sure to update readers on new cuts as they are announced.
Further Reading
If you did not get a chance to read our most recent layoffs article, check it out here. If you are tired of reading about layoffs and are looking for something totally different from us, check out yesterday's article on hedged Italian equity ETFs.
Disclosure: I/we have no positions in any stocks mentioned, and no plans to initiate any positions within the next 72 hours.
I wrote this article myself, and it expresses my own opinions. I am not receiving compensation for it (other than from Seeking Alpha). I have no business relationship with any company whose stock is mentioned in this article.
Editor's Note: This article discusses one or more securities that do not trade on a major U.S. exchange. Please be aware of the risks associated with these stocks.