In this article I present the most recent government data on the electric utility business. Then, we dig into the relative performance of a group of small cap versus large cap utilities. Finally I'll share my opinion on the sector during the Wrap-up.
Select EIA Figures For 2010-2016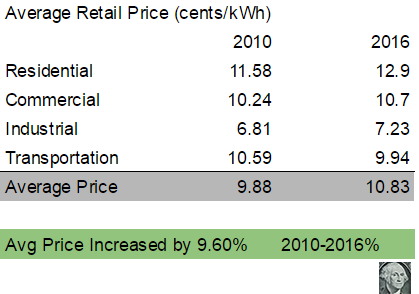 (Source: eia.gov, Faloh Investment)
2010's total retail revenue by electric utilities was $312,299 million, sales increased to $375,848 million during the year of 2016.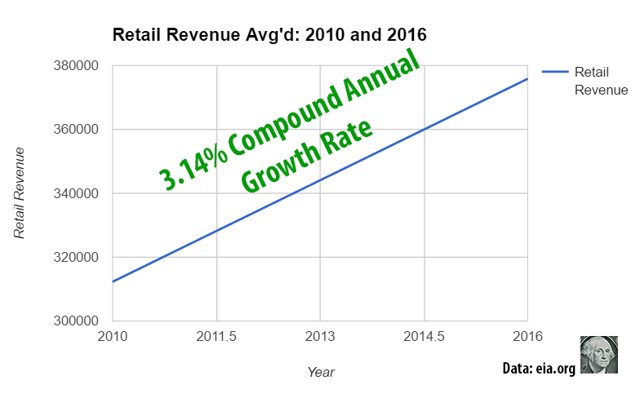 (Source: eia.gov, Faloh Investment)
Increases in revenue earned across every ultimate customer segment were responsible for total revenue's compounded annual growth rate of 3.14%.
Here is the revenue and price data for years 2010-2011 and 2015-2016: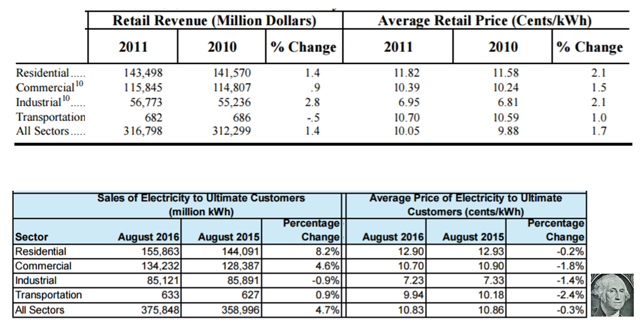 (Source: eia.gov, Faloh Investment)
How The Energy Producers, Distributers, and, Retailers Performed
After sorting the data to include only free cash flow producing electric utilities, I formed two groups to help sift the data. Each group is characterized in the next paragraph.
One group contains the four largest regulated electric utility companies by market capitalization, the other contains five smaller companies selling electricity in regulated domestic markets. The group of smallers have market capitalizations ranging from one to six billion. Their combined market cap is $17.65B. The group of larger companies have a combined market capitalization of $104B. Throughout the next paragraphs I'll refer to the smalls as S Group and the larger companies as L Group.
| | |
| --- | --- |
| S Group | L Group |
| The Empire District Electric Company (NYSE:EDE) | NextEra Energy, Inc. (NYSE:NEE) |
| ALLETE, Inc. (NYSE:ALE) | Consolidated Edison (NYSE:ED) |
| Hawaiian Electric Industries Inc. (NYSE:HE) | WEC Energy Group (NYSE:WEC) |
| IdaCorp, Inc. (NYSE:IDA) | Avangrid (AGR) |
| Great Plains Energy Incorporated (GXP) | |
| Combined Market Cap: $17B | $104B |
Below are S and L Groups profit margin's from 2010-2016. S Group in gray.
(Source: Faloh Investment)
The two groups of companies share similar growth profiles and profit margins earned at each company has increased across the board since 2010.
L Group Profit Margin: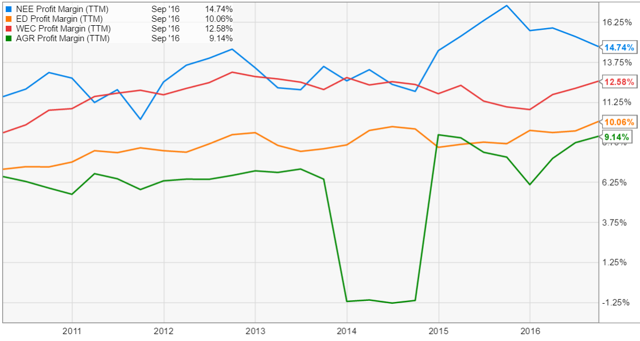 (Source: Faloh Investment)
Some investors consider larger companies to be generally more stable than smaller companies. Most of the companies in the above chart posted stable profit margins. The cup formed by AGR's profit margin trendline indicates about a year's time during which earnings collapsed. In the end, data shows earnings at each company have generally held up and marched upward during the 2010-2016 period.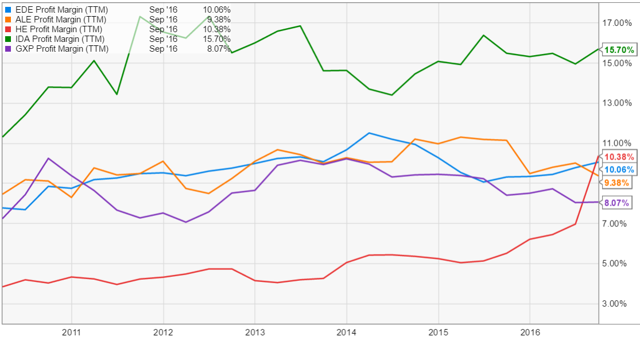 (Source: Faloh Investment)
The companies in S Group have turned in diverse results. Three companies in the group reported slightly improved profit margin. Two companies made waves by accomplishing big expansions in their respective profit margins. From 2010 to 2016, IDA's profit margin improved by over 20%. HE's net margin for 2016 is nearly three times larger than the figure they reported back in 2010.
Recent figures from each company show improved profit margins compared to their 2010 performances.
Eight Of Nine Companies Outperformed The XLU ETF
One of the larger ETFs focused on electric utilities is the Utilities Select Sector SPDR ETF (NYSEARCA:XLU). The following price charts show each group S and L's price histories for the period, with the XLU as a benchmark for the sector.
S Group and XLU's Price Chart: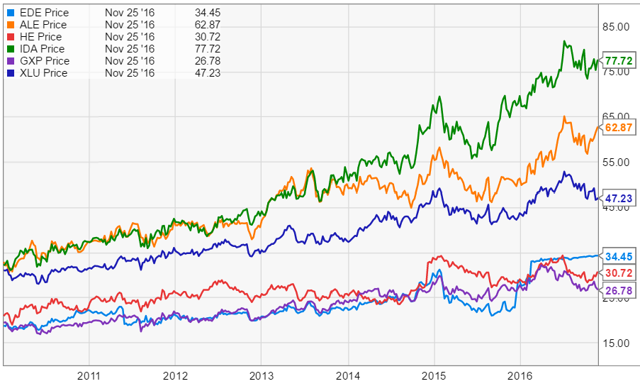 (Source: Faloh Investment)
L Group and XLU's Price Chart: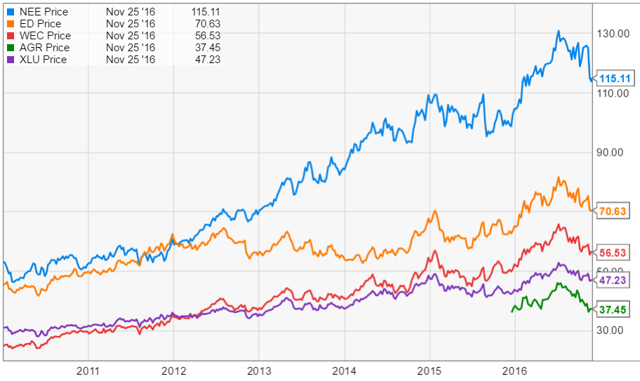 (Source: Faloh Investment)
Here are the returns an investor who bought these companies in the beginning of 2010 has earned (total returns presented as on paper and before taxes):


(Source: Faloh Investment)
Outperformed The ETF
Except for GXP's inferior total returns result, these individual electric utility company's respective equity stock generated better returns than the more diversified XLU ETF.
Overall, the group of surviving smaller companies earned better returns than the large caps.
The Wrap: The Electricity Selling Business 2010-2016 Update
On the bearish side, if the Feds proves hawkish and does raise interest rates, safer yields will become available outside of the electricity retailing business. The sector stocks' price levels may droop as certain investors make portfolio changes to meet their evolving preferences in a changing interest rates environment.
The utility sector's earnings and their trading prices collapsed during the 07-08 global financial crises. A similar crises occurring sometime in the future is a significant risk to investors holding claims to any of these company's equity.
Generally, I'm avoiding investment into the electric utilities until a stand-out opportunity appears.
Additional Disclosure: This article represents the opinion of the author as of the date of this article. This article is based upon information reasonably available to the author and obtained from public sources that the author believes are reliable. However, the author does not guarantee the accuracy or completeness of this article. It is merely the author's interpretation of the information contained in the article. The author may close his investment position at any point in time without providing notice. The author encourages all readers to do their own due diligence. This is not a recommendation to buy or sell a security.
Please click the + icon next to my user name and follow me, Faloh Investment, as I work to keep you informed on further developments as the market continues to present major value opportunities.
Disclosure: I/we have no positions in any stocks mentioned, and no plans to initiate any positions within the next 72 hours.
I wrote this article myself, and it expresses my own opinions. I am not receiving compensation for it (other than from Seeking Alpha). I have no business relationship with any company whose stock is mentioned in this article.