This revisit updates my initial look at CBL & Associates (NYSE:CBL) from my August 30, 2016, article "CBL & Associates Properties: A View From The Perspective Of A Preferred Investor."
Though I hope you will read the original article in full, my bottom-line assessment and buy recommendation at the time were as follows:
Additionally, this company was valued at $1.82 billion and earned $52.40 million on $1.06 billion in sales when I reviewed it in May. All-in-all a nice improvement overall.

As far as I'm concerned, CBL has displayed marked improvement, further evidence that this company is built to last and certainly worth a preferred investment. However, both Series are priced above par value, with the D callable at present, and the E callable 10/5/17.
Let's see how the commons have performed over the past three months since I wrote the initial article. Because of the greater volume of common shares traded as opposed to the limited liquidity of most preferreds, I find the commons to be a better indicator of a company's overall performance.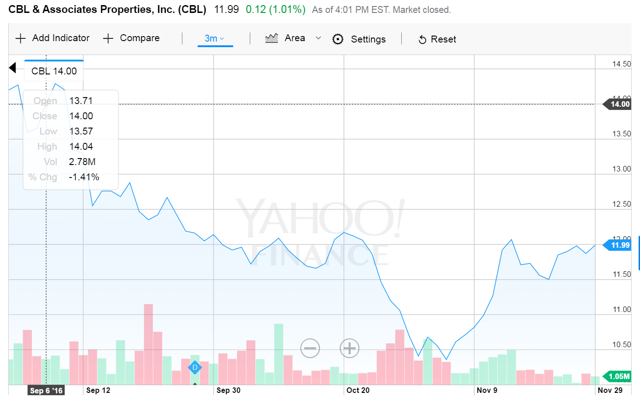 It appears that over the past three months, CBL's share price movement has trended markedly lower On August 30, its commons traded at $14.00; it is currently trading significantly lower at $11.99, however in May it traded at 9.12.
Now let's compare CBL's share performance to its peers:
According to the Yahoo chart below, CBL placed near the bottom of its peer group, all of which underperformed the S&P. In fact, as a sector, these retail REITs have underperformed the S&P. The peer comparisons charted above are: Alexanders Inc. (NYSE:ALX), Saul Centers (NYSE:BFS), Kite Realty Group Trust (NYSE:KRG), Pennsylvania Real Estate Investment Trust (NYSE:PEI), and Ramco Gershenson Properties Trust (NYSE:RPT).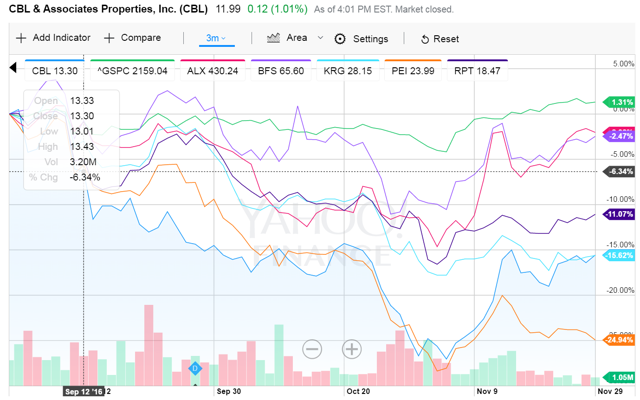 Before we discuss CBL's future prospects, let's see how its preferreds have fared during the past three months: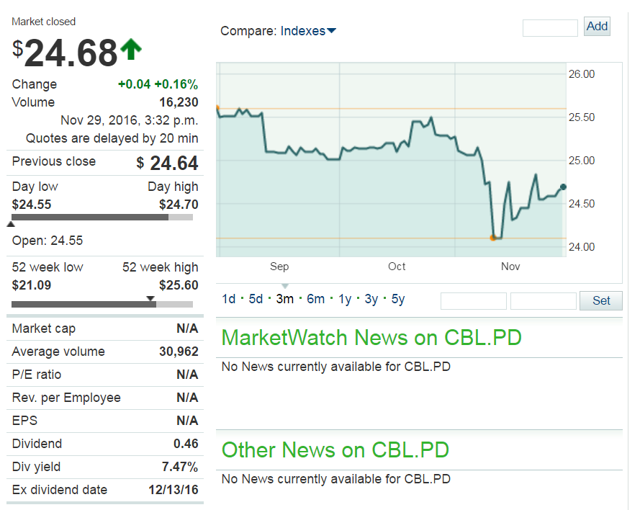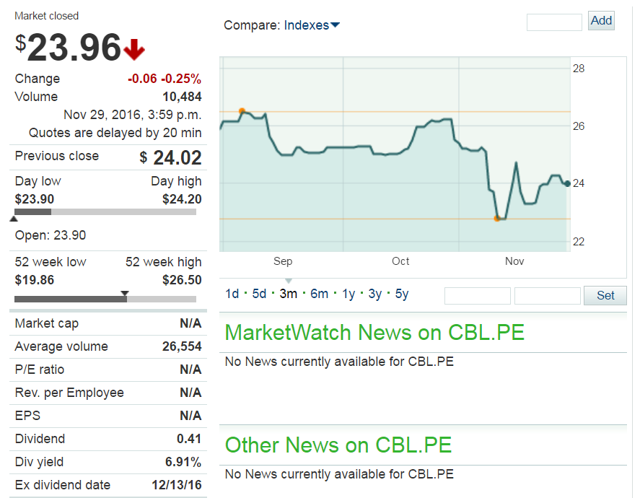 Over the past three months, both have performed as I expected (down) they wouls as soon as the irrational preferred exuberance of the last quarter had ended.
As I wrote in my last review in August:
I'm not surprised, as just about any income investment with a pulse, especially preferreds, has skyrocketed in an all-out quest for yield in this low-yield environment. The D Series traded at $24.78 in May, while the E traded at $24.93. Both are trading currently above par value, the D at $25.51 and the E at $25.97.
Now for a little forward guidance:
Because, as I illustrated above, as a long-term cumulative preferred investor, I am little concerned about quarterly financial reports and their attendant conference calls, which are liberally spun, I don't bother paying much attention to them unless the particular company is at risk of suffering some existential threat. CBL is not one of those companies; therefore, it's time to determine if either of its preferreds are a buy at this time, and if so, which is the better buy.
CBL Preferreds 11-29-16

| | | | | | | |
| --- | --- | --- | --- | --- | --- | --- |
| Symbol | Callable | Yearly Dividend | Price | Dividend/Price | Yield | Best |
| CBL-D | Now | 1.84375 | 24.68 | 1.84375/24.68 | 7.47% | Best |
| CBL-E | 10/5/17 | 1.65625 | 23.96 | 1.65625/23.96 | 6.91% | |
Disclosure: I/we have no positions in any stocks mentioned, and no plans to initiate any positions within the next 72 hours.
I wrote this article myself, and it expresses my own opinions. I am not receiving compensation for it (other than from Seeking Alpha). I have no business relationship with any company whose stock is mentioned in this article.