Alcoa (NYSE:AA) finally split itself in two just about a month ago. Since then, the commodities play has been on a tear - thanks to Donald Trump. Shares of AA are now up about 40% since the Nov. 1 split. However, its counterpart, Arconic (NYSE:ARNC) has seen its shares remain relatively flat since then.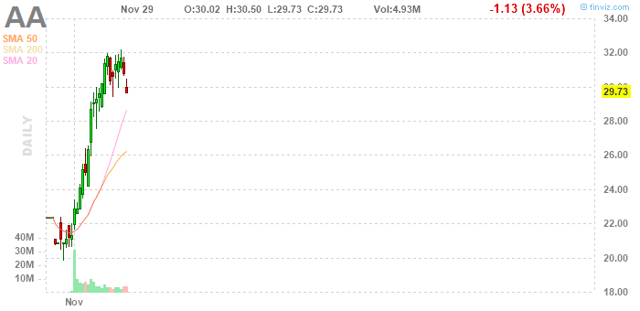 Trump'd up.
The presidential election was great timing for the legacy basic materials business. Trump's promised to boost infrastructure spending could be a big positive for basic materials companies - aluminum included. ARNC is the downstream aluminum business segments leveraged to autos and aerospace and AA is the residual upstream businesses that is more of a basic materials and aluminum commodity play. Trump's inflationary policies, while good for infrastructure and basic materials, can also be a boom for autos and aerospace. A bustling economy will be a big positive for ARNC.
We profiled AA a little over a month ago - pre-split - noting that the ARNC branded business was the most appealing for the long-term given that it's more of an engineering firm with leverage to the growing auto and aerospace industry. ARNC generates about 30% of revenues from commercial aerospace, and 20% from U.S. autos, both of which continue to hit all time highs in demand.
That's not to say that AA doesn't deserve some respect, given its one of the lowest cost operations in the aluminum industry globally. Productivity increases and the ability to de-lever quickly can get to strong free cash flow generation (even in 2017) rather quickly.
Activist help.
Activist investor Paul Singer and his Elliott Management got involved with AA last year, voicing its support for a split. And now, even after the split, Singer is still sticking around. He has seats on the board and is focusing his attention on the underperforming ARNC. The three board seats Elliott has are now all at ARNC - with each board member having experience in ARNC end markets (aerospace and autos).
Following the split, Singer changed his stake in AA from active to passive and owning 4.4%. Meanwhile, at ARNC, he was buying up shares in the first half of November and remains activist with a 6.2% stake. Elliott has called ARNC a dramatically undervalued company following the split. They plan on having discussions with the company about building value and boosting operating performance. One thing that Elliott can help with, which would help alleviate some of the trading pressure for ARNC, is the debt load: ARNC took AA debt of $9 billion, which puts its trading at a premium (net debt-to-EBITDA wise) to many metals counterparts. With that in mind, dividends or buybacks likely won't be on the board's agenda for some time.
Then of course there's the overhang of a poor earnings report from the other month that sent AA (pre-split) shares down 15%. A large part of that was delays related to the ARNC side of the business. The market hasn't 'accepted' the company's reasoning that short-term delays are not long-term issues.
In the end, the move in AA was quick and exciting, but ARNC might be the best long-term play. ARNC remains compelling after being a relative underperformer since the split. Plus, it has the backing and pressure of activist investor Elliott Management.
Disclosure: I/we have no positions in any stocks mentioned, but may initiate a long position in ARNC over the next 72 hours.
I wrote this article myself, and it expresses my own opinions. I am not receiving compensation for it (other than from Seeking Alpha). I have no business relationship with any company whose stock is mentioned in this article.