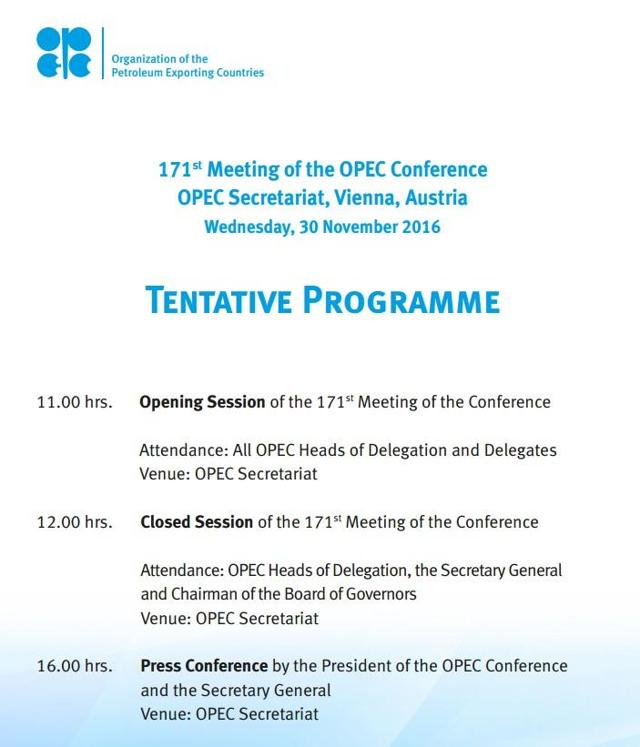 With less than 24 hours left before OPEC will announce its meeting's resolution, market participants appear to have increased their bets on the "no deal" outcome. After a short-lived rally on Monday, oil continued to sell off, with the December WTI contract losing $3 as compared to mid last week. While the decline is moderate in the context of the risks involved, the direction of change in the market's perception is clear.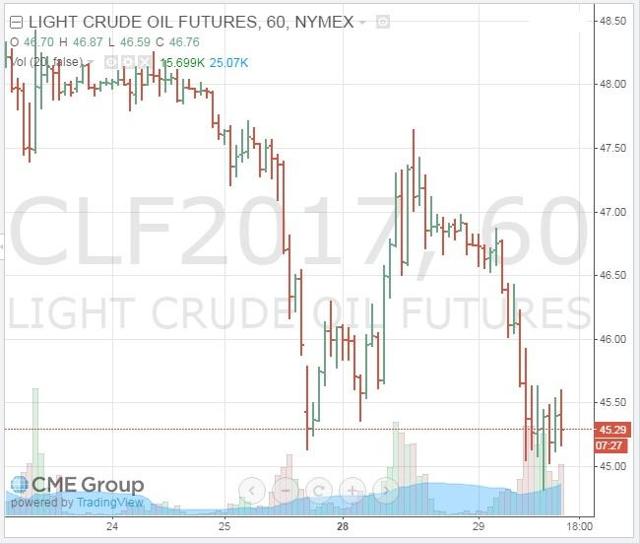 (Source: CME Group)
Three data points appear to have contributed to the renewed skepticism:
Discussions between OPEC and the group of non-OPEC exporters have been essentially put on hold, which signals that Russia is unlikely to participate in the production cut. While Russia has promised to freeze production, in reality this may be equal to no contribution to supply control at all. Russia's position has set a negative precedent and put in question the participation in the production cut by all other non-OPEC exporters. By minister Novak's admission, Saudi Arabia had proposed that the collective contribution to the production cut by the non-OPEC group be at least 0.5 million barrels per day. The lack of burden-sharing by non-OPEC exporters obviously raises the bar for OPEC in terms of the cartel's unity and ability to implement price support measures without outside support.
The meeting by OPEC experts on Monday failed to agree a recommendation on specific country quotas, according to reports, reminding the market that agreements have not been finalized yet and a replay of the April scenario, where Saudi Arabia terminated negotiations, is possible.
Comments by Iranian Minister of Petroleum Bijan Zangeneh in the last two days contained some of the same rhetoric that had lead to the "no deal" outcome during the previous round of discussions this year. (Some of the most recent comments by the Minister are summarized in a report by Shana news agency that I included at the end of this note.)
There is no question that achieving an agreement is a monumental challenge for OPEC and the risk of "no deal" is indeed quite high (as it has been from the outset). With that in mind, do the alarming signals listed above indicate that the meeting is pre-programmed to fail?
I would argue that all the three developments are essentially "old news."
Russia's position has been clear for some time. Russia has stated - with the most recent confirmation coming from president Putin - that it will essentially "free ride" on any production control agreement by OPEC. It would be very surprising, however, if Saudi Arabia's strategy in this situation depended on Russia's decision. As I argued earlier, even if a production cut agreement with Russia could be achieved, monitoring and enforcing Russia's compliance would be close to impossible. Therefore, an agreement of this kind would need to be based on high degree of confidence by Saudi Arabia that Russia would honor the commitment. Russia's track record in this regard is well established.
The lack of agreement during OPEC's expert meeting on Monday is also not surprising. Taking in consideration the degree of political tensions that divide various camps within OPEC, as well as the media relations side of this event, no announcement could come from the experts' meeting.
Finally, the belligerent drum beat coming from Iran immediately prior to the meeting is also not surprising, but does not necessarily indicate that a compromise would not be achieved when it comes down to substance.
In my view, the outcome of the meeting is hinged on a single bilateral agreement, one between Saudi Arabia and Iran. The two parties have been in intense discussions for quite some time and most likely have already made their decisions and know the result. For an outsider, however, the outcome remains a binary bet. If I were to make mine, I would bet on a more than 50% probability that a constructive agreement will be announced today. The rationale behind that view is that cash flow considerations will prevail, particularly given that the chance to capture the windfall may not repeat itself soon if missed today.
TEHRAN, Nov. 29 (Shana) -- Iranian Minister of Petroleum Bijan Zangeneh said those countries that raised their crude oil production the most while Iran was under the sanctions and Libya and Nigeria were engulfed in civil struggles must shoulder the burden of the OPEC production cuts more than others.

Speaking to reporters upon his arrival at Vienna airport to attend the 171st ordinary meeting of the Organization of the Exporting Countries (OPEC), Zangeneh called on the countries that boosted their crude output more than others while Iran was targeted by the sanctions and Libya and Nigeria were struggling with domestic conditions to play more active parts in rebalancing the market.

He said OPEC members will soon reach a consensus if an economic spirit prevails in the meeting; otherwise, things will become more difficult if political will leads the meeting.

"I suppose these countries who won the most out of the absence of Iran, Libya and Nigeria in the market in recent years, should now undergo bigger burden in the organization's production cuts," he added.

The 171st OPEC session will be held in its permanent headquarters in the Austrian capital on Wednesday (November 30).

During OPEC members' unofficial session in Algeria on September 28, OPEC members decided to fix their production at the level of 32,500,000 bpd.
For in-depth analysis of the oil and natural gas industry and commodity fundamentals, please consider subscribing to Zeits OIL ANALYTICS.
Disclaimer: Opinions expressed herein by the author are not an investment recommendation and are not meant to be relied upon in investment decisions. The author is not acting in an investment, tax, legal or any other advisory capacity. This is not an investment research report. The author's opinions expressed herein address only select aspects of potential investment in securities of the companies mentioned and cannot be a substitute for comprehensive investment analysis. Any analysis presented herein is illustrative in nature, limited in scope, based on an incomplete set of information, and has limitations to its accuracy. The author recommends that potential and existing investors conduct thorough investment research of their own, including detailed review of the companies' SEC filings, and consult a qualified investment advisor. The information upon which this material is based was obtained from sources believed to be reliable, but has not been independently verified. Therefore, the author cannot guarantee its accuracy. Any opinions or estimates constitute the author's best judgment as of the date of publication, and are subject to change without notice. The author explicitly disclaims any liability that may arise from the use of this material.
Disclosure: I/we have no positions in any stocks mentioned, and no plans to initiate any positions within the next 72 hours.
I wrote this article myself, and it expresses my own opinions. I am not receiving compensation for it (other than from Seeking Alpha). I have no business relationship with any company whose stock is mentioned in this article.