In this article is a brief historical analysis of yields and the impact on bank stock prices and profits. By no means is it exhaustive and I'm not a financial advisor nor am I making a buy or sell recommendation.
One of the ways banks generate income is by lending, and since loan rates are tied to the 10-year Treasury, any rise in yields typically leads to higher earnings for banks. This correlation exists because, the 10-year yield is used as a benchmark for mortgages and other lending products.
In other words, think of any rise in yields as an increase in pricing- power for banks. Companies earn profits by selling their goods above cost.
Well, banks are no different. Banks need yields to rise so they can charge a wider loan spread on their loans. The loan spread is simply the difference between the rate the Fed charges banks and what banks, in turn, charge their customers.
The sentiment of financials benefiting in a higher yield market was echoed by Credit Suisse in early November.
"Normally, cyclicals outperform when bond yields rise, but U.S. cyclicals already seem to be pricing in a 2.4 percent U.S. 10-year yield; valuations are expensive in the U.S. ... Hence, we prefer to play rising yields through financials." CNBC Interview.
Inflation and the Fed play a key role.
As inflation expectations pick up, so does the expectation of more Fed hikes, which in turn, drives the 10-year yield higher. This is true since the Fed typically combats inflation by raising the Fed Funds Rate.
The recent run-up in yields and subsequently bank stock prices have been as a result of anticipation of higher inflation due to possible fiscal stimulus by the Trump administration. Any rise in inflation might force the Fed to hike rates more than expected in 2017 and beyond.
Caution about inflation and bank stocks:
Any change in inflation expectations to the downside may crush the current surge in bank stocks. Be mindful of the PCE (Personal Consumption Expenditures) because it's not only an effective measure of inflation in the U.S. but it's also one of the Fed's favorite indicators.
Anyone long bank stocks should be cautious leading up to any future PCE releases, as it can trigger your stop-losses rather quickly.
Historical correlation between banks and 10-year yields:
To illustrate the correlation further, let's compare Bank of America Corporation (NYSE:BAC), JPMorgan Chase & Co. (NYSE:JPM), and Citigroup (NYSE:C) to the 10-year Treasury since 2013.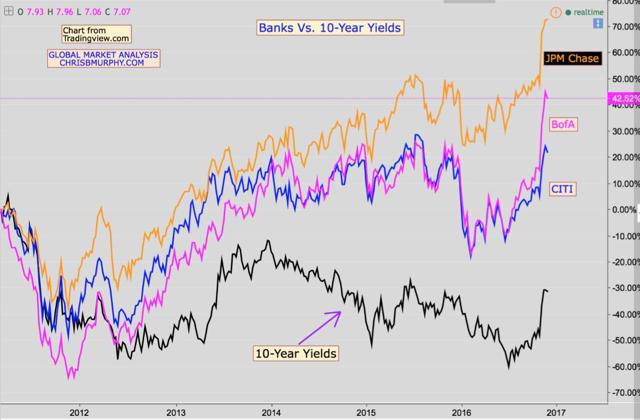 Although not a one-to-one correlation, we can see from the chart that any large move in the 10-year Treasury yield significantly impacts stock prices for BAC, CITI, and JPM. More on this to follow.
Mapping the 10-Year Treasury yields to profits of BAC, CITI, & JPM: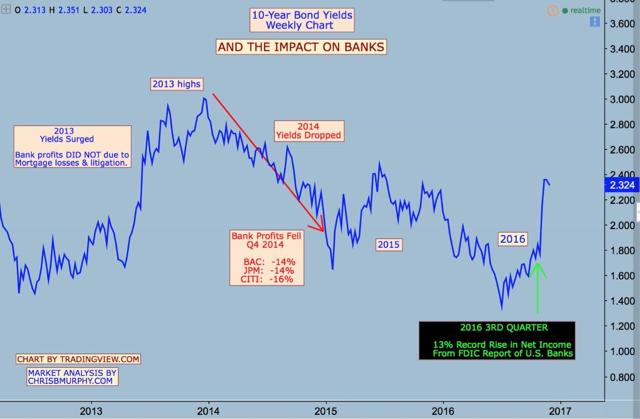 How much are bank profits tied to yields? The above chart is a brief historical comparison between the 10-year Treasury yield and bank profits.
2013 yields surged, but banks suffered from loan losses and litigation from the financial crisis. As a result, bank profits were lackluster.
2014 Q4, banks reported declines in profits and cited the fall in yields towards the end of 2014. (see red arrow on chart)
"Profits fell 14% for BAC, 14% for JP Morgan, and 16% for Citi in Q4 2014 as yields fell roughly from 2.4% to 1.95% in 2014's final months." From Reuters.
2016 The FDIC reported that bank profits rose in Q3 2016.
"The nation's commercial banks and savings institutions reported a 13% rise in net income in the third quarter, hitting a record as institutions' profits soared." Nasdaq 11/22/16.
Perhaps the recent 13% rise in net income, as a result of higher yields, may already be reflected in today's bank stock prices.
With that in mind, let's see how yields have historically impacted the stock prices of our three banks.
Correlation of 10-Year Treasury yields to the stock prices of BAC, CITI & JPM: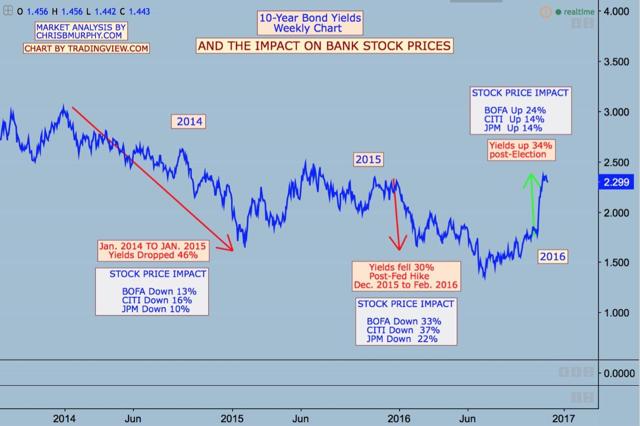 Please note, the chart shows the percentage change in yields versus the percentage change in stock prices.
Again, not a perfect correlation, however, we can safely say that if there's a double-digit move in yields, bank stocks will move significantly. This correlation can aid us in determining whether or not to enter a trade following a substantial fluctuation in yields.
And given such a huge run-up in bank stocks this year, the higher yields on the 10-year must at some point correlate to further increases in bank profits. Otherwise, we risk a correction.
Another scenario is that yields continue rising sending bank stocks higher. However use caution, since higher yields can have the opposite effect on banks.
Why some banks could suffer despite higher yields:
Monitoring the housing market.
Rising yields may need to be accompanied by a strong housing market in 2017. Why?
Banks will not have refinancing income from their with lower interest rates and to offset that decline, banks need new mortgages at the higher yields. If yields rise too fast and result in a decline in new housing purchases; banks could suffer if new mortgage origination declines as well.
Remember 2013, when yields surged, and bank stocks soared? Well, profits were higher for BAC but the mortgage division still suffered.
"As interest rates have risen in recent months, mortgage refinancing has become less common. On Wednesday, Bank of America said that its mortgage pipeline, or the loans it is preparing to close on, declined by 59 percent in the third quarter, from the same period a year earlier." NY Times.
Of course today banks are not saddled with the loan losses of 2013 from the financial crisis and the housing market is much improved.
However, the housing market will likely be key for banks in the next few years as the Fed attempts to normalize the yield curve.
Key takeaways and potential risks to bank stocks:
Decline in new mortgages or decline in housing starts can negatively impact banks.
Bank stocks have possibly moved too far, too fast as they have yet to report Q4 earnings. Bank stocks are already surging on the anticipation of higher profits in the coming months.
Any surprise in earnings to the downside in the coming months may have an exaggerated, negative effect on bank stocks since the market may get caught off guard.
Watch inflation. Although typically subdued and well below the Fed's 2% target, any hint of lower inflation due to cheap exports, lower commodity prices (i.e. oil), or lower consumer spending can impact inflation expectations.
And remember, inflation doesn't actually need to decline for it to impact the market. Any anticipation of lower inflation can send yields lower and bank stocks with them.
If you want proof of this phenomenon, look no further than the current surge in yields and bank stocks; all due to the anticipation of higher inflation and subsequently, additional Fed hikes.
Of course, there are a myriad of factors that impact the stock prices of financials, however, yields and anything that drives yields will likely create volatility for banks.
In positioning your portfolio risk management strategy: If you're thinking of going long or short financials; you must incorporate an analysis of the 10-year Treasury yield before making a decision.
Good luck.
Disclosure: I/we have no positions in any stocks mentioned, and no plans to initiate any positions within the next 72 hours. I wrote this article myself, and it expresses my own opinions. I am not receiving compensation for it (other than from Seeking Alpha). I have no business relationship with any company whose stock is mentioned in this article.