Intercontinental Exchange Inc (NYSE:ICE) is an operator of 11 securities exchanges around the world. The company also offers a wide variety of related financial services.
ICE does business in an extremely specialized and highly regulated environment. This domain expertise should allow the company to enjoy a significant competitive advantage. Plus, ICE has grown to an impressive scale. But has this acquisition-fueled growth spree been profitable for shareholders?
To help sort out which of these qualitative characteristics is having a dominant effect, I like to look back into the history books and review operating results from the past 10 years. By trying to find trends in the historical data, I can attempt to better understand the competitive position of ICE, and how sustainable it is. I'm curious to see if ICE can continue with it's slow-and-steady post-financial crisis growth seen in the chart of share price, below.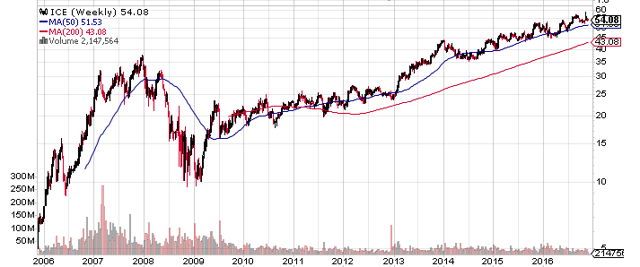 ICE Business Overview:
ICE was originally founded in 2000, to develop a transparent market for OTC energy markets. ICE went public on the New York Stock Exchange in 2005, growing through acquisition and the introduction of new energy trading products along the way. Today, the company operates 11 exchanges across 9 asset classes, as well as a variety of clearing services, data, technology and listing services.
Since acquiring Interactive Data in 2016, ICE has started to report operations as two segments: Trading and Clearing, and Data and Listings. This change highlights how the executive operating officer thinks about the company. The former segment includes all of the business activities associated with transaction execution and clearing. The Data and Listings segment makes up all of the subscription-based data services and securities listing business.
On the top-line, these segments are relatively even. Year-to-date, as of the last reporting period, they contributed USD $1.6B and $1.8B to the top-line, respectively. But when it comes to the bottom line over the same period, the Trading and Clearing segment generated operating income of $912M vs. $697M in the Data and Listings business. However you slice it, ICE seems to be at the heart of some of the world's most important financial markets.
And given the scale, sophistication of markets and the onerous regulation associated with operating in this space, I think ICE should continue to maintain their competitive advantage. But I also don't want to take these assertions at face value. So as a next step, let's review the long-term financial trends of ICE.
ICE Financial History:
To attempt to better quantify the allegedly strong competitive position of ICE, I like to look for trends in longer-term financial results. By looking at a few key metrics over a ten-year period, I'm better able to contextualize the headline numbers each quarter. I'm particularly interested in consistent trends, because they make forecasting a little more reliable.
To get started, let's take a look at top line results first. All the data in the graphs below is from Morningstar (source), and I've created the graphs myself.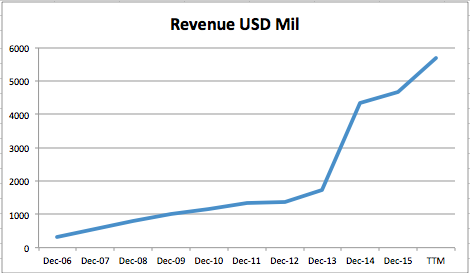 I prefer to begin with revenue numbers because they give a very clear picture of how well companies are able to meet market demands. When you look at the graph of ICE above, I think you can see they check this box. This is especially true in recent years, as large acquisitions and product line expansions increase the top-line.
With that in mind, one question I have is how this kind of growth trickles down to the bottom line. While acquisitions can certainly be accretive, I prefer to err on the side of caution rather than take management's word for it. In this case, let's look at the trends in gross margins.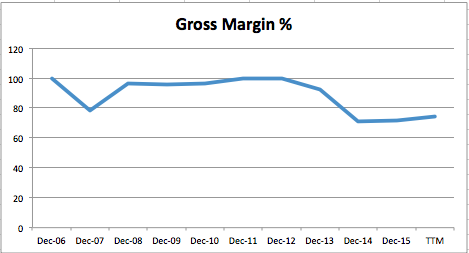 Overall, this margin trend is pretty good. While they've come under pressure recently, gross margins remain high and reflect the strong competitive advantage of ICE. But why have margins been coming down?
Well, on one hand, margins were so high before that they had nowhere to go but down! Thus, as ICE has grown to acquire more businesses, margins have felt some pressure. I don't think this trend will continue thought because the pace of acquisition is likely to slow down, and the acquired companies are all highly-specialized and share customers or potential customers with ICE.
In terms of segment reporting, all of these dynamics show up as relative growth in the Data and Listings revenue, which is less profitable than the Trading an Clearing business. So, from an earnings-per-share perspective, how does this all stack up?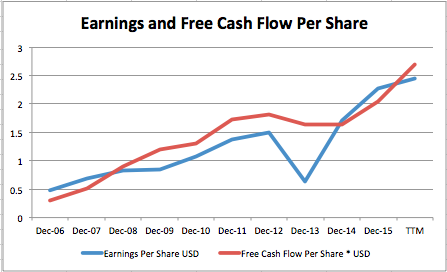 At this point, I don't think we can be surprised by this action in earnings. I also added in the free-cash-flow per share numbers to help smooth out the earnings trends, which tend to be distorted by all the acquisitions. Overall, it looks pretty good, right?
So can this growth continue? Looking ahead, 5-year analyst earnings estimates indicate low double-digit growth (source). I imagine ICE will continue to eye acquisitions but at a slower pace, while consolidating and streamlining their newest assets.
As a shareholder though, I'm curious to see how this shows up in terms of value. For that reason, I like to look at the trend in book value per share. This demonstrates how the equity value grows, or doesn't, over time.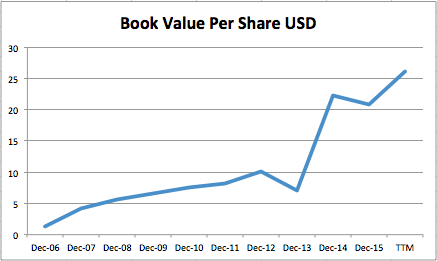 I really like this trend, because it indicates that all things being equal, my investment in ICE should continue to appreciate. Over the last 10 years, ICE shares have traded at a mean multiple of 2.1 times book value (source). So all things being equal, this should provide another margin of safety.
One slight cause of concern though is due to the acquisitions. Because ICE operates in an asset-light industry, the company has added a lot of good will to their balance sheet. And this shows up in the book value number. To date, ICE has been able to grow earnings and monetize this goodwill. But book value could take a hit if management must write down any of their purchases.
Another reason keeping an eye on this number is important to me is because ICE has only recently started to pay a dividend. The current yield is just over 1%, and while payout ratio is only 27% of earnings indicating room for growth, this isn't a huge income opportunity at the moment. Some dividend growth can be expected, but there certainly isn't much precedent.
All that said, I think you can see that ICE has some appealing attributes as a potential investment. However, there are always downsides you need to be aware of.
Potential Risks to ICE:
While ICE thus far presents an interesting opportunity for investors, there are certainly risks to be aware of. For this financial services business, there are lots of unique challenges, risks and uncertainties that might be difficult to quantify.
First and foremost, at the center of financial markets, ICE could be very vulnerable to a severe economic disruption or prolonged financial crisis. While trading revenues are likely to rise in what would be a volatile environment, the company risks losing subscription revenue as their clients come under pressure.
Another risk for ICE are rising compliance costs. While the company has done well to thrive in connected global financial markets, this comes at a price. And as ICE continues to grow in size, it's only going to attract more scrutiny from regulators and litigation. Management will need to be careful in managing this lever.
Finally, financial technology start-ups and incumbent competitors will continue to attack the fringes of ICE offerings. As the company grows, it will need to remain focused on an area of expertise, lest risk becoming a jack-of-all-trades and master of none.
Conclusion: Holding on to ICE
For the reasons listed above, I've owned shares of ICE for some time now. I will continue to watch the stock, and plan to opportunistically pick up shares on any sustained broader-market pullback. At 17 times cash flow, a high-quality business like ICE isn't overpriced, but it isn't cheap either. That said, I believe the competitive position of ICE is strong and don't believe the trends in financial statements are likely to reverse any time soon. But what do you think? Are shares of ICE worthy of a spot in your portfolio?
Disclosure: I/we have no positions in any stocks mentioned, but may initiate a long position in ICE over the next 72 hours.
I wrote this article myself, and it expresses my own opinions. I am not receiving compensation for it (other than from Seeking Alpha). I have no business relationship with any company whose stock is mentioned in this article.