Just two weeks ago, I wrote an article that was titled The three best picks in healthcare for DGI investors, in which I stated that Cardinal Health (NYSE:CAH), CVS Health (NYSE:CVS) and Omega Healthcare Investors (NYSE:OHI) were great stocks for DGI. I put quite some stress on the safety of the stocks.
But because the sector has been beaten down so much, there are more interesting stocks that are at a great price for DGI right now. I will present you them in this article. They are all near there 52-week low. One of them is maybe just a bit riskier than the three choices I gave you in the previous article.
Medtronic (NYSE:MDT)


Medtronic is by far the safest pick of the three that I present today. Medtronic has a credit rating of A, which is safe enough in my book. The biggest reassurance for DGI investors is that Medtronic is a Dividend Champion with a streak of raising dividends for 39 years!
Medtronic was founded in 1949. It is a medical technology company.
The stock fell sharply after the earnings call of November 22th, but it was already in decline before that. It has lost 15% in the last three months alone, bringing its dividend yield to 2.32%.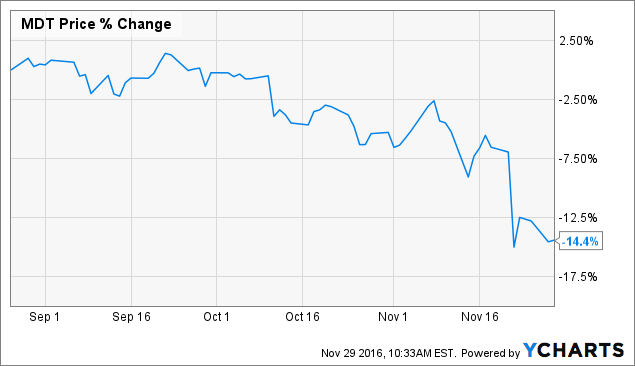 Medtronic has a 52-week range of $70.39 to $89.27, so with its current price of about $74, it trades near 52-week lows. According to finviz.com, it has a ttm P/E ratio of 29.45, but a forward P/E ratio of just 14.62, although Ycharts gives a forward P/E of 16.19. This is rather low compared to its competitors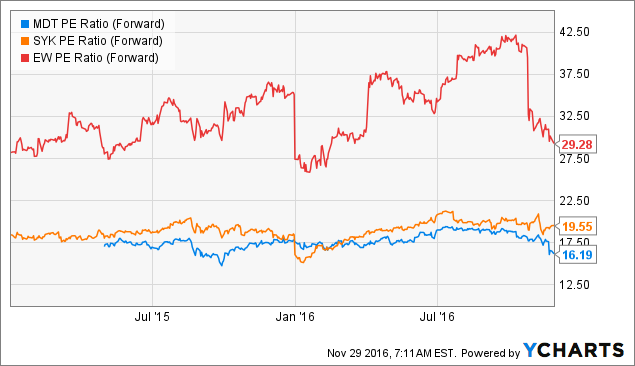 MDT PE Ratio (Forward) data by YCharts
The company is expected to grow EPS at a rate of 8% in the next 5 years, again according to finviz. But expect some volatility in the EPS gain. A FASTgraph always gives a lot of interesting information: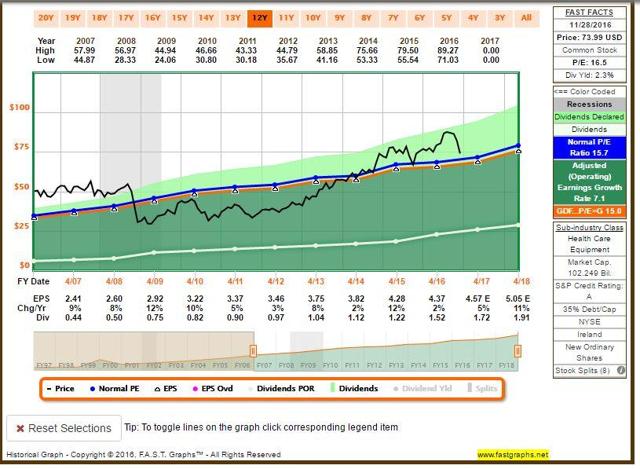 The past EPS change may not seem extremely impressive, but you should compare this dividend aristocrat to fellow aristocrats. You would probably see that they would have had negative earnings for at least one year in the last decade (especially in the Great Recession). Not so Medtronic. Every few years, the low single digits EPS growth is followed up by a low double digit. So you can see the EPS grow by 2% and then by 12% the next year (2014-2015). But the average gain over this 12-year period is 7.25%, more or less the same as the forecasts of 8% for the next five year. That is a lot more than a lot of other dividend aristocrats, but with a little more volatility than a lot of dividend aristocratic behemoths.
The projection over the next five years of the expectations looks like this: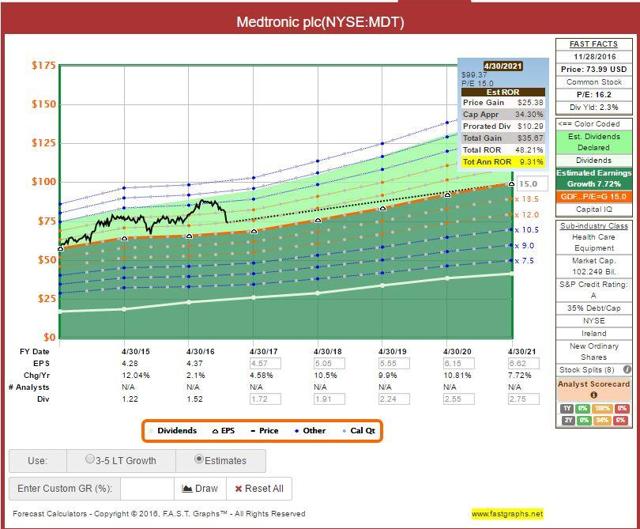 So even if you only have a P/E of 15 in 2021, you would look at a total return of almost 50% or a CAGR of 9.31%. To put this in perspective: if you would invest in Coca-Cola (NYSE:KO), you can expect a total 5-year return of not even 10% with a P/E of 15, or 1.6% per year.
Medtronic has a very healthy 40% pay out ratio, which I consider very reassuring for a company with a 39-year record of dividend raises.
How is the dividend growth of this healthcare stock? Well... Healthy. The dividend has gone up 228% in the last decade.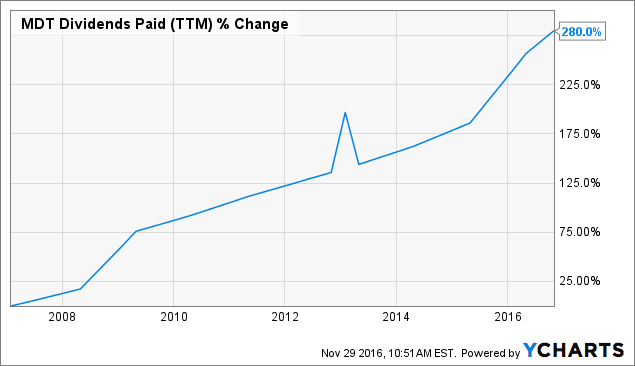 The average dividend growth rate of the last three years is 13.5%, which is great for a company with such a long streak. And there is still enough room for high single or low double digit raises if you look at the EPS growth rate and the pay out ratio.
The opportunity in MDT only really becomes visible if you look at the average yield chart: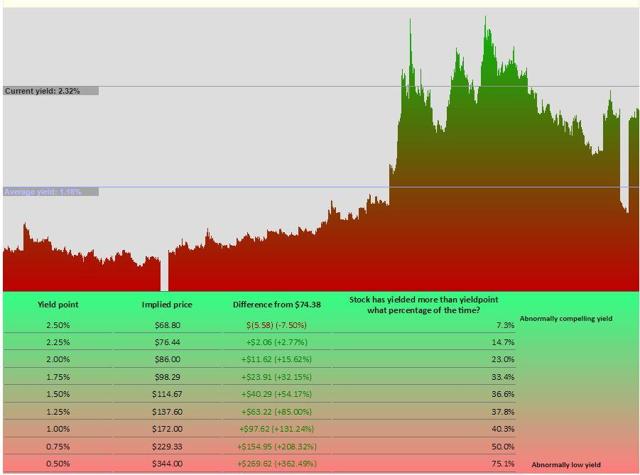 As you can see, MDT's average yield from 1995 is 1.18%, while it is at 2.32% right now. Only in 14.7% of the days over this 21-year period, you could buy MDT with a higher yield and that 21-year period includes two recessions.
Novo Nordisk (NVO)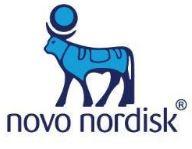 Another fallen angel of healthcare, is Novo Nordisk. It is a healthcare company based in Denmark, where it was founded in 1931. It makes pharmaceutical products, within two main segments: diabetes care and biopharmaceuticals. It has a very big diabetes portfolio and on top of that it also has a position within hemophilia care, growth hormone therapy and hormone replacement therapy, and its first product to treat obesity, Saxenda, was launched in the United States in April 2015.
A FASTgraph is always a good place to start our quick survey.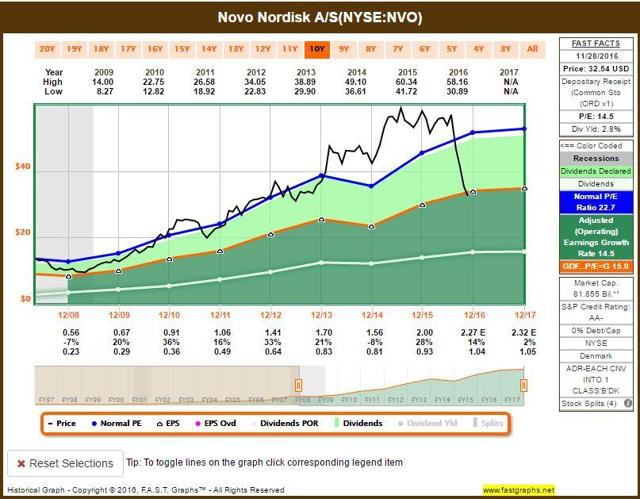 On the graph, you can see that Novo Nordisk has an S&P credit rating of AA-, which is excellent. Even more impressive is the 0% debt/cap. That is right: we are talking about a healthcare giant with a market cap of $81.85B and NO debt. Impressive! As a DGI, this tickles the imagination, of course, because it gives you a feeling of the great future possibilities.
If Novo Nordisk would be an American company, it would have been a dividend aristocrat. It has been raising dividends for 28 years in a row, but that is in Danish krone. Because the rate krone-dollar fluctuates, there have been some (but only a few) years in which the dividend of NVO didn't go up or even went down a bit in dollars. This is an overview of NVO's dividends of the last decade.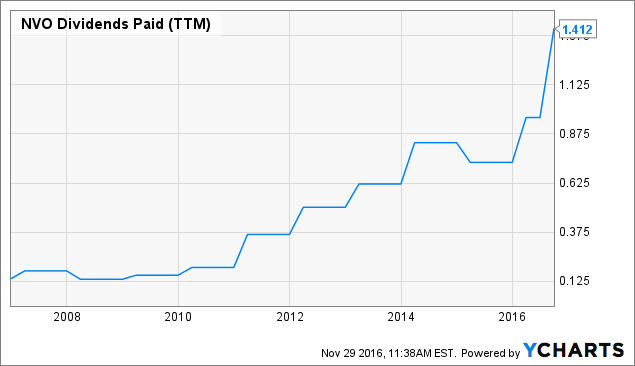 The following graph is the same graph, but in percentages and it will show why I don't care about the little drawbacks of the dividend because of the currency ratio krone-dollar.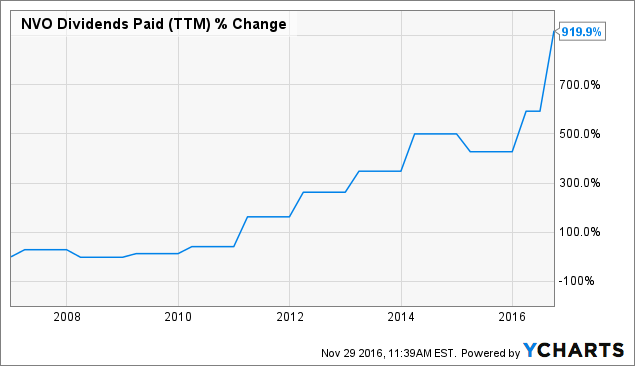 As you can see, NVO's dividend went up by more than 900% in the last ten years. I don't know about your paycheck, but mine didn't go up 900%, unfortunately.
You could already see on the FASTgraph that NVO's price dropped a lot in the lost months. We are talking about a drop of more than 40% since February 2016.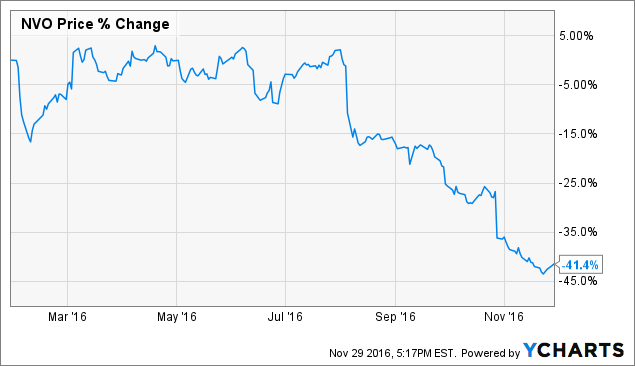 Now, of course, as for every stock that drops that much in a bull market, there is a story behind this huge decline. The reason for the price slash is the consecutive lowering of the guidance. It's better to show you than to tell you, I think. The first slide is taken from Novo Nordisk's earnings call of October 30th 2015: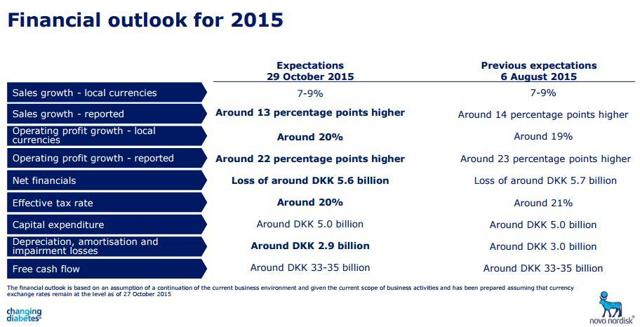 This is from the earnings call in February 2016: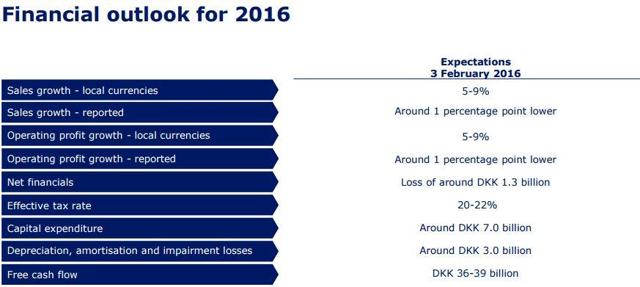 So, the company lowers its long-term financial target from 7-9% to 5-9%, which was a shock for investors who had been become used to NVO's mostly projecting and living up to low double digits. That is the first drop you can see on the graph, in February. The price recovers together with the broader market, maybe because the 9% upper range is still there in the target. Then comes the second blow in August: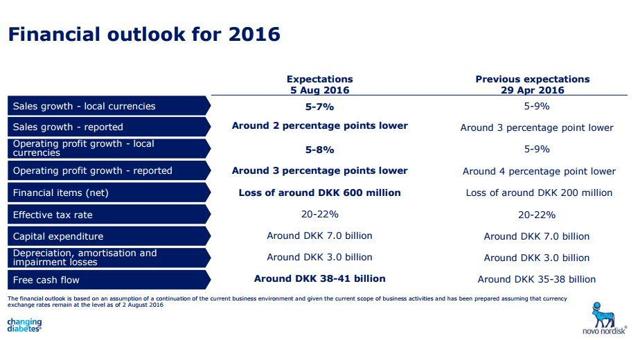 Again guidance is cut. The final blow until now comes at the end of October 2016, about a month ago: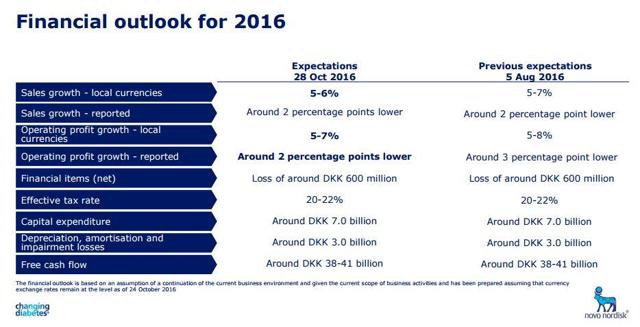 (All information comes from novonordisk.com)
But as a DGI investor, there is very positive news on these slides. The FCF (free cash flow) guidance is raised from DKK33-35B to DKK38-41B and that free cash flow is where dividends and buybacks are financed from. Great news for the DGI stock holder, but not for an EPS focused market. This starts to smell like an opportunity.
Now even if you are a total return investor, Novo Nordisk should be considered for further due diligence. Suppose that NVO succeeds in a 5% EPS growth, the bottom of its guidance, it would look like this: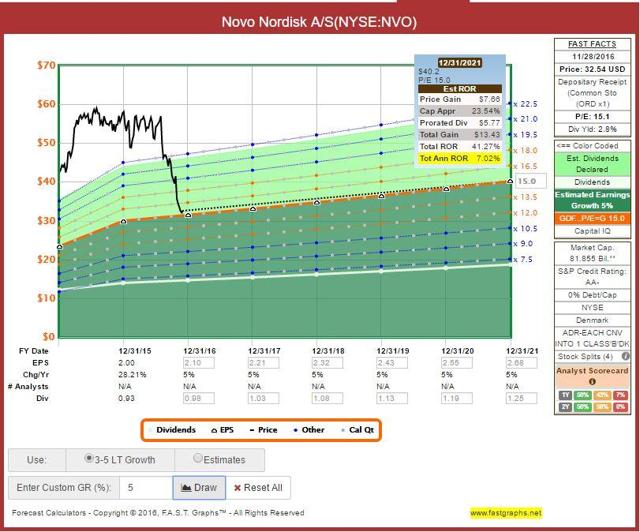 And this is a very conservative simulation, with the lowest percentage of future growth and just a P/E ratio of 15, while NVO's 10-year average P/E is 22.7. If you take the midpoint of the historical and the present P/E ratio, about 19, you already have a CAGR of about 12%, more then the majority of stocks and this, I repeat, for a stock with no debt at all, which makes the stock even safer than a lot of bonds.
Besides the currency sensitivity of NVO's dividend (which I only see as a minor disadvantage) there is also some confusion about the dividend rate. The company has recently changed from a yearly dividend to a semi-annual. The first semi-annual payment was in August and was $0.447. Some websites add that up to the dividend of last year, which would give NVO a dividend yield of around 4.5%. Other sites just double the $0.447 dividend, which would give NVO a dividend yield of just 1.40%. But the second payment will be higher. The first is seen as an interim dividend. How much higher the second payment will be remains a question. Based on last year's dividend, NVO has a current yield of 2.7%, but I expect a double digits dividend raise, which would bring the yield with these depressed prices in the very low $30's probably above 3%.
To finish this part about this Danish giant, I want to give you a short test. First try to forget everything you know about NVO and this article... Done? Ok, imagine I would have a newsletter and as a teaser I would send you this, would you be attracted to find out?
'This company has been paying increasing dividends for 28 years. It has increased its dividend by 920% in the last decade alone, but it still has a payout ratio of only 43%. The company has bought back more than 20% of its outstanding shares in the last decade. And it is as safe as you can get: it has a pristine credit rating of AA- and it has zero debt. Long-term secular industry tail winds could turn this stock to a long-term winner. While its average yield is at 1.73%, it will be more than 3% if you buy now. Don't miss out this opportunity and subscribe today to our newsletter to find out which stock is waiting to be bought by you'.
I don't know about you, but my DGI heart would surely start to pound a bit harder and would ache to know which stock this is. The answer is simple, though, it is Novo Nordisk (in case you would really have forgotten everything I had written, as I asked you).
Gilead (NASDAQ:GILD)

This may well be the most controversial choice of all the six health stocks I have presented as DGI picks. I really hope that readers do not focus on this one alone in the comment section, which of course doesn't mean that you can't comment about it. Before I start my short analysis of GILD, I want to stress that I write purely from the perspective of a DGI investor here.
For those who would not know Gilead, a short description: Gilead is a biotech company that has been in the eye of the storm for quite some time now. It all started in August 2015 with a speech of former presidential candidate Hillary Rodham Clinton, who denounced companies that overpriced certain drugs, giving Gilead's highly profitable HCV cure drugs Solvadi and Harvoni as an example. This is GILD price evolution since that comment: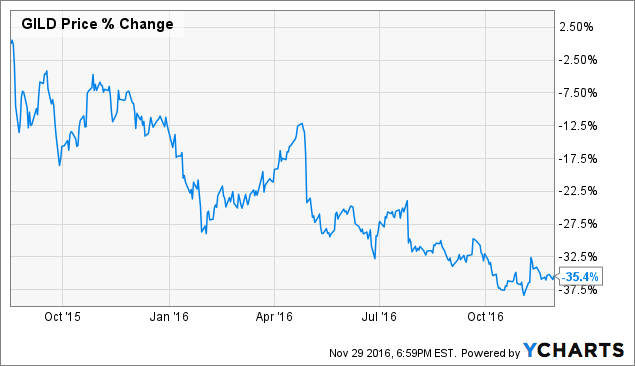 As you can see, a drop of more than 35%. Now, certainly this is not the only reason for the big drop. There are other issues as well. I sum them up shortly here:
As the HCV drugs are a cure, patients don't come back and fewer and fewer starts are made.
Competitors Merck (NYSE:MRK) and AbbVie (NYSE:ABBV) have come out with competing drugs. Although Gilead still has the biggest market share by far, there is a huge pricing pressure because of those two competing drugs.
Some failures in the testing of drugs that were in the pipeline and were abandoned.
Gilead's management is scoffed at because it just lets the revenue drop without making a big acquisition to offset the declining revenue of its HCV giants
But Gilead also has a growing viral department: HIV. This is not enough to compensate the HCV decline, but it prevents GILD from falling of a clip any time soon. Whether you like GILD or not, you can not deny that it is a huge cash machine, with a tons of free cash flow.
That is very interesting from a DGI investor's point of view, because with that FCF the company can pay a growing dividend. Gilead paid its first dividend in June 2015, so it doesn't have a long dividend record. But I think that its extensive FCF represents an opportunity. How many stocks do you know that have a dividend north of 2.5% and that only have a payout ratio of 16.4%? And in the meantime that company also has to buy back a huge amount of shares: 10% in three years time. I haven't checked it, but I know no other company like that. If you do, please let me know in the comment section!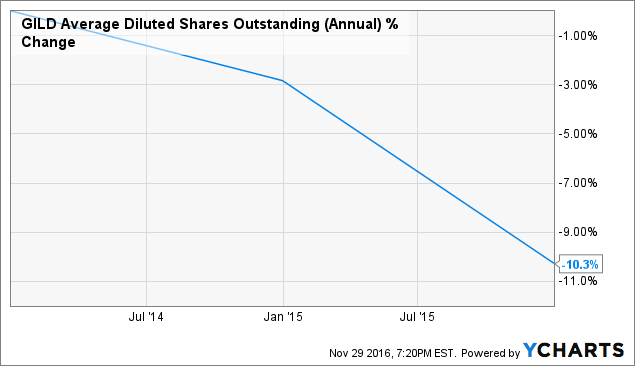 Gilead has raised its dividend by 10% this year, which I like, because that moderate pace probably shows that they are in it for the long run. As a DGI investor, I don't have to care if the price would drop further under $70, because I can buy more shares then with the dividends.
But, don't you have to be afraid of the falling HCV revenue then? No, actually not. Because of the buybacks and the rising HIV segment, EPS will not drop off a cliff. This is the FASTgraph prediction: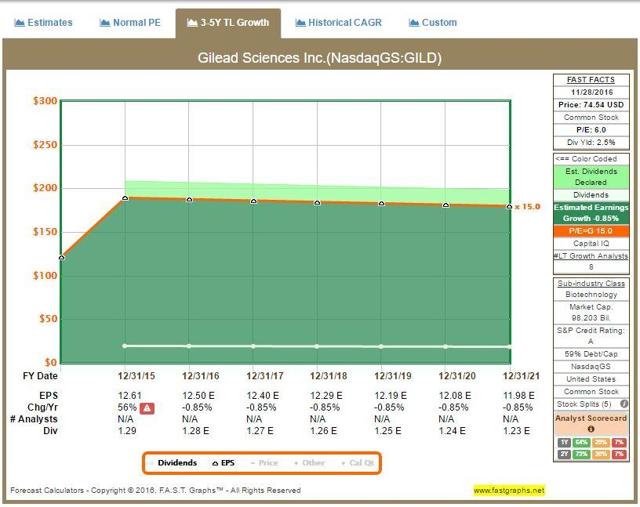 Finviz.com gives a similar forecast of less than 1% EPS decline per year. With this simulation, you could say that Gilead could buy back 25% of its shares in the next decade and still raise its dividend with double digits. Even though it is counterintuitive for a lot of investors to buy stocks with a falling EPS forecast, it makes sense for GILD. But only if you add Gilead's P/E ratio of 6.95 in your picture. This is really low, as if there could be a chance that Gilead would be in danger of having to go out of business, even though it has an S&P credit rating of A. This low P/E ratio creates an opportunity if you are a total return investor.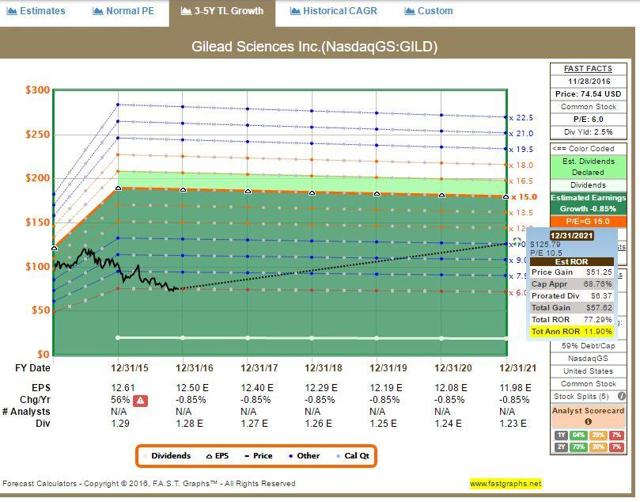 If in five years time, Gilead would have a P/E of 10.5, which is still very low, you would have a CAGR of 12%. And that is without dividend growth, but with dividend decline, which I don't see happening.
I think that all the bad news has already been baked into Gilead's stock price and that any good news, especially a well received acquisition, would relaunch Gilead's stock price. As a DGI investor and a total return investor, I would have mixed feelings. As a DGI investor, I would be sad, because at a lower price, I could have bought more shares, as a total return investor, I would be over the moon. I mean, if GILD would have a PE of just 15 in five years time, that would mean a CAGR of 20%. If it doesn't, I will be happy with my growing dividends and reinvest them. After all isn't that what DGI is all about?
Conclusion
I have a very long time horizon. If you are retired or near retirement, I would choose Medtronic or Novo Nordisk, because they are safe bets. Gilead is a lot riskier because of its situation and because of its recent dividend initiation, but I think it is a long-term treat.
If you have enjoyed this article, please hit the "Follow" button for more articles from a long-term investment perspective.
Disclosure: I/we have no positions in any stocks mentioned, but may initiate a long position in GILD, NVO over the next 72 hours.
I wrote this article myself, and it expresses my own opinions. I am not receiving compensation for it (other than from Seeking Alpha). I have no business relationship with any company whose stock is mentioned in this article.