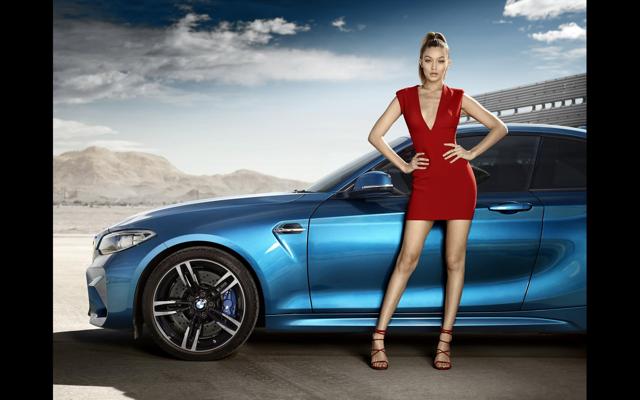 That's a Series 2 BMW
Now, the title on this article isn't surprising. Most will quickly do a little math and see that General Motors (NYSE:GM) trades for just 5.5x earnings, or that Ford (NYSE:F) goes for 6.6x earnings. Those multiples, alone, already sound extremely cheap.
However, I'm going even beyond that and explain why structurally, there's even more of a surprising undervaluation - though not necessarily in the stocks indicated above.
Your Typical Car Company Today
To understand why such an undervaluation exists, one needs to know how the typical large auto company is structured today. Basically, there are two components to these large companies:
A car-making company proper. It makes and sell cars, parts, etc.
A financing arm. The financing arm just structures loans to customers (retail and business), so that they can finance and buy the cars. These can be straight loans, leases, long-term rentals, etc.
Adjustments Needed
Due to its nature, the financing arm will carry a lot of debt. After all, it has to buy all those cars from the car manufacturer, before it can rent, lease or sell them to its customers. Thus, an automaker will show extreme levels of financial debt in its balance sheet.
However, this financial debt, when it comes from the financial arm, will be offset by the existence of large customer receivables. The result, in most car makers, is that if we remove the financial debt and associated receivables, the car-making company no longer looks levered.
Indeed, if we remove the financing arm most times, the car maker segment will actually report a large net cash position. This is the case with the 6 car makers I will consider in this article: Ford, General Motors, Daimler (DDAIY), BMW (OTCPK:BMWYY), Volkswagen (OTCPK:VLKAY) and Toyota (NYSE:TM).
However, even this is not enough to see what kind of debt these companies carry. Traditionally, many of these companies offered generous post-retirement benefits to their employees. These post-retirements consisted of pension promises along with healthcare benefits (these mostly in the US). Of course, provisioning for these benefits comes with a cost, so unfortunately, nearly all of these companies now carry provisions for the promises they made, or for the underfunded status of the funds they created to make good on those promises. This, of course, has to be taken away from that net cash I previously spoke about.
Finally, we still have to consider that if we remove the financing arm's debt and associated assets, we'd be undervaluing the financing arm business. After all, these financing segments do regularly turn a profit. So how do we attribute them some kind of value? Well, we could go from the fact that financial companies quite often trade around 1x price/book. That is, they tend to trade for around the value of their equity.
So what have we seen? The following:
Car companies seem to have a lot of (financial) debt.
However, nearly all of this debt is usually due to their financing arms, which carry offsetting (customer receivable) assets.
If we remove the debt and assets associated with the financing arms, the resulting car companies often have net cash.
But the resulting car companies also have post-retirement promises, which quite often are underfunded. So we have to consider those promises debt.
Finally, the financing arms represent profitable businesses. We can value those at 1x book.
What Do We End Up With?
Doing all of the above adjustments, we end up with this (do notice that the European and Japanese car markets are based on their situation up to Q2 2016, whereas the American car makers consider their situation up to Q3 2016):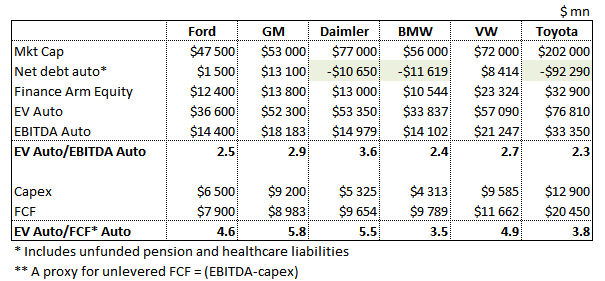 Already, we can see that all of these car businesses ex-respective financing arms trade at quite incredibly low EV/EBITDA and EV/(EBITDA-capex) multiples. 2.3x-3.6x EV/EBITDAs cannot be found outside of soon-to-be distressed businesses. Though less extreme in places, the EV/(EBITDA-capex) ratios are also very attractive.
Of course, these are cyclical businesses, and there's a kind of consensus that the US and European auto markets are peaking simultaneously. China, which might be helping right now, will soon also take a dip (in early 2017, there will be fiscal changes which are pulling demand forward right now). Still, the multiples really surprise for how low they are.
I would add that out of those, BMW and Toyota surprise the most. Why? Because for different reasons ("sports premium" in the case of BMW, reliability in the case of Toyota), both are very strong brands. Having a brand helps sell the same thing (cost-wise) at a premium. Thus, it ensures higher (and sustainable) margins. It's a moat.
Another surprise, is that Ford, GM and VW don't actually have net cash in their automobile business, though all report as much. The reason? Those pesky post-retirement provisions/underfunded statuses.
Also surprising: while GM and Ford will seem much cheaper on a pure P/E basis (BMW and Toyota are around 10-11x earnings), when we consider all these variables, BMW and Toyota not only are cheaper, but also have better brands.
Conclusion
Several conclusions to be drawn:
Several car makers are cheap not just on a price/earnings basis, but also on an EV/EBITDA basis if you strip out their financing arms. Indeed, if you strip out their financing arms, they are impossibly cheap in this measure.
Car makers would do well to spin-off or IPO at least part of their financing arms. Doing as much would bring this cheapness to light.
Of particular interest is the fact that it can be said 2 strong-branded car makers, BMW and Toyota, show up as being cheapest when undergoing these adjustments. VW would seem cheapest of all, but that's until one considers the large pension provisions it's responsible for.
All of these car makers might suffer from a short-term cyclical impact, as the US and Europe slow down and China should dip in early 2017.
Disclosure: I/we have no positions in any stocks mentioned, and no plans to initiate any positions within the next 72 hours.
I wrote this article myself, and it expresses my own opinions. I am not receiving compensation for it (other than from Seeking Alpha). I have no business relationship with any company whose stock is mentioned in this article.
Editor's Note: This article discusses one or more securities that do not trade on a major U.S. exchange. Please be aware of the risks associated with these stocks.