This is the final article in my five-part series were I will be covering five stocks that I believe will outperform the S&P 500 (NYSEARCA:SPY) over the next four years of a Donald Trump presidency. I constructed the portfolio based on the acronym T.R.U.M.P, which is made up of five stocks have tailwinds behind them during a Donald Trump presidency, are undervalued and have an appealing technical outlook. The company that I will be covering in this article is Packaging Corporation of America (NYSE:PKG).
Packaging Corporation of America: The "P" in "TRUMP"
Since Donald Trump has been elected, the prospect of modifying trade deals to make them more advantageous for the United States has been in the air. The goal of this is to bring back manufacturing to the United States. If there is more manufacturing here in the United States, which will mean those companies will need to package those goods here in the United States instead of overseas. The following quote below from a PKG investor presentation shows that PKG has limited exposure to exports, which will be a benefit if there is more manufacturing in the United States.
"PCA is positioned for growth, limited export exposure." - PKG Investor Presentation
As is shown in the chart below, PKG manufacturers a wide range of cardboard products for various industries.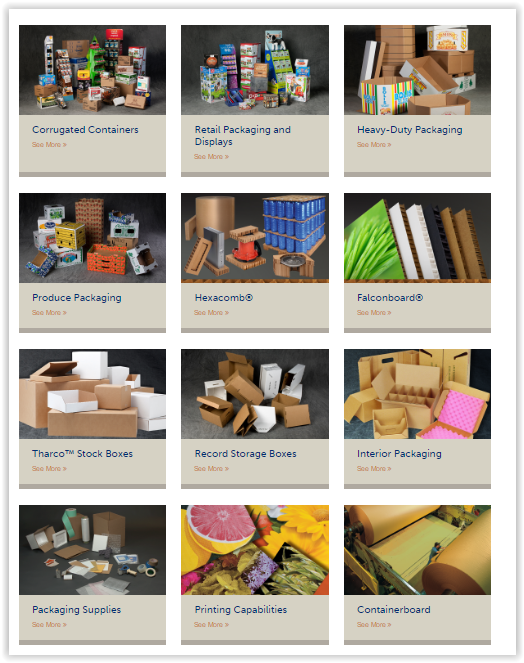 Business
If manufacturing does come back to the United States, Packaging Corporation of America will stand to benefit because it is likely that manufacturing will return to the Midwest, which is where the a large number of Packaging Corporation of America facilities are located as well as their headquarters. With this concentration of facilities in the Midwest, PKG should benefit if there is a boost in business because the majority of customers that PKG serves are local.
"Strong customer base - 2/3 local accounts" - PKG Investor Presentation
Even before the prospect of more manufacturing in the United States, PKG has been performing very well as is evidenced by the following statement the CEO made during the most recent earnings report.
"Our packaging mills ran very well, and we set all-time record volumes in our corrugated products plants while reducing inventory levels as we quickly integrate our containerboard volume through our new corrugated products plants from the TimBar acquisition." - PKG Earnings Release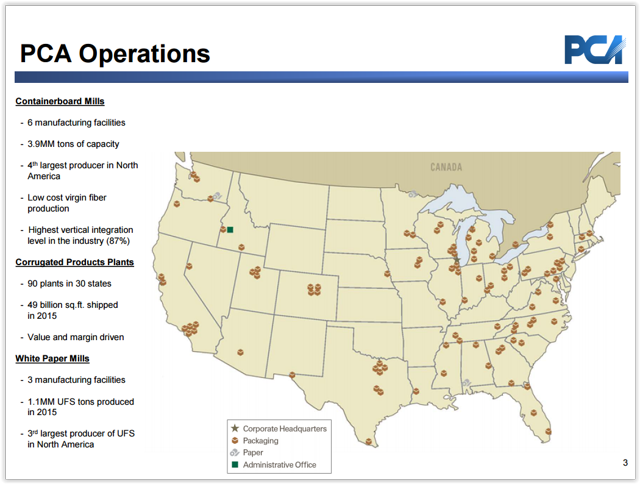 Valuation
To determine the upside opportunity for Packaging Corporation of America, I conducted a discounted cash flow calculation (table below) and found that shares of Packaging Corporation of America have a fair value of $95.48, which is 11.49% above the current price. For my calculations, I used data from Packaging Corporation of America financials on Gurufocus, growth data from Zacks and to determine the discount rate and terminal growth rate, I used the following calculators.
CFFO/Share:$809/93.6 shares = $8.64 CFFO/share
LT Debt/Share: $2626/93.6= $28.06 LT Debt/share
Proj. Long-term growth rate: 11.48%
Terminal growth rate: -2.89%
Discount rate: 7.56%
Assumptions
Cash flow grows for next five years.
After that, growth levels off to the terminal rate for 15 years.
PKG

DCF Calculations

CF/Share

PV

Year 1

1

9.64

$8.96

Year 2

2

10.74

$9.29

Year 3

3

11.97

$9.62

Year 4

4

13.35

$9.98

Year 5

5

14.88

$10.34

Year 6

6

14.45

$9.34

Year 7

7

14.03

$8.43

Year 8

8

13.63

$7.61

Year 9

9

13.23

$6.87

Year 10

10

12.85

$6.20

Year 11

11

12.48

$5.60

Year 12

12

12.12

$5.06

Year 13

13

11.77

$4.57

Year 14

14

11.43

$4.12

Year 15

15

11.10

$3.72

Year 16

16

10.78

$3.36

Year 17

17

10.47

$3.03

Year 18

18

10.16

$2.74

Year 19

19

9.87

$2.47

Year 20

20

9.58

$2.23

Year 1-5 Growth Value

$48.18

Terminal Growth Value

$75.36

LT Debt/share

$28.06

Value

$95.48

Current Price

$85.64

Upside/Downside

11.49%
Technical Outlook
Looking at the technical chart, you can see that shares of Packaging Corporation of America have been in an upward channel for most of 2016 and right before the election shares of PKG were right at the bottom of this channel and after the election they shot higher. In addition, shares broke above the 2015 closing high of $84.24, and have been above that level for the last two weeks. Some may notice on the chart that shares of PKG broke above this level two weeks before the election. However, the stock only was above the 2015 high for only one day. Since shares of PKG over the last two weeks have stayed above this level, I believe the $84.24 level will act as support going forward.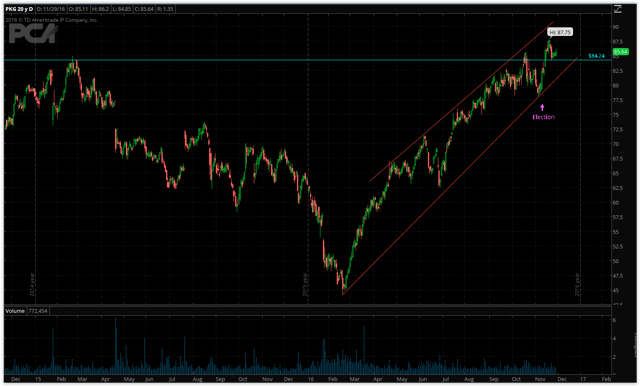 [Chart from ThinkOrSwim]
Closing Thoughts
In closing, I believe Packaging Corporation of America is set up to succeed and outperform the S&P 500 over the next four years because of the potential increase in manufacturing in the United States, the stock is currently undervalued and the stock has an appealing technical outlook.
As this is the final article of this series, looking back through all five of my selections, I believe they are set up well to perform during an era of increased infrastructure spending, increased United States based manufacturing, better trade deals and overall higher economic growth.
Disclaimer: See here.
Disclosure: I/we have no positions in any stocks mentioned, and no plans to initiate any positions within the next 72 hours.
I wrote this article myself, and it expresses my own opinions. I am not receiving compensation for it (other than from Seeking Alpha). I have no business relationship with any company whose stock is mentioned in this article.