Please take note this is only one aspect in weighing the attractiveness or non-attractiveness of the companies mentioned as an investment and should not be used independent of other factors. This article examines one segment of the companies' businesses, and other factors such as valuation are not addressed.
China is the world's largest e-commerce market, with retail e-commerce sales expected to reach US$ 899 billion this year, representing almost half (47%) of total retail e-commerce sales worldwide.
With higher disposable incomes and better infrastructure in China's cities, the focus of China's e-commerce players has been on urban Chinese shoppers. However, recently with e-commerce growth in rural China outpacing the cities, China's rural e-commerce is emerging as a major growth driver in China's e-commerce industry.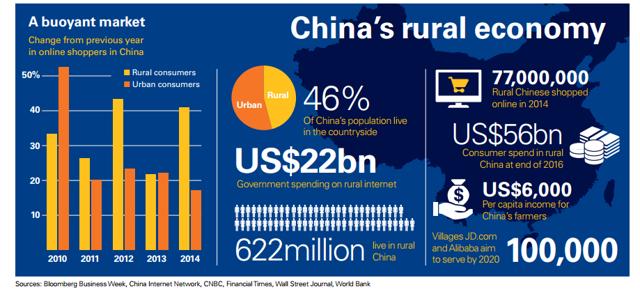 Source: KPMG
In the second quarter of this year, growth in online retail purchases by China's rural online shoppers outpaced urban shoppers, according to official data. In the first half of 2016, rural online shoppers spent 310 billion yuan (46.9 billion U.S. dollars), accounting for 14.14 percent of the country's total online sales. In the second quarter of this year, rural online retail purchases grew 13.4% quarter on quarter exceeding urban online retail purchases by at least 4%.
China's rural shoppers shop less frequently than their urban counterparts; however, they spend more when they do.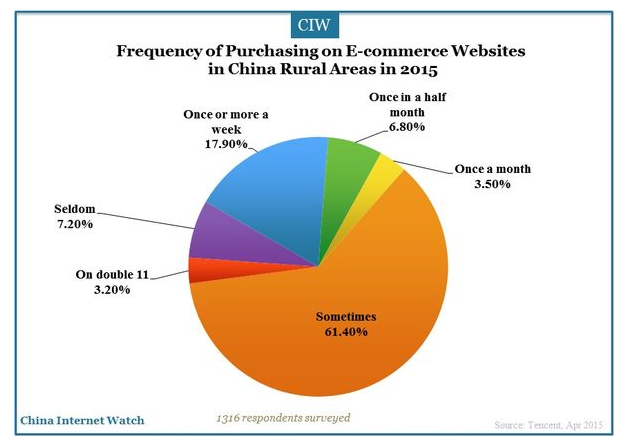 Source: China Internet Watch
It is still early days for China's rural e-commerce sector growth and the opportunity has not gone unnoticed. Alibaba (NYSE:BABA), (the world's largest retailer and the current market leader in the rural Chinese e-commerce market) and JD.com (NASDAQ:JD), China's second largest e-commerce website, are investing hundreds of millions of dollars to establish themselves in this untapped market, much of which will go towards logistics as China's rural infrastructure is very undeveloped which makes it challenging to deliver the goods in a timely manner.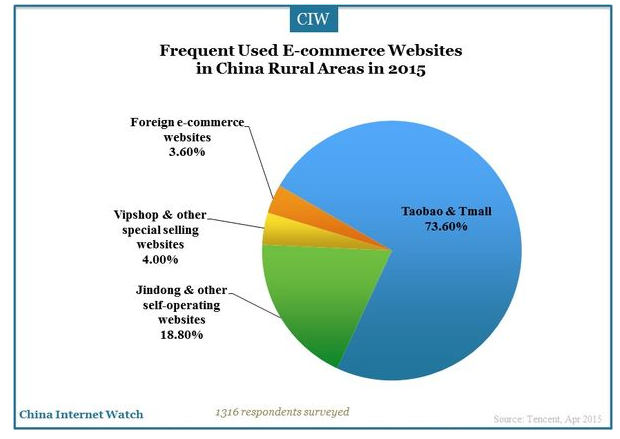 Source: China Internet Watch
For instance, under Alibaba's "Rural Taobao" strategy, the company is setting up internet-connected distribution centers in remote Chinese villages and expects to have 100,000 village-level drop-offs and 1,000 county-level distribution centers in villages in the next three to five years at a cost of at least 10 billion yuan.
JD.com started working with villages earlier than Alibaba, and currently has a presence in about 90% of the country's counties and districts. JD.com's rural logistics strategy includes drones and driverless cars. The company estimates rural logistics costs can be reduced by 70% with drones and driverless cars. This Singles' Day, JD.com launched the world's first consumers goods drone delivery trial to speed deliveries to consumers in villages while cutting the costs of delivering goods in rural China where ground transportation is inefficient.
The drones deliver the packages to a rural JD.com village promoter who is responsible for delivering the package to the customer. The company has received government approval for an expanded service putting it in position to become the first e-commerce giant to roll out a commercial drone delivery program on a large scale.
Increasing internet penetration, rising disposable incomes and a limited access to a wide product range (due to an underdeveloped retail network in rural areas) and supportive government policies are major growth drivers that should propel China's rural e-commerce sector going forward.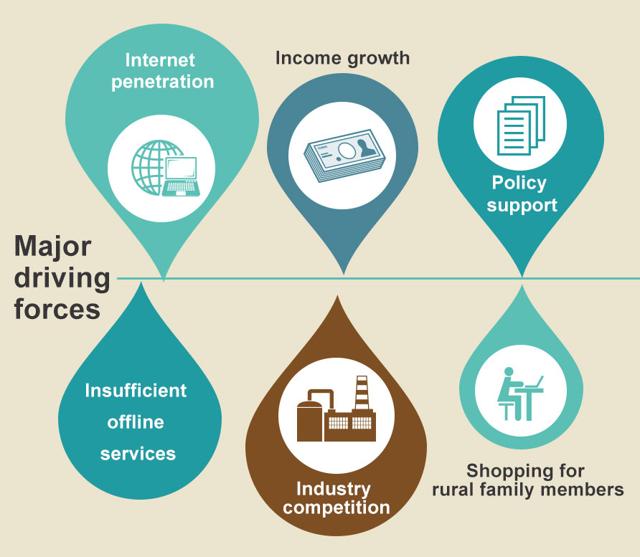 Source: China Daily
At the end of last year, China's total internet users numbered 688 million - a 50.3% internet penetration rate. Internet penetration in urban areas increased less than three times between 2007 and 2014 while rural internet penetration nearly quadrupled during the period.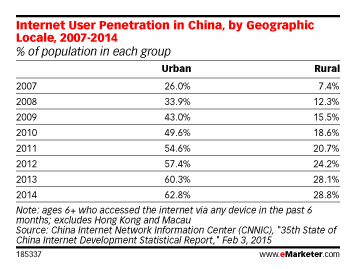 Source: eMarketer
Despite rural internet penetration growth outpacing urban growth, China's internet penetration is still highly concentrated in urban areas; at 195 million (as of last year) China's rural internet users represent just 28% of China's total internet users against 72% in urban China.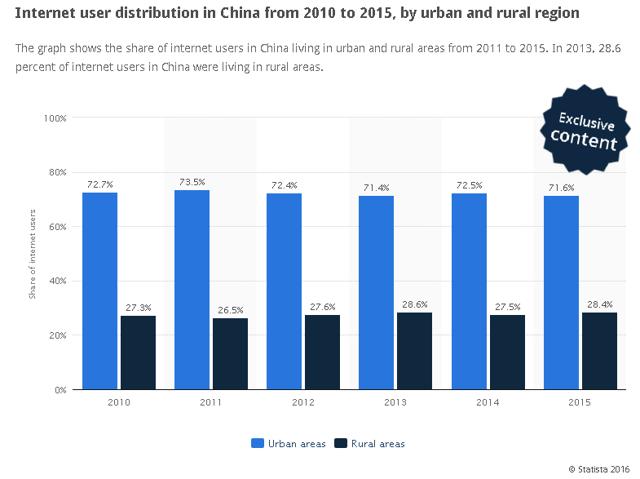 Source: Statista
China's rural internet users account for 15% of China's total population of 1.3 billion people despite accounting for about 44% of the total population according to data from the World Bank. Rural internet users account for just about 32% of China's rural population (which stood at 608 million last year according to data from the World Bank, nearly two times the number of the U.S. population which is about 322 million) and at 77 million, less than 50% of China's rural internet users are online shoppers indicating substantial growth potential. China currently has around 410 million online shoppers, and research firm eMarketer expects China to add another 139 million more online shoppers by 2019 mostly from less developed areas.
The Chinese government announced it would invest US$ 22 billion to provide 50,000 more villages with internet access by 2020. It is expected that by 2020, broadband coverage is expected to cover 98% of China's villages.
Much of China's rural residents access the internet through mobile only.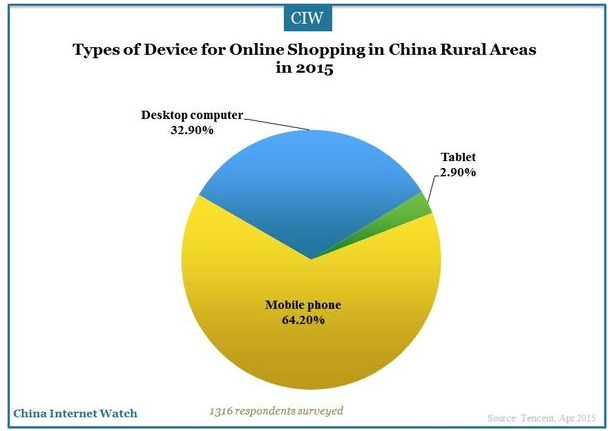 Source: China Internet Watch
With incomes rising and online content and technology becoming increasingly affordable for rural Chinese, China's telecom companies China Mobile (NYSE:CHL), China's largest wireless carrier, China Telecom (NYSE:CHA) and China Unicom (NYSE:CHU) (OTCPK:CHUFF) intend on aggressively marketing their 4G high-speed coverage to rural residents in China in an effort to drive growth which could help drive mcommerce adoption among villagers.
As of last year, per capita disposable income of urban households was 2.7 times higher than rural households. However, rural per capita disposable income growth has outpaced urban growth for the past five years.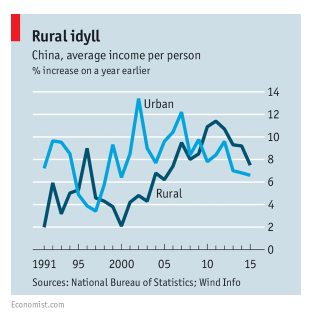 Source: The Economist.
And the urban-rural income gap has been declining since reaching its peak in 2009 when the gap between average urban and rural income was 3.3 times.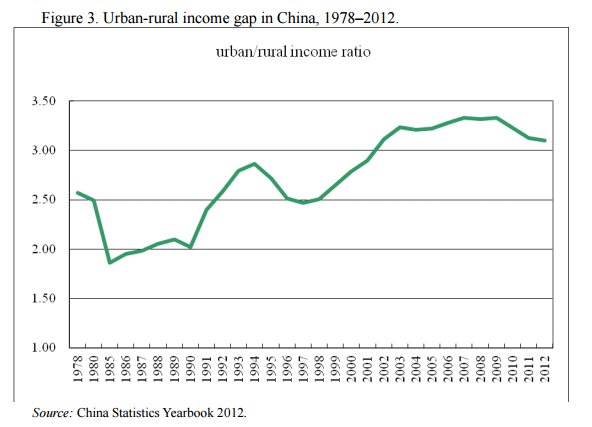 Source: Beijing Normal University
In 2015, China's national per capita disposable income grew 8.9%. Urban per capita disposable income grew 8.2% while rural per capita disposable income grew 8.9%. Disposable income in rural towns rose by 160% in the decade ending 2014.
China's rural e-commerce sector has the backing of the Chinese government, which by working together with private sector participants such as Alibaba, aims to use e-commerce as a tool to create jobs, elevate living standards and boost rural development.
This year Alibaba, the world's largest retailer, reached an agreement with China's top economic planner, the National Development and Reform Commission (NDRC), to develop e-commerce in more than 300 rural areas with the expectation of optimizing the agricultural industrial chain and encourage entrepreneurship among rural folk. Under the plan, Alibaba will build 300 county-level service stations and 30,000 village-level stations to cultivate talent and generate jobs. The agreement comes after Alibaba committed to invest 10 billion yuan (US$1.53 billion) to build a total of 100,000 "Rural Taobao" stations and 1,000 county-level stations by 2019 as part of its "Rural Taobao" project.
Alibaba's "Rural Taobao" project, which is a part of its rural expansion strategy, is an effort to turn China's over 600 million rural population into shoppers as well as sellers. Under the program, the number of "Rural Taobao" centers has grown from 3 in 2009 to 780. The centers facilitate rural citizens to purchase goods online through Alibaba's platforms and collect the goods a few days later.
The project has substantial support from the Chinese government, which sends officials to educate farmers on e-commerce, providing gratis space for new logistics facilities and promoting Rural Taobao. The ministries of commerce and finance have allocated US$ 300 million to 200 rural counties to spend on warehouse development, e-commerce training, etc., in an effort to help the project forward.
This is a win-win situation for e-commerce players and rural citizens who will not only have access to a wider product range but also be given an avenue to increase their incomes.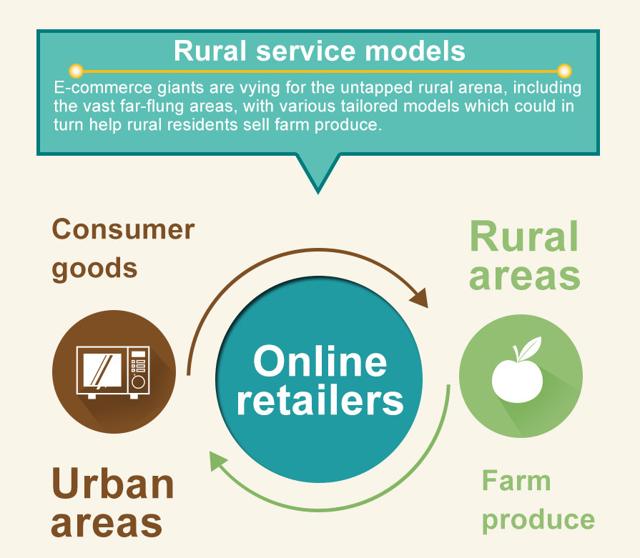 Source: China Daily
It has been projected that China's rural e-commerce sector is expected to be worth 1 trillion yuan (US$ 48 billion) by 2020 and Fung Business Intelligence Center, the transaction value of China's rural e-commerce market will surpass that of the urban market in the next 10-20 years.
Disclosure: I/we have no positions in any stocks mentioned, and no plans to initiate any positions within the next 72 hours.
I wrote this article myself, and it expresses my own opinions. I am not receiving compensation for it (other than from Seeking Alpha). I have no business relationship with any company whose stock is mentioned in this article.
Editor's Note: This article discusses one or more securities that do not trade on a major U.S. exchange. Please be aware of the risks associated with these stocks.