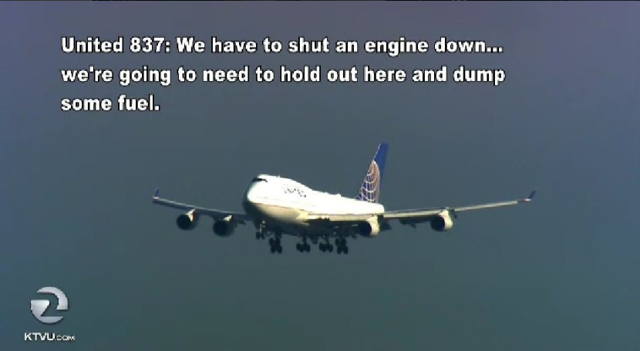 Buffett Bucks His Old Admonition
Aviation can be exciting. On Monday, United (NYSE:UAL) flight 837, headed for Japan, had to turn around shortly after takeoff when one of its four engines caught fire. Fortunately, the plane landed safely, and there were no injuries. But over the years, many investors in airlines have gotten burned, as Warren Buffett colorfully noted in the 2007 Berkshire Hathaway (BRK.A, BRK.B) annual letter:
The worst sort of business is one that grows rapidly, requires significant capital to engender the growth, and then earns little or no money. Think airlines. Here a durable competitive advantage has proven elusive ever since the days of the Wright Brothers. Indeed, if a farsighted capitalist had been present at Kitty Hawk, he would have done his successors a huge favor by shooting Orville down.
As Frank Holmes pointed out last week, Buffett is now bullish on some airlines, with Berkshire disclosing stakes in United, American (NASDAQ:AAL), Delta (NYSE:DAL), and Southwest (NYSE:LUV). Of those four, United happens to be one of Portfolio Armor's top names too, placing between Exact Sciences (NASDAQ:EXAS) and Priceline (PCLN) in the top-5 of the site's daily ranking of securities by potential return, net of hedging cost on Tuesday:

The screen capture above comes from the site's admin panel, but those are the names that would have populated a large hedged portfolio if a subscriber used the site's hedged portfolio construction tool to create one on Tuesday (for a small portfolio, the tool would exclude Priceline, due to its high share price, which makes it prohibitively expensive to hedge an odd lot.).
This isn't the first time our site has had an airline stock among its top-ranked names. Last November, Hawaiian Holdings (NASDAQ:HA), the parent company of Hawaiian Airlines, was Portfolio Armor's top mid-cap name (the article at that link details the ranking system), and one of its top-10 overall; four months later, it was up 32%. Still, sometimes our top names don't do well (we write about those too, e.g., Silver Wheaton (SLW): Looks Like We Were Wrong). So if you're long United, we'll look at a couple of ways of hedging it below.
Hedging United With Optimal Collars
Often when we write about hedging, we present an optimal put hedge (which has uncapped upside) and an optimal collar hedge (which has capped upside, in exchange for lower cost). Since United is a bit pricey to hedge with puts, we'll present two optimal collar hedges for it instead: one capped at our site's estimated potential return for the stock over the next several months, 29%, and one capped at the highest level where most of the hedging cost was eliminated, given the other parameters, 11%. Both of these hedges are designed for investors who can tolerate a drawdown of no more than 15% (investors who have a "threshold" of 15%, in our shorthand).
If you'd like a refresher on hedging terms first, please see the section titled "Refresher On Hedging Terms" in this article of ours, Locking In Gold Gains. We used Portfolio Armor's iOS app to find these hedges, but you can find optimal hedges yourself by using the process we outlined in this article.
Higher Potential Upside, Higher Cost
As of Tuesday's close, this was the optimal collar to hedge 1,000 shares of UAL against a greater-than-15% drop by mid-June, while not capping your possible upside at less than 29% by then: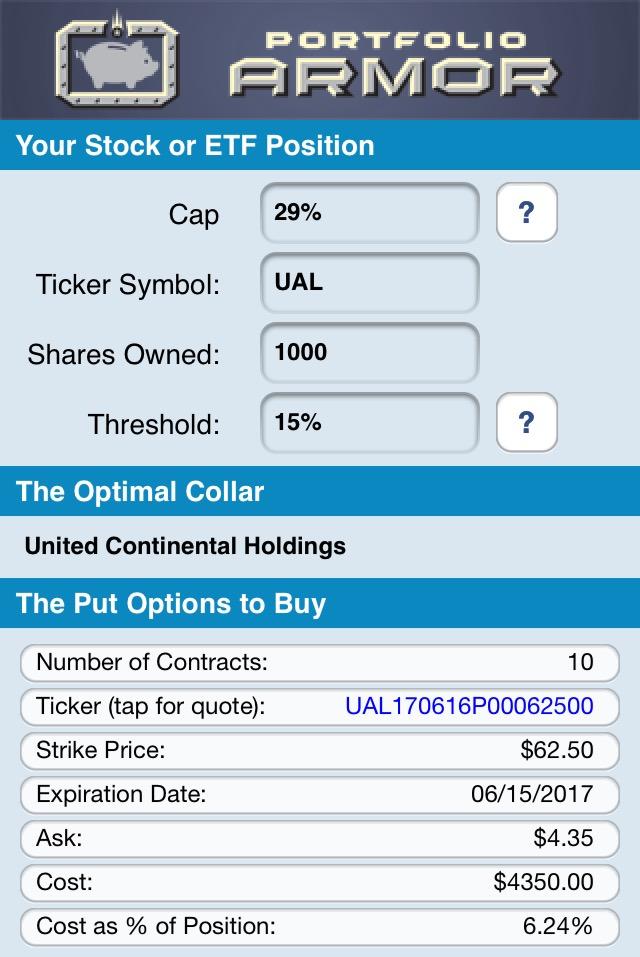 As you can see above, the cost of the put leg was $4,350, or 6.24% of position value. And as you can see below, the income generated from the short call leg was $1,510, or 2.17% of position value.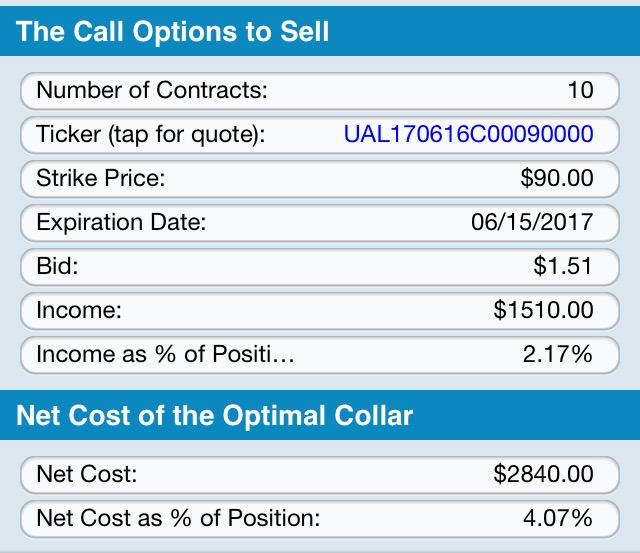 So the net cost of this hedge was $2,840, or 4.07% of position value.
Lower Potential Upside, Lower Cost
Let's pause to note that although this hedge uses a lower cap of 11%, that is a much higher potential return estimate than the one implied by Wall Street's consensus price target for UAL (via Nasdaq, below).

That 12-month price target implies a potential return of about 1% by mid-June.
With that in mind, this was the optimal collar to hedge 1,000 shares of UAL against a >15% drop by mid-June, while not capping possible upside at less than 11%: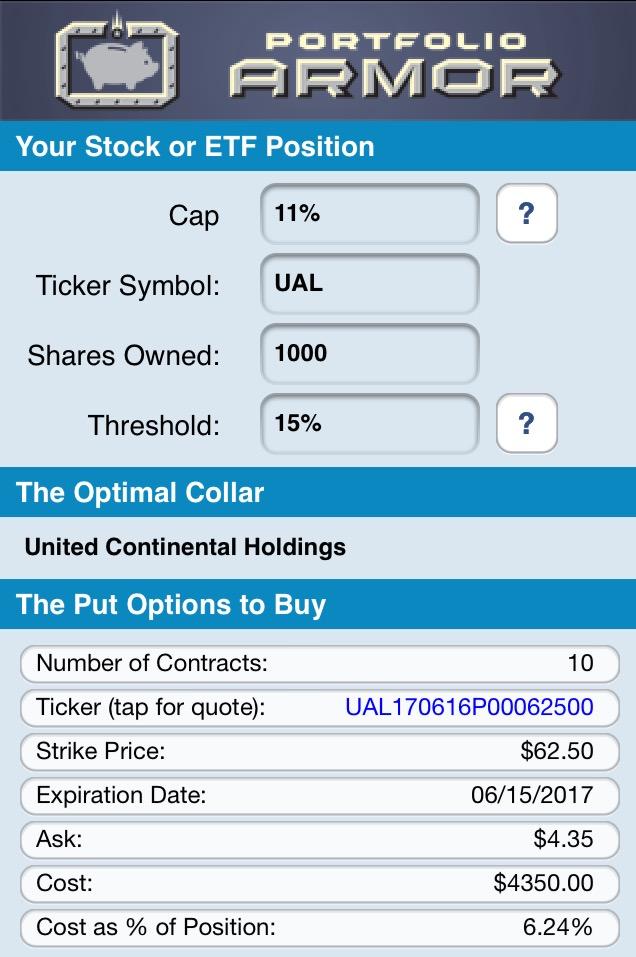 As you can see above, this is the same put leg as in the previous collar, so the cost was the same: $4,350, or 6.24% of position value. What's different here is the income generated from the call leg below, which is nearly as much: $4,250, or 6.10% of position value.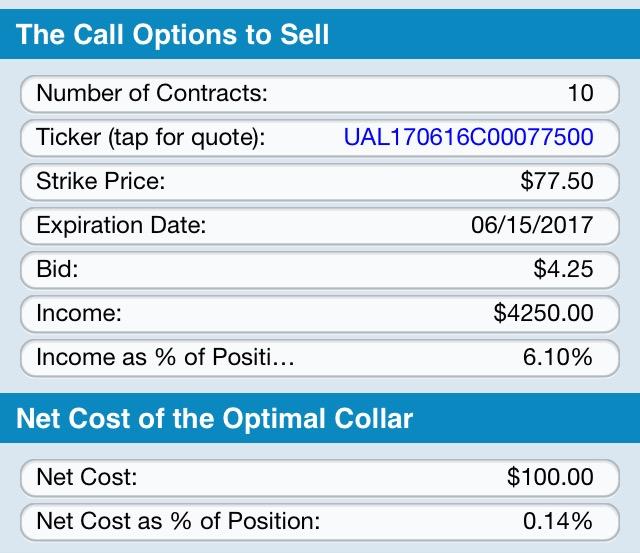 So the net cost of this hedge was $100, or 0.14% of position value.
Note that, in both of these hedges, the cost was calculated conservatively, using the ask price of the puts and the bid price of the calls; since, in practice, you can often buy and sell options within the spread, you likely would have paid less than $100 to open the second hedge.
Disclosure: I/we have no positions in any stocks mentioned, and no plans to initiate any positions within the next 72 hours.
I wrote this article myself, and it expresses my own opinions. I am not receiving compensation for it (other than from Seeking Alpha). I have no business relationship with any company whose stock is mentioned in this article.