A very material and very large increase in refined product inventories that is outweighed by OPEC's decision. We think that this was a smart day to release these numbers, since it was certain they would be eclipsed by OPEC's announcement.
Besides the large build, this report shows that there can be a substantial lag between the date refineries increase their production runs and the date when the output actually shows in EIA'S numbers.
Crude oil prices (NYSEARCA:USO) stayed unchanged after the report was released, but otherwise were up about 8-9% during the day on news of OPEC's 1.2 million bpd production cut.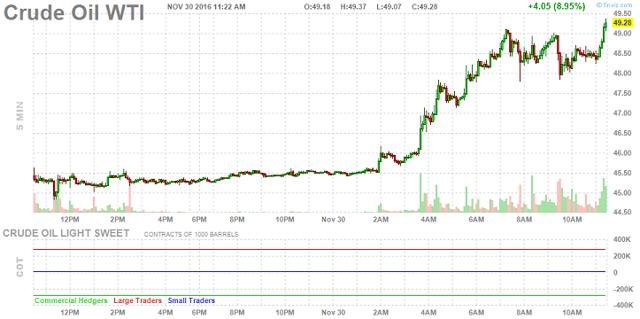 Source: Finviz.com
Stocks:
* Crude oil inventories decreased by 900,000 barrels.
* Gasoline inventories increased by 2.1 million barrels.
* Distillate inventories increased by 5.0 million barrels.
A very large build in stocks of gasoline and distillates that would be normally very bearish for oil prices if it weren't for the OPEC news today. Three weeks ago, we looked at the rapidly increasing refinery utilization rates and we mentioned that we would expect rising inventories of refined products to show up in the following EIA reports.
Timing-wise, we were a couple of weeks off, and for a while we were wondering what other line items in EIA's model could be absorbing the build, but lo and behold, the refined products finally show up as stock builds this week.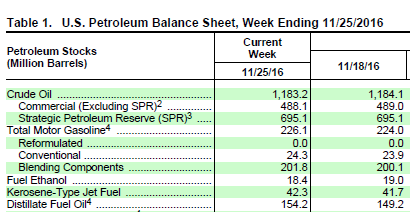 Source: EIA
Production and Refinery Utilization:
* Domestic production increased by 9,000 bpd with a small decline in the Lower 48.
* Production in the Contiguous United States (excluding Alaska) stayed almost unchanged with a drop of 2,000 barrels per day.
* Net imports now also stayed relatively unchanged for the week (small drop of 35,000 bpd).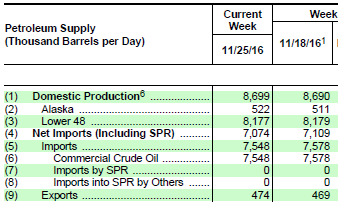 Source: EIA
* Refinery utilization decreased by 100 basis points; still within the normal range for this time of the year. The small decline in utilization could be a reaction to the large refined product build or to higher oil prices the preceding week.

Source: EIA
Cushing, Oklahoma:
* Cushing, OK inventories increased by 2.4 million barrels, in line with the API report. Cushing is still near maximum operating capacity.
* Gulf Coast inventories stayed mostly unchanged although they are still near historical highs.

Source: EIA
Conclusion:
An otherwise very bearish inventory report for crude oil prices, given the very large build in gasoline and distillate stocks, but a build that will be ignored by the markets given OPEC's 1.2 million bpd production cut, valid as of the time of submission of this report.
The build in refined products announced this week is not only material by itself but also answers the question of where were refined products hiding given this month's increases in refining capacity. It was clear that refined products were not being consumed in larger amounts domestically, or otherwise exported, but for a couple of weeks the excess refining runs were not showing as inventory builds.
Disclosure: I/we have no positions in any stocks mentioned, and no plans to initiate any positions within the next 72 hours.
I wrote this article myself, and it expresses my own opinions. I am not receiving compensation for it (other than from Seeking Alpha). I have no business relationship with any company whose stock is mentioned in this article.