With Thanksgiving Day still fresh in the minds of readers, I decided to use that holiday as my inspiration for getting Part III of this series completed. My original intent was to get this published before the big day, but with Turkey Day now come and gone, the end of the month quickly became my new self-imposed deadline. The Dividend Champion and Dividend Contender lists were both well received by readers, and I hope that the Challengers will also bring up some new ideas for reader shopping lists.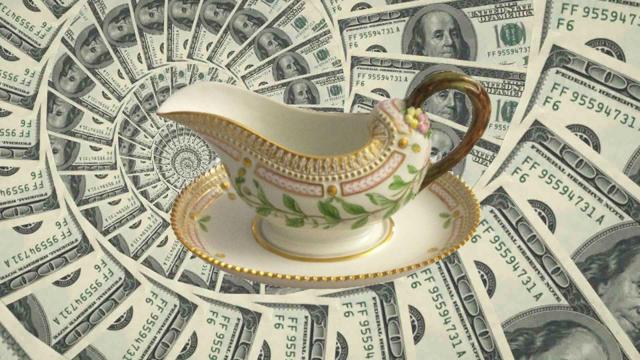 I consider dividends the "gravy" of total returns, as they come on top of the "meaty" capital gains driven by long-term earnings growth. And similar to how gravy is created from the remnants of cooking your turkey, so too are dividends a tasty benefit produced by the excess profits of a company. However, too much gravy with no meat can leave you with a tummy ache; and too many dividends with no earnings backing them will also leave you with heartburn as well.
For sustained long-term returns, I try to focus on companies that have shown an ability to consistently grow profits through business cycles - meaning I generally don't want companies that have a high volatility in earnings, and try to avoid those that are highly impacted by the overall economy. This is becoming easy to overlook now as we are eight years out from the most recent recession, but should be something people keep in mind when looking at potential investments.
Returning to the focus of this article, the Dividend Challengers List is comprised of 435 companies that have raised their dividends for the last 5-9 years, which means there are now companies that have made it back on the list despite cutting the dividend during the "Great Recession." For this list, I disqualified companies that cut during the recession, and will be focusing on ones that have either recently initiated payouts or continued to raise during the weak market.
Wading through 400+ companies is a daunting task, and I will admit that is part of the reason why this final segment has taken so long to complete. For the selections, I have found ten companies that have shown a long history of double-digit earnings growth, and have a recent history of converting those earnings into strong dividend growth as well. Additionally, they are all expected to continue growing at a high rate going forward.
As I'm sure the question will arise, I will note that valuation WAS NOT taken into account with these selections. They are simply presented as ideas for further research for people looking for growth companies for their portfolios.
That said, here are the ten that made the final cut:

The list covers a variety of sectors, yet is dominated by four consumer discretionary companies and also contains three from the information technology sector.
Here are some highlights for each company:
Cheesecake Factory Inc. (NASDAQ:CAKE) is a company offering full-service and casual dining restaurants located primarily in the United States and under the Cheesecake Factory name. The company was founded in 1972 and is headquartered in Calabasas Hills, California.
Cheesecake Factory's dividend growth history is short, but it has consistently grown earnings at a better than double-digit rate over the last two decades, as seen on the F.A.S.T. Graph below. It has produced a 17% growth rate since 1996, and while that has slowed a bit in recent years, it's still grown at an 11.6% rate over the last 5.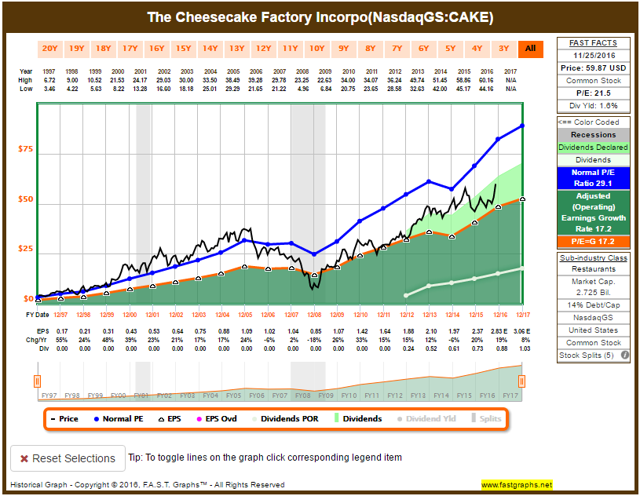 This has translated into excellent returns, at it turned $10,000 invested into nearly $175,000, good for a 15.5% rate of return.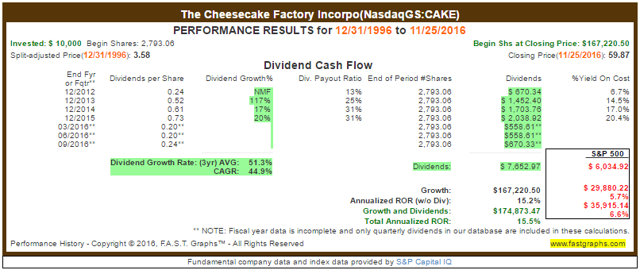 Analysts expect earnings growth to continue at a 12-13% rate going forward. The stock is trading near fair value at 20X expected 2017 earnings, in line with its historical PE over the last decade. The stock also provides a yield of 1.6%, which is likely to continue growing at a double digit rate as well. Add it all up, and mid-teens total returns look like a reasonable possibility for long-term investors.
CoreSite Realty Corp. (NYSE:COR) is a REIT specializing in the ownership, acquisition, construction, and management of data centers in the United States. The company was founded in 2001, went public in 2010, and is headquartered in Denver, Colorado.
CoreSite has seen tremendous growth since its IPO, growing at a blistering 27% annualized rate.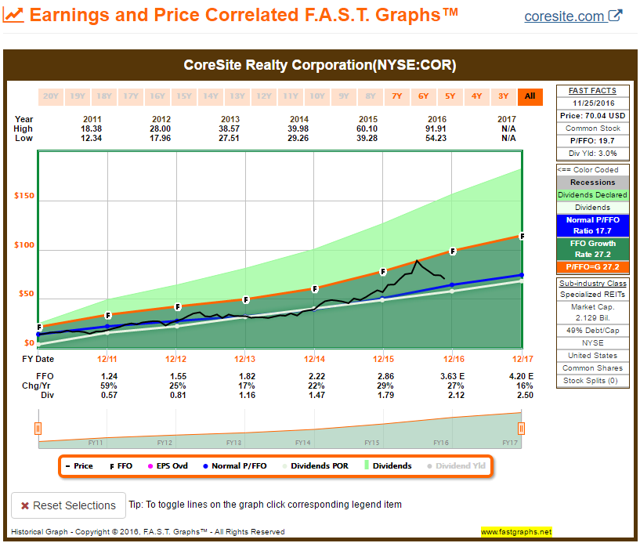 This has translated into rich rewards for investors, as they've seen 34% annualized returns since the end of 2010. To my comment in the open about dividends being the gravy portion of returns, you can see why when looking at the returns below. Despite a respectable initial yield of 4.6% and total dividends collected of $5,418, they account for just 11.6% of the $46,767 in total returns seen on an initial $10,000 investment. The dividends are significant, but they pale in comparison to the effect that growth-driven price appreciation has on returns.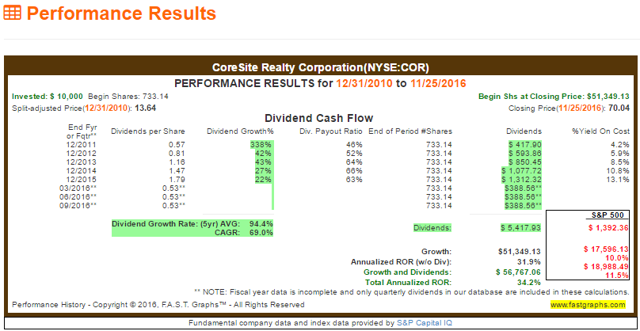 CoreSite has seen a significant pullback along with most of the REIT and utility sector due to the recent trend of rising interest rates. However, I don't expect those higher rates to have much of an impact on the long-term growth prospects for this company. The pullback has brought shares down to an attractive 16.7 multiple on expected 2017 FFO. With a current yield of 3% and expectations of around 11.5% growth going forward, CoreSite too presents a nice opportunity for double-digit returns going forward.
Dr Pepper Snapple Group (NYSE:DPS) is a beverage company that operates as a brand owner, manufacturer, and distributor of non-alcoholic beverages in North America. Some of its more recognizable brands include: Dr Pepper, Snapple, 7UP, Canada Dry, A&W, Crush, and Motts. The company became a stand-alone company in 2008 as a result of a spin-off by Cadbury, plc and is headquartered in Plano, Texas.
Dr Pepper has been a strong performer since the spinoff, consistently producing double-digit growth in earnings and dividends as it has worked towards a 50% payout ratio. It also recently made a move that should bode well for future growth, when it acquired antioxidant infused drink maker Bai Brands. Analysts had been expecting roughly 9% EPS growth prior to this acquisition, and I suspect those numbers may end up trending higher as this higher growth portion of the business grows.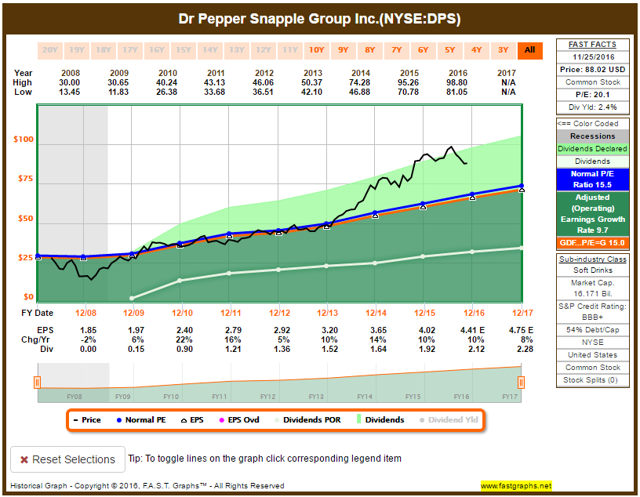 Dr Pepper has produced excellent results for investors since the spin-off, with annualized returns of nearly 16%.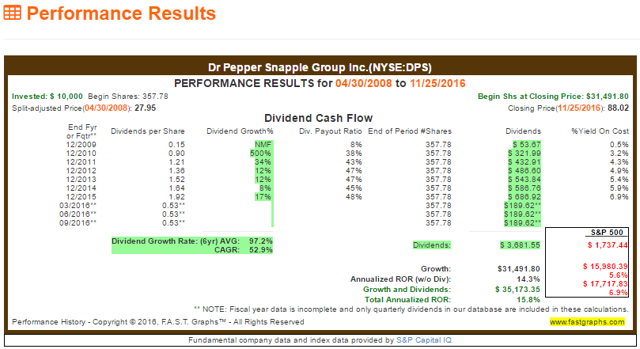 Shares are a bit expensive at current prices, as they are trading at about 18.6 times expected 2017 EPS of $4.78, which is about 20% higher than its normal PE of 15.5. I would be looking at the $77 as my buy point, which is a 2.75% yield on the current $2.12 dividend rate.
Dunkin' Brands Group Inc. (NASDAQ:DNKN) develops, franchises, and licenses quick service restaurants under the Dunkin' Donuts and Baskin-Robbins brands. It was founded in 1950, went public in 2011, and is headquartered in Canton, Massachusetts.
Dunkin' has grown at a 28% annualized rate since the IPO, but that has slowed a bit in recent years to the low-double-digit level. Another potential question mark is the higher debt load that the company operates with. However, this is mitigated to some extent by its business model, as the company operates with a nearly 100% franchised model, lessening the capital needs for growth.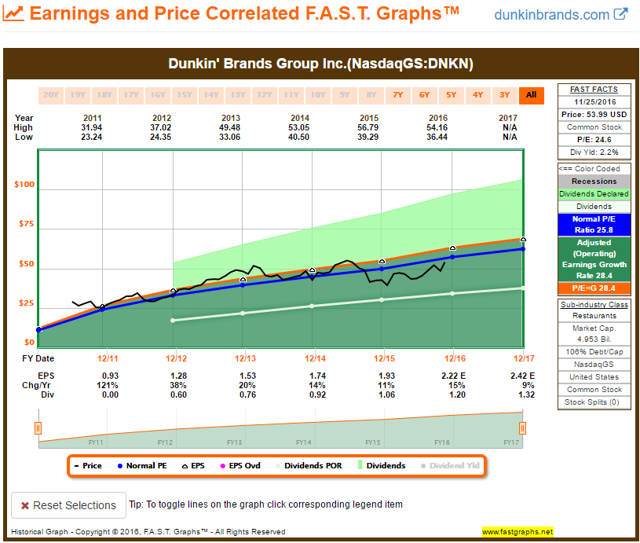 Those who bought the stock at the IPO have done well, as shares have returned 14.0% compared with 12.1% from the S&P. Looking ahead, analysts remain bullish that higher growth will return, as they are projecting 13-14% growth over the next 5 years.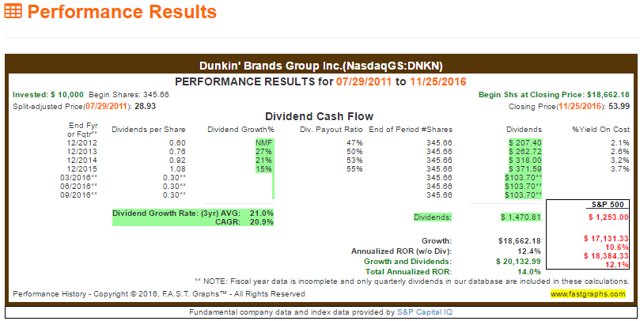 Shares are trading below historical valuation levels, yet they are still far from cheap, as they are currently trading at about 22 times 2017 EPS estimates. However, with a yield over 2% and double-digit earnings growth expected, buyers should still see better than 10% annualized returns going forward.
Intuit Inc. (NASDAQ:INTU) provides business and financial management solutions for small businesses, consumers, and accounting professionals in the U.S. and abroad with its well known products TurboTax and QuickBooks. The company was founded in 1983 and is headquartered in Mountain View, California.
Intuit has grown earnings at 17% rate since 2000, and has quickly grown the dividend since it began paying it in 2012. The company is a fine example of the excesses of the dotcom boom, as it traded with a PE of over 100 at the end of 1999.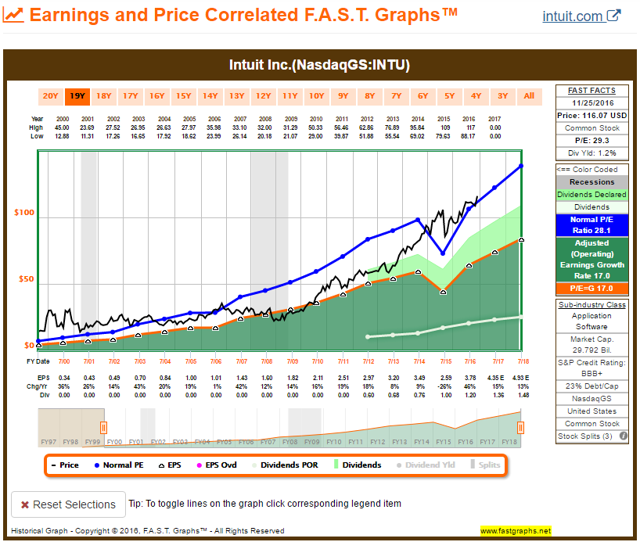 That multiple has since contracted and now sits at about 27 times earnings. However, despite that rich initial valuation, investors who bought shares way back in 1999 still saw annualized returns of 13.4%, which crushes the S&P returns of 4.0%. High earnings growth is a powerful force!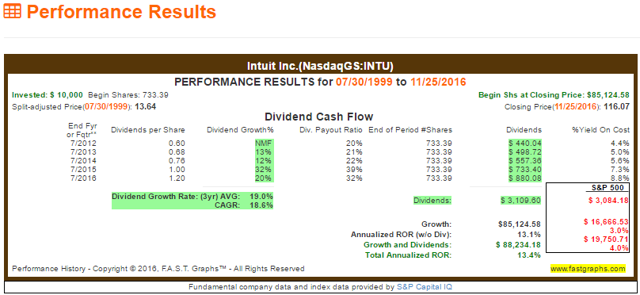 Analysts are forecasting EPS growth of 16-18% going forward, however Intuit appears to be trading a bit above fair value at current prices. My target would be around $100, which is a 23 multiple on 2017 estimates.
Mastercard Incorporated (NYSE:MA) is a technology company that provides transaction processing and other payment products and services in the United States and abroad. The company was founded in 1966,began trading on the NYSE in 2006, and is headquartered in Purchase, New York.
Mastercard has been an outstanding performer as a public company, as it's produced a 24.5% annual growth rate and has put up 9% or better EPS growth every year since its IPO.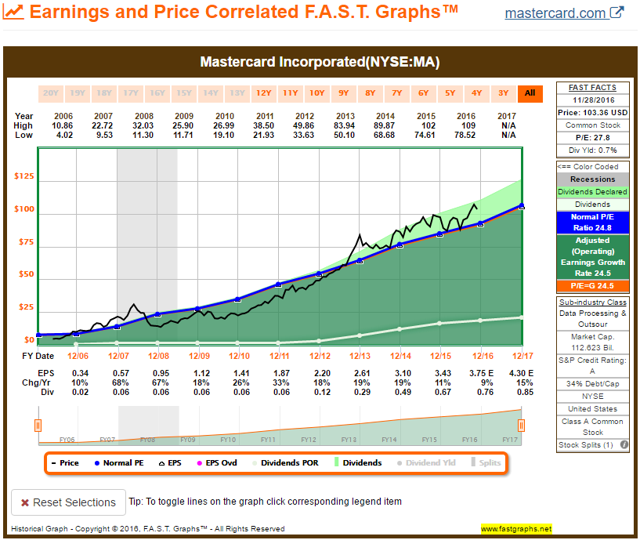 Even more impressive is the wealth this has generated for investors, as Mastercard has turned a $10,000 investment into over $235,000 in just over ten years.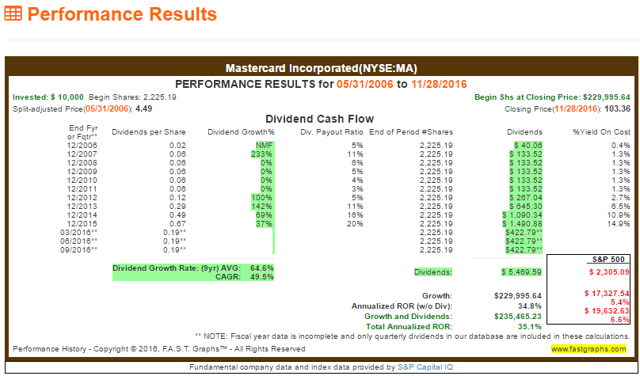 Shares appear a bit overvalued when simply looking that the F.A.S.T. Graph, yet when digging deeper into the numbers, it is trading at roughly 24 times 2017 earnings estimates, which is line with historical norms. Analysts are expecting EPS growth of around 15% going forward, which seems reasonable in comparison to growth seen over the last 5 years.
Starbucks Corporation (NASDAQ:SBUX) is a roaster, marketer, and retailer of specialty coffee worldwide. It also offers tea products under the Tazo and Teavana brand names. The company was founded in 1985 and is headquartered in Seattle, Washington.
Starbucks is a fine example of a secular growth stock in the consumer discretionary sector, as it has produced a 22.2% annual growth rate over the last 20 years.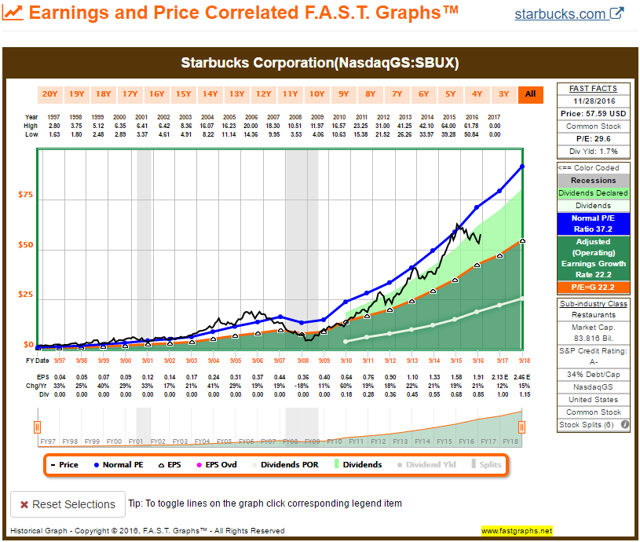 As one would expect, this has translated into excellent results for investors, producing an 18.3% annualized return compared with 6.9% from the overall market.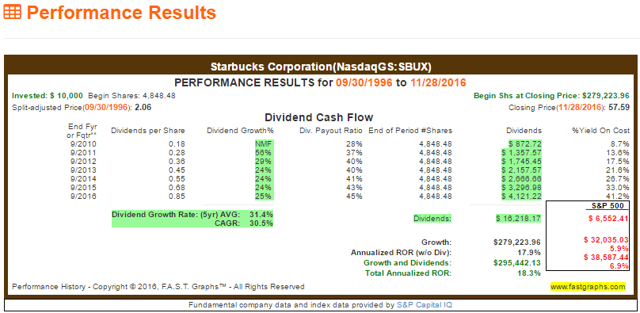 At roughly 27 times expected 2017 earnings, Starbucks appears fairly valued at current prices. With analysts expecting roughly 17% annual EPS growth going forward, this seems a decent entry point for long-term investors.
Tractor Supply Company (NASDAQ:TSCO) is the operator of over 1,500 rural lifestyle retail stores in the United States. The company was founded in 1938 and is headquartered in Brentwood, Tennessee.
Tractor Supply is another outstanding growth stock in the discretionary sector, producing 19% annual growth going back to 1999.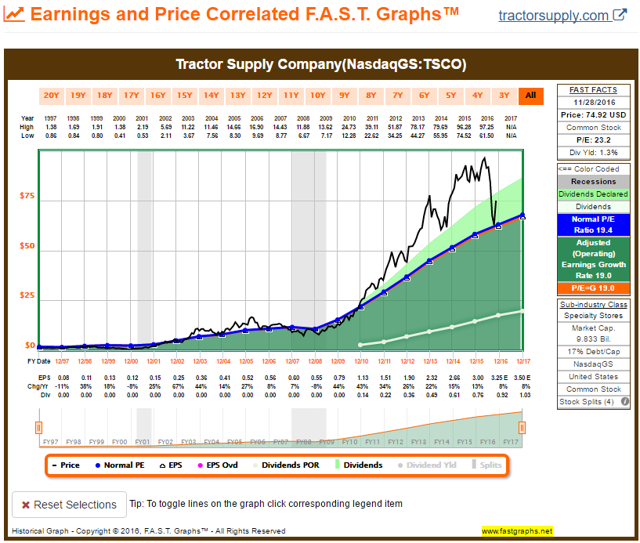 This growth has richly rewarded investors, turning $10,000 into over $600,000 over the last 20 years - another prime example of how small investments can become life-changing decisions in the right stock.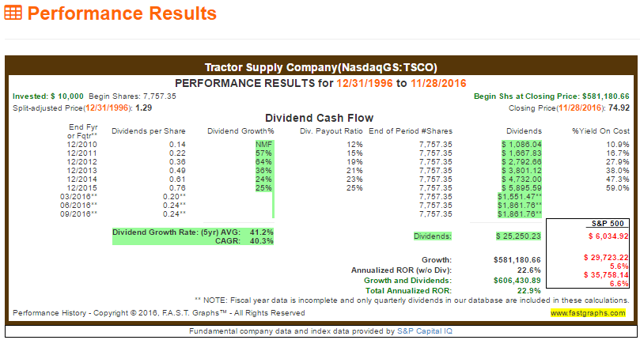 Shares aren't quite as attractive as they were a month ago, yet they still appear reasonably valued at current prices. The company is trading for around 21.5 times 2017 earnings, which is below the 26 "normal P/E" seen over the last 5 years. With 12-13% growth going forward, this looks like another attractive stock for the long haul.
UnitedHealth Group Incorporated (NYSE:UNH) is a diversified health and well-being company that offers health care coverage, benefits services, and information and technology-enabled health services. The company was founded in 1974 and is headquartered in Minnetonka, Minnesota.
UnitedHealth is the lone health care stock on this list, and is a fine representative of the sector. It owns an A+ credit rating and has been a consistent performer over the years, producing a nearly 19% annual growth rate over the last two decades.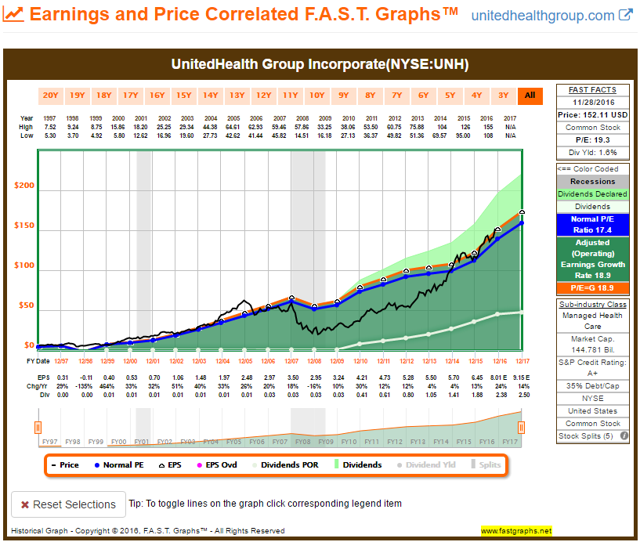 This growth has resulted in annualized returns of 18.3%, far better than the 6.6% returns from the S&P.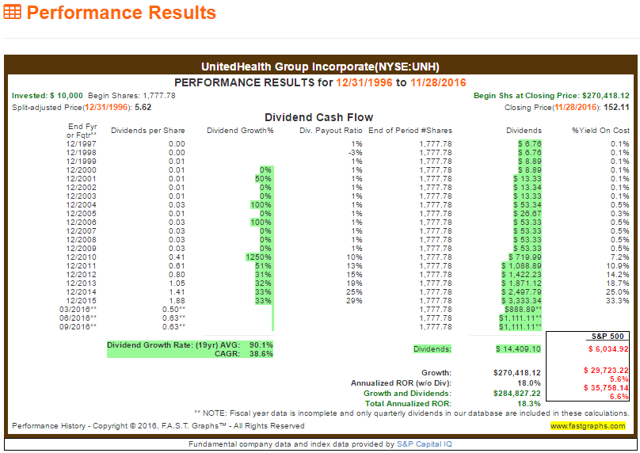 While there are questions in the sector due to potential changes to the Affordable Care Act, analysts remain bullish on growth prospects for the company, as they are projecting 14-15% growth going forward. With shares trading near historical valuation levels, this too looks like an attractive candidate for purchase.
Visa Incorporated (NYSE:V) is a payments technology company that facilitates commerce through the transfer of value and information among consumers, merchants, and other entities. The company was incorporated in 2007 and is headquartered in San Francisco, California.
Like Mastercard, Visa has also been an excellent performer since its IPO, putting up 21.5% annualized growth since it went public. The growth has also been remarkably consistent, with only one year of sub-10% growth during the period.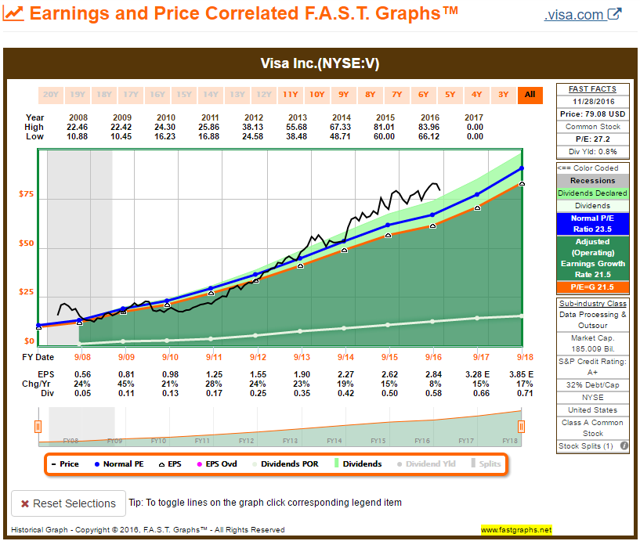 This has led to 21% annualized returns for investors, turning $10,000 into over $52,000 since March of 2008.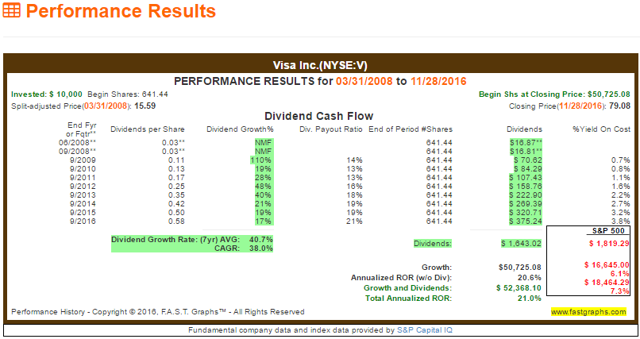 Analysts expect ~17% going forward, roughly in line with growth seen over the last 5 years. Valuation also looks reasonable, as shares are trading at a 24 multiple against expected 2017 earnings. I wouldn't consider it a bargain here, but one could still expect mid-teens total returns if those growth rate trends hold true.
Summary & Conclusion
As mentioned above, it was a difficult time whittling down 435 companies to just 10 for this list, as I had another 15-20 in my initial spreadsheet. However, I think these ten present some great opportunities for investors, and many of them at current market prices.
As you can see from the performance results for each company, high growth rates can lead to some excellent returns when holding for long time periods. And despite low initial yields, the fast growers can also churn out plenty of dividend "gravy" to go along with it.
I hope this post-Thanksgiving recap of the sector presents some new ideas for readers. As always, I enjoy hearing feedback from others regarding the list. If you think I've overlooked a "must-have" growth stock from the Challengers List, feel free to chime in below.
Additionally, if you would like notifications when future articles are published, please click the "follow" button next to my name at the top of the page.
Happy Investing!
Disclosure: I am/we are long DPS, SBUX, V.
I wrote this article myself, and it expresses my own opinions. I am not receiving compensation for it (other than from Seeking Alpha). I have no business relationship with any company whose stock is mentioned in this article.
Additional disclosure: I am a Civil Engineer by trade and am not a professional investment adviser or financial analyst. This article is not an endorsement for the stocks mentioned. Please perform your own due diligence before you decide to trade any securities or other products.