Refresco Group N.V. (OTCPK:RFFRY) is a leading manufacturer and bottler of soft drinks and fruit juices for retailer's private labels and branded customers. It offers a wide range of products including carbonated soft drinks, bottled water, juices, sports and energy drinks, still drinks, and dilutables.
Since its creation in 1999, the company has used a buy-and-build strategy to consolidate the European market and is now the leading European bottler of soft drinks and fruit juices. Since closing the acquisition of Whitlock in September 2016, it has also acquired buy-and-build platform in the United States, which it will use to consolidate the fragmented US market.
As mentioned above, Refresco sells its products to both private label customers, including Lidl, Aldi, Ahold Delhaize, Carrefour, and Morrisons, and branded co-packing customers, such as Coca-Cola, Pepsico, Lipton Ocean Spray, and Arizona. Currently, 66% of the Company's pro forma volume is for private label customers and the remainder for co-packing.
Market
The company estimates the European and US soft drink markets at 108 and 118 billion liters, respectively. Both markets experience relatively low growth rates estimated at 1.3% in the US and 1.1% in Western Europe. However, Refresco's addressable market (i.e. the outsourced branded and all private label volumes) is expected to outgrow the overall soft drink market due to brand owners increasingly outsourcing at least a part of their production to co-packing manufacturers, and private label soft drink products continuing to gain market share over branded products.
Strategy
The buy-and-build strategy was implemented in 1999 and has proven very successful with 21 completed acquisitions that have transformed Refresco into the leading European soft drink bottler.
Management continues to take a pro-active approach towards further consolidating the European, and since recently, the US market. The company remains positive on its ability to close additional acquisitions in the European market, although there is some concern that there is no more low-hanging fruit in Europe as many of the remaining players are firmly-held family companies.
With the completion of the Whitlock acquisition in September 2016, the company has opened up a new buy-and-build platform in the US, the largest soft drink market globally. The US has significant future value creation potential as it is a fragmented market with more actionable acquisition targets. This potential comes from both the co-packing market as it lacks players with nationwide coverage, and the private label market, which is underpenetrated compared to European markets. On the Q3 results conference call, management has commented that it is already in talks with multiple acquisition targets in the US.
The key driver for the value creation in the buy-and-build strategy are the substantial economies of scale in both procurement and operating expenses that result in sustained competitive margins.
Procurement synergies typically form the largest category of scale benefits. As the supplier base for its key raw materials (packaging materials and sugar) are highly consolidated, the company's size provides a competitive advantage in securing preferential pricing and contract terms compared to its smaller competitors. Furthermore, its size opens up the possibility to improve its supply chain through innovation and specialization.
The company's size also drives synergies in production and distribution. Its European production platform and mix of private label and co-packing volumes, enable the company to continuously right-size its production assets to increase efficiency, flexibility, and capacity utilization. Furthermore, Refresco's extensive facility footprint minimizes distribution expenses.
A concrete example of the achievable synergies from the buy-and-build strategy can be found in the Refresco-Gerber merger which was completed in November 2013. The total cost synergies were estimated at 4.5%-6.0% of Gerber's revenue, of which 3.0%-3.5% were procurement synergies, 1.0%-1.5% plant closures, and 0.5%-1.0% overhead rationalization.
Another strategic focus is to increase the share of co-packing volumes to 40% (34% currently) of total volumes as co-packing has good volume and revenue visibility due to multi-year contracts and is working capital neutral. The company believes it will be able to leverage its geographic and cost scale advantages to gain market share in the co-packing market. Similarly, the company wants to drive above-market organic growth in private label by leveraging its strong competitive position.
Valuation
Given that Refresco operates in a stable and mature market, it is opportune to establish a fundamental value for the stock using a DCF model. To come up with a price target, I will first value the company assuming no additional acquisitions (organic DCF) and then I will estimate the potential per-share value of the buy-and-build strategy (buy-and-build DCF).
The table below presents the free cash flow assumptions used in the DCF valuation. I forecast that revenue will increase by 7.5% in 2017 due to the full consolidation of Whitlock, after which growth stabilizes at a conservative 1.5% until 2021, which is slightly above the market volume growth due to the fact that Refresco's addressable market will outgrow the overall market in the short term and to reflect the potential market share increase from leveraging its scale advantages. Beyond 2021, the revenue growth rates declines to 1.1% in line with the European soft drink market volume growth.
Similarly, I expect the Company's EBITDA margins to expand to 11.2% in 2018 driven by the integration of the high margin Whitlock business as well as by the synergies from the Whitlock and the DIS acquisitions. EBITDA margins are assumed to remain stable after 2018.
The assumptions for D&A (between €90MM-€95MM in next few years), taxes (tax rate of 28%-29%), and Capex (in the same range as D&A) are based on company guidance while working capital as a percentage of revenue is assumed to be stable.

According to the DCF model and using a WACC of 8.0% and a perpetuity growth rate of 1.1% (which assumes that the company will grow at the same pace as the overall soft drink market after 2021), the per share value of the company assuming no additional acquisitions is €13.28.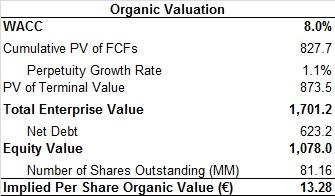 Now I will use the DCF methodology to estimate the value of the buy-and-build strategy. The main assumptions that I have made are:
Acquisitions can only create value through the synergies
€1.4 billion of cumulative acquisitions over the ten forecasted years (note that the company's aims for a net debt to EBITDA ratio of 2.5x-3.0x)
Average purchase price of 7.5x EV/EBITDA
Average EBITDA margin of acquisition targets is 11%
Average achievable synergy value of 2.5% of the targets' revenue

Assuming an 8% WACC and a 1.1% perpetuity growth rate, the per share value of the buy-and-build strategy is estimated at €3.99.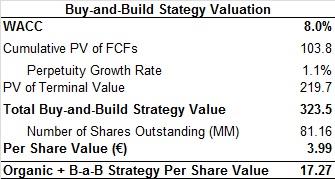 Below are sensitivity tables for both the organic and buy-and-build strategy per share value. The sensitivity table for the latter provides the per share value for different assumptions for synergies and total value of acquisitions. For the synergy, we assume a midpoint value of 2.5% of the target's revenues, which includes a conservative margin of safety given that the Refresco-Gerber merger was estimated to yield synergies of between 4.5%-6%. The total value of the acquisitions is hard to predict and reflects the ability of the company to identify and close attractive acquisition targets. At our midpoint, we assume cumulative acquisitions of €1.4 billion, which would result in a maximum net debt to EBITDA ratio of 3.0x. At €1.8 billion, said ratio would peak at 3.4x (which is still well below the debt covenants of 4.0x) and at €1.0 billion, the ratio would peak at 2.7x.


When combining the organic and the buy-and-build valuations, I come up with a fundamental price target range of €13.97-€21.46 with a midpoint value of €17.27. This implies an upside potential of between 2% and 57% (midpoint of 26%) based on current trading levels. This implied undervalued nature of the stock is enforced by the fact that it is trading at a 2017 PE of 11.4x and FCF yield of 9.7%. The dividend yield of 2.5% is a nice cushion as well.
Risks
Key risks that could prevent the stock from reaching the stated price target include:
Subpar execution of the buy-and-build strategy, including: the inability to identify and close acquisition targets as many competitors are privately held; high transaction multiples; integration issues; and overestimating the synergies;
Increasing cost of capital and lower debt capacity due to a significant increase in interest rates;
Underwhelming market volume growth due to changing market trends or a worsening economy.
Conclusion
Refresco is operating in a stable, fragmented, and low growth market where is has proven to be successful in leveraging its strong cash flows to consolidate the market. The current stock price significantly discounts the value of the buy-and-build strategy as the company is currently trading at only a 3% premium to its DCF value assuming no acquisitions. Even though there is some uncertainty regarding the availability of closeable acquisition targets, we believe the market's fears are overblown as management indicated it is already in talks with multiple bolt-on acquisition targets and is confident in its ability to close.
Based on my DCF valuation, I set a price target of €17.30 (in a range of €14.00-€21.50) for the stock which implies a 2017 PE of 14.2x, a 2017 FCF yield of 7.7%, and a 26% upside on current trading levels.
Disclosure: I/we have no positions in any stocks mentioned, but may initiate a long position in RFFRY over the next 72 hours.
I wrote this article myself, and it expresses my own opinions. I am not receiving compensation for it (other than from Seeking Alpha). I have no business relationship with any company whose stock is mentioned in this article.