My favorite investing thesis is water, as the demand for freshwater is near inelastic and growing. The Organization for Economic Development and Cooperation (OECD) projects global demand to grow by more than 50% between now and 2050, with major increases in demand coming from manufacturing (+400%), electricity (+140%), and domestic uses (+130%). On the other hand, traditional supplies of fresh water (rivers, lakes, and aquifers) are dwindling due to overuse, pollution, and climate change. From an investment perspective, this means one could expect companies that treat water, manufacture water treatment equipment, or own significant water rights to have a promising future.
However, it can be a challenge to execute these investments in an intelligent way. Many water-related companies only derive a portion of their revenue from water, and the industry is fragmented. The goal of this article is provide what I believe to be a simple and comprehensive strategy for investing in water.
ETFs
Given the fragmented nature of the water industry, ETFs provide a particularly attractive option for investors. There are five main water ETFs: Guggenheim S&P Global Water Index (CGW), PowerShares Water Resources Portfolio (NASDAQ:PHO), First Trust Water Index (FIW), PowerShares Global Water Portfolio (PIO), and Summit Water Infrastructure Multifactor ETF (WTRX). WTRX has very low volume (943 10-day average volume) and total assets ($3.9M), along with high expenses (0.80%), so I have omitted it from the section.
CGW: CGW is my favorite option of the four ETFs. It is a passively managed fund with 50 holdings in both American and international stocks; it also has strong trading volumes (57,503 10-day average volume). It holds an average price to earnings of 22.2, a trailing dividend of 1.55%, an average market cap of $9.8B, and its expense ratio is 0.64%. CGW's holdings remain quite true to the water theme and provide a high level of global diversification, as only 43% of the fund's assets are American stocks. This diversification goes a long way in capturing the water theme in a global way, which is important given the expected GDP growth of emerging economies, which is projected to outpace that of developed economies by 2-3 percent over the next several decades. And while CGW does contain equities from several more exotic countries (namely China and Brazil), most of its foreign holdings are in established economies that simply have ties to emerging markets. A good example of this is Veolia (OTCPK:VEOEY), a French water utility and engineering firm with significant exposure to Africa and Eastern Europe.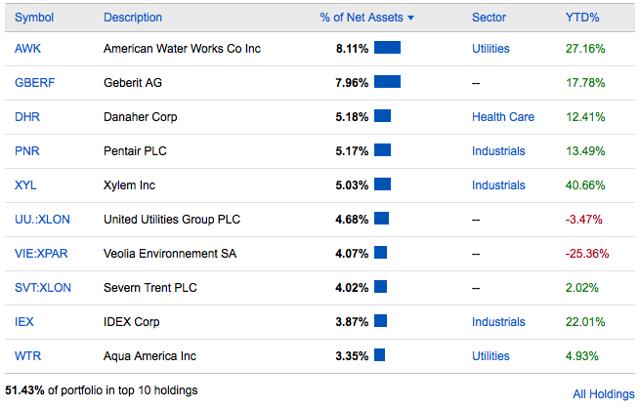 Source: Schwab
In my opinion, the main drawback with CGW is its heaving weighting towards utilities. While I do like water utilities as an investment, their profit potential is limited, as they must operate under regulatory constraints. Additionally, their premium to the market due to low interest rates also means poor earnings reports or a return to higher interest rates could lead to significant multiple compression. Nonetheless, utilities provide income and lower the fund's beta too, which helps mitigate some of the risks associated with foreign holdings. It also worth noting that water utilities within the US are undergoing a major period of consolidation, and some of CGW's utility holdings have been rapidly growing their distribution networks. Finally, investors with a Schwab account should give CGW particularly close consideration. This is because CGW can be traded for free. There are no restrictions to the size or frequency of the trades, so this makes it easy to consistently invest small amounts into CGW, which will limit the risk and volatility of the investment.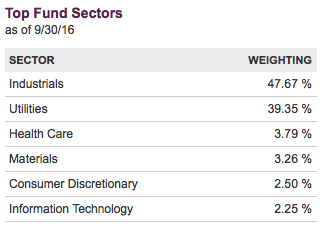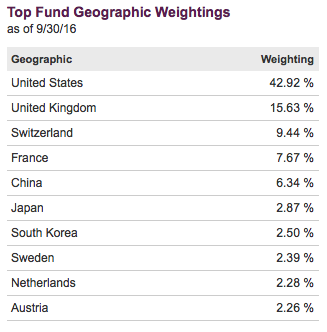 Source: Guggenheim
PHO: PHO was the original water ETF and consequently, consistently maintains good trading volumes (47,401 10-day average volume). It currently has 39 holdings with an average price to earnings of 23.3, a trailing dividend of 0.43%, an average market cap of $13.3B, and an expense ratio of 0.61%. Although PHO is arguably the best known water ETF, it is actually a difficult ETF to know, as its holdings have changed drastically over time. Just a year and a half ago, solar accounted for 20% of the portfolio, whereas today, it has zero allocation to solar. This churn is reflected in PHO's portfolio turnover, which was 89% over the past year. While I do find this churn somewhat concerning, what I found more concerning was PHO's past holdings. I disliked the heavy emphasis on solar and felt that it lacked a broad representation of water companies. However, I recently purchased shares of PHO as it now contains my favorite holdings of the four ETFs. The solar stocks have been replaced with a more diverse set of water holdings and a heavy emphasis on five high-quality water stocks: Roper (ROP), American Water Works (AWK), Danaher (DHR), Ecolab (ECL), and Pentair (PNR).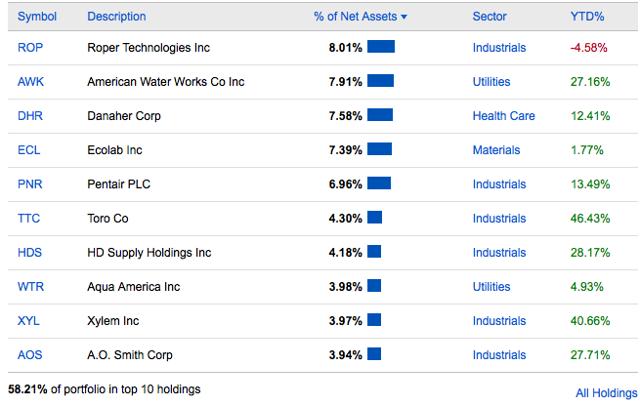 Source: Schwab
While I generally prefer ETFs to have less concentration in their top holdings, I actually prefer PHO's current allocation, as the ETF is essentially weighted towards consistent outperformers. PHO also has a low weighting towards utilities, which I find attractive for the previously mentioned reasons.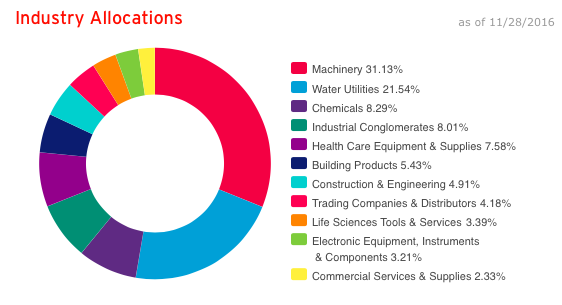 Source: PowerShares
Nonetheless, PHO is not perfect. The top heavy allocation certainly adds additional risk to the investment. The high portfolio turnover causes confusion for investors. The yield is very low, and the investments are essentially limited to American stocks (SBS, a Brazilian utility, accounts for 4% of the fund). That said, now that PHO's holdings are more tightly related to water, it is my hope that PHO's portfolio turnover drops significantly, and that PowerShares lets the fund run with minimal interference. If this happens, it will surpass CGW as my favorite water ETF.
FIW: FIW currently has 36 holdings with an average price to earnings of 28.0, a trailing dividend of 0.59%, a median market cap of $2.1B, and the average 10-day volume is a healthy 57,307. In some respects, FIW's holdings are very similar to PHO's - they both have a heavy emphasis on industrials (60% of the fund), while placing a smaller weight on utilities (17% of the fund), and are essentially only invested in American companies (FIW also has a small investment in SBS). However, there are differences between the two. For one, FIW is much closer to an evenly weighted ETF: the top 10 holdings only account for 38.4% of the ETF. Additionally, there is little overlap between the holdings of FIW and PHO. The portfolio turnover sits at a reasonable 17%, which compares favorably the PHO's 89% turnover rate. Another advantage is the lower expense ratio, which sits at 0.57% - though the ratio's cap at 0.60% only extends until "at least May 17, 2017", so the expense could begin to rise starting next year. However, it is worth noting the cap was initially supposed to expire this past May, so First Trust has shown a willingness to maintain the lower fees. Overall, I like FIW's holdings, and, assuming the expense ratio does not begin to climb, believe FIW is a very good option for water investors.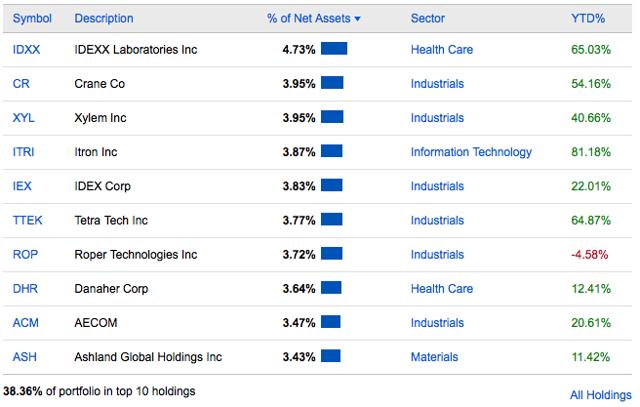 Source: Schwab

Source: First Trust
PIO: PIO rounds out the major water ETFs and is PowerShares' answer to CGW. With a 10-day average trading volume of 12,894, the liquidity is on the low side, but not prohibitively so. It has 43 total holdings, 45% of which are American equities. PIO's price to earnings is 20.0, its dividend 1.43%, an expense ratio of 0.78%, and a portfolio turnover of 78%. It is also heavily weighted towards utilities, which account for 34% of the fund.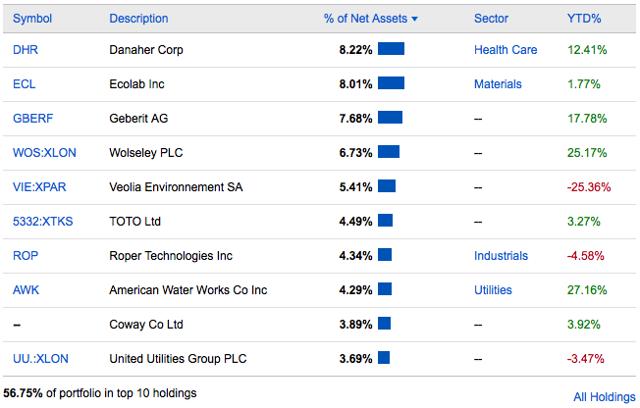 Given the other options, I am not particularly impressed by PIO. It has a very high expense ratio, low liquidity, and does little to significantly differentiate itself from CGW.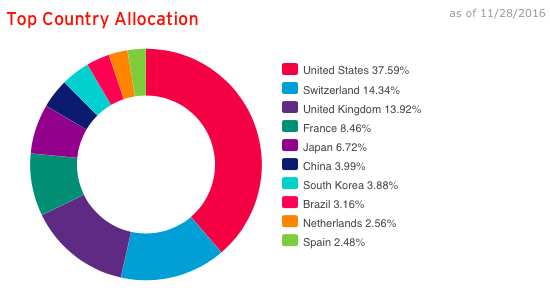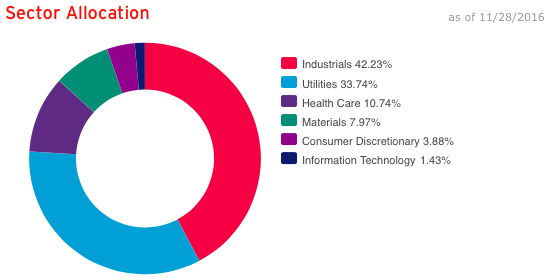 Source: PowerShares
Water ETF Summary:
A year and a half ago, when I last closely reviewed the water ETFs, I left feeling somewhat disappointed in the options. However, I believe PHO has dramatically improved during this time span. Whether the high portfolio churn continues is to be seen, but all in all, I am impressed with the direction of the fund. Additionally, I continue to believe CGW and FIW (assuming its fees don't spike) are good choices. That said, I think PIO, and of course, WTRX, are worth skipping.
In other words, for investors looking to put money into water, I think CGW, PHO, and FIW are all strong options. In fact, given the differences between each fund, I would recommend investing in each ETF and fine-tuning the exact allocations by which fund's characteristics appeal to you most (e.g. international vs. domestic, industrials vs. utilities, mid-cap vs. small cap, etc.). I believe investing in ETFs is the safest, simplest, and cheapest way to gain wide exposure to the water industry and should represent the majority of any water portfolio.
Focusing on Quality
Given the importance of water, it is unsurprising that there are a handful of water companies that have consistently outperformed their peers in terms of total returns and consistency. While past performance does not indicate future performance, if investors are looking for outperformance via specific water stocks rather than ETFs, there are options. My three top choices would be Roper, Ecolab, and Danaher (Danaher's results are better than the appear, as the recent drop in total return was due to their spin-off of Fortive (FTV)).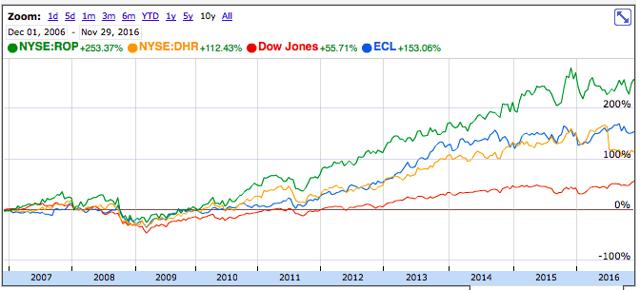 Source: Google Finance
Each of these is valued quite richly, though they have consistently traded at a premium to the market. Mentioning these three is certainly not an endorsement go out and dump money into them - in fact, I do not own shares in them - but their outperformance is extremely impressive, and I do eventually plan on adding them to my portfolio. Undoubtedly, there are other outperformers within the ETFs, so the options are not limited to these three.
Additionally, I have come across 12 Dividend Aristocrats involved in the business of water in at least some capacity:
| | | | |
| --- | --- | --- | --- |
| Company | Ticker | Dividend Yield | Years of Consecutive Increases |
| American States Water | | 2.19% | 61 |
| 3M | | 2.57% | 57 |
| Coca-Cola | | 3.40% | 53 |
| California Water Services Group | | 1.91% | 48 |
| SJW Corp | | 1.46% | 48 |
| Connecticut Water Services | | 2.01% | 46 |
| PepsiCo | | 2.94% | 43 |
| Gorman-Rupp | | 1.56% | 43 |
| Middlesex Water | | 2.00% | 43 |
| Pentair | PNR | 2.42% | 39 |
| Clorox | | 2.72% | 38 |
| Ecolab | ECL | 1.20% | 30 |
As with the outperformers, this is not an endorsement to simply buy the stocks on this list - though I do believe these screens yield a good group of contenders to outperform the broader market.
The Underrepresented Equities
While the water ETFs do a nice job of capturing a good portion of the many companies within the water industry, the fact remains that the industry remains fragmented, and some companies/themes are either underrepresented, or not represented at all by the ETFs. The investment goal with these equities would be to complement the holdings of the ETFs; pure investments in these companies would result in a diluted water portfolio with investments in very niche areas.
3M (filters), Clorox (Brita filters), Coke (bottled water), Pepsi (bottled water), Lockheed Martin (membranes, LMT), and Dow Chemicals (membranes, DOW) represent large companies that have been left off the ETFs all together. In many respects, this makes sense, as water accounts for a small portion of revenues for each of these companies. Nonetheless, water investors may consider augmenting ETF investments with shares of these stalwarts.
In addition, there are two sectors I believe are underrepresented in the ETFs: agriculture and desalination. Agriculture accounts for 70% of global water use, but there are very few publicly traded irrigation companies, so this sector has a low weighting in the ETFs. Lindsay (LNN) and Valmont (VMI) essentially have a duopoly within the irrigation market, as they hold a combined 80% of the global market for farm irrigation systems. Toro (TTC) is another option, as it sells drip irrigation and sprinkler systems. I personally favor Lindsay and Valmont over Toro, but it is worth considering that Toro has significantly outperformed the two over the last 10 years.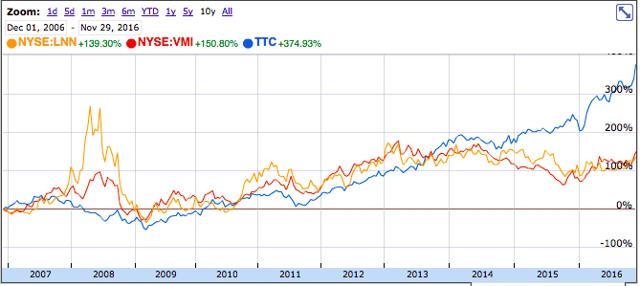 Source: Google Finance
A final option for agriculture and water is a familiar name: Monsanto (MON; OTCPK:BAYRY if Bayer acquisition goes through). Monsanto has developed seeds tolerant to drought and salt, and the importance of these technologies will only grow as water resources dwindle and global demand for crops rises.
In regards to desalination, there is some representation through companies such Pentair, Flowserve (FLS), and Veolia, but with global desalination capacity expected to double over the next five years, it presents a fairly compelling area within water to invest in. In my estimation, there are two near pure play desalination companies worth considering, one of which is Energy Recovery Inc. (ERII). This company makes pumps to serve the fluids industry and operates with a dominating 90% share of the desalination pumping market. Another is Consolidated Water (CWCO), a desalination-only water utility based in the Caribbean. CWCO recently won a bid, along with Suez (OTCPK:SZEVY) and NuWater, to design, construct, and operate the Rosarito desalination plant in Rosarito, Mexico (approximately 20 miles south of San Diego, CA). With a planned final capacity of 100M gallons per day, it will be the largest desalination plant in North America. Though both of these companies hold a great deal of potential, they are also both risky, micro-cap stocks. I would recommend any investments in either of these names to be done in moderation.
Water Rights
Finally, there is the option to invest in water rights - though for individual investors, the choices are limited. In my opinion, the company Limoneira (LMNR) offers the best method to do so. Limoneira is a 123 year-old agribusiness and real estate company based in Santa Paula, CA. Though the vast majority of its revenues come from citrus sales, the true appeal to this investment is its vast water rights in California and Arizona. Since there is no true free market for water in the United States, and the value of water depends on its location, it is difficult to estimate the value of the roughly 48,300 acre-feet of water rights, usage rights, and pumping rights Limoneira possesses through its land holdings - 8,600 of which are adjudicated rights, meaning Limoneira has very strong claims and legal protections for these rights. Though assessing the value is a challenge, there is a general reference. The city of Santa Paula recently valued local water rights at $26,500 per acre-foot, while Limoneira estimates their value at a more conservative $16,500 per acre-foot-though management acknowledges prices are climbing. This means Limoneira's Santa Paula water rights alone are worth somewhere on the order of $142-228M. While there is a lot to like about Limoneira, it is worth keeping in mind that it too is a micro-cap that faces risks including water restrictions from the government and pests destroying its crops. For those interested in a more detailed review of LMNR's land and water holdings, you may enjoy a previous set of articles I wrote focusing on LMNR.
After LMNR, it becomes more difficult to find publicly traded companies that hold significant water rights. From my perspective, there are two other main stocks worth mentioning here. One is PICO holdings (PICO), a holding company specializing in water rights and land development. PICO has significant water rights and infrastructure throughout the West (Arizona, Nevada, New Mexico, and Colorado). From what I could gather, it currently holds around 38,000 acre-feet of water rights, along with the right to use 365,000 acre-feet of water in Arizona (these 365,000 acre-feet are not a renewable source, but rather afford one-time use at a pace determined by PICO). While PICO's water holdings are impressive, its business is not. It does not pay a dividend, consistently reports losses, and was burned during the housing crisis. Additionally, some of its water rights (especially in Nevada) are subject to relatively strict regulations.
Another potential option is Gladstone Land Corp. (LAND), a farmland REIT with 16,810 acres of land in Arizona, California, Florida, Michigan, Nebraska, and Oregon. In some respects, LAND seems like a sound investment: it is profitable (albeit barely) and pays a monthly dividend that amounts to an annual yield of 4.6%. Unfortunately, while LAND mentions that it has water rights and considers water rights whenever purchasing new farmland, it provides only general information about its properties' water rights so it is difficult to discern exactly how well endowed it is.
In sum, while LMNR is a risky play, I believe it provides a much stronger option than either LAND or PICO, and think it is worth including in a water portfolio.
Conclusion & Recommendation
Though water is a promising industry to invest in, it takes significant time to study and understand the different options available to investors. Since the water industry is so fragmented, I would recommend investors embrace a shotgun approach and spread your investments. The ETFs, PHO, CGW, and FIW, provide a fantastic way to do this, and I recommend they form the backbone of any water portfolio. From there, it is up to investors to put their own personal touches on their investments. For me, this has meant augmenting my ETFs with irrigation companies (LNN and VMI), desalination firms (ERII and CWCO), water rights through LMNR, and slowly adding select firms I believe will outperform over time. Thank you for reading, and good luck with your investments.
Editor's Note: This article discusses one or more securities that do not trade on a major U.S. exchange. Please be aware of the risks associated with these stocks.