The global metals market has had a strong 2016. Commodities across the board have been bullish. From lithium, to gold, copper and zinc to aluminum. From a certain point of view, it seems that investors have been hopping from metal to metal, riding a wave of commodity price increases, hoping the bubble does not burst. It can also be argued that the commodities market has simply been experiencing an upward correction and that more recent valuations reflect the fundamentals of a market key to sectors from construction to energy production. A more nuanced approach might suggest that there is truth in both positions. Lithium, for instance, ought to be expected to continue its strong performance for the next few years, but once supply increases come on stream, an event expected by Credit Suisse to occur in late 2020, the spot price of the metal ought to sharply decline. This article will however focus on another metal: aluminum, considering the case for and against investment, and what stock you might buy to increase your exposure.
Global X Lithium Fund (NYSEARCA:LIT), iShares Gold Index (XGD), ETFS Zinc (ZINC), U.S. Copper Index (NYSEARCA:CPER), ETFS Aluminum (ALUM). One Year. Source: Bloomberg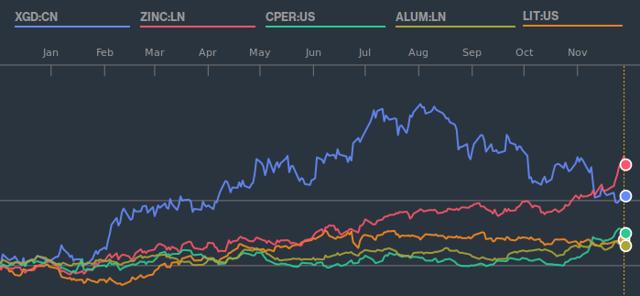 The Case For Aluminum
According to market analysis from Ag MetalMiner, the bull run on commodities is likely to continue into 2017. Historical aluminum prices would seem to support this argument since the metal is nowhere near highs of around $3,000 per tonne in 2008, or more recently $2,000 in 2015. Furthermore, with energy and construction demands still on course to rise in China, an expected U.S. infrastructure boom imminent, and a new wave of demand potentially coming from the defense industry and avionics, aluminum prices may post further gains. The rise of nationalist rhetoric in "Western" countries can also be seen as a boon for the metal since nationalists tend to be big on national building projects as both a signature program and a form of stimulus. You can only make the railways run on time with investment, and aluminum is a key material. Demand is on the rise and supply is broadly stable, though likely to see some increases as Chinese smelters restore production. This ought to mean the price of the metal ought to continue its one-year upward trend, though five-year highs are perhaps unlikely to be reached. The metal, if this positive case is accepted, ought to stay above the $1,700 mark level, and may test anywhere between $1,850 and $2,000 by the end of 2017.
Aluminum - 10-year price. Source: Trading Economics.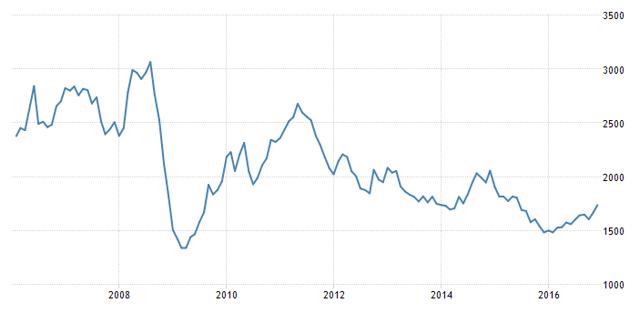 The Case Against Aluminum
Whilst there are plenty of reasons to remain positive about the commodities bull market, the case is less clear for aluminum. The first major issue to consider is supply. Global aluminum reserves already explored are sufficient to last centuries. There remains much spare production capacity, with several smelters, most notably in China, yet to restore production after halting following aluminum's price decline below the deemed profitable level of $1,500 per tonne. At this very moment, smelters are gearing up to take advantage of the return to profitability of the metal, and this alone is likely to exert a downward pressure on aluminum prices.
In addition to supply-side downward pressures, Paul Adkins of consultancy AZ-China expects that reserves, especially in China, may be rather underestimated, owing to incorrect data recording, and the increasing use of liquid aluminum. This, when added to the Chinese pressure to ease the transportation of coal this winter, suggests that the world's largest aluminum market may not be as big a spender on the metal in 2017 as some expect.
On a more macro-political level, banking on global infrastructure spending solely on rumors and hearsay is not necessarily the wisest position to adopt, nor is it necessarily certain that Trump's infrastructure projects will be as large as many expect. Tensions in the South China Sea, while they may possibly rise after the fading relevance of the U.S.'s Pacific pivot post-Trump, are not necessarily going to surge. Reason, even in today's "topsy-turvy" political climate, remains the usual standard by which to judge a country's likely international actions, and assuring global trade remains far more politically important than any jingoistic desire to play to a national gallery. Put simply there are a lot of known unknowns concerning broad global potential increases in aluminum purchases, enough to suggest that the aluminum rally, whilst it may still have some legs, will fizzle out sooner rather than later.
The Mixed View
There are clearly significant arguments for and against taking a strong position in aluminum. Should prices begin to decline however, it is unlikely that the decline will be too rapid. It is clear that the base level for the metal must stay above the $1,500 mark in order for producers not to once again push supply off-stream, but sparking yet another U-shaped bump in materials prices. Logic thus dictates that a solid floor for the metal at current levels of purchase ought to ensure no extraordinarily swift drops in prices. Of course, this does not mean that prices may not drop, merely that such a drop ought to not cause you heavy losses if you keep a sharp eye on the market. With there being a strong upside for the metal if 2017 sees a sharp uptick in aluminum purchases, if you already have exposure to aluminum, the safety-first option is to stick and not to twist. If you don't have any investment in aluminum, and you think there remains room for significant price growth and a strong return in 2017, it might be worth waiting a little longer to take a position, as the market tests the levels of support for the metal. A position in aluminum ought then to be taken with a medium- to long-term perspective in mind, as any potential highs ought to occur closer to the formal announcements of potential national infrastructure projects, such as that of the U.S.
Stocks to Consider
If you want to take a position in aluminum, regardless of the current risk levels, here are some stocks to consider:
Rio Tinto (NYSE:RIO)
Rio is the most famous name on the list. It offers a wide range of market exposure, not at all limited to aluminum. Its market cap is over $73bn. Dividends are a steady 2.26%. The yearly share price is up 22%, no mean performance for a company of this size, and further growth is expected in 2017. If you want a safe form of exposure to the aluminum market, you could do worse than invest in Rio Tinto. Additionally, the FT expects Rio to be a good buy for the next year.
Rio Tinto One-Year Share Price. Source Bloomberg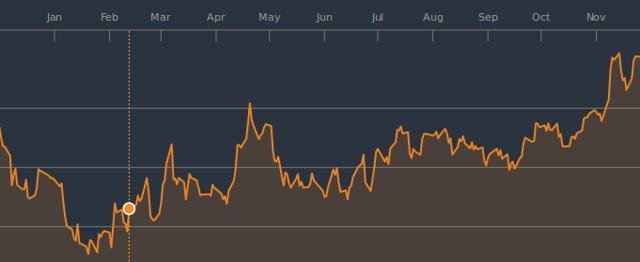 Rio Tinto Financials - Source: FT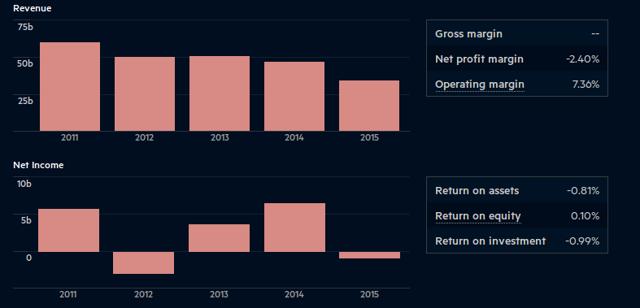 Norsk Hydro (OTCQX:NHYDY)
Norsk Hydro offers exposure throughout the aluminum production chain, from bauxite production onwards. It also offers exposure to the renewable market, which serves as a further investment incentive, should you be interested in the green trade. Its market cap is $9.7bn. Dividends are a steady 2.61%. The yearly share price is up 24%, and the company itself expects a strong 2017.
Norsk Hydro Financials. Source: FT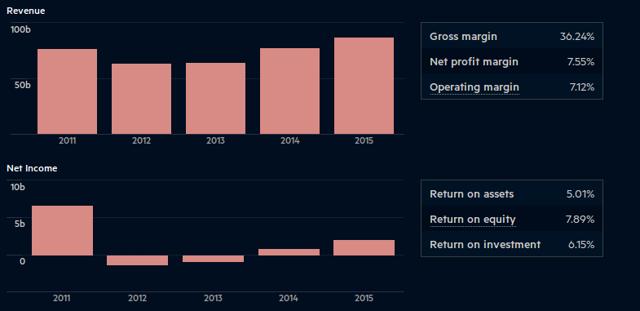 UC Rusal (OTC:RUALF) (FP:RUSAL)
Rusal, the Russian aluminum giant, until recently the world's largest producer, holds 9% of the world's primary output. It suffered in the wake of the Ukraine crisis, however, has recovered to have a strong 2016, with its share price up 44%. Its market cap is 6bn euro. Dividends are a fine 3.38%, however, FT analysis suggests that the company might have a somewhat rockier 2017.
UC Rusal One-Year Share Price. Source: Bloomberg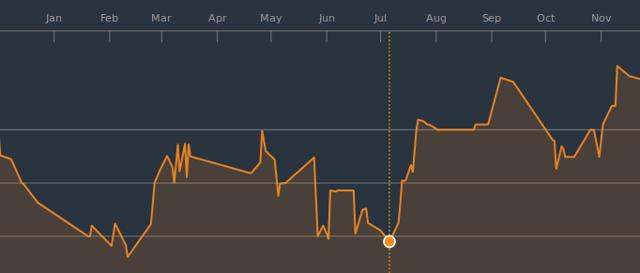 Alcoa (NYSE:AA)
Alcoa, the world's third largest aluminum producer, known for its advanced manufacturing techniques is not only a producer of aluminum, but also being exposed to several other materials including titanium and nickel, thus it is not a pure aluminum play. Its market cap is $5.6bn. Dividends are a fairly uninspiring 1.17%, and the yearly share price is up 46%. According to the FT, the company expects a strong 2017.
Alcoa Financials. Source: FT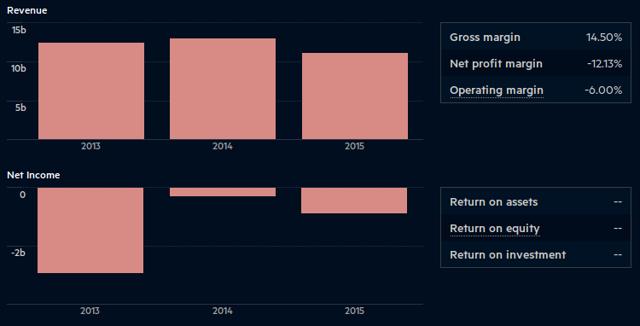 Constellium NV (NYSE:CSTM)
Constellium has had a poor year in terms of its stock performance. The company with a market capitalization of $638.769 million has seen almost a 30% drop in its yearly share prices, and whilst it has recovered from its February and July lows, it has yet to come close to its one-year high of around $9. From a longer-term perspective, the company has clearly been suffering. In 2014, it was valued around the $30 mark. Its shares have plummeted since then. Recent stabilization of the company's share price does however suggest that declines might be coming to an end. Additionally, the company is expected to exhibit a set of advanced aluminum solutions at the coming Aluminum World Trade Fair of 2016. Its share price performance in the aftermath of its showing might be worth keeping an eye on. Constellium does however remain quite a risky investment, but is interesting for its potential upside. If you do consider investing, it may be worth keeping your investment small, watching the company's performance in the first quarter of 2017, before considering to more properly dipping your feet in.
Constellium Financials. Source: FT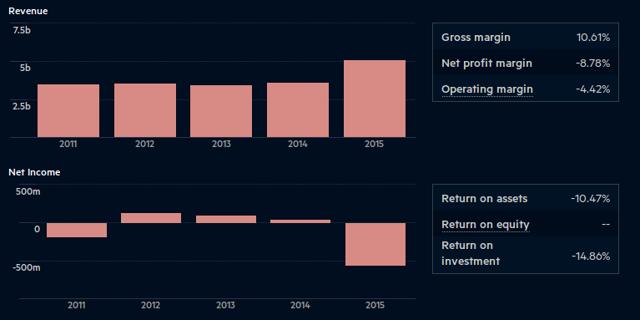 China Hongqiao Group (OTC:CHHQF) (HK:1378)
China Hongqiao, the world's largest aluminum producer, has had an excellent 2016. Its market-cap is 52bn Hong Kong dollars. Dividends are a steady 2.08%. The yearly share price is up 96%, and Fitch expects a stable 2017, with some worry about the company's debt levels. If you want a steady investment in an aluminum behemoth, Hongqiao might be for you.
China Hongqiao Financials. Source: FT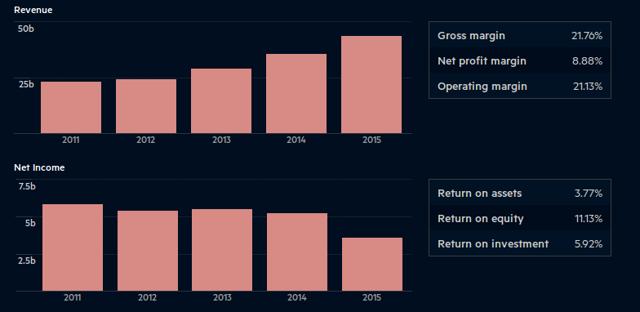 Aluminum Corporation of China (NYSE:ACH)
Chalco is the world's second largest producer. Its market cap is $9.5bn, and its yearly share price is up 47%. Whilst the FT suggests that Chalco is likely to underperform the market, if the market continues to trend upwards, the company's valuation is likely to follow strongly.
Chalco Financials. Source: FT
Kaiser Aluminum Corporation (NASDAQ:KALU)
Kaiser, the California-based company, has had its ups and downs, most recently suffering bankruptcy in 2002, however, four years later it emerged leaner and tougher. Its market cap is $1.487bn. Dividends are a steady 2.17%, and analysts suggest the company is expected to have a strong 2017, with some predicting it may outperform the market. This said, this year Kaiser has seen a .7% drop in its yearly share price, with a recent October plunge being a worry.
Kaiser - One-Year Share Price. Source: Bloomberg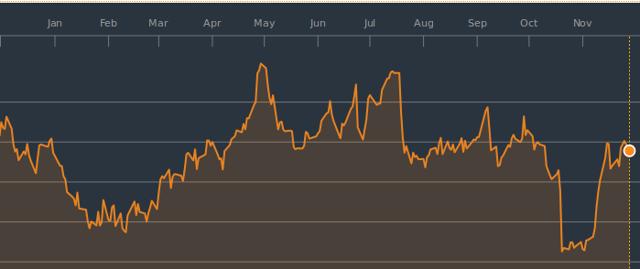 Kaiser Financials. Source: FT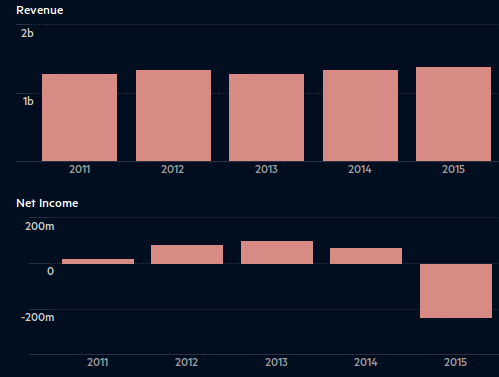 Century Aluminum (NASDAQ:CENX)
Century Aluminum has been on the up this year. Its share price rose from $3 to almost $10, an almost 150% increase. Its market cap is $850 million, yet forecasts are somewhat mixed. Q3 figures were far more than just underwhelming, with markets expecting a break-even performance, and the company accounts showing a net loss of $58.3 million. There are some suggestions that the Trump-bump might boost this company back into the black, but equally speaking, it can be argued that Century's share price does not reflect its fundamentals, and that the company is overvalued.
CENX Financials. Source: FT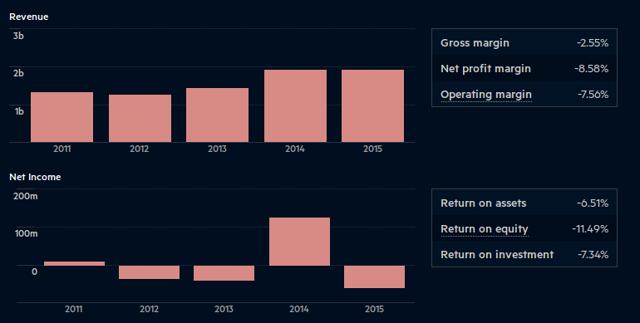 CENX One-Year Share Price. Source: Bloomberg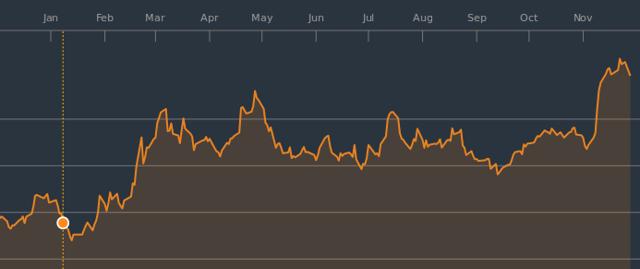 Disclosure: I/we have no positions in any stocks mentioned, and no plans to initiate any positions within the next 72 hours.
I wrote this article myself, and it expresses my own opinions. I am not receiving compensation for it (other than from Seeking Alpha). I have no business relationship with any company whose stock is mentioned in this article.
Additional disclosure: CFDs, spread-betting and FX can result in losses exceeding your initial deposit. They are not suitable for everyone, so please ensure you understand the risks. Seek independent financial advice if necessary. Nothing in this article should be considered a personal recommendation. It does not account for your personal circumstances or appetite for risk.
Editor's Note: This article discusses one or more securities that do not trade on a major U.S. exchange. Please be aware of the risks associated with these stocks.