Roxgold (OTC:ROGFF) reported results for the three months ending September 30, a quarter in which the company was still operating in pre-commercial mode. However, commercial production was declared starting October 1 and the current quarter will be Roxgold's first as a commercial gold producer.
Operational data points provided as part of the Q3 MD&A, in combination with the technical reports filed on SEDAR already allow an educated estimate of what lies ahead. And what emerges, based on our interpretation of available data, is a low-cost gold miner that will be highly profitable from the word go. We expect the company to be free cash flow positive already in Q4, with an exceedingly manageable balance sheet and ample organic growth opportunities.
But there is a catch: on paper this is not a gold producer just yet. 45,390 ounces of gold have been produced at Yaramoko already, operational metrics are tracking or exceeding name plate levels, and costs are set to outperform FS targets, but all of this has been achieved on a pre-commercial basis. Consequently, sales proceeds have been capitalized, cash flows have been negative, and the underlying financial performance has not been visible to market participants scanning just the headlines. Furthermore, there are many institutional investors who would have recognized the potential, but are bound by rules which do not allow them to buy development companies. These institutions, as they become aware of this story, will need to wait until Q4 results are out and the company has formally morphed into a reporting gold producer.
In a nutshell: Roxgold is a success story about to become much more visible to the general market when Q4 results will be published. And as the market is set to honor Roxgold's transition from developer to profitable producer, the share price can be expected to re-rate - a process we intend to front-run.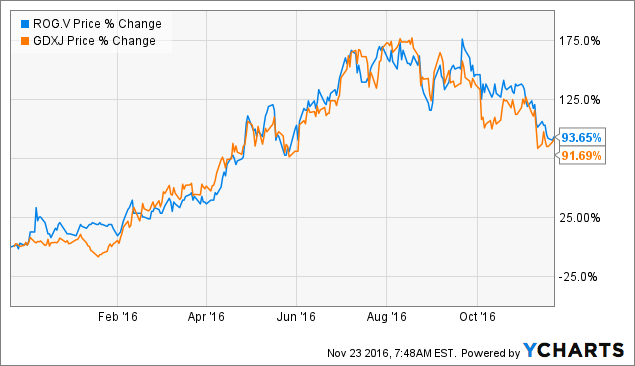 Yaramoko - FS vs. Reality
The Yaramoko gold mine in Burkina Faso is a high-grade underground operation exploiting a 759,000 ounce reserve. Roxgold owns a 90% beneficial interest in the Yaramoko mine with the government of Burkina Faso retaining the balance in the form of a 10% carried interest.
The 2014 feasibility study (or FS) considers average annual production of just under 100,000 ounces over a 7.5 year mine life at cash costs of $467/oz all-in-sustaining costs (or AISC) of $590/oz. We discussed the FS at the time in detail here, and have monitored progress at Yaramoko closely ever since as Roxgold secured financing, completed construction, and commissioned the Yaramoko underground mine - all without a glitch, and beating expectations on every step along this way. Q3 marked the end of the company's path to gold producer, and a review of operational data is in order to see how the finished mine compares to projections made in the feasibility study.
Roxgold mined 49,270 tonnes of ore in Q3, which looks low at first sight since this only equates to 550 tpd, much less than the 750 tpd nameplate throughput rate. However, mining activities focused on ore development in the third quarter, and this is where we see exceptional performance laying the foundation for our assumption of outperformance in Q4 and beyond. Four levels were reported as fully developed at the end of September, and ore development was closing in on 2000m - a full 46% ahead of the FS mine plan. This status creates much unexpected flexibility since the company will have more faces available for mining than originally planned which provides for downside protection in the case of mishaps, and more accessible ore in case the mill outperforms nameplate capacity.
Roxgold employs Ausdrill (OTCPK:AUSDF) as its underground mining contractor and performance of this mining services provider has been nothing short of stellar so far. Not only has Ausdrill overperformed in terms of development meters, the company has also been able to keep mining dilution at just 14.3% on average so far, well below the 20.5% assumed in the FS, thus ensuring less waste and more high-grade ore to be delivered to the mill. This strong showing by Ausdrill certainly provides food for thought whether original plans to switch to owner operator in Q3 2019 should not be reconsidered. All in due time, and with mine development well ahead of plan, we are expecting mine output to match plant capacity in Q4, which in turn means that stockpiles will remain charged and ready to provide additional downside protection in coming quarters.
Ore reconciliation is another critical data point providing early indication on the quality of a mine's resource model. And again, we are pleased with the reported information. 85% of reconciliation data stems from development ore, and actual grades of this material have fallen within 5.1% of the resource model. This is good news in itself, and a confidence boost to investors who have watched several resources implode when facing the litmus test of actual mining (Rubicon Minerals (OTCQX:RBYCF), Midway Gold (NYSEMKT:MDW), and to a lesser degree Torex Gold (OTCPK:TORXF) come to mind in this context).
Roxgold has passed this litmus test with regards to development ore, and there are strong indications that ore from the actual mining stopes has the potential to outperform. To date, stoping ore has shown almost 15% higher grades than anticipated in the resource model, a result we had been secretly looking for as drilling assays were capped quite conservatively in the resource model at 20g/t and 250g/t for the low-grade and high-grade domains, respectively. The average reserve grade is 11.8g/t and the nuggety nature of the ore has led to the mentioned conservative treatment of assay results (as noted by SRK in the verification notes of the resource chapter in the FS). There is good reason to expect this trend to continue, and deliver a windfall boost to gold production while having a positive effect on per-ounce costs and metallurgical recoveries.
The image below serves as partial explanation for many of the positive factors discussed in this section. The ore is very well defined, which makes it simple in everyday mining to distinguish between waste and ore keeping mining dilution low. Veins vary from just a few centimeters all the way to 4m within the Zone 55 ore body, but a lower limit of 1.6m was applied for the reserve calculations underpinning the mine plan. Given the excellent ground conditions, and clear definition of the veins, we would not be surprised if narrower veins can be harvested as well where they occur close to development, representing additional upside potential for the future. Roxgold employs mostly longhole stoping at Yaramoko, and widths down to just under a meter might well be economical in an ore body as it presents itself at Yaramoko.

(Source: company presentation)
Turning our focus to metallurgy, we note that recoveries have been tracking above the 96.9% assumed in the economical model employed in the FS, increasing from the lowest reported value of 97.7% in June to a record 99.1% in August. As could be expected, gold recovery seems to correlate with grades: low grade ore was used in the early days of mine commissioning, with high-grade ore being introduced later. This bodes well for the future, considering the potential for higher than anticipate grades and lower mining dilution as explained earlier in this section.
Pulling all these data points from 4 months of pre-production together, we see operations outperform FS assumptions on all important metrics, and we see a high probability for this outperformance to be sustainable going forward. In consequence, we not only see a high probability of financial performance topping FS projections, but we also note additional downside protection by virtue of a more flexible mining operation and a higher stockpile balance.
Let's look at the financial implications next.
Implications On the Financial Performance
Cost inputs, tax, and revenue projections are provided in great detail and Roxgold has delivered on time and budget so far on these projections.
Operational parameters have been discussed above and we submit that the company is set to over-deliver on high expectations to this regard. We further suggest that some conservative assumptions used in the FS warrant relaxing in the light of hard data collected during four months of actual mining and we have updated our model accordingly. On a compounded basis, one could argue almost 30% higher annual gold production based on the factors explained earlier; we are not prepared to go just as far, and assumed just one-third of this visible potential for our model.
Pre-production data for Q3 would convert to cash costs of $348/oz, which is well ahead of FS projections of $467/oz. We see a very realistic potential for this outperformance to be sustainable for the reasons stated earlier, but have conservatively settled for a $400/oz cash cost assumption in our model.
All-in sustaining costs (or AISC) would still have amounted to just $702/oz in Q3. This is quite remarkable, considering that development ore was responsible for the majority of gold production in the quarter, and only a relatively small proportion was sourced from stopes. With stopes coming online at commercial levels, AISC can be expected to drop significantly, and applying sustaining costs as outlined in the FS (plus adding a $20/oz contingency), we assumed AISC of $600/oz.
The economical model in the FS is based on a gold price of $1,300/oz and that's an assumption we are not feeling comfortable with in the light of gold dropping below $1,200/oz support as we are writing these lines. We are on record being skeptical of the much-touted bull thesis for gold, and we have prepared our portfolio for bearish weeks and months ahead. In the longer term, we see plenty of reasons to be bullish, however, and incidentally we are comfortable with using the current spot price of roughly $1,200/oz for our models which is also close to the middle of this year's range.
Roxgold had to put a modest gold hedge in place as one of the trade-offs for financing. This hedge concerns a total of 65,000 ounces of gold over five years (or 13,000 ounces per year) for $1,052/oz and it will weigh on the actual realized gold price.
Cash Flow About to Rule
Roxgold has been valued as a developer based on a NAV-multiple of its 90% interest in the Yaramoko project up until now. As the project morphs into a producing mine, valuation will shift to a cash flow basis, and this is exactly where we see the upside for Roxgold at this juncture.
Consider the chart below where we have plotted accumulated undiscounted pre-tax cash flows according to the 2014 FS, against the updated values derived from our latest model. The two are remarkably similar, even though the former was deducted using a gold price of $1,300/oz, and the latter a gold price of $1,200/oz plus the effects of the $1,052/oz hedge. Operational outperformance (even when taken into account very conservatively as explained) appears sufficient to compensate for the lower gold price almost to the end of the current mine life, whereby the small deviation over the last couple of years stems from very conservative assumptions on our behalf regarding escalating costs for ore sourced from the deeper portions of the current reserves.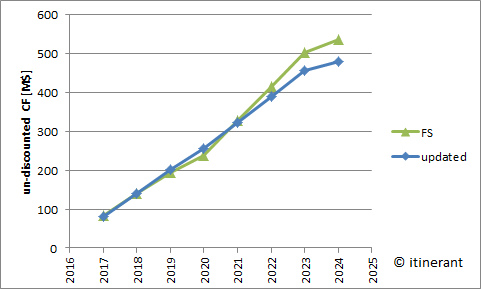 If pre-tax cash flow generation can indeed be maintained as projected despite the lower gold price environment, then post-tax cash flow and associated metrics as detailed in the FS will also hold up, and we therefore expect Roxgold to generate $83M in free cash flow at Yaramoko in 2017, and 90% or $72.5M or $0.20 per share will be attributable to Roxgold. At a share price of $0.90 at the time of writing, Roxgold is trading at just 4.5 times 2017 cash flows, whereas peers are trading at multiples of 10 to 15. Granted, Roxgold will require time to gain the recognition needed to attain a double-digit cash flow multiple, but there is room for Roxgold to double, without even entering the quoted range.
Balance Sheet
Roxgold reported $60.6M in cash at the end of September; $19.8M in current debt; and $55.7M in long-term debt. The company traded at $0.90 at the time of writing, which translates to a market capitalization of $333M. Adding $15M in net debt leaves us with an enterprise value of $348M.
The FS predicted a 1.5 years pay back time, and our model confirms that this will be achievable with a margin of safety. In actual fact, we are almost hoping that Roxgold will take its time with debt repayments, and invest some of its cash flows into exploration, and perhaps a mill expansion, but more on this in the following section.
Organic Growth
Roxgold is currently mining the 55 zone at Yaramoko where the mine plan considers reserves down to 500m below surface. Inferred resources currently reach to a depth of 800m and the deposit remains open below. A 15,000m drill program is currently under way with a goal to convert a good portion of these inferred resources to reserves and integrate them into an updated mine plan scheduled for Q1 2017. And, as if on cue, on November 29, Roxgold reported results for the deepest hole ever drilled at the 55 zone, and it returned outstanding results from more than 1000m depth: at 20.1g/t over 10.6m (true width) hole YRM-16-DD-426 displays bonanza grades over more than twice the typical thickness at this zone.
Given the consistency of the zone 55 ore body within the current reserve, expectations of high reserve conversion rates and substantial resource expansion are entirely reasonable, and we expect Roxgold not only to replace depletion, but to substantially extend the mine life at the 55 zone in the Q1 mine plan update.
Zone 55 is not the only known ore body on the property, however. The QV1 and QV' zones are located just 1.8km from the mill, and a 4,000m drill program targeting the QV' zone was initiated in September. The QV zones appear slated to be included in the next mine plan for Yaramoko, and if this can be accomplished, and a QV satellite mine can be established then this would be the obvious catalyst for Roxgold to consider a mine expansion - a relatively simple and inexpensive move since the footprint of the mill has already been designed to accommodate such an expansion, and "the single-stage SAG milling circuit was selected due to its capital cost and its flexibility in allowing for the possible future expansion of the circuit" (quoting from the FS again).
Valuation
We compute an attributable NAV of $313M at $1,200/oz gold and a 5% discount rate for the operating mine just on existing reserves, and $430M after adding three years of additional mine life - a modest addition indeed considering existing resources and reported drill results. We are also prepared to assign $100M to the QV zones and $20M tto the exploration potential at Yaramoko. Altogether, this adds up to $550M or $1.45 per share after adjusting for $15M of net debt.
This number would indicate that Roxgold is currently trading at 62% NAV, which sounds about right for a developer at its most vulnerable, i.e. close to production with all the capex committed - a status which applied to Roxgold only a few weeks ago. However, such a valuation does not sound right at all for a producing and cash-flowing gold miner - a status Roxgold is about to assert.
We would argue that a producing and cash-flowing Roxgold should be valued at a multiple of at least 1 for its NAV; or as the market has recently displayed valuations based on cash flow multiples we would argue a multiple of approaching double digits as mentioned earlier. This approach leaves us with a price target of around $1.80.
Anywhere between the two numbers - $1.45 and $1.80 - can be argued very reasonable. The lower end of this range implies 60% upside, and the upper end implies a double from current levels.
Catalysts
There are two catalysts that will drive home Roxgold's transition.
Firstly, the Q4 financial report. For the first time ever, the company will report as a commercial producer, and Roxgold will be one of very few miners to show free cash flow from the very first quarter of commercial production. Numerous institutional investors will finally be able to invest in Roxgold as it leaves behind developer status and the market as a whole will be able to see the impact of high grades and operational excellence on the financial performance.
And secondly, the updated mine plan scheduled for release around the same time. Investors can expect a mine life expansion, and potentially the integration of the QV zones. The tangible NAV will increase with each additional year of mine life, and plans of turning Yaramoko into a two-mine operation will add tangible downside protection on the one hand, and a view towards a timely mine expansion on the other.
Investment Thesis & Takeaway
Roxgold is about to transition from vulnerable junior developer into profitable producer, and after careful consideration of numerous operational data points, we believe that the company is going to hit the ground running when it will report Q4 results in just a few weeks. The market has not updated its valuation yet, and investors are getting a last chance to buy Roxgold for a price deserving of development status, when in fact the company is already producing gold at lowest quartile costs and FS forecasts.
Furthermore, we see a distinct possibility that Roxgold is going to surprise markets when it will release its updated mine plan. Mine life will quite probably be extended, and the QV zones will be added to the inventory. We expect this report to add pressure on the market to hurry up with any overdue re-rating.
Roxgold is offering a unique window of opportunity to the nimble investor, while also providing all the data needed to gauge its future performance for those willing to dig. We see 60% to 100% upside to be achieved within a year, and more as the immense regional exploration and development potential is brought to account over time.
We haven't mentioned takeover potential yet, but we will do so just before we close. The Yaramoko property is contiguous to SEMAFO's (OTCPK:SEMFF) Mana mine, and also proximal to Endeavour Mining's (OTCQX:EDVMF) Hounde project. Furthermore, we note that Acacia Mining (OTCPK:ABGLF) is developing its own version of a Hounde project in JV with Sarama Resources (OTC:SRMMF). All three of these mid tiers have in-house underground mining experience, and all of them could well view Yaramoko as complementary to their existing and developing mines in this area.
Disclosure: I/we have no positions in any stocks mentioned, and no plans to initiate any positions within the next 72 hours.
I wrote this article myself, and it expresses my own opinions. I am not receiving compensation for it (other than from Seeking Alpha). I have no business relationship with any company whose stock is mentioned in this article.
Editor's Note: This article covers one or more stocks trading at less than $1 per share and/or with less than a $100 million market cap. Please be aware of the risks associated with these stocks.