Snapchat (CHAT) currently holds an enviable market share and impressive following that should intrigue investors as its initial public offering approaches. Though current concrete numbers are hard to pinpoint, it has over 150 million daily active users according to Bloomberg Tech and over 1 billion snaps are created a day according to Snapchat's marketing material. These numbers in their own right garner value, as they place Snapchat in the top 15 social network sites/applications worldwide by active users as of September 2016 according to Statista. Though it is often difficult to value a company before going public, especially this early in the process, Snapchat certainly has value as a major player in the social media field.
Fellow Seeking Alpha Author Ravi Bala recently wrote a lengthy article on why he feels "Snapchat is worthless". Though Snapchat currently does not turn a profit, one simply cannot write it off as a loser without first investigating what it has to offer investors. Ravi states that one shouldn't "look at Snapchat as having future growth potential", but conversely I feel it is necessary when looking to invest in most IPOs and certainly a company which doesn't make money. Imagine if investors had that same mentality with a company such as Amazon (NASDAQ:AMZN); 19 years and $356 billion later, AMZN is doing quite well.
So yes, Snapchat has had an impressive first four years, but growth is needed to maintain belief in a company which is losing money. Once again, to compare, Facebook (NASDAQ:FB) took over eight years to turn its first profit. Fortunately, the growth and interest in Snapchat fueled by consumers and advertisers is phenomenal! According to Nielsen (Source: Nielsen Media Impact, Reach Duplication, Nielsen Total Media Fusion/GfK MRI Survey of The American Consumer 9/1/2015 - 9/30/2015 (Television, Internet, and Mobile)), 41% of 18- to 34-year olds in the U.S. are daily active users. A remarkably hard feat to accomplish; Snapchat has attracted an impressive chunk of young adult and teenagers while continuing to grow. As businesses look for ways to target younger audiences, Snapchat is now one option they must consider. This younger audience is important because as they leave home and continue to grow up, they must make decisions on what products they will use.
Growth is occurring everywhere as last year Snapchat saw video views increase to 10 billion, up 350% in one year. Growth in the billions doesn't take place without a product consumers believe in. Snapchat can now benefit from word of mouth, the best free advertisement around, as those who do not use the service feel left-out as peers use it to interact. Snapchat has certainly not reached a point of over-saturation, its strong growth in multiple categories leads one to believe there is much more left in the tank.
It certainly seems nearly impossible for revenues of less than 100 million to grow to over a billion in two years, but surprisingly this astronomical growth is happening before our eyes at Snapchat. According to "two people familiar with the matter", Snapchat is already ahead of its top end forecast of $350 million in 2016 and has projected as much as $1 billion in revenue for 2017 during a meeting with investors. This is possible because CHAT waited to monetize its user base. Similar to Facebook's strategy with Instagram, Snapchat built a product that hooked users before attempting to monetize. Instead of distracting and losing users due to ads, waiting has allowed the company to learn about its audience and deliver an advertisement in a way that is beneficial to itself, consumers, and advertisers.
The same team which designs Snapchat's consumer products makes its advertising products. By specifically targeting advertisements to users by attempting to provide content users are interested in allows Snapchat to make money while not disrupting a user's experience. CHAT uses two big methods to currently monetize its Snapchat platform. The first plays on Snapchat's "Lenses" feature (user can give themselves dog ears or turn into a rainbow spitting unicorn), companies can make a filter using something about their product and brand. For example, Taco Bell used this feature to project users faces into a taco, which users interacted with and sent to friends "resulting in 224 million views in one day" via AdWeek.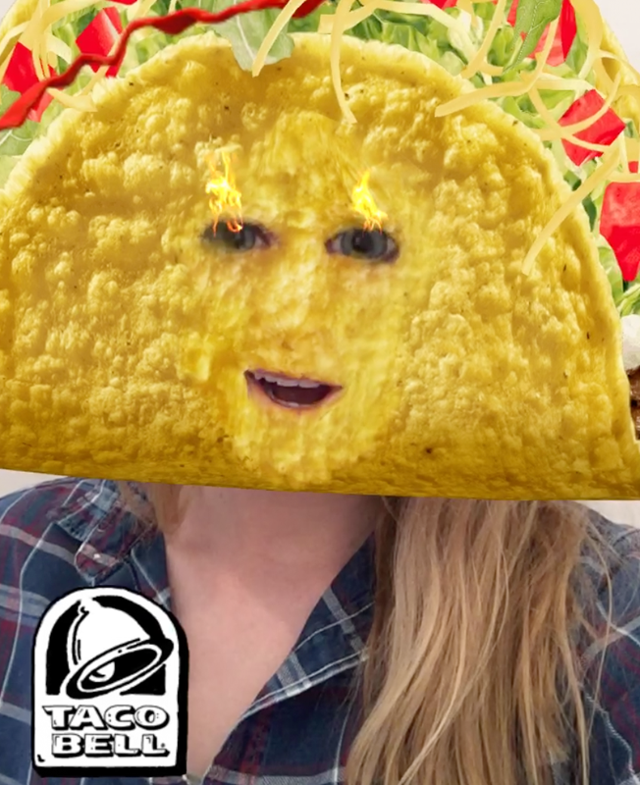 Picture via Taco Bell
The second more common type of snap-ads is 10-second full-screen videos which allow a user to swipe up and continue watching a longer length video, or visit a company's mobile site while staying within the Snapchat App. Snapchat has trumpeted a swipe-up rate 5X higher than click-through rate on other social media. This could be due to the fact that a user simply can swipe down and they are immediately back at their place within the app. No separate app or website is launched, allowing an easy return to their previous task for users. Making the interaction with advertisers as easy as possible is vital for success.
It is exciting to see a company that has continued to successfully innovate from its initial offering of disappearing photos. Ravi talked about recent IPOs which have seen their fortunes fall on hard times such as Twitter (NYSE:TWTR), Square (NYSE:SQ), GoPro (NASDAQ:GPRO), and Fitbit (NYSE:FIT). But all four of these companies have failed to significantly innovate from their initial offering to continue to impress and demand consumer attention.
In 2013, Snapchat introduced stories which are a collection of snaps that play in chronological order and expire after 24 hours. A feed which contains all of your Snapchat friend's stories can be perused at any time, simply a left swipe away from one's personal Snapchat feed. Discover introduced in January 2015 includes publishers such as CNN and ESPN, providing content to users. Snapchat states that more people watch coverage of events on snap then TV such as college football games and presidential debates. The aforementioned Lenses feature was introduced in September 2015. And most recently Memories allows users to save pictures and videos they take on the app.
Though I have alluded to the company as Snapchat throughout this article, the official company name of Snap alludes to a desire to be more than its app Snapchat. This has been evidenced by its recent and limited release of camera-equipped classes called "Spectacles". An impressive ad campaign and sold out limited releases have shown promise for this product, which, among other features, records and wirelessly shares media with one's Snapchat account. Overall this shows how Snap is looking to expand outside of its application.
Snap also acquired Bitmoji, a popular personal emoji application, earlier in the year for $100 million, further signaling its dedication to growth in new avenues. This app still acts as a standalone, but is now also integrated into Snapchat itself. Users are able to drag, drop, and resize emojis and Bitmoji onto photos without leaving the app. It was not long ago that Facebook was attempting to acquire Snapchat for $3 billion in 2013; this reversal in roles in such a short period of time is quite impressive.
When perusing the comments of Ravi's article, Seeking Alpha contributor Christopher De Sousa asked "Instagram today just announced features that Snapchat has what makes Snapchat so different, and how will it come out with features that Instagram (can't) easily adopt as their own". Certainly, a valid question, what is going to stop the top dog in photo sharing from stomping on Snapchat? From personal experience, no one sends photos to each other privately on Instagram, and the minimal use of Instagram's take on Snapchat Stories is often just Instagram users posting their Snapchat usernames.
This occurs because Snapchat has established an economic moat in its space, and it's not going to be an easy task for anyone to invade it. Think of Instagram as the Dad trying to come and play with the kids who already have a game going that they like. Snapchats are often taken when something interesting is occurring or seen, mobile users are only going to be able to select one and that is going to be the one that their friends are already using. Snapchat is using Discover, Memories, and Stories as a way to keep consumers glued to a variety of interconnected options built into one ecosystem.
Ultimately, investors should take a look at Snap and the value it offers. Though it certainly might not be worth the estimated $20-25 billion IPO valuation, it certainly makes a case for a high valuation due to its growth, innovation, and economic moat.
Disclosure: I/we have no positions in any stocks mentioned, and no plans to initiate any positions within the next 72 hours.
I wrote this article myself, and it expresses my own opinions. I am not receiving compensation for it (other than from Seeking Alpha). I have no business relationship with any company whose stock is mentioned in this article.