The unlikely election of Donald J. Trump as president-elect has come as a stupendous surprise. The American people have spoken! We must give President Trump a chance to right this economy and to find our social scruples on immigration.
The Economy: President-elect Donald Trump looks poised to stand by promises to slash taxes while spending more on big-ticket items: such as infrastructure and the military. The Tax Policy Center, a think-tank, said it will likely cost $7.0 trillion over the next decade (1). The U.S. debt is $19.9 trillion today(2) and to be adding a $7.0 trillion the debt would add $27 trillion of obligation due in 2026. This raises the debt-to-GDP ratio by 26% point to 111% by the end of 2026. As a taxpayer, you will have $166,539 in taxes for the $19.9 trillion. If the promised tax cut, infrastructure and military spending are enacted you have $224,827 per taxpayer. Are you going to pay for this in your taxes? Or pass it on to someone else? Ah, pass it on to someone else!
Immigration: As a capitalist, I'm in favor of immigration. Immigration surplus stems from the increase in the return-to-capital that results from the increased supply of labor and the subsequent fall in wages. Capitalists, who own more capital, will receive more income from the immigration excess than natives who own less capital, who can consequently be adversely affected.
While I'm not in favor of deporting 12 million of illegal immigrants from our shores, except for the ones that have created criminal acts, the illegal immigration question has conservatives and liberals picking it apart. Conservatives, like FAIR (Federation for American Immigration Reform), find it costs $113 billion a year for illegal immigrants in the U.S. vying for tax payers money ($84 billion in state and local government). Illegal immigrants paying taxes on federal, state and local governments would take this down to $99 billion. The report details federal expenses for education, medical treatment, law enforcement, public assistance and general expenditures covering people here illegally.
However, the liberals assume that immigration is integral to the nation's economic growth. When immigrants enter the labor force, they increase the productive capacity of the economy and raise GDP. The inflow of labor supply has helped the United States avoid the problems facing other economies that have stagnated due to unfavorable demographics, particularly the effects of an aging work force and reduced consumption by older residents. In addition, the infusion of human capital by high-skilled immigrants has boosted the nation's capacity for innovation, entrepreneurship and technological change.
Whether you're a conservative or a liberal, you will have a problem with all the plusses and minuses that are not equally distributed.
The Stock Markets: Tactical, Economic, S&P Earnings Projections and Stock Market Internals.
1) Tactical: Tactical is the "short-term" stock markets' movement. These are:
a) U.S. interest rates will likely rise in December 2016, but not that much into 2017.
b) Both UK and European interest rates will remain low.
c) Tax-cut schedules for corporations (35% to 20%) by President Trump's administration will likely raise earnings per share.
d) Oil is likely going to be $45-55 per barrel in the immediate future.
e) The U.S. Nationalism will take over and it will be difficult for our foreign trading partners.
2) Economic Reports: The reports for the economy have been good rather than bad.
a)"Durable Goods" push-up in October 4.8% to -1.5% M/M change, as transportation orders posted a 12% gain. Durable Goods posted a 2.1% to 1.6% Y/Y change. Core capital goods was 2.4% to -4.1% Y/Y change.
b) "Existing Home Sales" in October jumped 2.0% to an annualized rate of 5.6 million. September's sales were revised slightly higher to an annualized rate of 5.49 million from 5.47 million. On the year, sales were up 5.9% from the same month a year ago. October sales were the highest since February 2007. However, "New Home Sales" was somewhat weaker; it declined 1.9% at an annualized rate of 563,000. However, on the year, sales were up 17.8%.
c) "PMI Manufacturing Index Flash" November reading climbed to 53.9 from the 53.4 final in October, signaling a further solid improvement in overall business conditions across the manufacturing sector. The headline index was the highest since October 2015, largely reflecting robust output and new business growth during the latest survey period.
d) "Consumer Sentiment" for the Final University of Michigan reading climbed to 93.8 from the preliminary reading of 91.6 and October's 87.2. Expectations were for a reading of 91.6. The final reading reflects in part sentiment in the post-election period. Consumer Confidence jumped to 107.1 from 98.6 in November.
3) S&P 500 Earnings Projections: The 3Q 2016 S&P 500 Earnings were down on the Operating Earnings Per Share Y/Y (-2.4%) and down As Reported Earnings Per Share Y/Y (-1.4%). The S&P 500 data based on earnings per share (Operating and As Reported) are up M/M from December 2016 to December 2017, except for March 2017 which were down -1.5% and -3.7%, respectively. The estimates are from Standard and Poor's Financial Services LLC and estimates are high.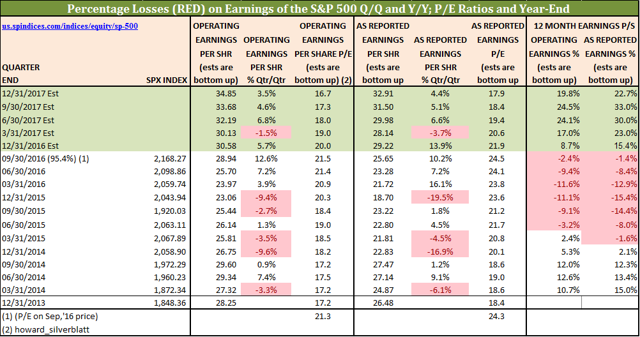 4) Stock Market Internals: The market internals seem to be giving positive signals. The SPY (SPDR S&P 500 ETF) has a "Squeeze" "MACD" and "Price Oscillator" that is trending upward. The CCI (Commodity Channel Index) has the SPY (November 29, 2016) at the upper level and represent an "oversold." However, you would like it to be on an "undersold" position. Nevertheless, President-elect Trump's tax plan and the Christmas holiday may push it higher.
The S&P 500 Earnings Reports: The official S&P 500 estimates of the Operating Earnings Per Share is $109.19 for 2016 and $130.85 for 2017. This would give you the P/E ratios of 20.2x and 19.5x, respectively. This means that if P/E ratio for 2016 does not "pick-up" you would have 2,202.82 (11/22/16) the same as today. In 2017, it would be a P/E of 19.5x placing the index around 2,551.58 at the end of the year, an increase of 15.8%. An index of 2,617.00 for P/E of 20x would have an 18.8% increase.
The Key is P/E: Obviously, the P/E is the key. Looking back, the P/E for the S&P 500 was over 20x for 1997 to 2003. U.S. interest rates may eventually go up, but not accordingly fast. This would mean that the P/E ratios may remain in the 19.0x to 20.0x. However, if the tax-cut comes from the Trump administration the earnings may increase from their current rate.
GrowthIncome's Estimates: GrowthIncome S&P 500 estimates (in yellow on chart) is $108.99 for 2016 (official estimate for the S&P 500 are $109.19) and for 2017 is $128.61 (official estimate for the S&P 500 are $130.85). GrowthIncome estimates for 2017 is 2,507.89 ($128.61 times 19.5x). (The official estimates for the S&P 500 is for 2,551.58). However, if the tax-cut for corporations comes true (35% to 20%) the GrowthIncome S&P Earnings would be up 10% to $147.99 and the P/E would be 19.5x. The S&P index would be 2,885.81 in 2017, an increase of 31.0% over 2016.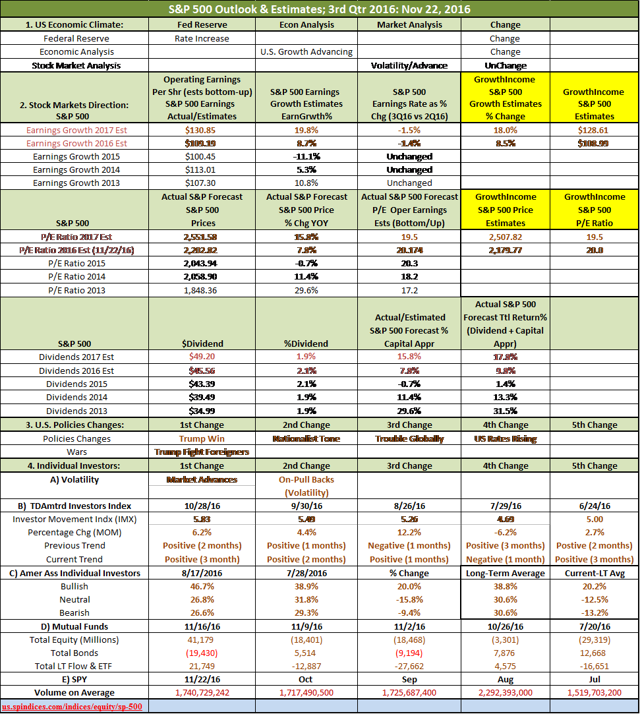 S&P 500's Stock Market Sectors: The individual sectors of the S&P 500 (not counting Telecommunication) are lined up by the price difference ("Price % 11/23/2016 to 9/30/2016") at the next to the right-hand side of the "Sectors of the S&P 500, 9/30/2016, 3Q 2016." Financials has been the best at 15.3% from the end of the 3Q Quarter (9/30/16) to today (11/23/16). Industrials (NYSEARCA:XLI), Materials (NYSEARCA:XLB), Energy (NYSEARCA:XLE) and Consumer Discretionary (NYSEARCA:XLY) were positive: 7.0%, 3.6%, 3.5% and 3.4%, respectively. Negative for the period were Information Technology (NYSEARCA:XLK), Consumer Staples (NYSEARCA:XLP) and Utility (NYSEARCA:XLU).
Both Sectors S&P of the 500 "Market Capital Value" and "Sector % of the S&P 500" are designated. Forward P/E ratios are covered. The 12 months "S&P 500 Projected Ann Grwth" for 2017 for the Sectors is explained. The PEG Ratio (P/E ratio/EPS Growth (5 Years)) will likely be lower for the one which will grow faster.
Evaluation of the Sectors: We have taken the forward P/E ("S&P 500 Forward P/E") and divided it by both the PEG Ratio by converting it to a number ("Grwth Rate PEG") and the current yield is multiplied by 100 ("Div Yield * 100"). This is the PEGY ratio (Price/Earnings-to-growth and Dividend Yield Ratio). Low PEGY ratios (below 1.0) tend to suggest that a stock is "cheap," but has high earnings potential or dividend yields. Thus, a stock with a low PEGY ratio might be poised for significant price appreciation. We have added in the rates of declines for the Market Capitalization of the sectors from 3Q to 2Q to have an impact.
For the 3rd Q we have chosen: Financials, Consumer Discretionary, Information Technology and Healthcare that may be attractive for the 1st quarter 2017 or longer. While Financials was a 1.41 in the "P/E /Earn Grwth + Div (PEGY)" there was -2.75 billion lost in the "3Q MktCap Bil Vs 2Q MktCap."

Rates for the 2nd Q of 2016: For the 2Q the picks were Information Technology, Consumer Discretionary and Energy. The average of these sectors is 2.3% and the average for the S&P 500 is 2.0%.
Joe Eqcome
(1) "King of Debt", Economist, November 26th-December 2nd 2016
(2) Debt Clock
Disclosure: I am/we are long XLF, XKI, XLB, XLE, XLY, XLU, XLK, XLRE. I wrote this article myself, and it expresses my own opinions. I am not receiving compensation for it (other than from Seeking Alpha). I have no business relationship with any company whose stock is mentioned in this article.