Automotive stocks tumbled on November 9th thanks to fear of potential North American Free Trade Agreement (NAFTA) or Trans-Pacific Partnership changes. If abolished, the speculation is the auto industry as a whole would take a hit - especially foreign automakers. Selling due to this uncertainty has caused Fiat Chrysler Automobiles (NYSE:FCAU) to drop below my estimates of fair value and present a buying opportunity. Here's why:
NAFTA and TPP may be renegotiated but likely not abolished.
Without stepping too deep into politics, a Republican House and Senate certainly make things easier for President-elect Donald Trump. However, a significant number of Republican members were opposed to his agenda during the campaign. President Trump will be battling his own party on policy and I think the result will likely be re-negotiations of deals such as NAFTA and TPP rather than outright removal. We have already seen some compromises. But say I'm wrong…
Even if NAFTA and TPP are gone, Fiat is well positioned.
Looking at NAFTA and TPP from 10,000 feet, I think the implications of revoking them would have minimal impact on Fiat. Most large automakers use Mexico in some way or another. If NAFTA is terminated, exports and imports through that country will decline as they become more expensive. However, Fiat's oldest and largest market in Europe and their newest and fastest growing market in Asia will not be impacted by a NAFTA change. Additionally, many of Fiat's makes and models are manufactured outside of Mexico. In fact, their recent efforts to globalize their brands should give them a competitive advantage. For example, Jeep production was expanded and is now being produced all over the world and sold to more regions than ever before. Other brands are protected from political changes. The Maserati brand, for instance, will likely receive no impact from higher tariffs coming through Mexico as consumers of high luxury vehicles are less sensitive to price changes. In fact, it may only make the import more desirable as it becomes more difficult to obtain.
The Fiat brand as a whole has done well in the U.S. as an economic vehicle and is not heavily dependent on Mexico as only 1 of their 20 assembly plants are located in Mexico. Chrysler produces models in the U.S., Canada, and Mexico. I'm not claiming that Fiat will not be challenged by a NAFTA revoke, I simply think that Fiat is more insulated from this threat than most.
Likewise, terminating the TPP will damage imports from Asia which even the major U.S. manufacturers use for electronics. As far as Asian cars, Japanese automakers benefit from the TPP because it allows them to ship from China tariff-free. Toyota already builds their trucks in the U.S. because of the chicken tax (a 25% tariff on foreign made pick-ups). But for Fiat, this actually looks like an opportunity. If Japanese automakers suddenly have their loophole closed, their prices will likely rise in the U.S. and give the compact, fuel-efficient Fiat brand an opportunity to steal market share. In addition, they have ramped up production of Jeep models in China to meet new found demand in that region. With that said, electronics for Chrysler and Jeep brands are obtained from Asia and would drive higher costs. Though, should the TPP be abolished, the entire industry should see the same higher costs. TPP should have comparatively less impact on Fiat.
Whether NAFTA or TPP is repealed or not, Fiat is in a good position because of their array of brands around the world. Unlike other auto manufacturers, Fiat relies very little on any single geographic location or vehicle type. Their independence from a single platform or category reduces their risk to market fluctuations and exposure to geo-political changes. As the seventh-largest car manufacturer in the world, Fiat is as diversified as they come.
For this reason, I think the recent dip in Fiat stock prices is an overreaction. Especially when you consider that the new presidency may make other, more favorable changes. In fact, the new Secretary of Transportation is Elaine Chao. Because Fiat is one of the "Detroit Three," Elaine Chao is a well-known name. She worked closely with Fiat and others during the Bush years, and hopefully she will assist U.S. automakers as the DOT head.
Other, possibly overlooked, regulation changes would benefit Fiat.
USA Today states the Trump Presidency may have a different threat to the auto industry: pumping the brakes on Electric Vehicles (EVs). As I said earlier, it is unclear what policy changes will come to fruition, but if we are admitting that the NAFTA and TPP deals are at risk then we must also assume the Obama administration's autonomous vehicle and fuel economy standards are at equal risk of being overturned. USA Today reported,
Just two days after the election, automakers' chief lobbying group, the Alliance of Automobile Manufacturers, urged the Trump transition team to revise… vehicle standards, on the grounds that they could cost its member companies billions of dollars.
Should the advance of Electric Vehicles be stalled by policy changes, Fiat will benefit in three ways. First, their Fiat brand of cars is already popular with green enthusiasts because of its low emissions, great fuel economy and adorable size.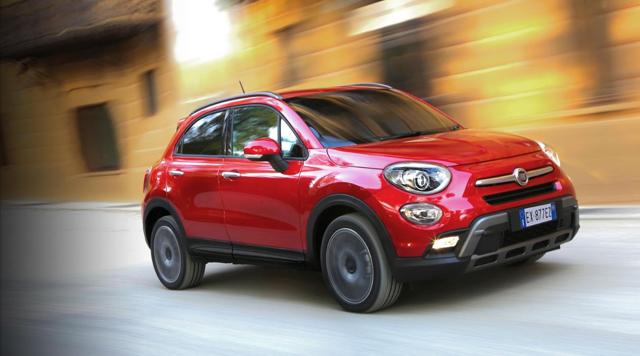 So a slowdown in Electric Vehicle sales may give way to higher sales of a close comparable such as the Fiat 500. Second, Chrysler and Jeep brands are giants in the American auto industry and they are entrenched in their larger vehicles that tend to be gas guzzlers. Obviously, the stall of the EV would help them to hold on to their revenues for a few more years, until they can come out with their own. Which leads me to reason number three that Fiat would benefit from reversed EV regulation: it gives them time to catch up. Though no mention of an electric Jeep or Fiat has been made, it's assumed that one is in the pipeline. As battery prices continue to drop, EVs are on the horizon whether President-elect Trump is able to slow them down or not. In the meantime, Tesla (NASDAQ:TSLA), Toyota (NYSE:TM) and Chevrolet (NYSE:GM) have the head start and Fiat could certainly have more time to switch gears.
Conclusion
Morningstar currently has a fair value estimate of $16 per share. This is based on Fiat's track record of improving profitability and volume, which should not change due to political challenges.
My last article on Fiat had a very similar outlook (forgive the writing, it was my first Seeking Alpha article) and I rode the wave to $14 per share while collecting some Ferrari shares to boot. Based on Fiat's five-year forecast, their business should peak revenue and EBITDA in 2018. This appears to be the same scenario as my article in 2014. Fiat is oversold and I recommend buying at current levels ($7.70 as of this writing) for a 1-year hold. Given that we are currently mid-cycle with Fiat's cash flows, should their share price hit $12-13 within the next year, I would be looking to sell at that time for a near-term 50-60% gain.
Of course, there are risks beyond what I discussed above, including but not limited to: changes in the European Union's economic conditions, which are quite questionable right now. So please be wary of the risks associated with investing and perform your own due diligence before jumping in.
If you enjoyed this article and would like to read more of my picks, click the "Follow" button beside my name to subscribe. It's free and will ensure you get notified of my newest work. Good luck and happy investing!
Disclosure: I/we have no positions in any stocks mentioned, and no plans to initiate any positions within the next 72 hours. I wrote this article myself, and it expresses my own opinions. I am not receiving compensation for it (other than from Seeking Alpha). I have no business relationship with any company whose stock is mentioned in this article.