For the last few months, Valeant (NYSE:VRX) news almost always has a volatile effect on the stock price.
Many of you remember when the stock bounced 30 percent in a single day off news the firm would sell its gastro-intestinal business to Takeda Pharmaceuticals (TYO: 4502), a Japanese firm seeking to expand its gut-drug business and gain a greater foothold in the U.S market.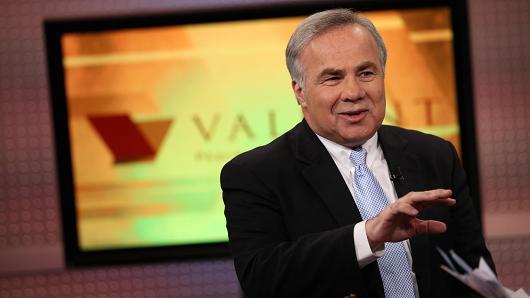 Source: CNBC.com
According to rumors, negotiations are stalled, and the sale may not go through. The effect of this news has been disastrous on VRX stock, but this is the least of Valeant's worries. Asset sales will not save this company.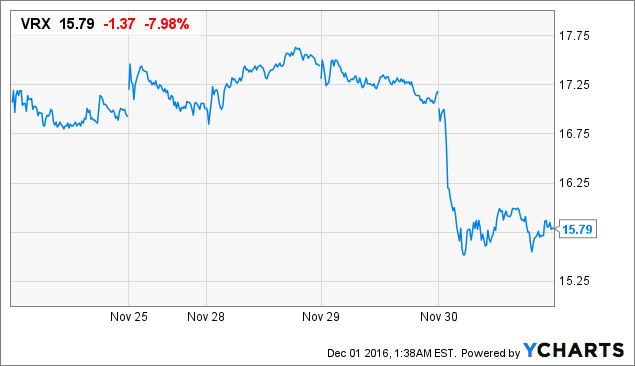 The company needs to start issuing equity before its stock price drops even lower.
The Details of the Sale
Valeant was expected to sell Salix for $10 billion; this represents around 10x EBITA for the segment. By selling Salix, Valeant would lose several of its most valuable assets: Glumetza, Omeprazole, Uceris, Apriso, and Relistor, all of which are growing, along with its flagship Xifaxin.
After the 3rd quarter earnings call, in which management highlighted several long-term challenges for 2017, can Valeant afford the revenue hit that will come from selling these assets?
With Salix gone, sure the debt is reduced, but what is the remaining company worth? Most likely a Salix sale would not significantly improve the value of the stock even if it did succeed.
On top of this, there is another problem. Salix itself is not doing so well (generic competition), and Valeant has no leverage in its negotiations. Everyone knows how desperate the company is, and for this reason, I do not believe they will be able to sell Salix for 10x EBITA, perhaps 8x is more reasonable - most likely price disputes are the reason for the recent breakdown in negotiations.
The Boy Who Cried Wolf.
Valeant has a history of misleading the market when it comes to assets sales. There is a weak correlation between rumors of a deal and an actual result, and the market should stop taking these rumors seriously.
According to Bloomberg, the total value of potential sales is $15 billion, but so far Valeant has only managed to generate assets sales of $181 million.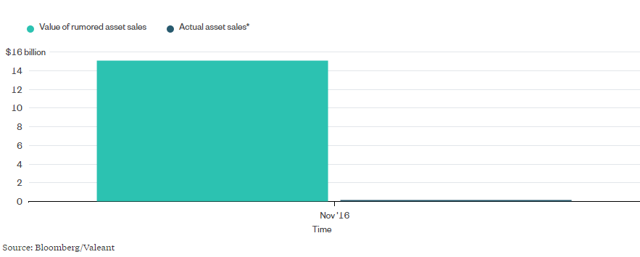 What is Valeant's Best Hope?
Equity issuance is the only reasonable way for Valeant to escape its debt problem. The company has a very low amount of common stock outstanding relative to its debt, and its unwillingness to issue large amounts (relative to debt) of stock to finance its expansion is a major reason for its current predicament.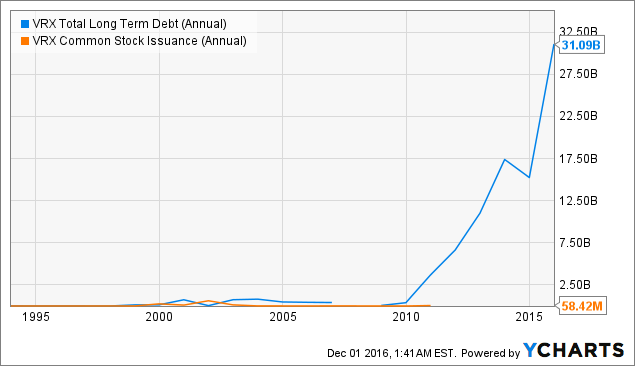 VRX Total Long Term Debt (Annual) data by YCharts
Naturally, mass issuance of equity will hurt the value of the stock currently outstanding. However, this is worth it because the alternative is increasingly looking like bankruptcy. Valeant's management must act quickly because the lower the stock falls, the less cash they will receive from issuing more stock.
If Valeant had increased common stock outstanding to 400-500 million back when the stock was trading for $200 a share, many of its debt problems would have been adverted and shareholders would be better off.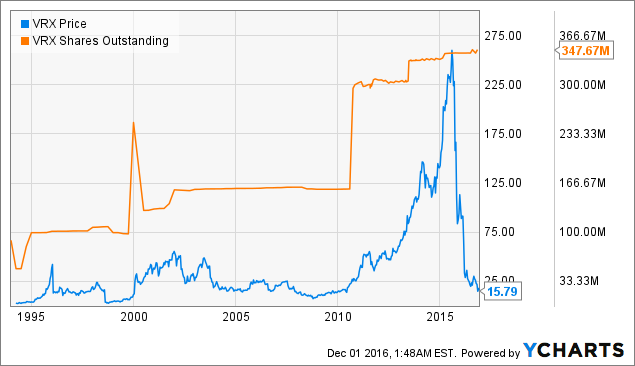 Conclusion.
In the short-term, I still believe Valeant is oversold, but I am not long because I do not think there is any strong bullish case that can be made to invest in this company vs. other options in the market. Valeant's assets are weak, and even if the firm manages to sell them, it will still have serious problems.
I believe mass equity issuance will be the best way to save Valeant from bankruptcy, but this will come at the expense of shareholder value.
Disclosure: I/we have no positions in any stocks mentioned, and no plans to initiate any positions within the next 72 hours.
I wrote this article myself, and it expresses my own opinions. I am not receiving compensation for it (other than from Seeking Alpha). I have no business relationship with any company whose stock is mentioned in this article.