Economic data abroad has remained largely tepid, and the Trump election has certainly delivered a shock to investors and the world at large. While some concerns in the global economy linger, short of an unexpected and major meltdown in a major economy (China, Germany, etc) I don't see international events weighing down U.S. markets through the next several weeks. Beyond that? Too far to predict and it's always important to constantly revisit the general economic outlook.
The U.S. labor market remains strong. The American economy continues to show somewhat surprising strength. ADP data shows 216,000 jobs added from October to November, with large and medium size companies both expanded by about 90,000 jobs. Earnings reports so far have also been upbeat, suggesting that corporate America is, across the board, doing relatively well.
Most importantly, as far as the holiday season goes, consumer incomes are up, rising a very solid .6% in October. This marks the best monthly gain since last April, and tops a .4% gain in September. The strong labor market and rising incomes has generally tempered by rather skeptical outlook on the economy, at least within the United States.
Increased consumer spending helped the United States achieve 3.2% in the third quarter. Consumer consumption expenditures are also up, although rising consumer expenditures could also be a sign of inflation. Evidence does suggest that inflation is approaching 2%.
Overall, I suspect that the holiday season will prove to be a strong one with consumers putting a lot of presents under their Christmas trees. Indicators throughout the year, such as tepid auto sales numbers and restrained spending for big ticket items hint that many Americans may be wary of opening up their pockets. If anything, however, restrained spending on big ticket items through the year could result in a holiday bump as consumers unleash pent up demand. This is speculation, but the savings rate has continued to tick up even as earnings and the economy have heated up. This makes me very optimistic for a strong holiday season.
Looking For Holiday Bargains
Markets, by and large, should have priced the upcoming shopping season into most stock prices. Still, when companies exceed expectations with better than expected sales, companies can enjoy a strong boost. Back in 2014, I enjoyed solid returns off Williams-Sonoma (NYSE: WSM) after a stronger than expected holiday season. My reasoning then: wealthy Americans were doing well and would head to the stores. Williams-Sonoma ended up having a pretty strong season, and I generated returns of about 10%.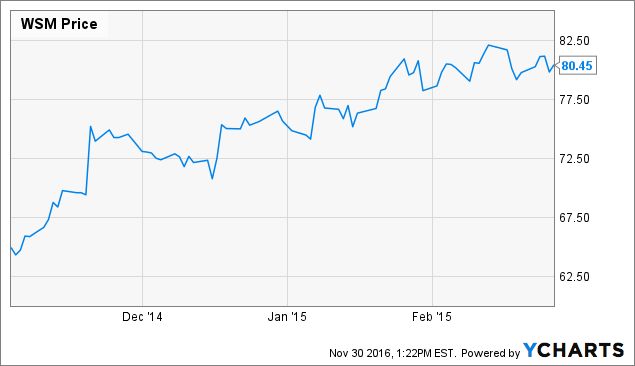 Last year, I figured sales across the board would be better, though not great. Picked up a little bit of Walmart (NYSE: WMT) in hopes that a strong holiday season would propel stocks upwards. Made a small return, but admittedly got jumpy and sold my stocks off a few days before WMT shot up a few dollars more. Probably could have locked down a solid return if I had been more patient.
This year? I picked up a few shares of Walmart again back in October at just under $70 a share, but I owe that more to liking their pickup of Jet this past August and the strategy shift it instills. Walmart has also come out of the gate swinging through the holidays with aggressive sales and advertising. I expect them to be a big winner again this year. Markets have likely priced much of Walmart's holiday sales in, but I believe they will edge expectations.
Am also considering Amazon (NASDAQ: AMZN). On one hand, AMZN still looks a bit overpriced when I look at their key statistics. On the other hand, AMZN is cheaper now than it has been in the recent past. Of course, that's not a good reason to buy a stock, but at least makes it more interesting to look into.
Google (NASDAQ: GOOG) dropped over a percent today, stemming from an email breach. GOOG is one of my long-term blue chips, and while I have no plans to expand my GOOG holdings, it's important to note that Google is becoming a major media company, selling digital movies, books, etc. Google also sells smart phones and other devices. They could enjoy a sales bump over the holiday seaso.
I could also see Nintendo (OTCMKTS: OTCPK:NTDOY) enjoying a stronger holiday season with their most recent Pokemon game being released for their 3DS gaming system. The company is still overpriced, however, owing to the faded Pokemon Go craze. Sony (NYSE:SNE) should also enjoy a good holdiay with its PS4, however, outside of the Playstation consoles I've found few reasons to optimistic about the rest of the company.
For now, I expect a good holiday season and that should bolster markets through the end of the year. What will 2017 hold? No idea, I still have a lot of concerns about the global economy, but nothing immediate. What holiday stocks will stand out this year? So far, I haven't found anything too appetizing. Continuing to dig around and would be happy to hear suggestions. Come January and February, hindsight will probably prove that I missed something I should have picked up.
At least for the moment, I'll keep my holiday bets restricted to Walmart. Amazon might join the portfolio too, but I have just begun to research them. So far, I haven't heard of any hot toys that could bolster toy markets and sellers, but as the holidays approach some "must have" gifts might appear.
Disclosure: I am/we are long GOOG, WMT.
I wrote this article myself, and it expresses my own opinions. I am not receiving compensation for it (other than from Seeking Alpha). I have no business relationship with any company whose stock is mentioned in this article.
Editor's Note: This article discusses one or more securities that do not trade on a major U.S. exchange. Please be aware of the risks associated with these stocks.