Business Overview
Air Transport Services Group Inc. (NASDAQ:ATSG) is a US-based subsidiaries operating holding company whose principal business units include an aircraft leasing company as well as two airlines that are independently certified. Its business segments consist of airline operations, aircraft maintenance, aircraft leasing, cargo transportation, and package delivery services. The company provides passengers as well as cargo services to private, military, and government customers, locally and internationally. ATSG operates typically under contracts to provide services of aircraft, crew, and maintenance services with insurance to its customers. The major customers of the company are Amazon (NASDAQ:AMZN), DHL, and the US military.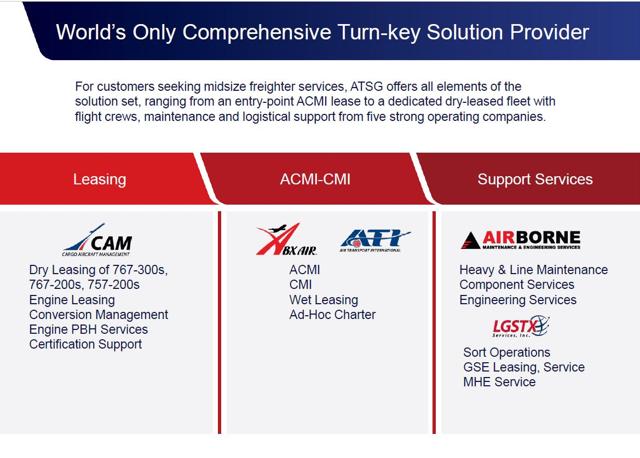 (Source: Investor Presentation, November 2016)
ATSG reported third-quarter financial results on September 30, 2016. The top line increased 36% to $193 million for the third quarter as compared to $142 million in the same period last year. Gross profit increased 34% to $134 million as compared to $100 million in the corresponding period last year. EBITDA decreased from $44 million to $41 million. The company reported earnings per share (EPS) of $0.04 in the third quarter of 2016 as compared to $0.10 in the same period last year. This is a significant drop in the bottom line. Despite the healthy growth in gross margins, a huge drop in net margins is an alarming sign. This decline mainly was the result of weak cost control systems.
As president and CEO of ATSG, Joe Hete, reported:
"Our rapid growth remains strong across all of our businesses as our leased freighter fleet and logistics and maintenance operations continued to expand in the third quarter. In our airlines, costs associated with expansion of our operations continue to affect the profitability of those businesses. In particular, our third quarter results were adversely impacted by premium pay to ABX Air pilots, despite an aggressive crewmember recruiting program and rigorous training schedule. We estimate that this additional compensation, along with ongoing training, negatively impacted our pre-tax results by approximately $6.5 million for the third quarter."
Stock Price Analysis
ATSG's business was growing rapidly, and the stock followed the business trend. With little volatility, the stock performed well over the last five years. At the start of year 2012, ATSG stock price was just under $5 per share, and now (November 30, 2016) it is $16.35 per share. The following graph shows the stock price trend for the last five years.

(Source: Yahoo Finance)
However, investors should be very cautious at current price levels. They should consider few important points before putting their eggs in the ATSG basket. The stock appreciated over 220% in the last five years as compared to market appreciation of almost 102% in the same period. Its 1-year return is 72.34% and the year-to-date return is 63.94%. Additionally, the stock is trading at its 52-week high level. Lastly, there is a huge mismatch between the company's top line and bottom line growth figures. This mismatch is creating alarming signals, and it may indicate that the business is not being managed efficiently.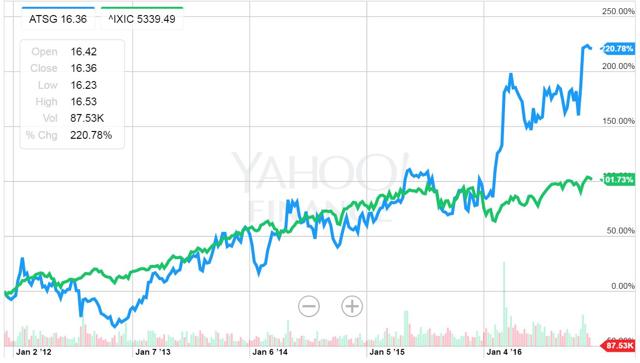 (Source: Yahoo Finance)
Another major concern is the declining revenues from ATSG's largest customers. DHL is the company's biggest customer. Revenue from continuing operations against the services performed for DHL declined to 34% in the most recent quarter as compared to 47% in the same period last year. Similarly, the US military is ATSG's third-largest customer, and revenues against services performed for the US military dropped to 12% from 17% in the same period last year. Declining revenues from its major customers is a serious threat for the company's business prospects going forward. Therefore, investors should be very careful about these concerns before making an investment decision.
Valuation
Now take a look at a few of the important valuation measures to go further deep into ATSG's future prospects. First of all, have a look at the P/E multiple. The current P/E multiple of the stock is 29.6 times of earnings against the 5-year average multiple of 12.8x. The industry average P/E multiple is 17x and the broader market multiple is 19.4x, indicating ATSG stock looks expensive. If we look at the 10-year P/E history of ATSG, the multiple was cheaper than the broader market multiple in eight out of ten years. Currently, the stock's multiple is more expensive than the market multiple. The forward-looking P/E multiple is 15.21x, which means either the earnings must have to grow significantly or the stock price must drop in order to justify this figure. Therefore, a P/E multiple analysis concludes that the stock looks overvalued in current circumstances.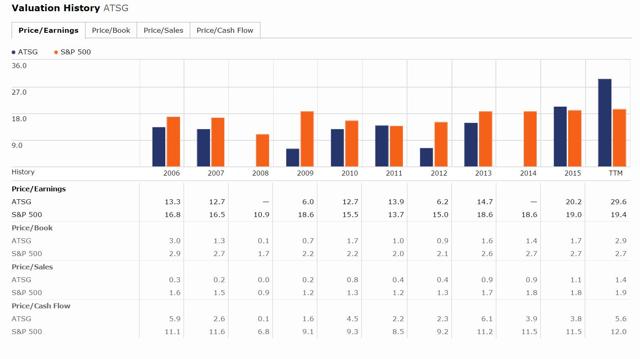 (Source: Morningstar)
Additionally, if we look at the price-to-book value multiple, it looks too expensive. The P/B multiple of ATSG stock is 2.9x as compared to industry average multiple of 1.7x, the market multiple of 2.7x, and its own last five years' average multiple of 1.4x. Other relative value measures like the price-to-sales ratio and price-to-cash flow ratio also look expensive.

(Source: Morningstar)
Another very important point to keep in mind about ATSG is that the company does not pay a dividend to its shareholders. Dividend yield is a vital component of the total return from the stock investment, and there is no dividend yield available for ATSG investors. Therefore, investors are totally dependent on capital gains, if there are any, if they choose to put their hard-earned money in this stock. Additionally, the earnings yield of the stock is significantly lower than the market's earnings yield, and it is just above the 30-year Treasury bond yield. The earnings yield does not adequately compensate investors for the much higher risk of investing in the stock as compared to risk-free bond yield. Lastly, ATSG falls within the Small-Cap category with stock beta of 2.13, which means the stock is much riskier than the market.

(Source: Morningstar)
Technically speaking, the ATSG Relative Strength Index (RSI) is tilting towards overbought territory. Stocks with RSI lower than 50 offer a bullish investment opportunity. When RSI crosses the 60 level, the investors should be very careful and think twice before making an investment in that particular stock. ATSG stock's RSI is currently at just above 62; therefore, potential investors should be cautious.

(Source: Bloomberg)
Some positive developments
In September 2015, ATSG started a trial air network for Amazon's subsidiary, Amazon Fulfillment Services Inc. (AFS). Until the first quarter of 2016, the network grew to five freighter aircraft and included cargo handling services and logistical support services. On March 08, 2016, ATSG, through its subsidiary CAM, entered an agreement with Amazon to provide Air Transportation Services (ATSA). According to this agreement, CAM will lease 20 aircraft (Boeing 767) to AFS, including 12 aircraft for five years and 8 aircraft for seven years. This agreement could be a growth catalyst for ATSG's business in coming days.
A few more positives for ATSG are listed in the following snapshot taken from the company's investor presentation dated November 09, 2016.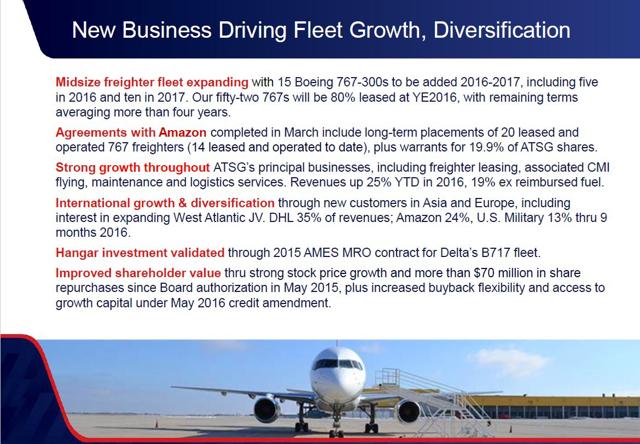 (Source: Investor Presentation, November 2016)
Based on the above fundamental and technical analysis, my stance on the ATSG stock is Neutral at current valuation levels.
Disclosure: I/we have no positions in any stocks mentioned, and no plans to initiate any positions within the next 72 hours.
I wrote this article myself, and it expresses my own opinions. I am not receiving compensation for it (other than from Seeking Alpha). I have no business relationship with any company whose stock is mentioned in this article.