While most of the coverage of the post-election rally in U.S. stocks is centered on the possibly bullish legislation for the markets that will take place during the upcoming Trump administration, this is only part of what is behind the rally. Corporate earnings on S&P 500 stocks increased year over year in Q3 2016 for the first time since Q1 2015 - after five consecutive quarters of declines. The original consensus for Q3 was that earnings would be down by 2.2%. Instead, they rose by 3.2%. Comparable earnings growth is now being projected for Q4 2016 as well. If the rally is to continue upward, earnings growth must continue going forward.
While a promise of less regulation from the Trump administration is generally favorable for stocks, there are few specifics of what potential legislation would include. Even if those specifics existed, that wouldn't mean all of them would be enacted into law. It also needs to be kept in mind that ultimately this would be bullish because it will add to the bottom line of companies. Less stimulus from central bank monetary policy or from budget deficit spending will have a negative impact on the market and might be far more potent determinants of stock prices, however.
Despite five quarters of negative earnings, which should have caused a steady drop in stock prices, the Dow and other major U.S. indices had only temporary sharp drops. Before the earnings decline that began in early 2015, the Dow Industrials were trading around 18,500. There were two drops to around 15,500 in August 2015 and January/February 2016, but prices popped right back up to 18,000 pretty quickly. They even hit new highs this summer before climbing above 19,000 after the presidential election vote on November 8th. Generous ongoing central bank liquidity, along with fiscal stimulus from increased U.S. government spending (the deficit rose to $587 billion in 2016, which was $148 billion more than the previous year) held stock prices up
Dow Industrials in 2015 and 2016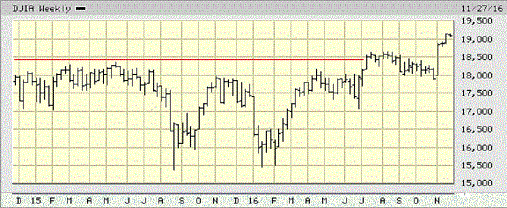 Seven years after the economic recovery was officially announced in 2009, the world is still awash with central bank liquidity that would only be justified by the most severe depression. Interest rates are still close to zero or even below it. At 0.50%, the U.S. Fed Funds rate is above the 0.25% rate set by the Bank of England (NYSE:BOE) in the UK, the zero rate from the European Central Bank (ECB) in the Eurozone, and the minus 0.10% rate (on excess reserves) set by the Bank of Japan (BOJ). Switzerland, Denmark, and Sweden have rates that are even more negative than those in Japan. Quantitative easing, which involves bond buying and even the purchase of ETFs in Japan, is still ongoing with the ECB, the BOJ and the BOE. The ECB has engaged in so much bond buying that there are frequent reports that it is running out of bonds to buy. If quantitative easing hasn't reached its limit, it's close to it. Likewise for interest rates. Once they've gotten to zero or below zero, they can't go lower. Negative rates are impossible to maintain for a long period.
Unlike other major central banks, the U.S. Federal Reserve is actively engaged in a program to raise rates. There is a general consensus that rates will go up to 0.75% this December. More increases are expected in 2017. This will have a double impact on the stock market by reducing the liquidity cushion holding stock prices up and by reducing earnings. The impact on earnings will be proportional to how much a non-financial company borrows. Utilities are heavy borrowers and have not participated in the post-election rally even though they reported the second highest earnings growth in Q3 2016 (real estate, another industry dependent on low rates, had the biggest increase in earnings). Financials had only slightly above average earnings, but the interest rate environment is becoming more positive for company profits. Energy had the biggest decline in earnings, but the industry is turning around and instead of detracting from S&P 500 earnings, the sector might start contributing in 2017.
The value of the dollar is another key component in determining corporate earnings. The more earnings a company has overseas, the more impact a higher dollar will have in reducing its bottom line. In general, the larger a company is, the greater its overseas earnings are likely to be. Some sectors, like technology, tend to have a large percentage of overseas earnings regardless of company size. If the dollar rally that began after the presidential election continues, it will be more difficult for large caps and tech companies to grow earnings, and this should act as a drag on the prices of their stocks.
Investors who are looking for improved earnings should look in small caps, Financials and Energy first. Interest sensitive sectors and dollar sensitive sectors should be mostly avoided. ETFs that provided exposure to small caps include:IWM, IJR, IWO, VB, SCHA, VBR, VBK, IJS, IJT, FNDA, XSLV, and leveraged ETFs TNA and UWM (there are for short-term trades only). ETFs for Financials include: XLF, KRE, KBE, VFH, IYF, IAT, and FNCL. ETFs for energy stocks include: XLE, OIH, IYE, FCG, IXC, VDE, FENY, and IEO.
Disclosure: I/we have no positions in any stocks mentioned, and no plans to initiate any positions within the next 72 hours.
I wrote this article myself, and it expresses my own opinions. I am not receiving compensation for it (other than from Seeking Alpha). I have no business relationship with any company whose stock is mentioned in this article.