During the past year I have been a long term bear on Procter & Gamble (NYSE:PG). Twelve months ago I stated P&G may underperform due to competitive pressure from private label, a high payout ratio and increasing competition in the highest margin businesses. Six months ago I stated the company's Shrink to Grow program has not led to increases in market share, consistent organic volume increases or growth in the highest margin businesses.
For Q1 16/17, P&G reported strong results with organic sales & volume growth across all business segments, margin expansion and increased constant currency earnings per share. The company also held its annual analyst day on November 18th.
In the paragraphs below I will combine data from analyst day and recent earnings releases to show why I am not ready to initiate a long term buy in P&G. I'm still a long term bear on P&G.
Volume Growth Versus Comparison Period
As mentioned above, in Q1 16/17, P&G reported organic sales growth across all five business units. The growth in the most recent quarter was positive but not significant when investors account for the comparison period.
The comparison quarter for Q1 16/17 is Q1 15/16 where organic volume decreased for all business units. With the exception of Fabric & Home Care, volume growth in Q1 16/17 did not offset the volume decrease in Q1 15/16.

(source)
As a long term investor, I would not purchase a stock with a trailing earnings multiple of 23 (P&G trailing P/E as Nov 26, 2016) until it proved that organic volume could increase year over year.
P&G reported positive organic volume growth in Q4 15/16. If the company reports positive year over year volume growth in Q4 16/17, I would reconsider my bearish sentiment.
Grooming Business Losing Share
In fiscal year 15/16, Grooming was P&G's highest margin business accounting for 11% of net sales and 15% of net earnings. The Grooming business unit is primarily composed of the Female Blades & Razors and Male Blades & Razors.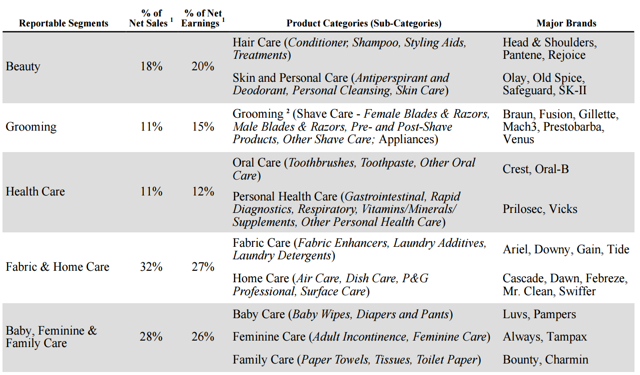 (source)
During Investor Day, Group President Charles E. Pierce shared the following slide on market share growth for Grooming. Market share, while still declining across all outlets in the United States the previous twelve, six and three months, is on a positive trend line.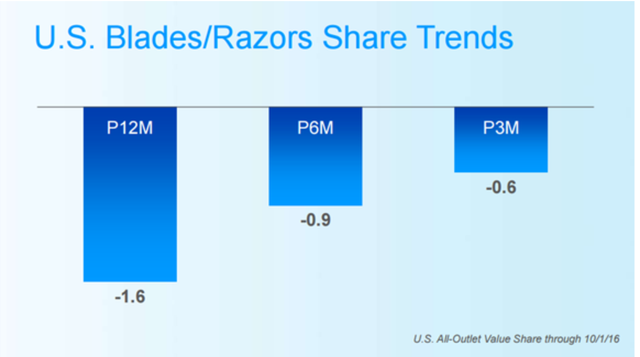 (source)
Prior to initiating a buy position in P&G, I would want to see consistent market share increases for its highest margin business. That may occur within the next few quarters or may not occur ever.
Even if P&G is able to increase market share for the blades and razors, an increasingly popular surgical alternative may reduce the market size.
According to the American Society of Dermatalogical Surgeons [ASDS], 27% more hair removal surgeries were performed in 2013 versus 2012 and 52% more than 2011. Hair removal surgeries can be performed for a variety of body areas: arms, legs, underarms, upper lips, neck, back, etc.
Increasing usage of hair removal surgeries will likely decrease the demand for female blades and razors. I view laser hair removal's impact to blades and razors as analogous to the impact LASIK has to corrective eye wear. A continued rise in laser hair removal will likely decrease demand for blades and razors.
If P&G showed consistent market share increases in its highest margin business I may reconsider my bearish sentiment. Until then, the combination of decreasing market share and potentially shrinking category size for the company's highest margin business keeps me away.
Dependence on Cost Measures
During Analyst Day, CFO Jon Moeller shared the following slide on how P&G will achieve its target total shareholder return.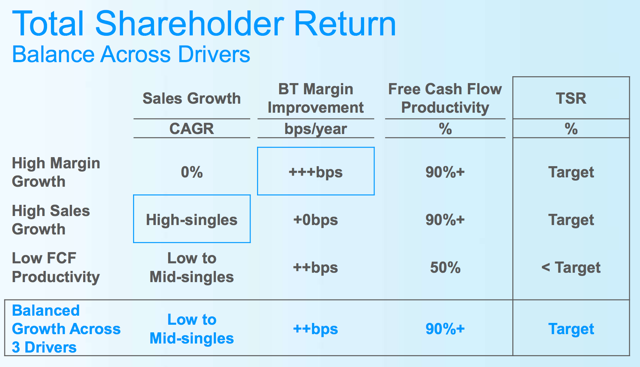 (source)
The three rows (High Margin Growth, High Sales Growth and Low FCF Productivity) are three performance scenarios.
The company states that a balance of the three (low to mid single digit sales growth, free cash flow productivity of 90%+ and margin improvement from business transformation) would generate target total shareholder return.
The company also shared the following 2 slides: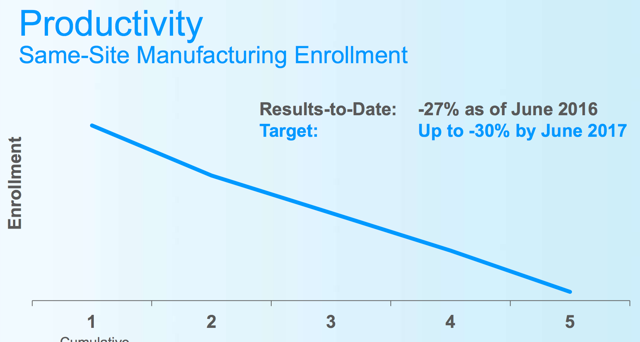 (source)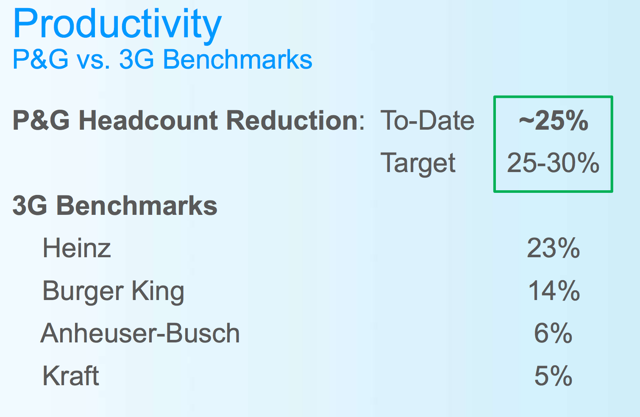 (source)
The second slide shows that P&G's headcount reduction have exceeded those by companies managed by 3G Capital. It is widely believed 3G Capital is cuts costs more than any other management company.
If P&G is already exceeding 3G benchmarks, how much cost cutting remains?
Referring to the first slide in this paragraph, if P&G can no longer achieve margin improvement through business transformation it will not achieve target share holder return with low to mid single digit sales growth and free cash flow productivity above 90%.
I understand there are savings outside of headcount (agency, supply network, procurement, etc). Similar to headcount reduction, I question how much there will be left to cut in the future.
Conclusion
In conclusion, as a long term investor, I would not currently initiate a position in P&G. The recent increase in organic volume does not offset the losses from the prior year, the company's highest margin business continues to lose market share and margin expansion may slow down once cost cutting measures are exhausted.
If the company produced a few more quarters of positive volume growth in all business unit and market share increases, I may reconsider my sentiment. The positive results from the last two quarters are not sufficient yet for me to consider a long position in the company.
I may be wrong and the company will start to grow consistently year over year. I may be right and the company will have periodic quarters of growth but not grow consistently over a long time horizon.
Disclosure: I/we have no positions in any stocks mentioned, and no plans to initiate any positions within the next 72 hours.
I wrote this article myself, and it expresses my own opinions. I am not receiving compensation for it (other than from Seeking Alpha). I have no business relationship with any company whose stock is mentioned in this article.