Early morning, sipping my tea and going through my list of securities to look for something good to trade. With the years I have built a strong intuition about my babies and about how they should trade in relation to one another. I don't even have to look at my software to realize that something is fishy. It's like a reflex. The same reflex got me in the following trade which I will further explain in this article to prove my point to myself and to readers.
My eyes stop at Wells Fargo (NYSE:WFC) Series O Non-Cumulative Perpetual Preferred Shares (NYSE: WFC-O). My first thought is: "That's odd." Then I turn my eyes to Wells Fargo Series N Non-Cumulative Perpetual Preferred Shares (NYSE: WFC-N) and to Wells Fargo Series W Non-Cumulative Perpetual Preferred Shares (NYSE: WFC-W). I know for a fact that the historical correlation between WFC-O and any of the other two is very high, close to 1. What I see makes me smile. I put my cup of tea on the table. There seems to be an opportunity here. Let me share it with you, so you can judge for yourselves.
The opportunity
First, some background information on the three issues.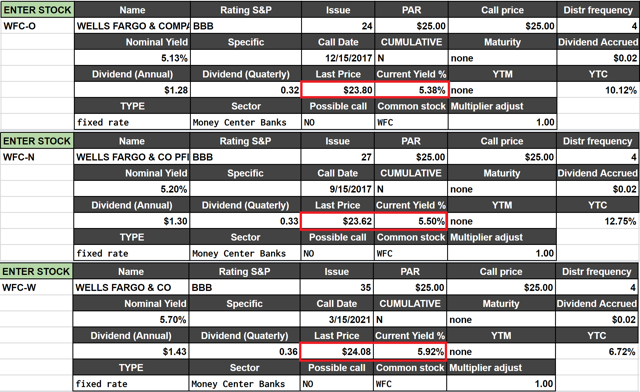 Source: Author's spreadsheet
Nothing too irregular at first glance. All three issues are trading below par, which makes them less likely to be called at their respective call dates. That is also reflected in the relatively higher yield to call. Not much can be inferred from the current yields as well, at least not at first look. The 0.5% yield spread does not seem like a big deal, you may say, but this is quite a big arbitrage. In fact, this spread was always like this, but now things are different. Once the preferred stocks start trading below par, the arbitraging forces will arbitrate them based on their yield to worst. In this case, that would be their current yield.
For example, WFC-X has a current yield of 5.90% and is trading lower than WFC-O. For WFC-O to have a current yield close to this it will have to trade close to $22, which is a 7.5% arbitrage opportunity from a fundamental point of view. The phenomenon of lower nominal payers having lower current yields will make this arbitrage smaller in practice, but I think that 4% drop in WFC-O can be easily expected. This is a large move for a preferred stock.
From a statistical standpoint, however, things are much more telling. Below you can see the price spread and current yield spread dynamic between WFC-O and WFC-N and WFC-O and WFC-N, respectively.


Source: Author's spreadsheet
Historical price correlations are quite high, and at the same time, price spreads have deviated from their historical means. In the case of WFC-N, the price spread is now 2 standard deviations away from the mean, while in the case of WFC-W, the difference is more modest. The current yield spreads tell the same story.
It seems quite clear that WFC-O is overvalued when compared to its peers. A quick comparison between WFC-O and other Wells Fargo preferred stocks besides WFC-N and WFC-W shows a similar picture. The statistical arbitrage potential is small, but, in my opinion, worth considering especially in the light of the high correlations between WFC-O and WFC-N, and WFC-O and WFC-W.
How do I trade it?
I am long WFC-X, WFC-W, WFC-V vs. short in WFC-O and I will average my pair trade on any further deviation as long as there are shares available to short. The hard to borrow rate is around 18%, so this trade has to work fast to compensate me for the high cost of the hedge. I have noticed that these trades are very hard to "time manage." You never know when the smart money will find this mispricing and will narrow the current yield spread so we small guys can make a dollar.
Author note: For the more experienced traders and investors out there, it is not a surprise to see WFC preferred stocks mispriced. I remember this was the case with the long gone BWF, GWF, FWF, JWF. Then the Wachovia preferreds were also mispriced for a long time. There are always some of them that are out of line.
Conclusion
Everybody has a morning routine and mine includes a nice hot cup of tea. While I am enjoying it, I have a quick run through my trading screens to see if something would catch my eye. And having this quick scan has paid off handsomely in my career so far. You might consider including something similar in your morning routine. In the meantime, take a look at WFC-O; looks like there might be an opportunity there.
Disclosure: I am/we are short WFC-O. I wrote this article myself, and it expresses my own opinions. I am not receiving compensation for it (other than from Seeking Alpha). I have no business relationship with any company whose stock is mentioned in this article.
Additional disclosure: I am long,
WFC-W, WFC-V, WFC-X