Great Earner in Clarksville, Indiana
First Savings Financial Group Inc. (NASDAQ:FSFG) is a $797M (assets) commercial bank located in Clarksville Indiana.
Over the last 5 years the bank has grown from 639M in assets to 797M. The bank is thinly traded but if you are a long-term player this is an excellent buy.
FSFG is clearly an earner and there is always a place for well-priced earners in my portfolios. I also like to use a salary to stock ratio to see if the CEO is "In" the deal with his shareholders. CEO Larry Myers (58) is what I would call a 10 timer, meaning he owns 10 times the amount of stock compared to what he is paid as a salary each year. Larry clearly cares what happens to the bank. In addition, insider ownership at the bank is close to 28%!
| | | |
| --- | --- | --- |
| | 9/30/2015 | 9/30 2016 |
| Total Assets | $749,946,000 | $796,516,000 |
| Total Loans | $463,915,000 | $500,001,000 |
| Total Deposits | $533,297,000 | $524,082,500 |
| Total Equity | $94,357,000 | $86,580,000 |
| Net Income QTD | $1,828,000 | $2,806,000 |
| ROAA QTD | 0.99% | 1.43% |
| ROAE QTD | 7.87% | 13.24% |
| Loans/Deposits | 86.96% | 90.73% |
| Equity/Assets | 12.58% | 10.87% |
| NPA's/Assets | 1.75% | 1.49% |
| Tangible Book Value | $31.11 | $35.20 |
| Paid out Dividends | 0.50 | 0.52 |
| Shares Outstanding | 2,183,510 | 2,204,787 |
| Price | $34.00 | $36.16 |
The loan portfolio has grown from $464M to $524M in the last 12 months, and the asset quality has actually improved!
The loan/deposit ratio has gone from 87% to 91% and the security/asset ratio has gone from 26.5% to 25%.
With respect to our security to assets ratio, we will likely maintain it around that level for both earnings opportunity and liquidity purposes. So long as wholesale funding sources remain cheap and we can invest for a reasonable and profitable return, while maintaining a reasonable duration and balanced interest rate risk, we'll continue to exploit the earnings potential. However, if the opportunity for greater yield in loans presents itself and/or we can't fund loan demand with deposit growth, we will continue to change the asset mix accordingly. The effective duration of our securities portfolio is currently 4.3 years. We would permit our loan to deposits ratio to near 100% given our high level of alternative sources of liquidity.
FSFG's yield on loans is 4.68% and its yield on securities is 4.1%. The blended rate is 4.5%.
When you compare their NIM with the bank average above (2.78%) you can see that FSFG is outperforming by 61%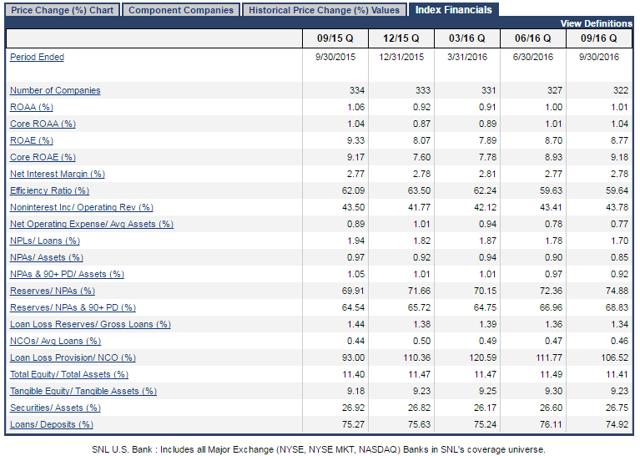 FSFG has also done an excellent job in increasing deposits. Deposits are of course what are lent out for the spread commonly called net interest margin or NIM. FSFG's cost of interest bearing liabilities (deposits) is .69 basis points.
FSFG's loan portfolio is made up of loans in two main categories. 36% of the loans are 1-4 family real estate loans and 43% are commercial and multi-family real estate loans.
FSFG has reserved 182% against each of their non-performing loans and has only written off $139,000 in the past 12 months.
FSFG's total shareholder equity decreased $7.8M in the last 12 months. The decrease was due to the redemption of $17.1M of preferred stock, which was initially issued to pursuant to the Small Business Lending Fund ("SBLF") program of the United States Department of the Treasury. The redemption of the SBLF preferred stock was partially offset by retained net income of $6.7M in 2016. This redemption on the part of the bank was a sound strategic move as the rate on that loan was set to increase significantly.
What I like most about FSFG is the fact that they have increased their tangible book value $4.09 over the last year and buyers are still able to buy the stock at 114% of tangible book value. In addition, FSFG is paying a $.52 dividend in the 2016 calendar year, and has historically increased its dividend by $.04 each year.
What is the outlook for FSFG?
The population growth in the banks market area has been moderate but steady.
There has been a meaningful increase in blue collar employment as a result of the River Ridge Commerce Center, which is a 6,000 acre business and manufacturing park that has great transportation and infrastructure and has been adding employers over the past few years. The park has a significant amount of capacity for more.
Amazon located a fulfillment center in the park a few years ago, creating 3,000 moderate-wage jobs.
Also, the Ohio River Bridges Project added two new bridges between Louisville, Kentucky and Clark County, Indiana, and also renovated the existing Kennedy Bridge, and reconfigured the interconnecting major expressways of I-65, I-64, I-71 and I-265. This bridges project is expected to result in significant job and population growth in Clark County, particularly due to the East End Bridge that more efficiently connects Louisville with the River Ridge Commerce Center.
The bank has an underwriting process that both serves their community, and profits the bank. I expect that First Savings will continue to be a solid "earner."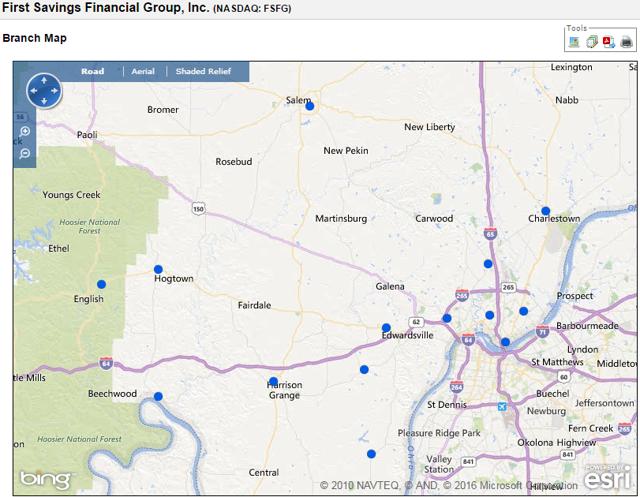 FSFG Branch Competitors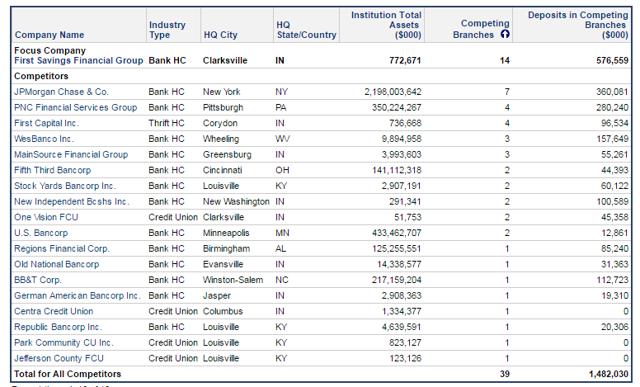 While I don't anticipate a sale of the bank, several of the competitors above would be happy to pay a premium for a high producer like FSFG. The average takeout price is 150% of tangible book value which would be a takeout price of $52.80.
That gives the stock 30% upside on a takeover and if it's not taken over the constant increase in tangible book value will just drive the takeout price higher!
All statistics from SNL Securities
Disclosure: I am/we are long FSFG.
I wrote this article myself, and it expresses my own opinions. I am not receiving compensation for it (other than from Seeking Alpha). I have no business relationship with any company whose stock is mentioned in this article.
Editor's Note: This article covers one or more stocks trading at less than $1 per share and/or with less than a $100 million market cap. Please be aware of the risks associated with these stocks.