OPEC's agreement to cut oil production for the first time in eight years has seen a blast higher in crude oil prices, after traders were pessimistic regarding any real settlement due to resistance from its largest players: Saudi Arabia, Iran and Iraq. The deal will see the Saudis reduce output by 486,000 barrels, while Iraq will cut by 210,000 barrels a day.
Saudi Arabia, which raised oil production to a record level this year, will reduce output by 486,000 barrels a day to 10.058 million a day. Iraq, OPEC's second-largest producer, agreed to cut by 210,000 barrels a day from October levels. The country had previously pushed for special consideration, citing the urgency of its offensive against the Islamic State.
It's likely that continued production increases by the Saudis this year were done in anticipation of a coming agreement. Higher revenues from oil in the near term will also boost Saudi plans to push forward with its "Vision 2030" plan. Non-member Russia, which has also been pumping at post-Soviet era records, will reduce output by up to 300,000 barrels a day.
Futures Markets Are Perfectly Poised
Ahead of the OPEC decision, crude oil had been stuck in a trading range of $40-$50 since mid-April. The futures markets were showing a perfect inversion between commercials and speculators at around -270k and +270k, respectively.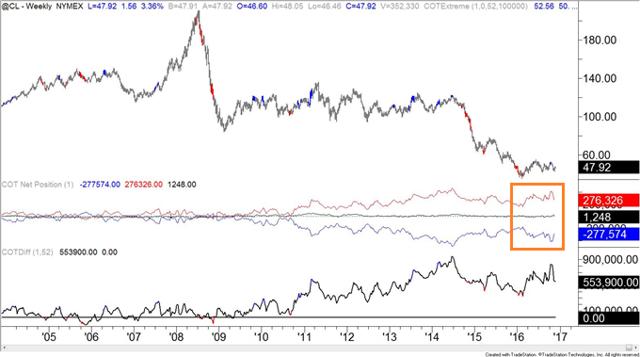 The market was awaiting a real catalyst to break out of this trading range. The OPEC decision should be the driver for gains toward $60, as the neutral positioning is corrected in the markets as new buyers enter to squeeze out those who saw continued resistance at $50 and another OPEC bluff. New shorts might come in to "sell the fact" and provide further ammunition for a drive upward.
The Medium-Term Outlook
A push higher in crude oil would be a welcome relief for oil and gas financials, and also provide further opportunity to hedge future production at levels not seen since June 2015. The move toward $60 could take as little as two to three months. This level would again provide heavy resistance in the future, as not only would hedging intensify, but buyers would pull back and, more importantly, higher prices could lead to a more aggressive shale revival. It will be important to keep an eye on drilling activity over the next few months to see how this OPEC move plays out.
The OPEC agreement has led to many announcing that OPEC is back, after the group had been written off as irrelevant following previous failed attempts to manipulate prices higher. However, it remains to be seen how many will stick to their quotas and the price action brought about by better shale and even conventional oil project fundamentals. Despite this, a short-term pump in prices will bring holiday cheer to the oil industry.
Conclusion
The first OPEC agreement in eight years could be the driver that the market has been waiting for to break out of its stubborn trading range of $40-$50. On a technical basis, the next target would be $60. It's no coincidence that the next big resistance sits there from mid-June.
A sell-off in futures market speculation this year had led to an almost identical inverse positioning ahead of the OPEC announcement. This looks as if it was the catalyst that the market needed to settle the recent standoff between bulls and bears. Regardless of whether OPEC nations actually follow through, speculators will drive the near-term move.
Disclosure: I am/we are long OIL FUTURES.
I wrote this article myself, and it expresses my own opinions. I am not receiving compensation for it (other than from Seeking Alpha). I have no business relationship with any company whose stock is mentioned in this article.