"The comeback of a leader" was the title of Vale's (NYSE:VALE) investor presentation at the recent New York event. This is a rather bold statement for a company which shares only knew one direction for five consecutive years and tumbled from more than $30 to a low close to $2 at the beginning of 2016.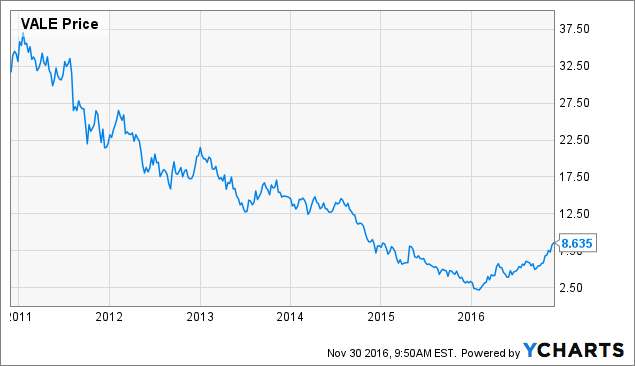 VALE data by YCharts
Vale's primary goal is to reduce net debt to $15-$17B already next year, but it appears that this target is within reach even with fewer than expected asset sales. The main reason for Vale's rapid rise from the dead are higher commodity prices and first of all for iron ore.
I would not disagree that a bright future lies ahead of Vale, provided that commodity prices and mainly iron ore hold up, and the management gave some more guidance at the November 29 investor day in New York.
Key Takeaways from Vale's Investor Day
The key metric to look at in the next year is Vale's free cash flow, because it determines how fast the company can progress with the debt reduction plans.
One driver for higher cash flows are lower capital expenditures. Vale now expects $5.6B capex for 2016, and this number will further go down to $4.5B in each 2017 and 2018.
Iron ore soared to $80 recently, and Chinese iron ore futures for delivery in May 2017 just topped $90 which indicates that the market does not count on falling prices. In addition to the positive price trend, Vale benefits from better price realization for the higher quality iron ore grades. The spread between the 62% IODEX benchmark price and Vale's 65% grade increased to more than $10/ton since the beginning of Q4. This is in line with reports that Rio Tinto (NYSE:RIO) started to ask a premium for its highest grade iron product.
Despite the recovery of the Brazilian real which has a negative impact on Vale's costs in dollars, the company succeeded in lowering C1 cash production unit costs from $13.2/ton to $13.0/ton in Q3. Vale's new S11D mine will further help to lower costs with expected C1 cash costs of only $7.7/ton.
More programs targeting productivity gains and the optimization of the global supply chain shall help to sustainably reduce production costs over the next years. S11D and the additional measures are expected to translate into a higher EBITDA of $3 to $5/ton by the year 2020.
The key question for Vale and the other major miners is how iron ore prices will respond to the still increasing seaborne supply. Since several quarters, Vale's management has emphasized that the company will limit output growth to maximize margins. The current projections show that the ramp-up of the Northern System capacity will occur more slowly. This does not mean that Vale is not ramping up S11D as planned, but it is cutting back at the expense of other higher cost mines.
Iron Ore Production Outlook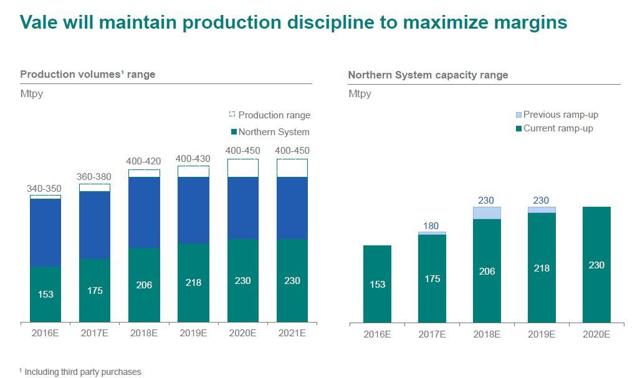 Source: Vale investor presentation.
The Northern System will reach full capacity in 2020 only, and the total production volume range signals that Vale will not fight for market share at any price. The bottom of the envisioned production range of 400 mmt (million metric tons) implies that Vale is willing to pass on up to an additional 50 mmt of sales to support prices.
Overall, Vale paints a bright picture about the future of the iron ore business (again), and management sees an EBITDA potential of up to $18B, depending on iron ore prices, for the ferrous minerals segment by 2020.
Iron Ore EBITDA Outlook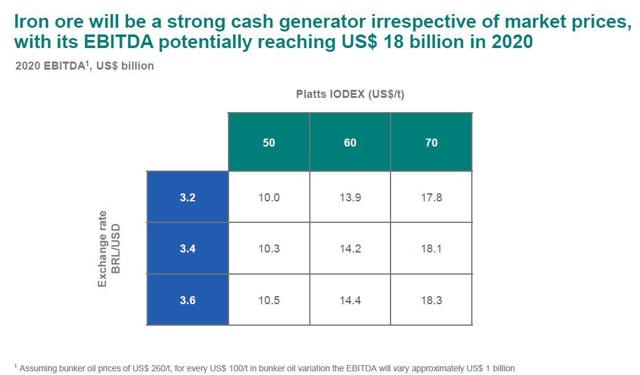 Source: Vale investor presentation.
The improvement can be seen in 2016 already, and the adjusted segment EBITDA increased from $1,738M in Q1 to $2,136M in Q2, and to $2,493M in Q3.
Besides iron ore, also the base metals segment benefits from higher prices, supported by an increased output at lower production costs.
Base Metals EBITDA Outlook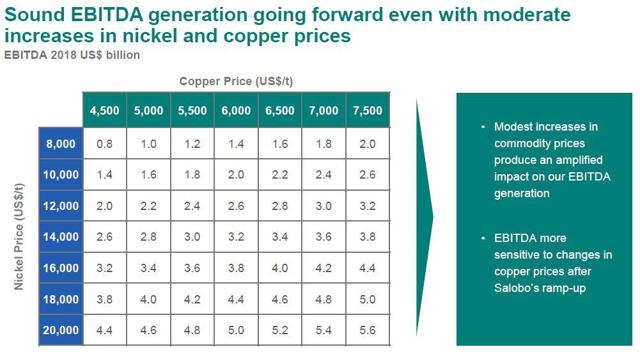 Source: Vale investor presentation.
At today's price levels of $11,700/ton for nickel and $5,900/ton for copper, the base metals segment would contribute around $2.5B of EBITDA in 2020. In 2016, Vale reported an adjusted EBITDA of $329M in Q1, of $376M in Q2, and of $600M in Q3.
The two charts illustrate how severe the positive impact of higher prices is, but it also demonstrates that Vale can be free cash flow positive at only $50/ton iron ore in 2017. Using the analysts' average EBITDA projection of $10.3B for 2017, Vale would already end up with $2.2B of free cash flow.
An EBITDA of $10.3B seems to be a conservative estimate, and Vale will likely earn more already in 2016 after EBITDA came in at $7.8B in the first nine months.
2017 Free Cash Flow Outlook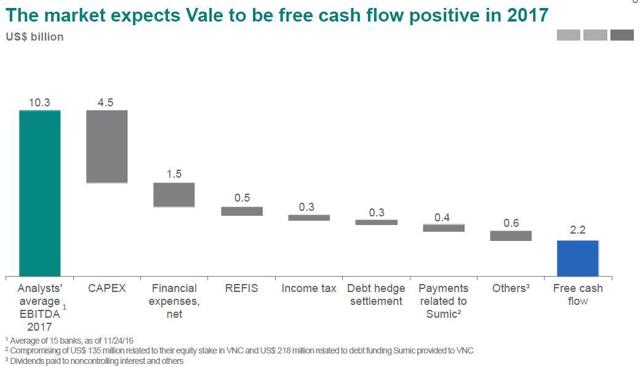 Source: Vale investor presentation.
All signs point towards a positive free cash flow next year which will enable Vale to reduce net debt and to potentially distribute more money to shareholders.
Vale is a good step closer to meet its net debt reduction target of $15B to $17B by the end of next year, and it already started to make progress in Q3 during which net debt fell by $1.5B to $26.0B .
Vale pictured several scenarios which are based on different iron ore prices. From where we stand today, the company has gained a lot of room to breathe which means that it does not have to sell assets if the price is not right.
Net Debt Scenarios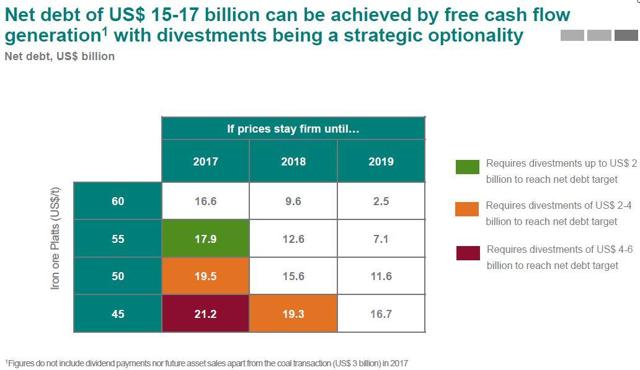 Source: Vale investor presentation.
The key for Vale's success still are the factors which are beyond the company's control: the prices for iron ore, but also for nickel and copper which determine the profitability of the base metals segment. The dollar/real exchange rate and the costs for bunker fuel are other relevant aspects.
I remain pretty optimistic about commodity prices, at least mid-term. So far, the iron ore market has coped with the growing supply very well. I expect Chinese demand to hold up fairly well, and I count on Vale, Rio Tinto, and BHP Billiton (NYSE:BHP) to maintain their production discipline. Consequently, I assume that iron ore will be able to defend the $50 mark next year, with an average price possibly in the range between $50 and $60/ton.
The icing on the cake is that Vale will pay a dividend again. One day prior to the investor day, the company announced a distribution of $250M or 4.85 US cents per common share. This is only a fraction what it used to be, but still another positive sign.
Conclusion
Vale's recovery was imminent after the tailwinds from commodity prices almost turned into a storm. The stock follows an upward trend which seems unbreakable, at least short-term, and I would not be surprised if Vale climbed to $10 in the near future. In 2016, the stock brought decent returns, but I believe that there is still long-term potential.
Disclaimer: Opinions expressed herein by the author are not an investment recommendation, any material in this article should be considered general information, and not relied on as a formal investment recommendation. Before making any investment decisions, investors should also use other sources of information, draw their own conclusions, and consider seeking advice from a broker or financial advisor.
Disclosure: I am/we are long VALE, RIO, BHP.
I wrote this article myself, and it expresses my own opinions. I am not receiving compensation for it (other than from Seeking Alpha). I have no business relationship with any company whose stock is mentioned in this article.