Source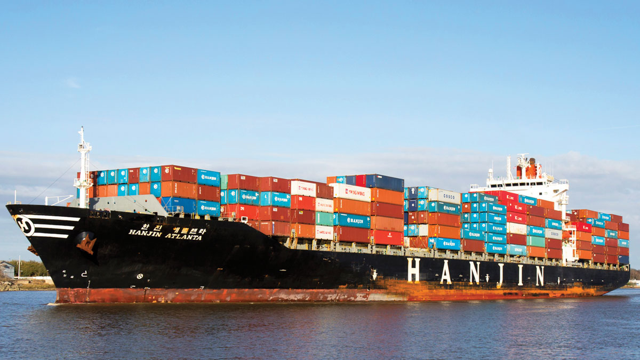 In mid-2015, CAI International (NYSE:CAI) set out to diversify its business beyond the lease of shipping containers. The company significantly built its railcar inventory and added logistics services through acquisitions - the service of delivering better utilization and better positioning of inventory. On November 1st, CAI reported its third quarter results. Its revenue from diversification was nearly 37% of total revenue.
Total revenue in the third quarter was $78.5 million, an 18.7% increase year-over-year. Railcar leasing revenue was $7.6 million, 49% more than the third quarter of 2015. Logistics revenue in the quarter grew a staggering 292% from $5.41 million in 2015 to $21.2 million.
Container Leasing
Shipping container leasing decreased $3.24 million or 6.2% year-over-year. The primary culprit for the decline was the bankruptcy of South Korea's Hanjin Shipping. Hanjin filed for bankruptcy protection on August 31st. It is considered the largest bankruptcy of a shipping company in history.
The announcement sent far more than ripples through the shipping industry. At its worst point, dozens of ships carrying thousands of containers loaded with billions of dollars of cargo were stranded at sea. Shippers desperately searched for containers. Ports feared allowing Hanjin ships to dock knowing they could eat the expenses of unloading. Cargo owners incurred extra expense retrieving their goods.
CAI's exposure to Hanjin was determined to be approximately 15,000 containers worth approximately $40 million. It estimates the third quarter was missing $1.8 million of revenue from Hanjin as compared to the 2016 second quarter. The company does expect to recover 90+% of its containers. At the end of the third quarter, it had already recovered nearly half of those assets.
Beyond the loss of revenue, CAI also took two charges in the quarter due to Hanjin. First, it reserved $2.5 million of accounts receivable that it does not expect to receive. CAI estimates the value of the containers it will lose is approximately $3.2 million. CAI is covered by insolvency insurance. The policy covers the "value of unreturned containers, damage to recovered containers, recovery costs, legal expenses and the loss of post-bankruptcy income for a period from the default date to the earlier of the return of the equipment or six months". The company has a $2 million deductible. Therefore, CAI recorded a $2 million impairment charge to cover the deductible. The $1.2 million expected eventually from the insurance company is recorded as a receivable.
CAI expects the process of filing an insurance claim for recovering and releasing containers to take at least a year. Therefore the reimbursement will not likely be recorded until late 2017. CAI is comfortable the whole of the Hanjin impact was contained in the third quarter. Any additional loss will be covered by the insolvency insurance since it has already met the deductible.
Beyond the $4.5 million impact ($2.5 million loss of accounts receivable and $2 million impairment charge) attributable to Hanjin's bankruptcy, CAI also elected to adjust the residual value of its 40 foot High Cube containers. The residual value was decreased from $1,650 to $1,400 resulting in a depreciation charge of $3.4 million.
CAI added yet one more non-recurring charge to the quarter. It elected to not utilize a foreign tax credit arising from the sale of a subsidiary. This determination resulted in a non-cash charge of $1.4 million.
Including the three one-off charges, CAI reported a net loss of $5.4 million or ($0.28) per share. Excluding the three charges, the company would have reported net income of $2.99 million or $0.16 per share. This compares to net income of $12.99 million in the 2015 third quarter and $0.62 per share.
Despite the Hanjin bankruptcy, the other two non-recurring charges and the net loss in the quarter, CAI believes the container leasing industry is finally seeing improvement. Container CEU utilization in the third quarter improved 130 basis points to 93.3% compared to 92% in 2015. Yet, the utilization improvement was primarily due to CAI's aggressive disposition of older and damaged off-lease equipment.
Regarding the industry as a whole, the increase in the price of steel has driven up the price of new containers. Further, container lessors have not aggressively ordered new containers bringing a greater balance to the industry's supply. The combination of the two factors has resulted in improved demand for leased containers in China. CAI is incurring the expenses to reposition some of its inventory to China to help meet that demand. The company expects the moves to improve utilization rates in 2017.
Railcar & Logistics
CAI's diversification strategy has provided a safety net for the company while the container leasing industry wilted. The company's build of its railcar inventory and its ability to maintain a relatively high utilization rate has driven railcar leasing revenue higher quarter after quarter. However, in the third quarter, CAI's average lease rate and its utilization rate saw pressure when compared to the 2015 third quarter. Still, the long-term potential remains positive.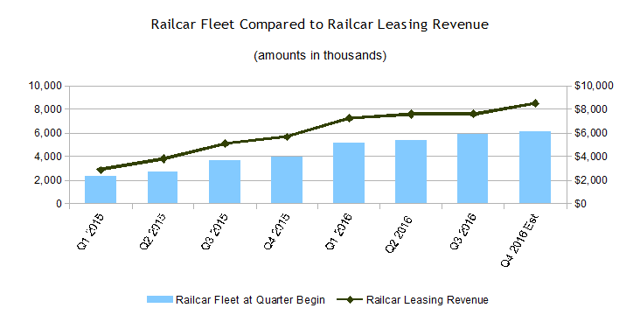 Source: Author-created from company data
CAI is also significantly growing market share in its logistics business. The majority of the growth is due to integrating the June 1st Hybrid Logistics acquisition. Despite a sluggish domestic economy, CAI still saw progress.
"We continue to gain additional customers in our logistics business and are having success cross-marketing services to all our customers."
Good News, Bad News
As expected, CAI's leverage ratio remains a challenge. Long-term debt obligations remained relatively flat at $1.44 billion. Over $99 million is the current portion due. Cash and equivalents totaled $37.5 million at the end of the third quarter. With liabilities at $1.57 billion and stockholders' equity at $459 million, CAI's leverage ratio grew to 3.42.
"We will continue to focus on reducing debt and additional opportunities to repurchase our shares."
In the 2016 third quarter, the company repurchased approximately 260,000 shares lowering the outstanding share count to 19.06 million.
Diversification Strategy
Frankly, there were hits from every direction in the 2016 third quarter for CAI - impact from Hanjin's bankruptcy, residual value adjustments on containers, a tax credit loss and an overall sluggish economy. CAI fared better regarding the Hanjin bankruptcy than other container lessors Textainer Holdings (NYSE:TGH) reported its bad news on November 8th.
"At this time, we expect to recover between 70% to 90% of our containers. We have $80 million of insurance to cover unrecoverable containers, lost revenue and recovery and repair costs. Due largely to the expected level of these costs and the significant amount of lost revenue, we expect our losses will exceed our insurance coverage."
The merger of Triton Container International and TAL International formed Triton International (NYSE:TRTN) in July. The newly-merged company is considered the world's largest container lessor. It reported its Hanjin-related woes on November 10th. Triton does expect to recover the "vast majority" of its containers and believes it is "adequately covered" by insurance policies.
"The $29.7 million of Hanjin impacts in the third quarter included a $23.4 million provision for bad debt and $6.3 million in lost revenue, much of which was applied toward our insurance deductibles."
On November 9th, World Maritime News reported the first phase of recovery from the crisis was nearing completion.
"South Korean Ministry of Oceans and Fisheries said that 94 out of the carrier's 97 boxships have completed cargo unloading. This represents 378,000 TEUs of a cargo total of 396,000 TEUs."
If there was good news, it was that the likelihood of a successful recovery of CAI containers is high.
"The containers on lease to Hanjin were manufactured for CAI, and are in CAI's color, with its logo and markings."
Further, it was impressive news CAI managed to deliver another quarterly revenue increase.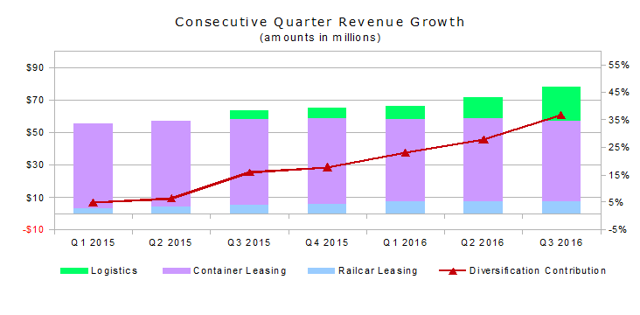 Source: Author-created from company data
As depicted in the chart, this was due wholly to its diversification strategy. Had it not been for the logistics revenue, this would not have been the case. After five quarters of contribution, the logistics business by itself can be credited for more than 1/4 of the quarter's total revenue.
Summary
The Hanjin bankruptcy is complicated and will take months to process and resolve. Thousands of companies have made claims against the defunct shipping company. Though CAI finds itself in the mix of victims, it is better-positioned than others to take the hit and recover. Amidst the flurry of the quarter's one-time events, shareholders should not miss the company is finally cautiously optimistic about all three of its business lines.
Disclosure: I am/we are long TGH.
I wrote this article myself, and it expresses my own opinions. I am not receiving compensation for it (other than from Seeking Alpha). I have no business relationship with any company whose stock is mentioned in this article.
Additional disclosure: I belong to an investment club that owns shares in TGH.