Fannie Mae (OTCQB:FNMA) and Freddie Mac (OTCQB:FMCC) are two companies that have been forced by the government to hand over all of their money since they were placed into conservatorship in 2008. Lawsuits have been filed fighting many aspects of the government's action. The government agency responsible for overseeing the conservatorship claims no fiduciary duty to shareholders.
The government currently has left nothing to shareholders in an attempt to zero them out. Trump is the president elect and his appointee for the next Treasury Secretary is Steve Mnuchin. Here's what he has to say:

Investment Thesis: Steve Mnuchin wants the government to reprivatize Fannie Mae and Freddie Mac. Michael Stegman, a GSE detractor, said that the net worth sweep can be ended without an act of congress if the new Treasury secretary chooses to eliminate it. There are dozens of lawsuits fighting for this same outcome and it will be interesting to see if the lawsuits are responsible for ending the illegal net worth sweep or if Mnuchin ends it. Depending on how the companies are recapitalized and the actions the government takes to exit conservatorship, there are two classes of securities that are of interest. Both Fannie Mae and Freddie Mac have common and preferred shares that have been economically voided by the net worth sweep. The preferreds could be expected to return to par in the event that the firms become adequately capitalized and resume orderly dividends. The commons would resume a valuation that is tied to their respective earnings power which may be positively and negatively impacted by fully diluted share counts, earnings power, and capital requirements. I own preferreds.
Stegman's Outline for Recap and Release
Michael Stegman has historically been in favor of the continuation of the net worth sweep and conservatorship. Now that he's been exiled at the Bipartisan Policy Center, he's provided diametrically opposed guidance. Imagine that: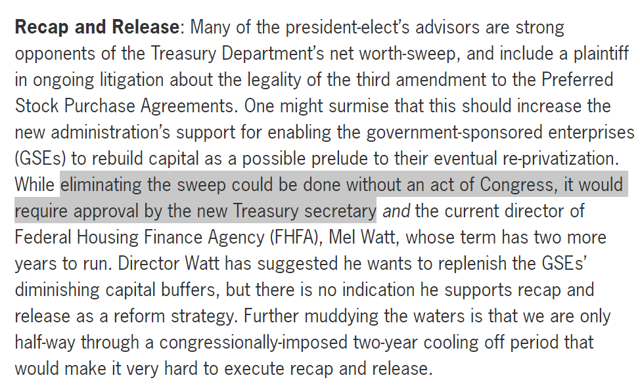 So there you have it, we know that the incoming Treasury secretary has the power to eliminate the sweep and we know now that the incoming Treasury secretary is in favor of those sorts of actions.
Perini Capital's Christmas Past
Perini Capital put together a slide deck demonstrably proving that the people who have been fighting hard to shut down Fannie Mae and Freddie Mac have been unable to do so no matter how hard they've tried: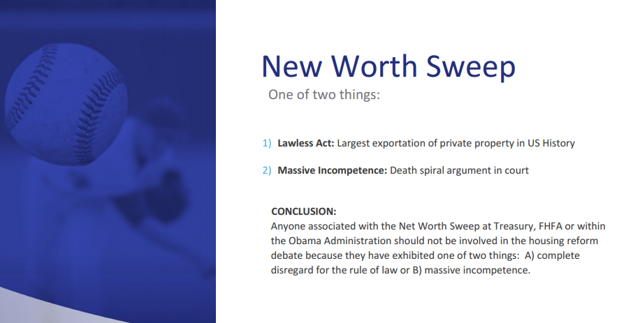 In this slide deck, Perini Capital also exposes the fraudulent nature of the CRT transactions that the government is forcing Fannie Mae and Freddie Mac to make. They claim to be risk sharing but the way these deals work is on a technical basis the antithesis of risk sharing. Prior CFO Timothy J Howard on his blog was really the first to uncover this to the best of my knowledge.
Rocky Top Politics
One of the key political detractors of Fannie Mae and Freddie Mac is Senator Bob Corker. Bob even suggested shorting Fannie Mae and Freddie Mac. Bob Corker appears to have benefited from AIG's service in the counterparty risk department. Bob invested in Pointer Management that was used to short housing in America.
It seems that Bob votes with his wallet and his true motives for winding down the GSEs are not as pro-America as we were lead to believe. With this being exposed now by Rocky Top Politics in stunning fashion, it is just one more reason to pay less attention to people who have been saying that the best course of action is to pursue a future without Fannie Mae and Freddie Mac.
Summary & Conclusion
I have 4050 shares of FMCCH, 9340 shares of FMCCP, 9714 shares of FMCCT, 2600 shares of FMCKI, 1025 shares of FMCKO, 6585 shares of FMCKP, 27225 shares of FNMFN and 5 shares of FNMFO. These are preferred shares. Mnuchin seems to believe that fixing Fannie Mae and Freddie Mac can be done reasonably fast. As a preferred shareholder that's great to hear.
There have been all sorts of unbalanced journalism being floated recently by the same people who have been floating it the entire conservatorship. The best way to get a sense for whether or not a source is fair and reasonable is to read through their history.
Whether or not the warrants are valid or will be exercised or not is the subject of many fierce twitter conversations. On a principle basis I do not think they should be exercised. As a preferred shareholder, the ability for Fannie Mae and Freddie Mac to raise capital would be negatively impacted by exercising the warrants. There has been a lot of confusion lately surrounding that concept so I wanted to address it.
Disclosure: I am/we are long FMCCH,FNMFN,FMCCP,FMCCT,FMCKP,FMCKO,FMCKI,FNMFO.
I wrote this article myself, and it expresses my own opinions. I am not receiving compensation for it (other than from Seeking Alpha). I have no business relationship with any company whose stock is mentioned in this article.
Editor's Note: This article discusses one or more securities that do not trade on a major U.S. exchange. Please be aware of the risks associated with these stocks.