Burlington Stores (NYSE:BURL) showed stunning performance during the latest earnings report. It was able to beat consensus estimate on almost all metrics including comp growth, revenue growth and earnings. Its growth in the last two years reflects the seismic shift within the retail ecosystem in US.
More customers prefer to spend their dollars in off-price stores, boosting the sales of these companies and also giving them additional incentive to expand. Burlington Stores has also been able to hold its own against bigger off-price competitors like TJX Companies (NYSE:TJX) and Ross Stores (NASDAQ:ROST) which is reflected in its better stock performance.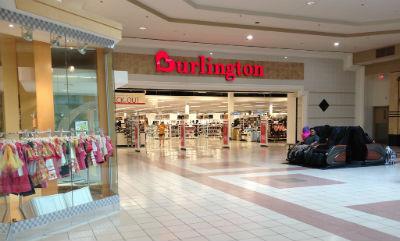 So far so good
After delivering same-store sales growth of 3.7% against expected 3.3% and revenue growth of 9.1%, where does the company go from here?
There is a lot of untapped customer base available for the company. It is trying to expand its store count as quickly as possible. During this quarter it opened 23 new stores while closing one store. This increased its store count to 592 stores, showing growth of 3.85% in one quarter. In comparison, Macy's is looking to reduce its store count by 15%. Although department stores like Nordstrom and Macy's have jumped on the off-price store bandwagon, their ability to effectively balance between full-price and off-price segments is not guaranteed.
During this quarter weather played a spoiler for BURL. The same-store sales were 3.7% but due to warmer weather the cold-weather categories were hit hard. If they are excluded the same-store sales would have been 6%. The management claimed better performance in fourth quarter as cold-weather sales pick up. This category contributes 22% to 25% of total sales in Q4.
Advantages over other off-price competitors
Competitors like TJX and Ross Stores have received greater accolades from the market as they gain market share from other retailers. BURL has mostly been overshadowed by these bigger giants. However, it has given better results and greater returns in the past few years compared to these two. BURL has risen 104.9% in year to date whereas TJX has risen 10.5% and ROST by 25.5%. In the last three years BURL has risen 205.6% compared to 24.2% by TJX and 78.6% by ROST.
However, past performance does not translate to future returns. Also the recent growth in BURL's stock price has made it quite expensive. But there are still some areas where the company is continuing to improve which can end up delivering better revenue and earnings performance.
Burlington's stores are generally larger than TJX which gives them greater flexibility in terms of items displayed. These stores can also act as warehouse which allows customers to purchase goods in any season. TJX and ROST have a well-tuned supply chain where the level of efficiency is quite high. Burlington is making progress in this department which is reflected in improving margins year-on-year.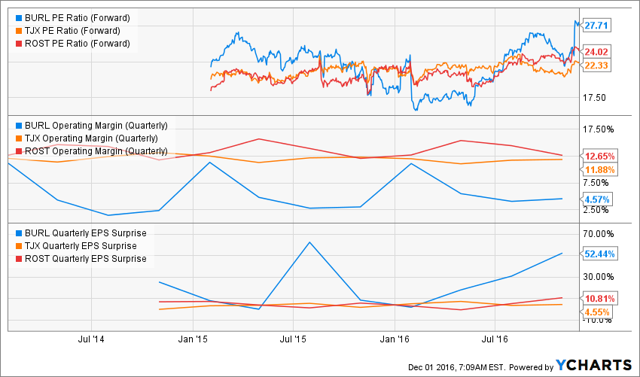 Fig: Comparison of forward PE, operating margin and operating margin of BURL, TJX and ROST
Operating margin of BURL in this quarter was 4.57% compared to 3.04% in October 2015 and 2.37% in October 2014.
Similarly, operating margin in July quarter was 4.08% compared to 2.81% in July 2015 and 1.48% in July 2014.
For April quarter operating margin was 5.51% compared to 4.82% in April 2015 and 4.33% in April 2014.
This year-on-year improvement in operating margin is more prominent in non-holiday quarters. One of the reasons could be that the management is improving its product mix allowing greater efficiencies within the system. BURL is also getting closer to the operating margins delivered by TJX and ROST during these quarters. This is due to lower markdowns given by its stores. Better margins have also translated into positive earnings surprise.
The earnings surprise for the past three quarters has been 52.4%, 31% and 18.13% which correlates with the upturn in operating margin. I believe we should continue to see improvements in operating margins as the company closes its gap with TJX and ROST in this department. This should lead to another year of earnings surprise for BURL in 2017, providing good boost to the stock.
The management has forecasted comp growth of 2.5% to 3.5% in this quarter. This looks like a case of under-promising and over-delivering. There is a lot of pent up demand in the market as the weather gets more favorable for the company which should lead to better comp growth than forecasted.
Investor Takeaway
Burlington Stores has shown astonishing growth in 2016. It has left behind other retail peers, both in the off-price and full-price category. It is rapidly expanding in new markets which should provide additional growth to sales. At the same time it is able to give healthy comp growth.
The company still lags TJX and ROST in terms of operating margin. As it closes the gap, there is room for considerable improvement in earnings. BURL is well placed to deliver another year of positive earnings surprise which should provide robust growth in the stock price.
Disclosure: I/we have no positions in any stocks mentioned, and no plans to initiate any positions within the next 72 hours.
I wrote this article myself, and it expresses my own opinions. I am not receiving compensation for it (other than from Seeking Alpha). I have no business relationship with any company whose stock is mentioned in this article.