For an industry so dependent upon speculation and intrigue, the October 8 news that the WWE (NYSE: WWE) was investigating a tiered pricing strategy for WWE Network access involved considerably less guesswork for fans than usual. The collective predictive powers of a fanbase accustomed to navigating byzantine plotlines and real-world factors found very little to speculate on in the rather straightforward customer survey subscribers received in an email that presented a series of pricing points and benefit packages.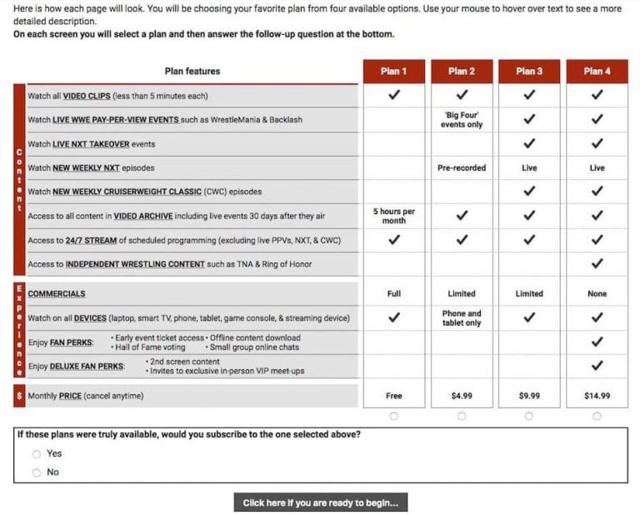 A screenshot of the survey in question.
According to longtime and extremely respected industry journalist Dave Meltzer, whose Wrestling Observer Newsletter has been in publication in one form or another for well over thirty years, WWE directors are most seriously considering the following four pricing tiers:
Free - Unlimited access to short videos, five hours of access to archive events per month, 'full' advertising slate
$4.99/m - Access to 'big 4 PPVs' (Royal Rumble, Wrestlemania, Survivor Series, and Summerslam) live, limited to phones and tablets only, 'limited' advertising
$9.99/m - existing WWE Network access would be essentially unchanged, 'limited' advertising
$14.99/m - full access to WWE Network, and 'access to independent wrestling content such as TNA and Ring Of Honor', no advertising
Of course, a more complex model invites more complex questions. The two questions at stake under this potential new pricing plan are:
A) Will the $4.99 pricing tier capture more customers than it loses?
B) What does 'access to independent wrestling content' mean?
The Low-Price Trap
The worst mistake a business can make is to sell a product for less than a customer will pay for it. With the $4.99 pricing model, the WWE runs the risk of doing exactly that.
The WWE Network's current value proposition is the offering of the 'pay-per-view' events, which generally serve to introduce plotline climaxes and more intense in-ring action. While the majority of televised matches generally run no more than 5-10 minutes and involve only moderate physical risk, individual pay-per-view matches can sometimes run up to a half hour and often feature grandiose production, unusual stipulations, and more dangerous in-ring work. For instance, the 'Hell In A Cell' match, one of the most physically punishing match formats the WWE has ever offered, is almost exclusively offered on pay-per-view events, and usually only to serve as the climax of a lengthy and bitter feud. In fact, only 36 Hell In A Cell matches have ever been held, 33 of which on pay-per-view. The Undertaker/Mick Foley Hell In A Cell match at 1998's King Of The Ring featured one of the most heart-stopping moments in WWE history, when the near 300 pound Foley was physically thrown from the 16-foot high structure to crash through the announcer's table on the floor below.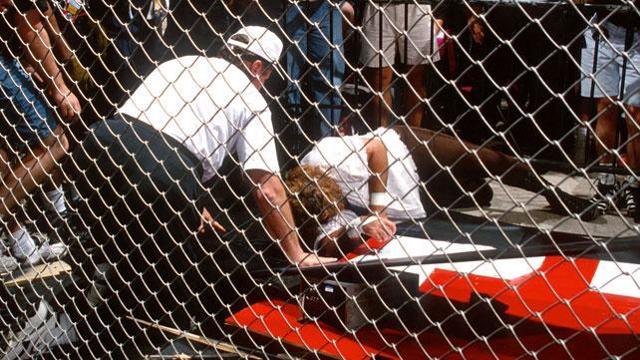 The aftermath of Foley's fall, where he suffered a separated shoulder but continued the match. Photo courtesy of WWE.com.
For obvious reasons, theatrics like that are used only sparingly, which serves as the value proposition for pay-per-view events. While not all events feature stunts of that magnitude, wrestlers are given more time to work and less time to talk, and they generally turn up the action a notch. One can almost view the weekly programming (WWE Raw and WWE Smackdown!) as a commercial for the pay-per-views, as the weekly programming serves to advance the plot and lead up to the presumable climax at the pay-per-view.
Consequently, the pay-per-view model is one of inextricable importance to the WWE's storycrafting. But the abandonment of the traditional pay-per-view model (customers would be charged $39.99 or more for the event, of which the cable company took about half) meant that the WWE had to make up lost money on volume.
To a very great extent the gamble was successful. The company's April 4 memo indicating that the company had reached 1.82 million subscribers shortly after Wrestlemania was a high-water mark for the company, boasting 24% year-over-year growth from the same time period last year in domestic subscriptions and 126% for overseas customers. However, a number of those subscriptions were of the free trial variety, and a number more were only temporary; there are a subset of idly curious viewers who were happy to pay $10 for the biggest show of the year, but nothing more. The company's followup 2Q earnings release projected 1.49 million paid subscriptions for 3Q.
This represents a great improvement over the original pay-per-view model. 1.49 million subscriptions brings in roughly the same amount of gross revenue as about 750,000 buys at the old rates, which numbers were only ever eclipsed by the aforementioned 'Big 4' events and then only slightly. To have an equivalent of a 750,000 buy commitment for minor pay-per-view events such as Money In The Bank and Fastlane was a major coup. (As a matter of comparison, 1998's King Of The Ring brought an estimated 310,000 buys.)
Risks At $4.99
The $4.99 offer represents a few risks for the product. First, given that the value of the WWE Network subscription is mainly in broadcasting live pay-per-views, the limited offer of the Big 4 live events encourages on-and-off subscriptions for this pricing model. Customers would rightly feel that the best value in the proposition is during months when one of the live events is offered, and would act accordingly.
Secondly, the limitation of tablets and phones would seem an arbitrary one to customers, who would generally not personally feel that the device they watch the WWE Network on should make any kind of difference to their wallet. Furthermore, tablets with extremely large screens are beginning to become popular, and customers could feel hustled if their big iPad is able to access content for a discounted price but their equally-sized MacBook is not.
The company can mitigate this problem by offering the plan with a minimum 3-month commitment. While customers don't understand why a tablet is any different from a laptop, they do understand quid pro quo. In this case, they would understand the discount comes with a price of a 3-month commitment. Such a stipulation can help shield the WWE Network product against the prospect of implied product devaluation by more clearly defining an expected level of commitment to access the discount, and re-introducing the value of buying in bulk (3 events for $29.97 under the standard $9.99 model rather than 1 event for $14.97 in the $4.99 model). Otherwise, $9.99 fans may even consider temporarily downgrading during the months that the Big 4 are offered in the event that they don't mind watching it on a very large tablet.
'Independent Wrestling Content'
The second concern regards the premium tier service. While 'fan perks' such as early ticket access and Hall Of Fame voting privileges are largely incidental, the prospect of offering 'independent wrestling content' could very well provide considerable additional value to the premium tier-depending on what exactly the phrase 'independent wrestling content' actually means.
Underneath the sprawling megalith (for a wrestling promotion) that is the WWE, dozens of smaller promotions operate with various levels of notoriety. These serve as springboards for lower-level talent, landing pads for aging stars or performers who have fallen afoul of WWE CEO Vince McMahon's hard-nosed style of leadership, and opportunities for other wrestling styles and creative design to flourish. Lucha Underground and Chikara's athletic, acrobatic style of wrestling is very different from the WWE's muscular focus on size and strength, which is much different than the gory 'hardcore wrestling' style of CZW and Big Japan Pro Wrestling.
To demonstrate the value of the independent circuit to serious wrestling fans, one need look no further than one of the biggest WWE stars in recent memory, Daniel Bryan. The relatively diminutive Bryan built a devoted fanbase owing largely due to fan perception that he was being overlooked by WWE brass as being 'too small' and not having the 'right look'. Internet savvy fans, aware of his thrilling work on the independent scene as the American Dragon, were outraged at the perception that he was being 'held back'. The independent scene is important, and Bryan's extraordinarily devoted fanbase saw to inform the WWE of exactly that.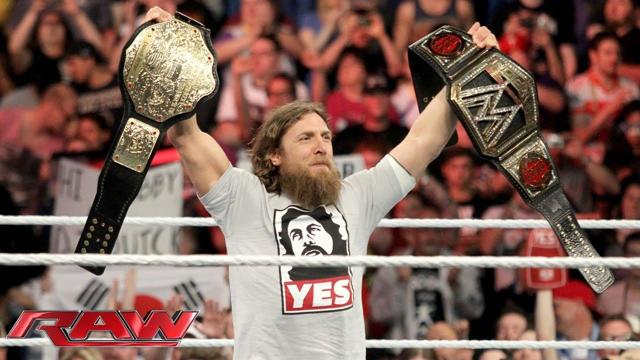 The extremely popular Daniel Bryan finally achieves the career success that had eluded him for so long. Photo courtesy of WWE.
Reports that the WWE intends to purchase flailing competitor Total Nonstop Action's tape library may be premature-no official announcement of such a purchase has yet been made. Furthermore, the 'such as TNA & Ring Of Honor' survey question may simply be an exploratory question, with no firm plans in place to do anything just yet. But to the extent that the WWE does intend to offer footage of additional federations, what will it mean to the premium stream?
What Is It Worth?
Wrestling fans are definitely passionate about the sport in ways that most ordinary sports fans are not. And dated wrestling events still retain a measure of the drama from their live presentation. But imagine the NFL trying to sell a premium service to football fans that allowed fans to watch games from last year or 2003 or 1973. How many people would pay for that service? And furthermore, how many people would maintain their subscriptions beyond a month or two, after rewatching a few specific games?
In other words, just as in sports, fresh and immediate content is of paramount importance in WWE's brand of sports entertainment. The most important football game is the one that happened this week. Unlike televised serials, where the product is initially aired as a pre-recorded and edited piece, feeling 'in the moment' during a live sporting event is a crucial part of the appeal. Just as importantly, the need to stay abreast of current storylines to make sense of a pro wrestling show is paramount. While fans understand the difficulty with time zones that overseas promotions such as New Japan Pro Wrestling and Revolution Pro would present, the prospect of watching at least American-based shows such as Ring Of Honor live-or even within a day or so of its original air date-would make a meaningful reason to pay an extra $5 per month.
However, if the additional independent content were merely tape libraries, consisting of original aired episodes from years ago and the like, the ongoing value proposition simply isn't there. A viewer could easily exhaust his curiosity within a month, and then go right back to the $9.99 plan until his curiosity is piqued again. And it might not be for awhile, if ever. And in this case, unlike the $4.99 plan, an enforced commitment to the $14.99 plan would be counterproductive, serving as a barrier to upgrading rather than a value creator.
Consequently, the success of the proposed $14.99 plan depends on having current and ongoing content from independent organizations. Tape libraries won't inspire ongoing subscriptions. But new episodes every week-from today, not yesteryear-will. Fans already have a tremendous amount of free wrestling content from yesteryear available on Youtube-but a convenient, reliable, high-quality gate to watching current episodes of independent promotions would be a definite value creator. In this case, we could even begin to switch the conversation of the $14.99 promotion from talking about 'upgrade' to talking about 'potential new subscribers'-there are a number of 'smart mark' fans who aren't necessarily fans of what the WWE itself offers, but are willing to pay for access to high-quality streams of wrestling's minor leagues.
Summary
As we don't yet know the specifics of the plans that the WWE will eventually roll out, we will have to wait and see what they eventually offer. As it stands now, the free model is sufficiently gated and limited in order to serve as a superior replacement to the current 'free trial month' incentive that the Network has historically run. The current $9.99 model should look little or no different than what will eventually be offered. So the two questions that need to be answered are:
A) Will the $4.99 model require a commitment?
B) Will the $14.99 model feature live or at least current broadcasts?
Once we have a definitive answer for these two questions, we can apply some math and see what things will look like for the WWE after the rollout. Until then, like much of this business, we are left with merely speculation and theories.
Disclosure: I/we have no positions in any stocks mentioned, and no plans to initiate any positions within the next 72 hours.
I wrote this article myself, and it expresses my own opinions. I am not receiving compensation for it (other than from Seeking Alpha). I have no business relationship with any company whose stock is mentioned in this article.