Background
In mid-April this year, I took the liberty and used Louis Armstrong's famous song to reveal my real intentions regarding Realty Income (NYSE:O) and National Retail Properties (NYSE:NNN):
| | |
| --- | --- |
| Louis Armstrong, "What a Wonderful World" | The Fortune Teller, "What a Wonderful Trade" |
| I see trees of green, | I see call and put, |
| red roses too. | short sale too |
| I see them bloom, | I see them hedge, |
| for me and you. | for me and you. |
| And I think to myself, | And I think to myself, |
| what a wonderful world. | what a wonderful trade. |
I concluded part I of "The Real Reality Of Realty Income" with the following statement:
Realty Income is, no doubt, a great company but that by no means makes it a great investment. As a matter of fact, you now have five authors all agreeing that O is pricey, expensive and most probably has limited upside from here.

I don't see a recession looming over the U.S. and therefore, I don't see a disaster looming over O. Nevertheless, I would be very surprised if my pair trade where O is on the short side on the trade won't make money over time as we head further into 2016.
Seven and a half months later, it's time to check how the short end of the pair trades have worked thus far.
O and NNN Over The Past Five Months
I've shorted both O and NNN during both June and July and for the sake of this article I randomly picked the end of June as the starting point and the end of November as an ending point. These five months allow us to clearly see what has happened to eREITs as a whole as well as to the two names specifically: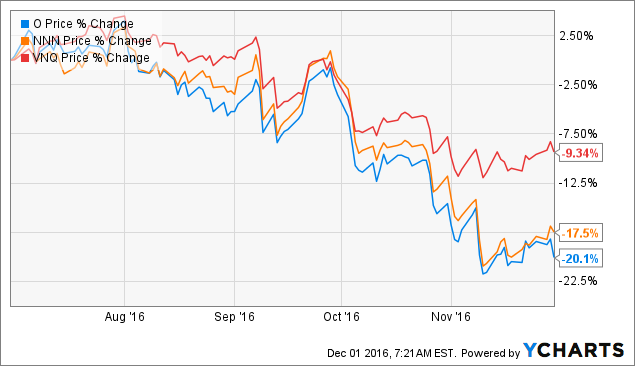 It's evident that the combination of O and NNN underperformed the eREITs benchmark (NYSEARCA:VNQ) by a mile. As a matter of fact, the average performance of the duo is twice as bad as the performance of VNQ during the last five months.
Mission Statement
There were many articles regarding O lately that assign a "fair value" to the name at the 40s. I believe this is a fair assessment and it's not within my intention to compete with the various respectable authors' valuation analyses.
What I do wish to emphasize in this article is the rule of thumb that I've mentioned in my "back to the future" series of articles:
eREITs (triple net lease for that matter) should pay no less than 5% (in any case) and about 250-300bps, i.e. 2.5%-3%, over the risk-free US 10-year Treasury note yield.
A Little Reminder How It All Started
Part I from July 13th ("Why mREITs Are Better Positioned Than eREITs?") stated the following:
Why Do I Favor mREITs Over eREITs?

I believe that you already got an answer to this question. If you haven't figured this one out yet, the short version of it is: Long-term yields. While many investors expect long-term yields to keep going down - as we witness in most developed markets - I see risk/potential for long-term yields to actually move higher from here.

Sure, long-term yields can also move lower from here. I've been awfully wrong in the past regarding different things and I may be wrong here too. But ask yourself: What is the downside risk compare to the upside risk? How low can long-term yields go versus how high they may climb from here?
We all know what happened to long-term yields since then...
...and the vast majority of projections state that this trend of higher long-term yields is expected to continue well into 2017 and most probably beyond.
Part II from November 15th ("Why mREITs Are Still Better Positioned Than eREITs") stated the following:
...the higher the (US debt) yields - the wider the spreads. Putting it differently, the higher the US debt's yields - the higher will be the risk premium to hold O that investors ask for.

Currently, the UST10Y is at 2.22% and O dividend yield is 4.36%; that's a spread of 2.14%. If and when the UST10Y trades at 2.5%, 3% or 4% - investors may demand more than just 2.14%. Historically and traditionally, the higher the UST10Y is - the more investors will demand, even if the correlation is 1!
The Battle and Synchronization Between Yields and Spreads
At the time of writing the US 10-year Treasury Note is yielding 2.41%, 19bps more than where it traded 15 days ago.
Where O and NNN yields over that period of time?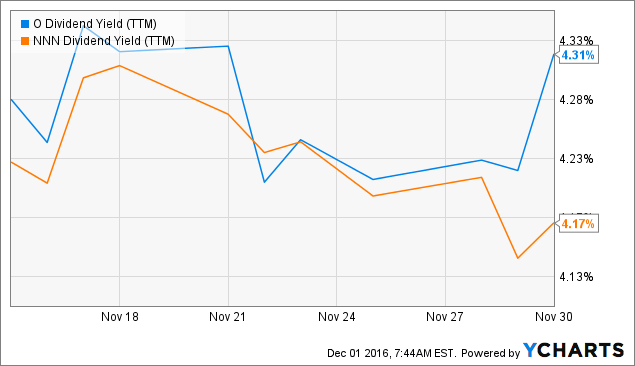 Only slightly higher (+3bps for O) or 6bps lower (in the case of NNN). Not only that eREITs haven't fully " _fcksavedurl=">
Only slightly higher (+3bps for O) or 6bps lower (in the case of NNN). Not only that eREITs haven't fully "absorbed" the recent jump but they seem to be having difficulties understanding that a new era (of higher yields) has began.
Both O and NNN are trading at less than 200bps above the UST10Y. That's, in my book, a level that is ignoring both reality and risk.
Lets take a look at the spread between the yields of O and the UST10Y over the past ten years: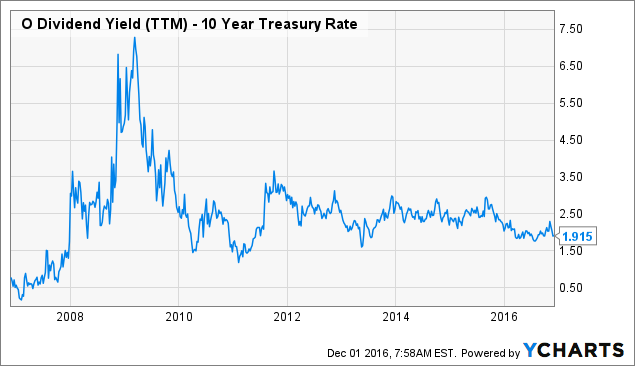 even if we ignore the abnormal years of 2008-2009, it's clear that in most times the 250-300bps spread is the normal average.
When we do the exact same drill with NNN we get the following: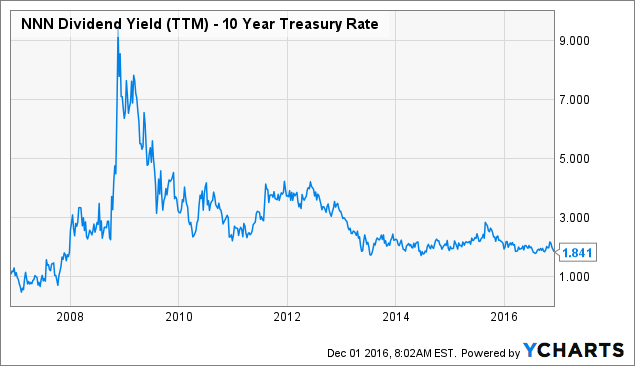 You don't have to be a professional analysts to realize that the distortion is mostly, almost entirety, attributed to the past 18 months. Since mid-2015, eREITs have experienced a tremendous rally and I believe that this rally has blinded many eREITs investors to the associated risks.
O and NNN Versus Peer Group
Lets take a look at the peer group of O and N - a dozen net lease REITs - and compare the current dividend yields of them all: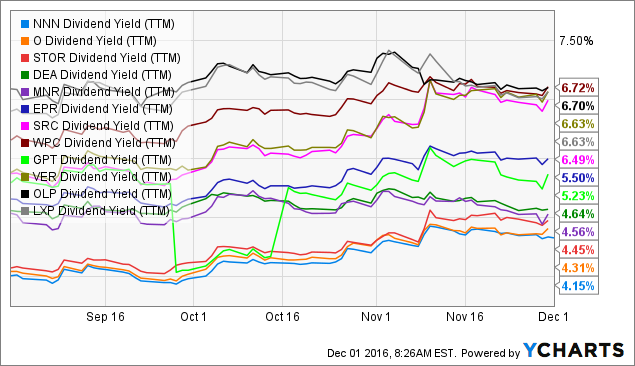 As you can see, over the past five months eREITs' yields are climbing higher. Nonetheless, while most triple net lease eREITs already comply to the rule of thumb, there are handful names that still don't.
Guess who are the two names that are still leading the pack from the bottom? You got that right: O and NNN.
My Pair Trade
As a side note I wish to disclose that out of this list, the only name (aside of shorting O and NNN) that I have interest in is Lexington Realty Trust (LXP), where I'm LONG.
Allow me to show you how a pair trade of long LXP and short O has performed over the past five months: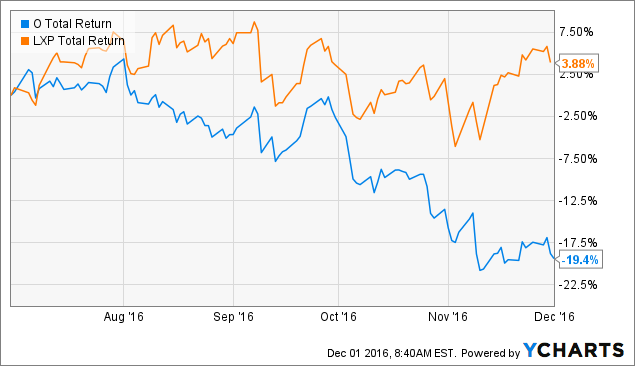 Quite stunning, isn't it?
Bottom Line
I have no idea whether O and NNN trade according to the fair values that various recent articles have assigned to these two names.
However, I do know that the duo still doesn't comply with the rule of thumb that I've set; they are neither trading north of 5% dividend yield nor offering the required margin of safety (~250-300bps above the UST10Y).
As far as I'm concerned, O and NNN are still overvalued, and this is exactly why I maintain my short positions on both names.
It's not paved in stone (nothing is) but it's most likely that I'll start thinking of closing these shorts when the yields offered by O and NNN cross the 5% mark. I'll leave you to make the calculations yourself.
Disclosure: I am/we are short O, NNN. I wrote this article myself, and it expresses my own opinions. I am not receiving compensation for it (other than from Seeking Alpha). I have no business relationship with any company whose stock is mentioned in this article.
Additional disclosure: I am/we are LONG LXP